Valentine's day is around the corner! I'm not usually one who likes to go all out on this holiday… overpriced prix fixe menus and red roses aren't really my thing. Instead of trying to avoid the day all together though, I think it's way more fun to stay in, throw on some tunes and cook an awesome meal with someone special. Since V-day falls on a Saturday this year, all the more reason to get started early and enjoy the evening. Even more, I've already planned the perfect menu for two… so no excuses!
First, forget the wine and chocolate. Well, don't forget the wine! Just forget about the chocolate since it's so hard to pair with wine unless the wine is sweeter than the chocolate. Trust me, with this menu you won't miss it.
First Course: Sparkling Rosé (or Sparkling Wine) with Creamy Cheese
I got this bottle of Treveri Sparkling Rosé ($18) recently and, in keeping with the V-day theme, thought it would be the perfect start to our meal. I typically only drink Brut rosé and this is Sec (medium sweet), but it's actually not terrribly sweet. With enticing aromas of raspberries and citrus, the palate has crisp flavors of berries, watermelon and lime. For the price, it's pretty complex and easy drinking (and festive!). It was also a nice pairing with the Cowgirl Creamery Red Hawk cheese, a triple cream aged cow's milk cheese that's a bit earthy, pungent and oh so delicious. Really though, any sparkling wine will taste great with creamy, rich cheeses. The crisp acidity of the sparkling wine cuts through the creaminess of the cheese without influencing flavors, almost refreshing the palate after each sip.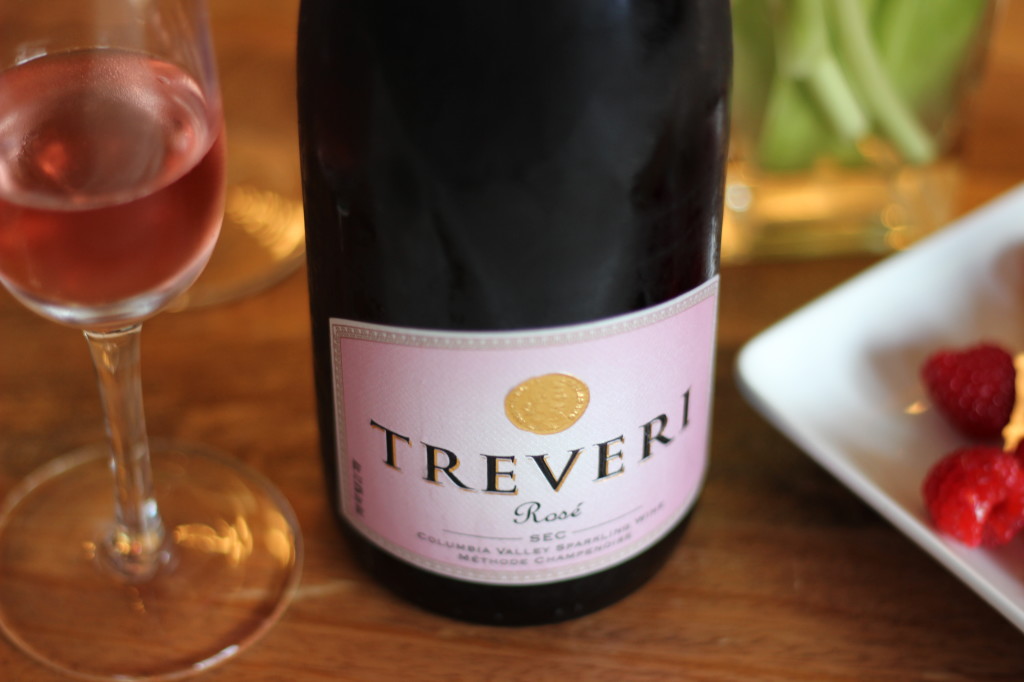 Main Course: Syrah with Grilled Filet, Whole Roasted Potatoes and Green Beans
Let me just say that this meal was SO delicious, yet it required very few ingredients. We seasoned our steaks with salt and pepper, then Nick grilled those up while I made the green beans. For the green beans, simply toss into boiling water until tender yet still crisp, then drain and toss with olive oil, salt and pepper. Everything was great, but the highlight of the main course was the whole roasted potatoes. We used baby red potatoes and boiled them 10-12 minutes (not all the way cooked). Then, we drained and put the potatoes into a dutch oven with butter (3 Tablespoons) and seasoned with salt and pepper. We roasted those in the oven at 400 degrees for 20 + minutes until very soft. Be sure to drizzle a little bit of the butter sauce over the green beans for an extra indulgent touch.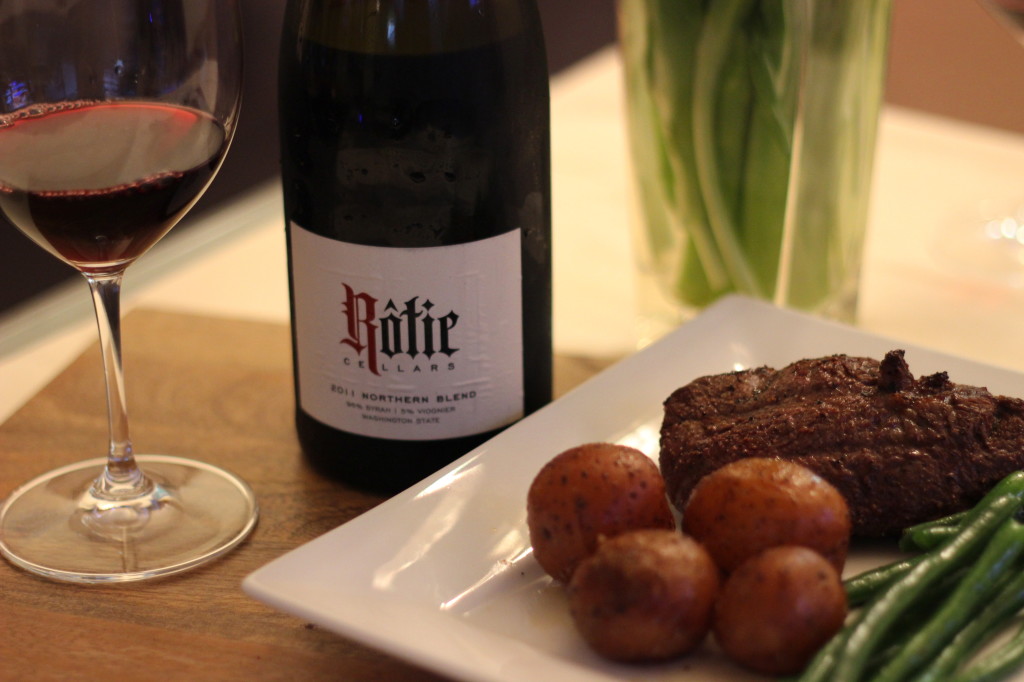 We paired our dinner with a red blend from one of my favorite red wine producers from Washington, Rôtie Cellars. I chose the 2011 Rotie Cellars Northern Blend ($48), a tribute to the Syrah/Viogier blends from the Northern Rhône region in France. This 95% Syrah, 5% Viognier is nice on its own, but is even better with food. On the nose, delicious vanilla, raspberry and black cherry fruits lead to savory flavors of pepper and game, with black fruit on the palate. Its firm but smooth tannins and soft finish were a great match with the texture and flavors of the steak. Yum Yum!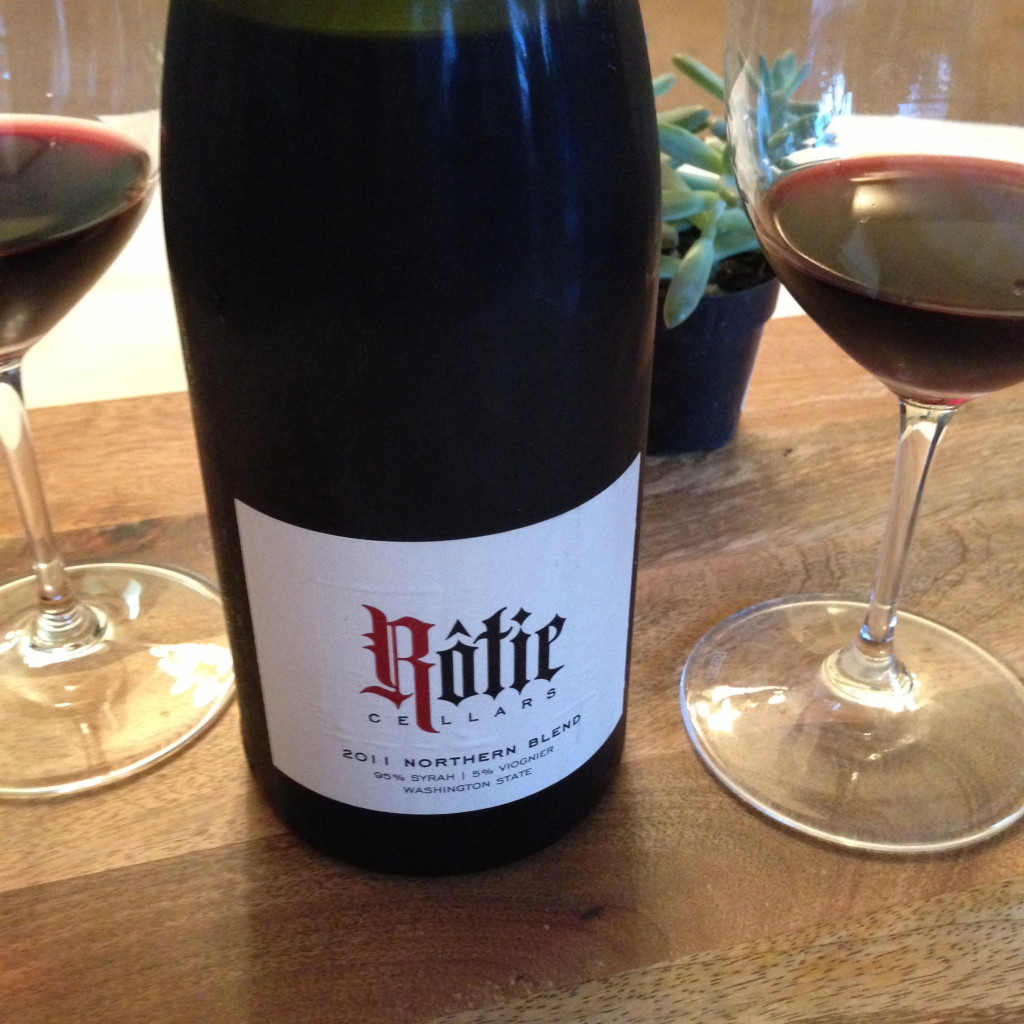 Dessert Course: Tawny Port with Cinnamon-Poached Pears, Whipped Cream & Caramel Sauce
I adapted this recipe from Real Simple, and it did not disappoint! I loved how the cinnamon and sugar provided a hint of sweetness, and I purposely made the fresh whipped cream just barely sweet so as to not overpower the subtleness of the pears. An awesome ending to the meal, for sure, and pairing it with Graham's 10 year Tawny Port ($35) made it even better. The port had notes of clove and brown ginger with a nutty, light finish. A great match for the caramel and cinnamon flavors in the pears… just remember that a little goes a long way with port since it's high in alcohol. Serve in small glasses to sip on with dessert. (Side note – the port will last you a couple of weeks).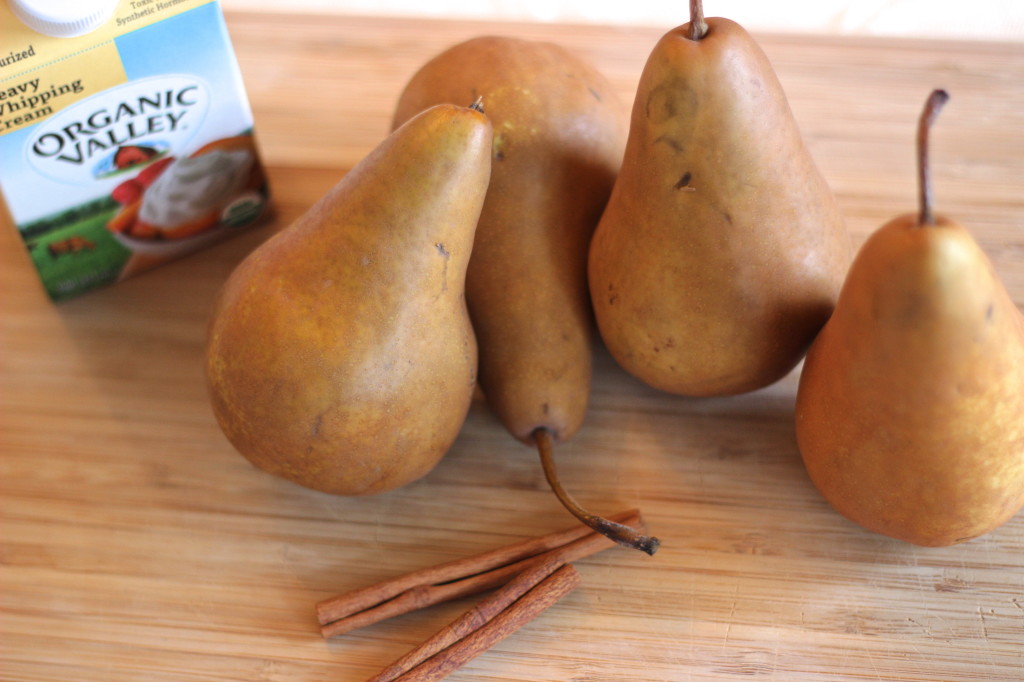 Cinnamon-Poached Pears Recipe: 
– 4 Bosc pears (or Bartlet or Anjou)
– 2 cinnamon sticks
– 1 1/2 cups sugar
– 4 cups water
– 3/4 cup heavy cream
– 1 tspn vanilla extract
– ground cinnamon (for dusting)
– 1 inch piece ginger (peeled & sliced) – optional
Peel the pears. Scoop out the core of each pear with a knife or melon baller, starting from the bottom (leave the stem end intact).
In a Dutch oven, combine cinnamon sticks, 1 cup sugar and 4 cups water (and ginger if using). Add the pears and bring to a boil. Reduce heat, cover and simmer until the pears begin to soften, 10-15 minutes. Let cool in liquid for 15 minutes or until ready to serve, then drain.
To make the caramel: In a medium saucepan, combine 1/4 cup sugar and 1/4 cup water. Cook over medium, stirring until sugar dissolves (1-2 minutes). Continue to cook without stirring until syrup is a dark golden brown, 5-10 minutes (watch it carefully so it doesn't burn). Add cream and stir to combine, then remove from heat.
To make the whipped cream: In a bowl, whisk together 1/2 cup cream with 1-2 Tablespoons sugar and 1 tspn vanilla. Whisk until thick.
To serve: Place one pear in a bowl and top with some caramel sauce. Add whipped cream with a dash of cinnamon.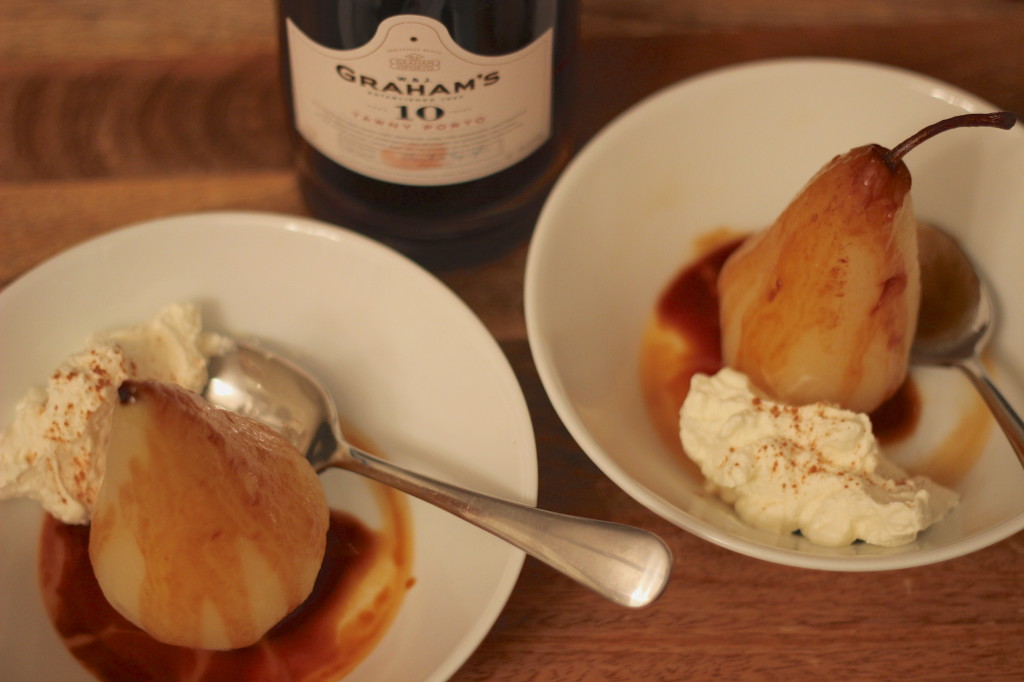 Shopping List:
– sparkling wine (or half bottle)
– red wine (Syrah)
– Tawny Port
– triple cream cheese
– 10 baby red potatoes (more if you want leftovers)
– green beans (1/4-1/2 pound)
– 2 Filets (or cut of your choice)
– 4 Bosc pears (or Bartlet or Anjou)
– cinnamon sticks
– heavy cream
– vanilla extract
This year, why not skip the reservations and invest in some quality time in the kitchen with your significant other? Cooking up something delicious is way more romantic… and fun! Cheers.
Tips for not breaking the bank on V-day: You should definitely never feel like you need to throw down lots of cash on wine for V-day, or any holiday for that matter. All of the above wines I had on hand, but there are plenty of more affordable options that will still make the night feel special. A great sparkling rosé for only $12 is Louis Bouillot Cremant de Bourgogne Brut Rosé (read more here), and any Rhône style Syrah or California Cabernet will work great with the steak. For dessert, you can easily skip the port or buy a Tawny without any indication of age. You can usually find them around $15-$20 for a larger bottle.