Last month at Pebble Beach Food & Wine, I had the privilege of attending a couple of really interesting wine seminars. The grand tastings and fancy dinners may get more attention and hype, but the educational seminars at PBFW are definitely worth checking out as well! The first seminar that I attended was 'The Allure of Wines of Greece,' led by a panel of several Greek wine aficionados. Wine and food at 10am? Why not!?
Now, there's no questioning that Greek wines are a little bit intimidating (I've done my fair share of studying and have tasted wine in Greece, and even I still get confused by all the strange Greek varietals). Malagousia? Agiorghitiko? Xinomavro? Seriously, those are the names of Greek wine varietals. Scary. It's no wonder that Greek wines aren't super popular in the US and why many people are hesitant to order them from a wine list.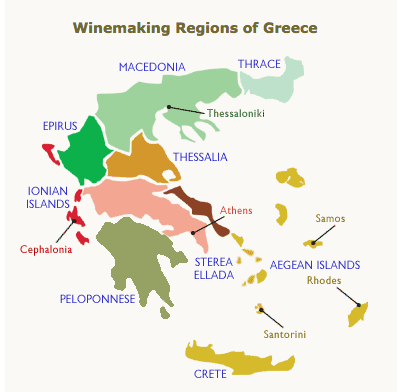 Greece is the size of the New York State and is one of the oldest wine regions in the world, where ancient wine production dates back several centuries B.C.! It's also one of the most natural wine growing regions in the world, as there's very little pollution and most wines are made without harsh chemicals. In the last decade, Greece has been gaining notoriety for its quality wines made from some of its 300 indigenous grapes. The best part? Most of these wines are really affordable, especially compared to other wines of Europe.
During the seminar, we tasted 3 whites and 3 reds paired with food. First we tried Domaine Sigalas Assyrtiko ($26) from Santorini, which just so happens to be one of the driest growing regions in the world. Interesting thing about Santorini, they grow the vines in a circular form to protect the grapes from the intense high winds, and all grapes grow on the same vine rootstock from 335 years ago. How crazy is that? Assyrtiko (A-seer-tee-ko) is a high acid, dry white with lemony flavors and crisp minerality. It's a great wine to sip on before a meal, as it's really light and low in alcohol. We tasted it with Monterey Sardines with lemon and fennel and it was a perfect match.
Next, the Domaine Skouras Moschofilero ($15) from the Peloponnese region in Southern Greece, where these grapes grow at an elevation of 2,000 feet. "Mosco," means "fragrant," and Moschofilero wines (moh-skoh-FEE-leh-roh) are indeed intensely aromatic (think lavender and peaches) with crisp citrus and tropical fruits on the palate. This wine came alive with our spring fava & asparagus veggie plate with pecorino and Meyer lemon vinaigrette, but it'd be a great match with scallops, stuffed grape leaves, spanakopita or anything with a lemony sauce, really. If you like Pinot Grigio or Albarino, you will probably enjoy Mosco!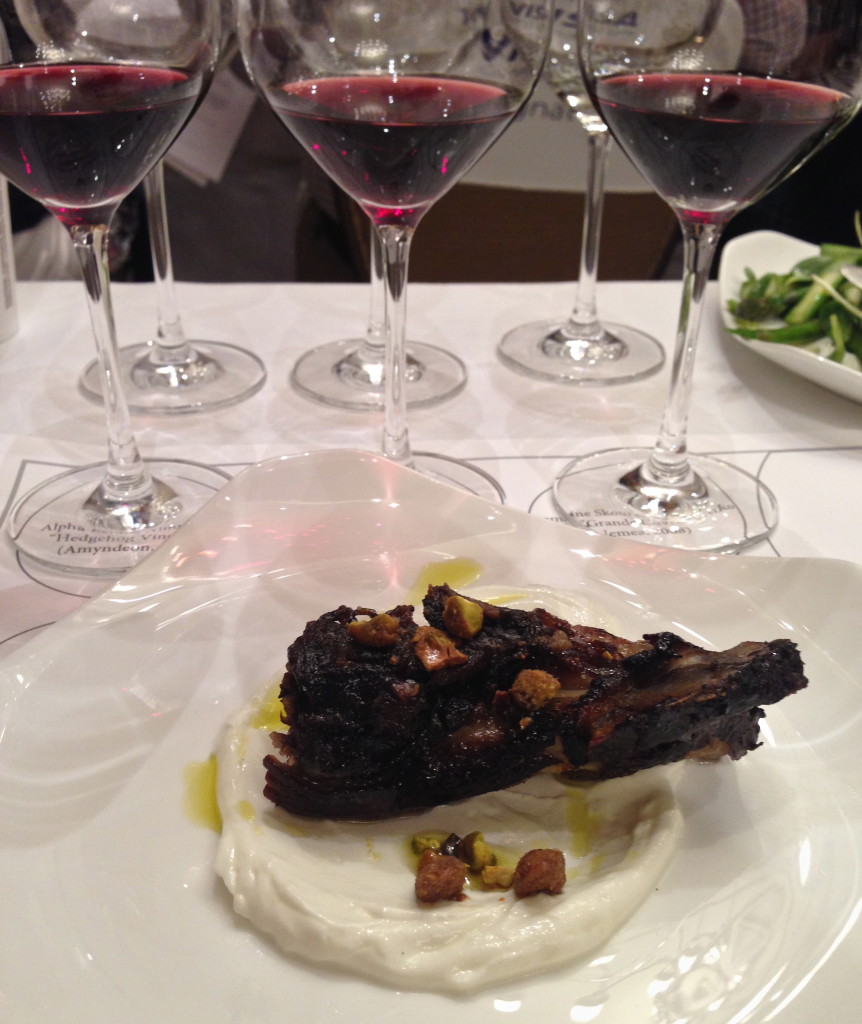 We also tasted Domaine Skouras Agiorgitiko ($28) — pronounced I-your-ee-ti-ko — from the Nemea region of the Peloponnese. Richer than Pinot Noir in style, Agiorgitiko is a medium-to-high acid wine, with plum and cherry fruit and a hint of spice. It's also Greece's biggest producing red. Seek this out! It's tasty, especially with the smoked lamb ribs with date, pistachios and yogurt that we tasted with it. Deee-lish.
Some other notable Greek varietals:
Malagousia (Mah-la-gou-zya), an aromatic grape that results in unique, elegant white wines somewhat similar to Muscat. This wine tends to have notes of tangerine and exotic fruits. Like the whites above, it's a food friendly wine that would pair well with vegetables and lighter foods.
Xinomavro (Ksee-no-ma-vro) is considered Greece's greatest red varietal and often gets compared to Nebbiolo. The wines are powerful, structured and richly flavored with notes of tar, cherry, earth and spice. It pairs well with mushrooms, lamb, steak, savory Indian and even cheese!
So, the next time you're at a restaurant and happen to notice any of these varietals on the wine list, don't be afraid to give them a try! They're not only a great value, but you'll look like a real wine pro. :) Cheers!