Continuing the tour of Walla Walla, Sarah and I stopped into a place that neither of us had been to but were excited to try – Gifford Hirlinger. Yeah, the name may be a bit hard to pronounce and/or remember, but the place is definitely worth remembering. It's a small, family-owned winery (not too far from Va Piano and Pepper Bridge) and and was our 4th stop of the day. (More if you missed the full story on our Walla Walla weekend here).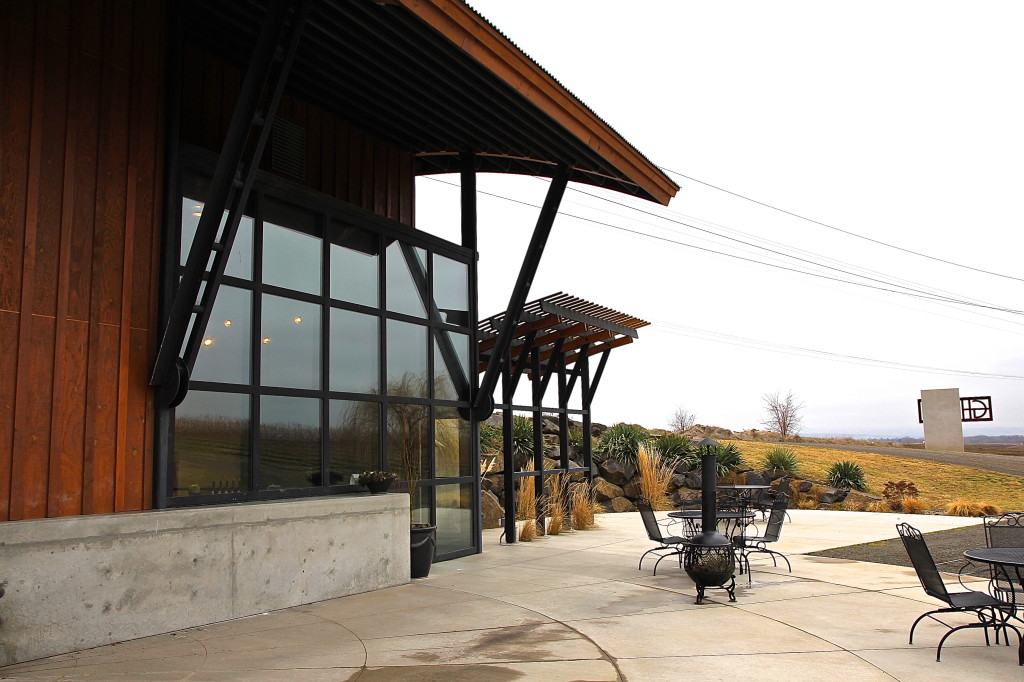 The winery was started in 2001 by the Berghan family, who were growing grapes to sell to other wineries and then decided to start their own gig. Their first vintage was in 2003, but the current winemaker has been with the winery since 2005. So how did they come up with the name Gifford Hirlinger? Well, turns out that both sides of the Berghan family crossed the country in covered wagons back in the mid 1800s, settling in Walla Walla. Gifford and Hirlinger were the last names of those relatives.
The tasting room is modern with floor to ceiling windows and was actually empty when we were there – a perfect place for us to post up at the tasting bar and enjoy the view on a chilly day! They don't make a ton of wines, and those they do make tend to sell out quickly, but the few that I tried were good. The first we tasted was the 2009 GH Estate Merlot ($32), made up of 100% Merlot. It was a very spicy, leathery wine with black licorice and dark berry flavors. It's hearty with structured tannins and is a pretty good example of Merlots of the area.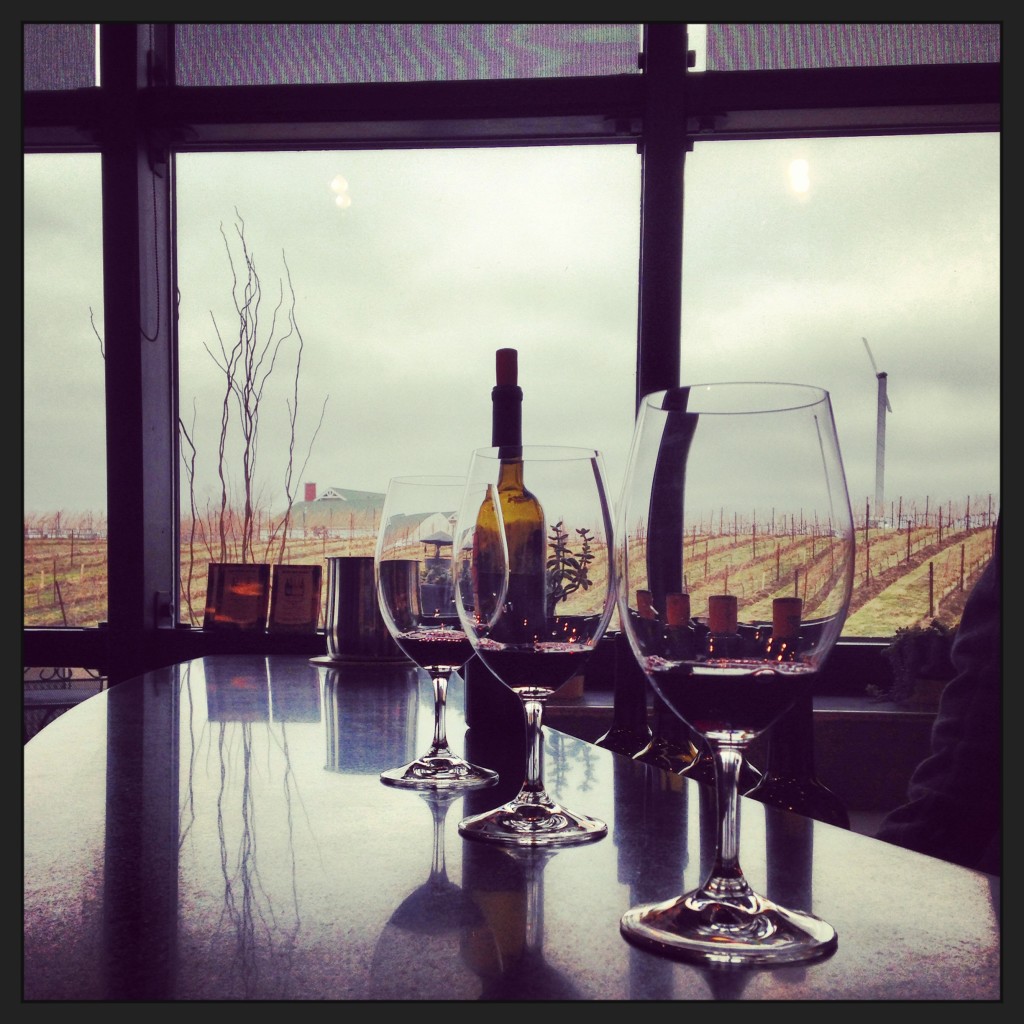 Next, we tasted the 2009 GH Cabernet Sauvignon ($26), consisting of 84% Cabernet, 8% Tempranillo and 8% Petit Verdot. I got a lot of dark berry fruit, oak and some earthiness that lingered on the palate. I especially liked the next wine we sampled, the 2010 GH Malbec ($34), which was earthy and peppery with hints of coffee and black fruits. It was smooth and spicy and easy to drink.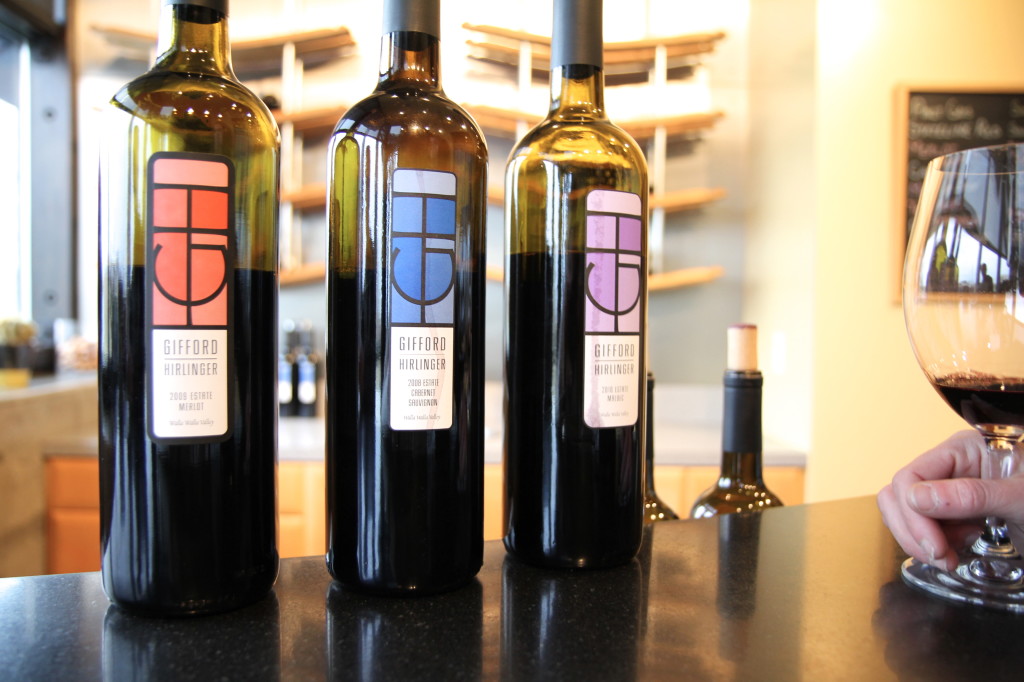 In short, GH is a chill place to taste wine (no pretentiousness here!) and the light coming through the windows makes for great photo opps, too. Although the place probably does get a decent amount of visitors, I recommend going on an off day in the winter when you can enjoy the tasting room all to yourself. Thanks to Blake for bringing us here. Cheers!
**Winery Notes**
Open: Fri-Sun 11am-5pm
Phone: 509.301.9229
Location: 1450 Stateline Road – Walla Walla, WA
Tips: Bring a picnic to eat outside on a nice day.
Check out more places in Walla Walla to explore here.