When Nick and I decided on Belize for our honeymoon, I was just as excited to try the local drinks as I was seeing if I could find good places to drink decent wine. Although Belize is more synonymous with rum than with fine wine, I had to find out — is there even wine in Belize? I also had to answer the question of what to drink in Belize…
So, Belize does not make its own wine with vitis vinifera grapes. Instead, there is 'fruit wine' made throughout the country, including cashew wine made from the cashew fruit, orange wine and even blackberry wine. Unfortunately (or fortunately??), I didn't come across said wines to taste, but I hear they are made with a lot of fruit pulp and sugar. I did, however, find a few places with a good wine selection for all of us that can't stay away from the wine when on vacation.
Where to Find Good Wine in Belize:
Wine de Vine
Located in San Pedro, Wine de Vine is one of the biggest and best wine shops in all of Belize. Although they carry a large selection of South American wine, it's possible to find Napa wines and European wines there, too.
Their selection is actually quite impressive, and you can enjoy flights of wine with a large assortment of imported cheeses. Who would have thought you could find a real wine bar experience in Belize?
Wine de Vine supplies wine to many of the higher end hotels and restaurants in San Pedro and throughout Belize, provides staff trainings, and offers quarterly wine dinners. Definitely check this place out if you're looking for a good bottle of wine in San Pedro. They are almost single handedly making sure there's a small wine scene in San Pedro. 
Rumfish y Vino
This cute gastro-bar restaurant in Placencia has great food, but I was happy to find such a nice selection of wine, too. From Santa Barbara to the Veneto, the wine list is well thought out to pair with everything from tacos and fish stew to short rib lasagna.
Turtle Inn Resort 
Although most of the hotels we stayed at had a decent selection of wine, I was excited to stay at the place with Belize's largest wine cellar! It's only fitting that a resort owned by Francis Ford Coppola would have such a large wine collection. The cellar, which was just recently completed, holds over 1200 bottles, and the selection ranges from verticals of Coppola wines to interesting and rare Champagne.
Nick and I enjoyed a wine and cheese tasting during our stay at Turtle Inn. Our tasting included four wines from the Coppola Winery collection, like the 2013 Sofia Rosé and 2014 Diamond Collection Chardonnay. 
As much as I love wine and wine-related travel, let's be honest, in Belize it's all about the tropical drinks! It would be a shame to only drink wine in Belize because, A) the markup is significant because of the costly duty fees and B) there's nothing better than a refreshing beer or rum drink when on an island.
What to drink in Belize:
Belikin beer
Belikin is known as THE beer of Belize, and you will find it everywhere. There are 3 different styles, including the Stout, Premium, and the regular Belikin Beer – the latter being the most common. Belikin is appropriately named after the Mayan word "Belikin" meaning "land facing the sea," and it's pretty darn tasty. This drink should be #1 on your list of what to drink in Belize.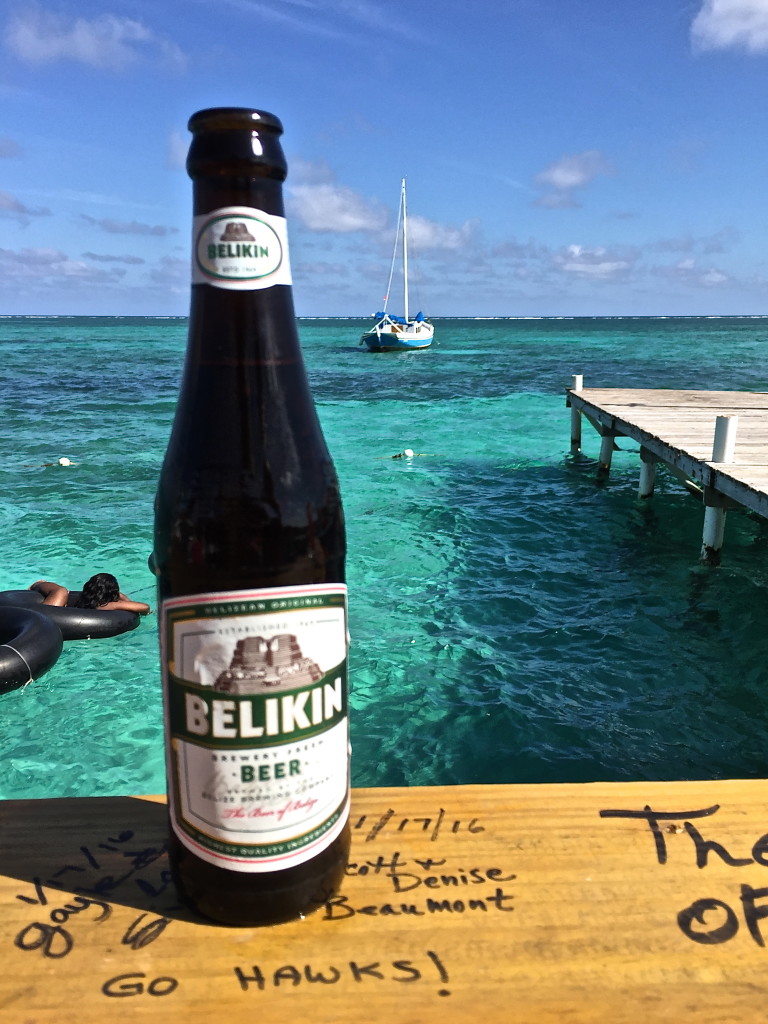 Panty Ripper
The Panty Ripper, also known as the 'panty rippah,' is the ubiquitous drink made with coconut rum and pineapple juice. Forget about the name, just try it and enjoy it. The Panty Ripper is tropical goodness, whether on the beach or in the jungle.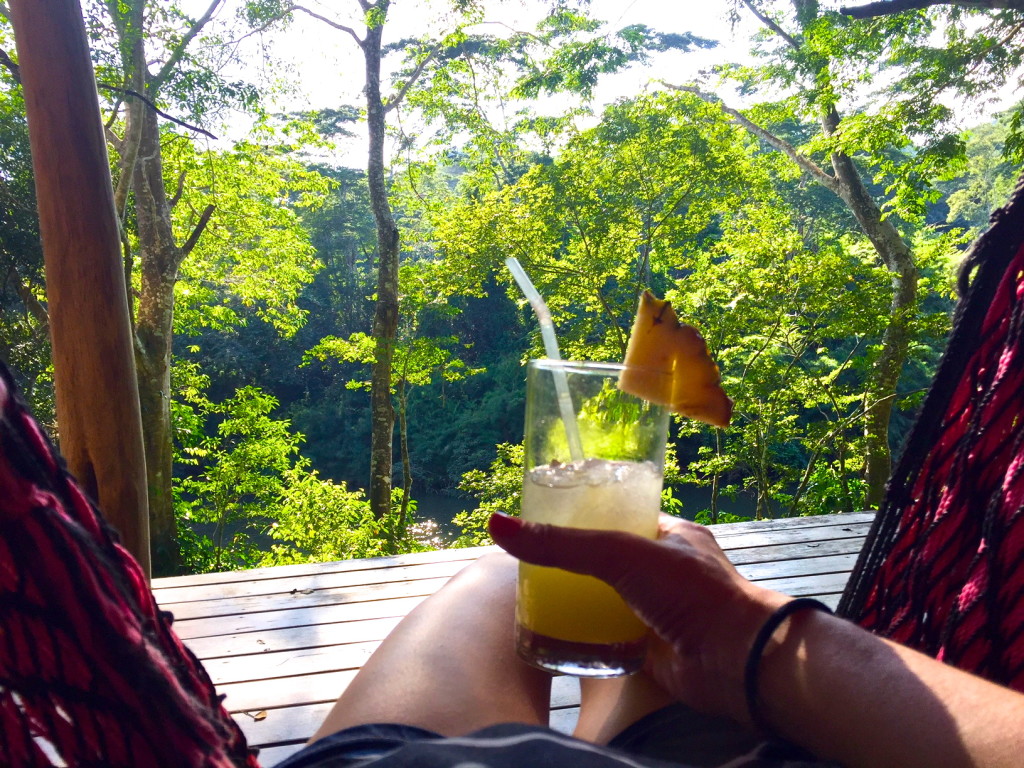 Rum Punch
This is the national drink of Belize and can come in all shapes and sizes (often in a plastic cup). It's typically made with light rum and coconut rum mixed with orange and pineapple juices, lime and grenadine. Rum Punch is an easy drinking and perfectly fruity concoction for lazy Caribbean afternoons (or to get the party started).
Fresh Watermelon Juice
This was one of my favorite things in Belize. In fact, I had one every morning at Mystic River and The Phoenix Resort! Such a refreshing way to start the day. It's especially delicious with a touch of lime, but you could also have it spiked with tequila for an afternoon delight.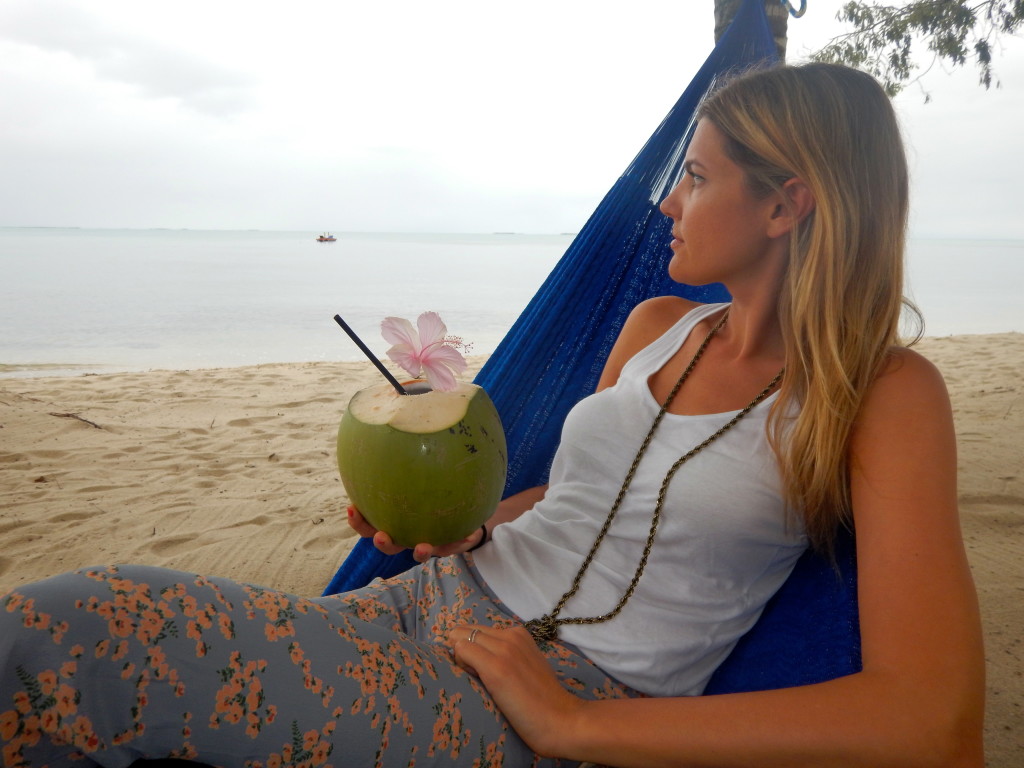 Anything out of a fresh coconut
Is there anything better than being in a tropical destination and drinking out of a freshly cut coconut? It's pure happiness! From the coconut water enjoyed straight from a freshly chopped coconut to coconut-infused cocktails, you can't go wrong. Alcohol or no alcohol, definitely add coconut to your list of what to drink in Belize. Bonus points if enjoyed it in a hammock.
So, there you have it — my tips on where to find wine in Belize, as well as Belize's best libations. Ya man!
Pin it!