As you know from my last post, my family and I spent Christmas in the Russian River town of Guerneville enjoying some much needed family time and relaxation. Of course, one of the benefits of spending the holidays in wine country is having access to so many great wineries, so we had to take advantage.
Earlier in the year, I had tasted a few wines from Williams Selyem with their head winemaker, Jeff Mangahas. I enjoyed the wines so much that I knew I wanted to visit the winery on our trip. Our visit to Williams Selyem actually ended up being one of the highlights of our time in the Russian River!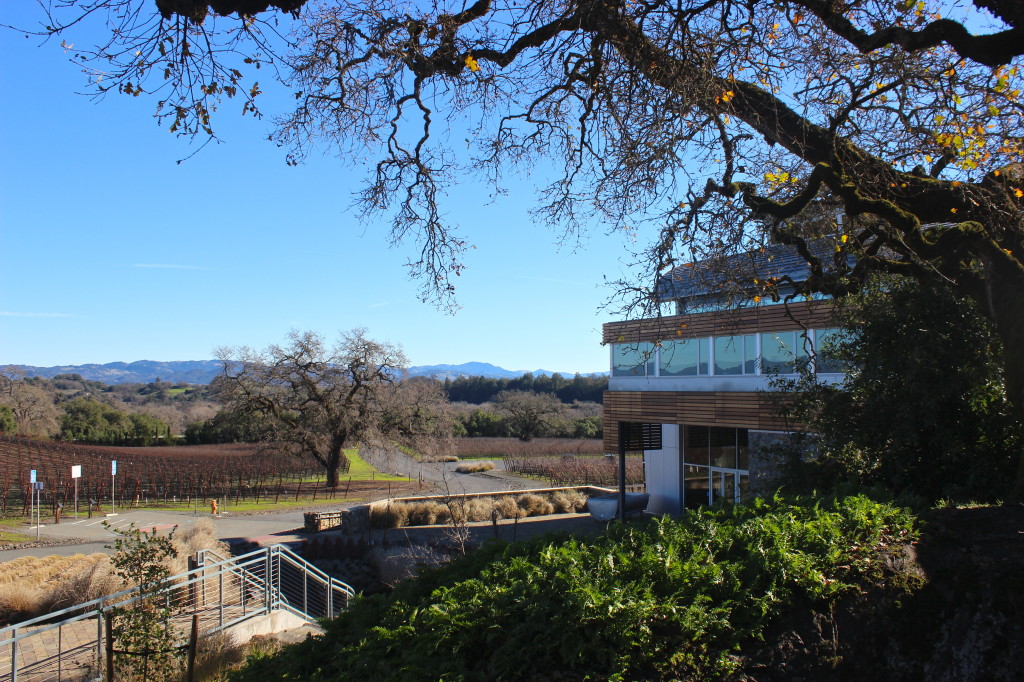 Williams Selyem Winery, which is located on Westside Road between Guerneville and Healdsburg, focuses on producing premium Chardonnay and Pinot Noir from the Russian River Valley. Founded in 1981 by Burt Williams and Ed Selyem, the two friends started out making wine as a hobby in a garage, producing wine for their Hacienda Del Rio label. After some legal issues with the name, they changed it to Williams Selyem in 1984. For almost the next decade, Burt and Ed continued to work their full time jobs while producing wine for Williams Selyem on the side, growing their production to over 5,000 cases by the early '90s. Soon, the two had to quit their day jobs to keep up with the budding demand of their highly sought-after wines.
In 1998, the winery was purchased by current owners John and Kathe Dyson who were in fact long time customers of Williams Selyem and actually hand-selected by Ed and Burt to take over the winery! That same year, Williams Selyem developed its first estate vineyard. Now, about 40% of their wines come from their estate vineyards, with the rest being made from grapes sourced from neighboring vineyards throughout the Russian River and Sonoma Coast.
A visit to Williams Selyem is certainly a special one. First off, the winery is not open to the public… reservations are required well in advance, and only to those on their allocation list. FYI: There's typically a waiting period of 5-9 months to join the list… heyo! Like I said, these wines are in high demand, but for good reason! They're beautiful examples of cool climate wines from this region: powerful yet elegant, easy to drink yet complex and age-worthy.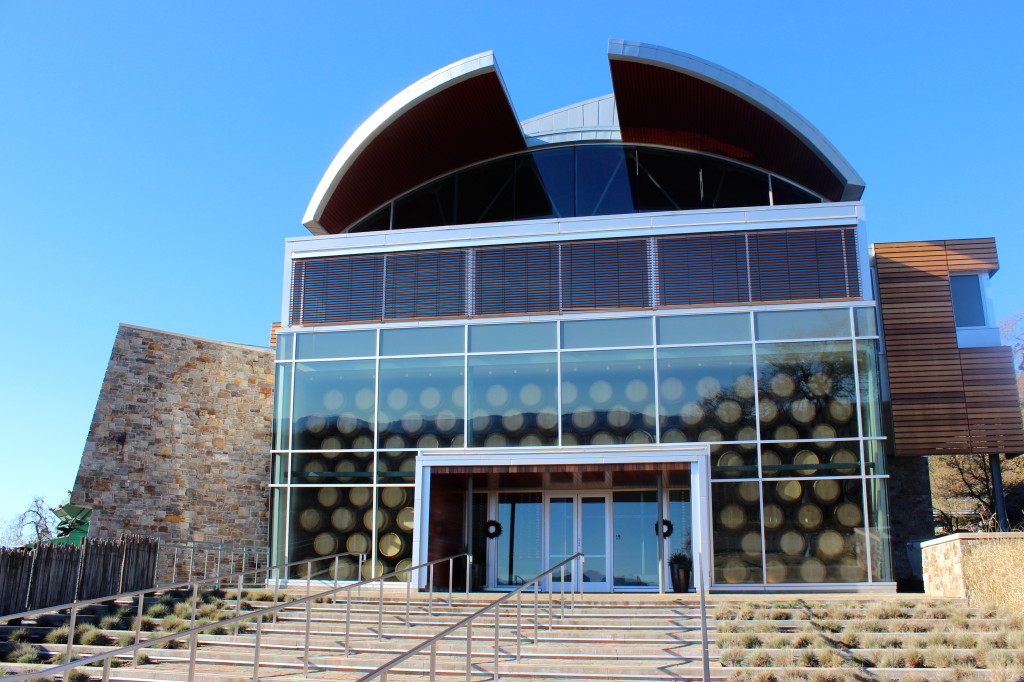 All of their wines are made in their 33,000 square foot modern winemaking facility and tasting room center which was built in 2010. When developing the new facility, they went to great lengths to preserve the centuries old oak trees that surround the building, just one of the things that showcases the winery's commitment to quality and minimal intervention.
When we arrived to the winery, we were greeted outside by our wonderful tour guide, Phillippe. The outside of the winery is impressive, but it's the bright, modern interior that really captivates! There's a dramatic wall of glass bottles covering one wall and horizontal rows of barrels that line the other. The tasting experience is intimate, with your own private table and guide, so it feels personal and never rushed.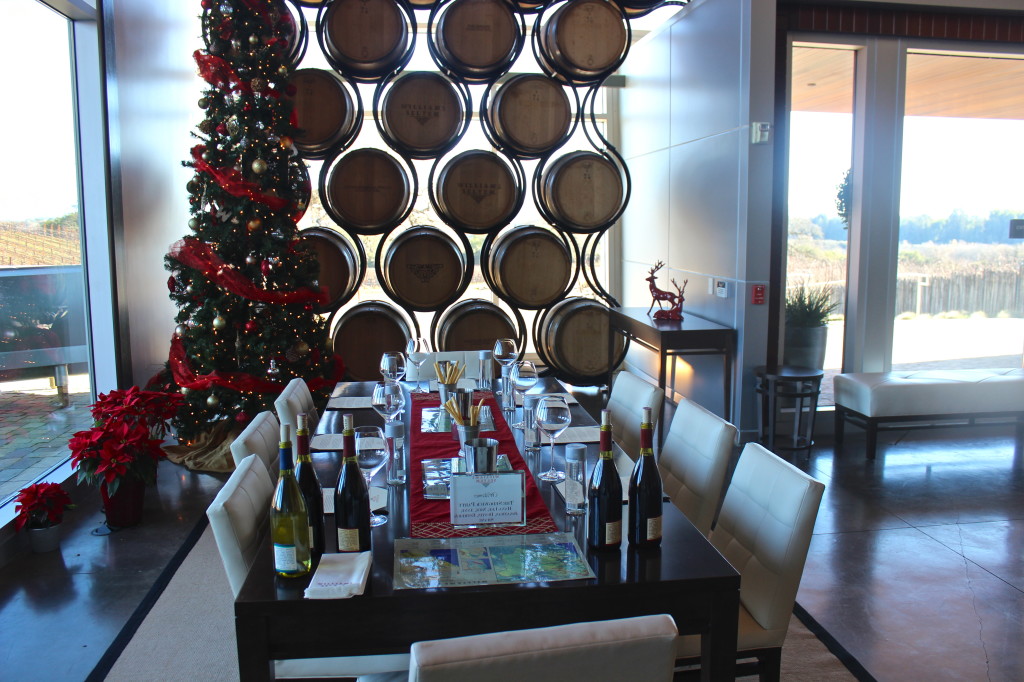 They make a whopping 35 different wines at Williams Selyem, and out of the 7 that I tasted, there wasn't a mediocre one in the bunch… they were all great. The 2013 Unoaked Chardonnay ($39) had bright aromas of nectarines and citrus, with a soft, minerally finish.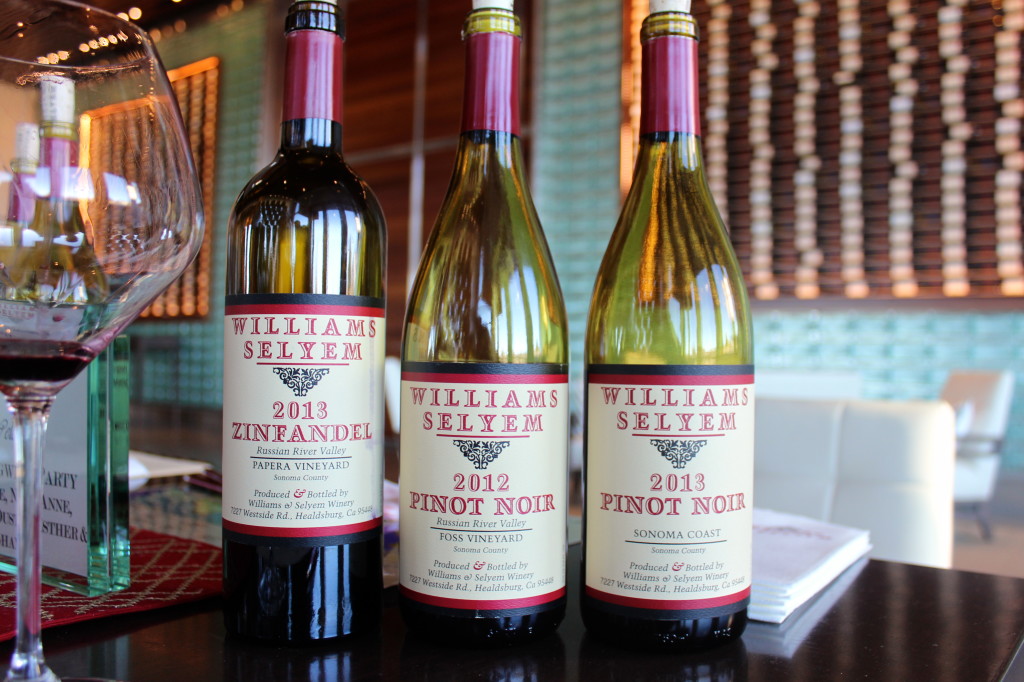 The 2012 Foss Vineyard Pinot Noir ($65) had rich dark berry fruit with baking spices on the finish and the 2013 Luella's Garden Estate Pinot ($90) had lovely notes cherry cola and thyme with an elegant, lingering finish. So tasty. We also tried the 2013 Zinfandel ($55) which was super elegant. You can't go wrong!
If you are lucky enough to visit the winery, it's certainly a wonderful way to spend an afternoon (or morning, if you start early like us!). Cheers.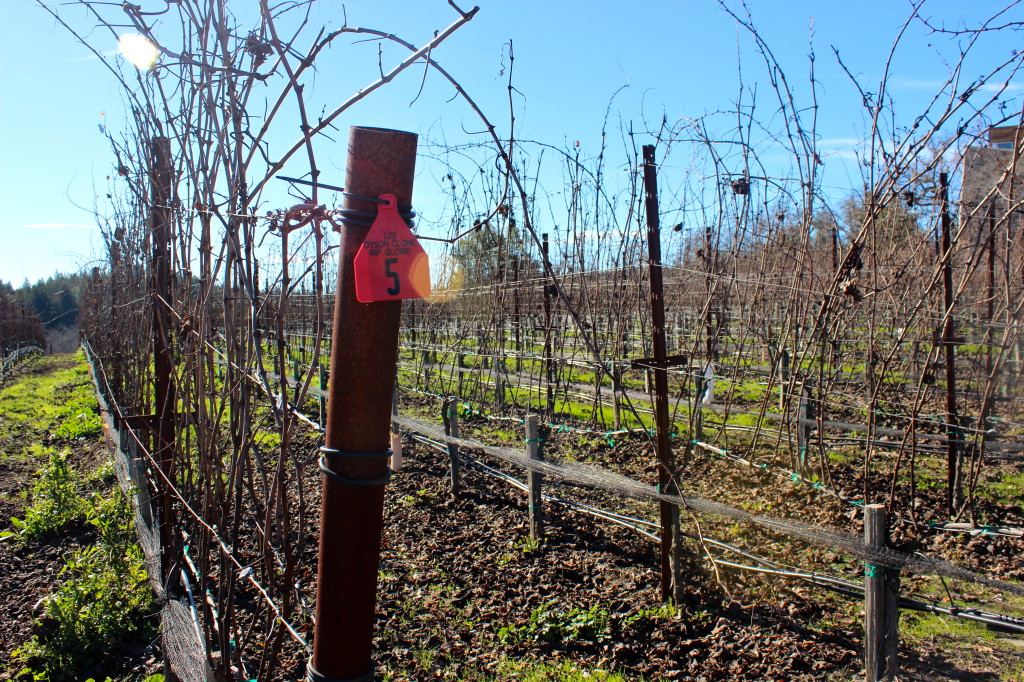 *Winery Notes*
Tastings by appointment only for members of the allocation list
Phone: 707.433.6425
Location: 7227 Westside Road – Healdsburg CA