It's BUBBLES season! With all of the holiday parties and New Year's Eve celebrations coming up, you're bound to need a few bottles of sparkling wine on hand. Maybe your Champagne tastes are spendy and you can afford to drop the big bucks on Veuve, Taittinger or even Krug. Most people, including me, can't afford to spend that much and tend to stay in the under $20 range for bringing to/hosting parties. Luckily, there are plenty of options and I'm here to help you choose some that won't break the bank this holiday season. "Champagne taste" on a budget!
Recently, I was a guest contributor on the wedding website, Apple Brides, and wrote about choosing affordable sparkling wines for your wedding toast. Although the story revolves around wedding wine, there's no reason to not reach for these any time of year, especially the holidays.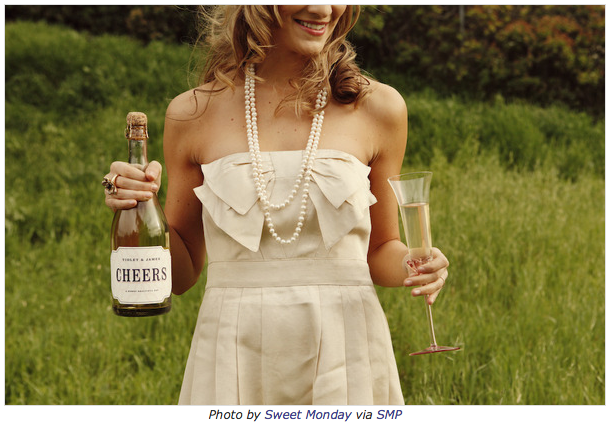 Some of the featured selections:
Domaine Luquet Roger Brut Blanc de Blancs ($19) – made solely from Chardonnay grapes, this smooth French sparkling wine has aromas of lemon and pound cake, with apple flavors and a creamy mouthfeel. It's a great wine that seems much more expensive than it is!
Domaine Chandon Brut Classic ($15) – this is a lovely sparkling wine out of California. It's dry, with aromas of citrus, bread dough and a slightly spicy finish. It's elegant, crisp and is a consistently good wine year in and year out.
Mumm Napa Brut Prestige ($19) – this sparkler has lots of vibrant apple flavors, complemented by complex black licorice, vanilla and floral aromas. It's approachable with a hint of bubbly sweetness and a nice structure.
For more on the story and all of my affordable picks, read here! I'd say it's definitely worth stocking up on any of these sparklers, especially for those impromptu holiday get togethers… you know, when a friend or relative just happens to stop by. :)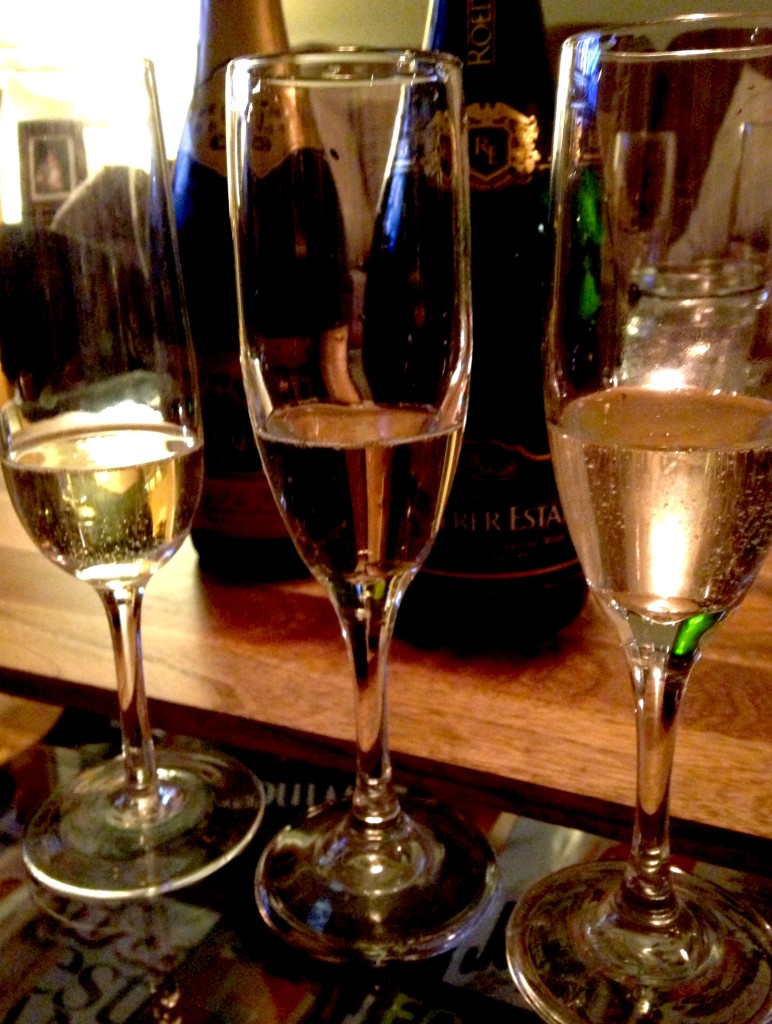 Now, if you are willing to shell out for a more expensive bottle (like, say, for a special occasion like Christmas Eve or a fancy NYE dinner), here are some good go-to producers:
Veuve Clicquot – who doesn't love seeing that yellow/orange label on the table? It's a great Champagne that's dry, food-friendly, and you can ALWAYS find a bottle of this to buy (for around $40).
Perrier Jouet – you've seen one of these bottles before (the one with the etched flowers on it). Although that fancy bottle of Champagne comes with a hefty price tag, you can find more "affordable" options by Perrier Jouet in the $50 range.
Bollinger – the 'Brut Special Cuvee' is a well balanced, velvety sparkling wine. It runs around $60. Bollinger makes other nice options, too, like their dazzling Brut Rosé! Yum.
Which sparkling wines do you reach for this time of year? Do you believe Champagne is over-hyped and over-priced or do you think the $50, $60 and higher bottles are worth it? I'd love to hear your thoughts! Cheers.