Just a 3 hour train ride North of Lisbon is Portugal's second largest city, Porto (or Oporto as some people call it). On our tour of Portugal, it was our second destination after Lisbon (Side note: if you missed my post on Lisbon, be sure to check it out).
Porto is a really great city. It's romantic, incredibly picturesque, has a more laid back vibe than Lisbon and has a great spirit. The riverfront is post-card perfect with it's multi-colored buildings piled on top of each other, majestic bridges spanning over the river, tiny side streets dotted with outdoor cafés, and wonderful vistas of the Port lodges across the way.
As lovely as Porto looks, though, it still has a gritty and raw characteristic to it – you can tell it's a place where people have lived and worked all their lives. It's also a city without the massive amount of tourists that most cities in Europe have. Don't get me wrong, Porto has its fair share of tourists (although not many American tourists), but it doesn't feel like it… and we were there at the end of the high-season! It feels like you're meandering the streets and riverfront amongst the locals and the city is yours.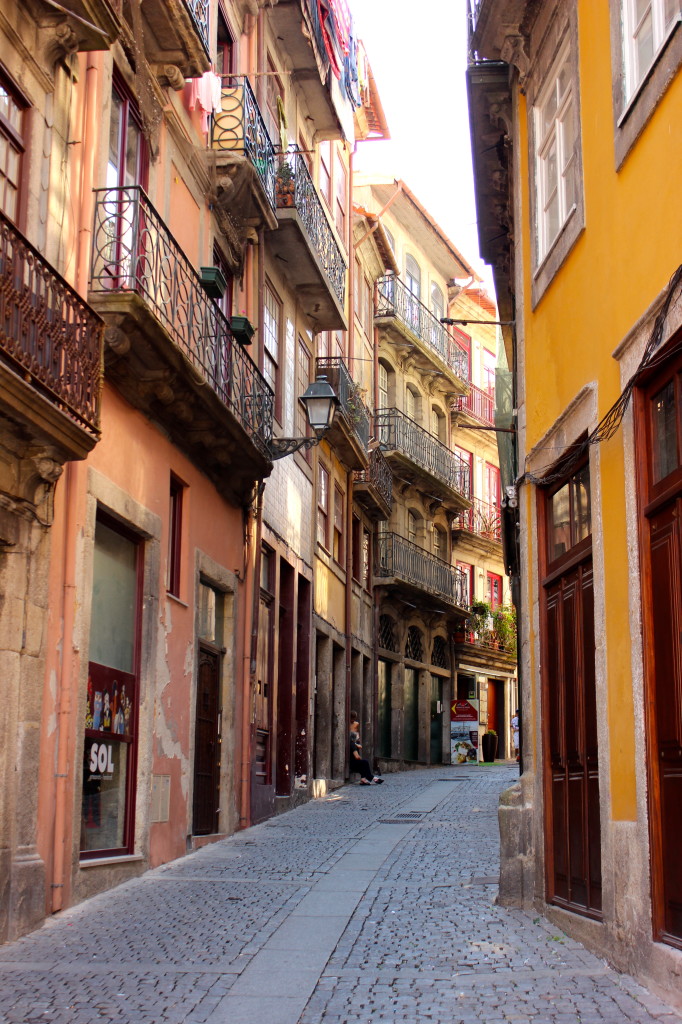 The city sits on a hill overlooking the Douro River and is somewhat divided into three main areas: the Ribeira (riverfront area), the city center (near the São Bento train station) and Vila Nova de Gaia (across the river). The latter is actually a separate city, but it feels like an extension of Porto since it's just a short walk across the bridge.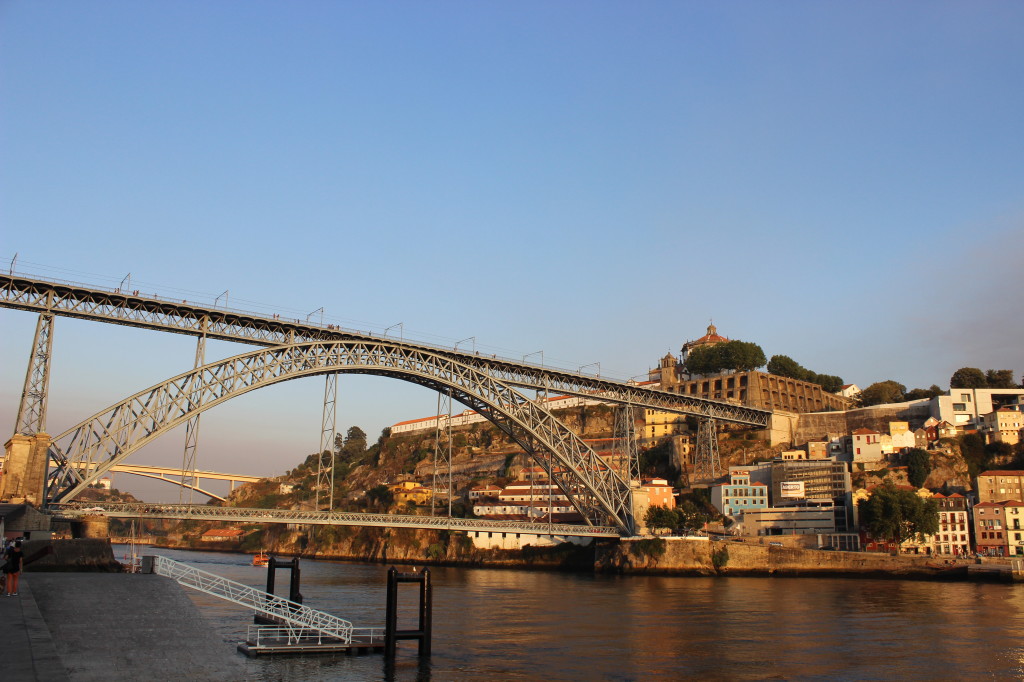 Nick and I stayed two nights in Porto (with a quick jaunt to the Douro Valley for a night in between) which definitely didn't seem like enough time. We first stayed in the Ribeira (Ree-bay-rah) area at the Hotel Carris Porto. It was awesome. We loved the location close to all the riverfront action, the staff were super helpful, and the interior was modern while still preserving the historic qualities of the building (the building used to be an old port house).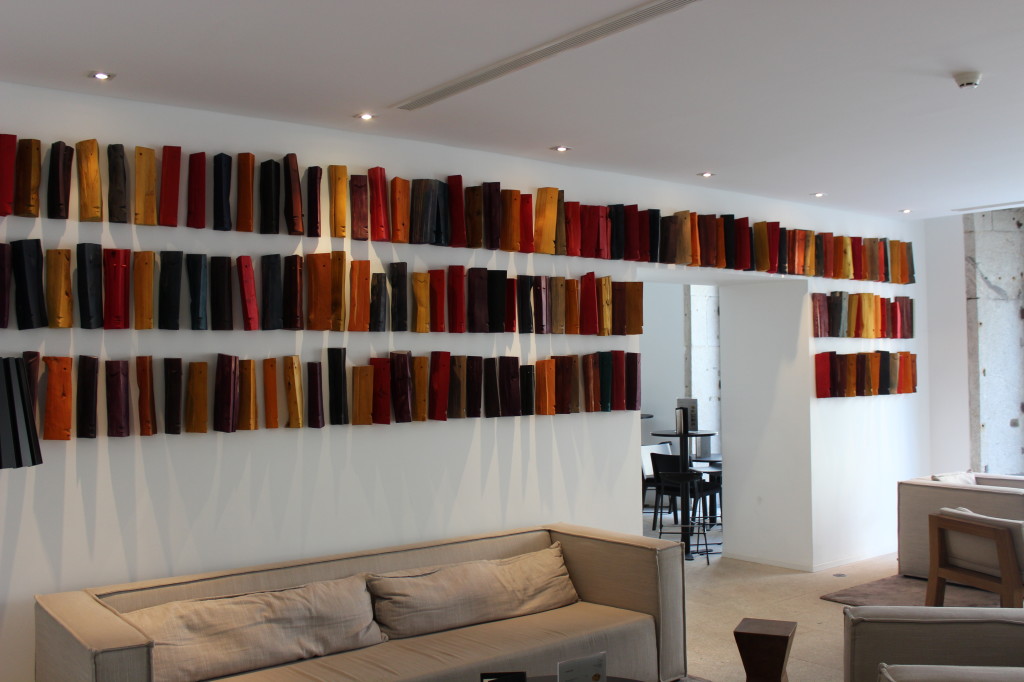 During our first day, we wandered around the Ribeira then had lunch at one of the spots looking out at the river. All of the restaurants here are touristy and the food not that great, but the views sure are pretty. (Tip: Eat elsewhere – we had much better meals and more fun at places tucked away on side streets). After lunch, we crossed the Dom Luis I Bridge and made our way to Vila Nova de Gaia (Guy-yuh) for some port tasting at the Port Lodges. When in Porto, you must try port wine at a Port Lodge (and take a tour). I will hunt you down if you don't!
There are a ton of port houses in Vila Nova de Gaia (you can see all the signs for them from Porto) and you really can't go wrong. A friend had recommended we try Taylor's, and after a lot of walking uphill passing abandoned buildings and stone-faced old locals, then walking uphill some more, we finally found it.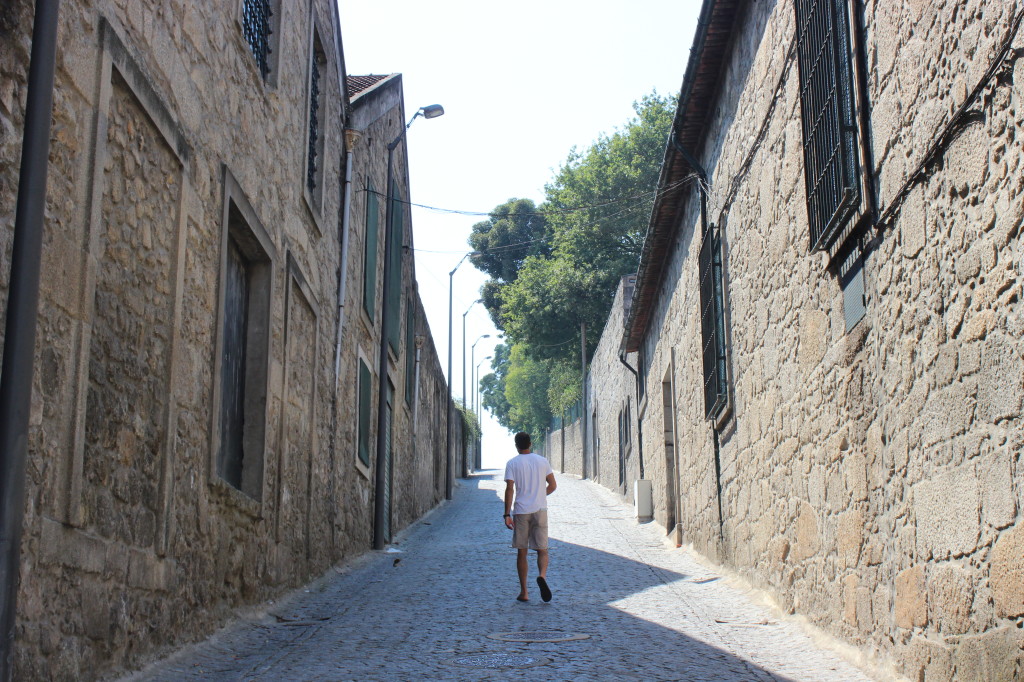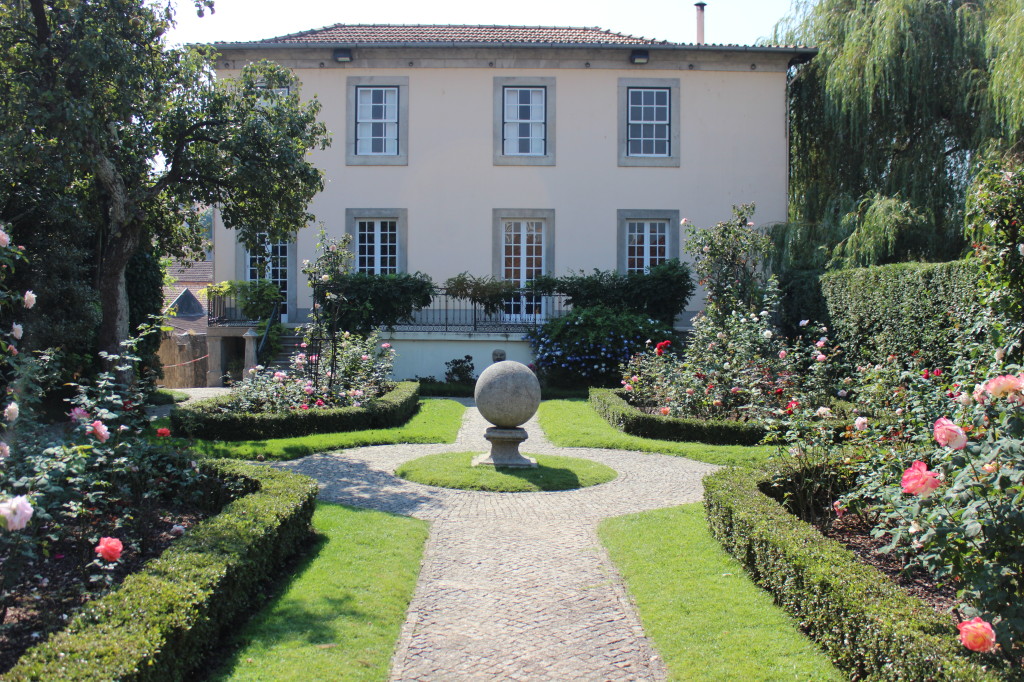 The place has legit views (which are even better from the restaurant there), and the grounds are nicely manicured. The large tasting room is decorated with a rather odd mix of old library décor with barrel furniture, but with a circus tent-like ceiling. I kind of dug it.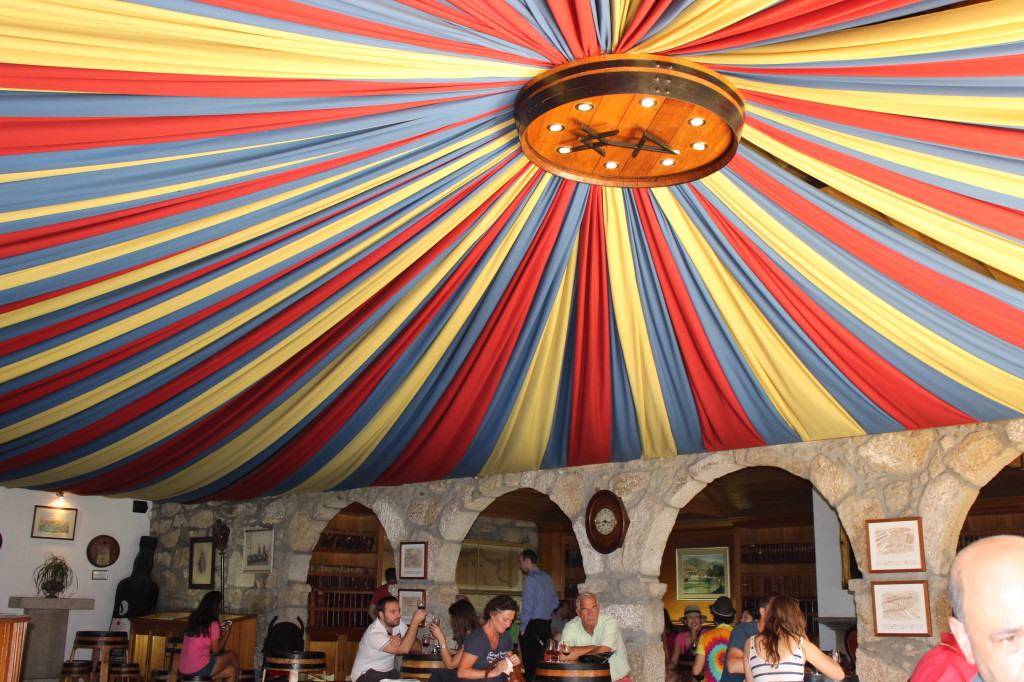 We didn't take a tour here, but did a standard tasting that included a 5 year white, a ruby and 10 year tawny port. If you're new to port, it's great to start with this introductory tasting. If you're more of a connoisseur, I'd splurge for the tawny tasting, which includes side-by-side tastes of 10 to 20-year aged tawnies (the age refers to the time spent in wood). Good stuff! There's also a gorgeous, fancy hotel nearby called The Yeatman, if you're interested in throwing down the big bucks to stay near all the port houses. And if you do, please take me with you! I hear they have a pool in the shape of a wine decanter. Now how awesome is that?!
Quick lesson on port: All 'Port' wines come from Portugal, kind of like all 'Champagne' comes from the region with the same name in France. It's a fortified medium-sweet wine with around 20% alcohol (no wonder they serve it in small glasses) that comes in several different styles. It's fortified with a grape brandy which stops the fermentation process early, killing the yeast and leaving more sugar in the wine.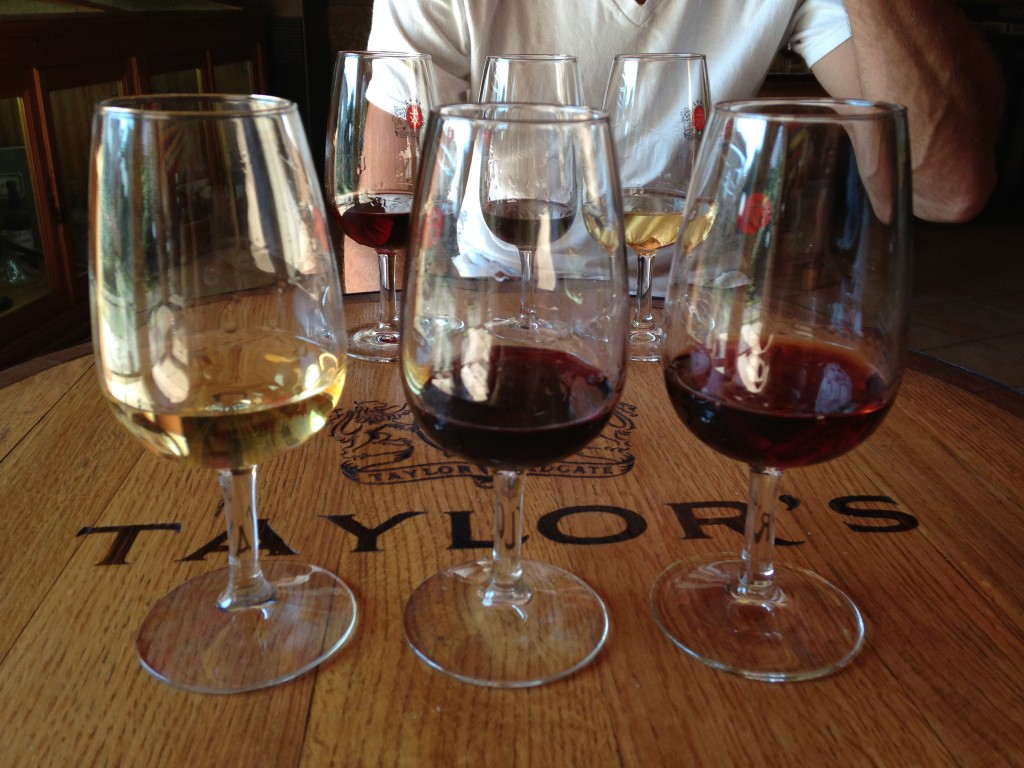 Different Styles:
White (made from white grapes, either dry or sweet) – it tends to have more citrus characteristics and is served chilled. It can also be turned into a cocktail when served with tonic over ice (delish!). It is bottled ready to drink.
Pink – this Port is only being made by Croft and is served over ice. It's slightly sweet and has a refreshing, cherry candy flavor. This Port should also be drunk right away.
Ruby – Aged in large vats for around 3 years, it's bottled ready to drink and doesn't have as long of a shelf life as Vintage or Tawny ports. It typically has ripe raspberry and chocolate flavors.
Vintage Port – A Ruby that's made from a single harvest (instead of a blend of grapes from many years), it's aged for 2 years before going to a tasting panel (aka, the Port Wine Institute) that makes sure the wine is worthy enough to be labeled a Vintage Port. It's then aged in the bottle for another 10+ years.
Late Bottle Vintage (LBV) – a blend of wines from a single year, which age together in large vats for 4-6 years. Since the vats are so large, there's less exposure to the wood, so it doesn't lose a lot of the fruitiness or color. After 5 years, it's bottled and sold.
Tawny – aged in smaller barrels 10-40 years, this port takes on a reddish-brown, tawny color from the years of oxidation in the barrel. Tawnies lose fruitiness with age and tend to develop tastes of nuts, spice and dried fruit.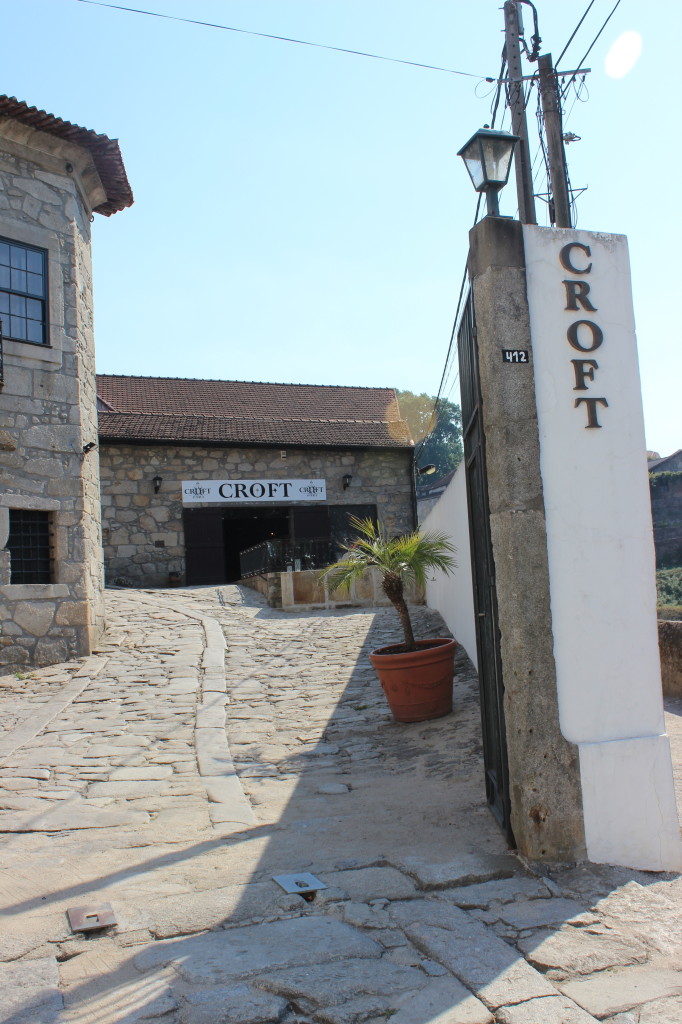 Even though I'm a huge fan of Port, it's hard to drink a lot of fortified wines in a row, especially mid-day, so Nick and I decided to only visit one more port house while across the river. We chose Croft, somewhat down the way from Taylor's but tucked away up a side alley. We made it just in time for one of the English-speaking tours, which was €3 and included 3 tastes of Port. The tours are well-worth the few Euros, and not just because there are some great opportunities to snap photos of 50,000 litre Port vats. You'll actually learn a lot!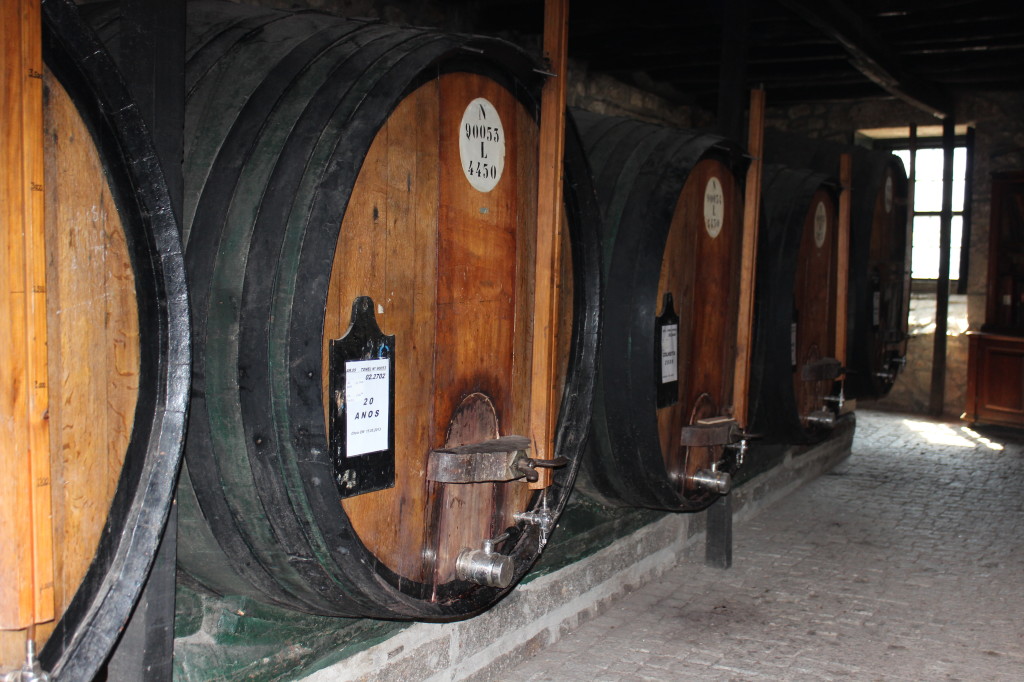 We learned that Vila Nova de Gaia has the biggest concentration of wine in all of Europe (yowsa!) and that there are over 65 companies producing port in Vila Nova de Gaia/Porto. Croft alone has hundreds of barrels holding wine from their 20,000 acres of vineyards in the Douro Valley, so you can imagine how large these Port Lodges have to be. Although I was hoping that Portugal still produces most of their wines using traditional methods (where's the vat of grapes for me to stomp on!?), that only accounts for 5% of Portugal's wine production now. Dang. But cool old barrels, though!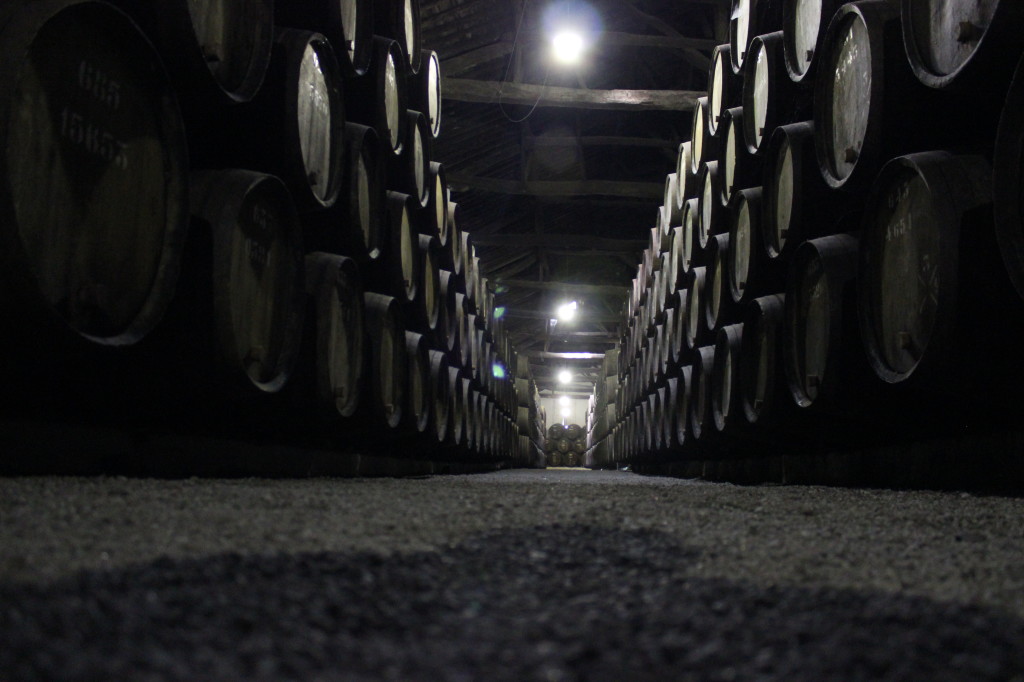 So when you've had enough of the sweet stuff, what to do in Porto in the evening? A). find a spot to have a drink and watch the sunset (the light hitting the water and buildings is unbelievable!) or B). take a sunset boat cruise on one of the traditional boats (called rabelos). We did both of these things and although the boat ride seems cheesy, it's definitely worth it!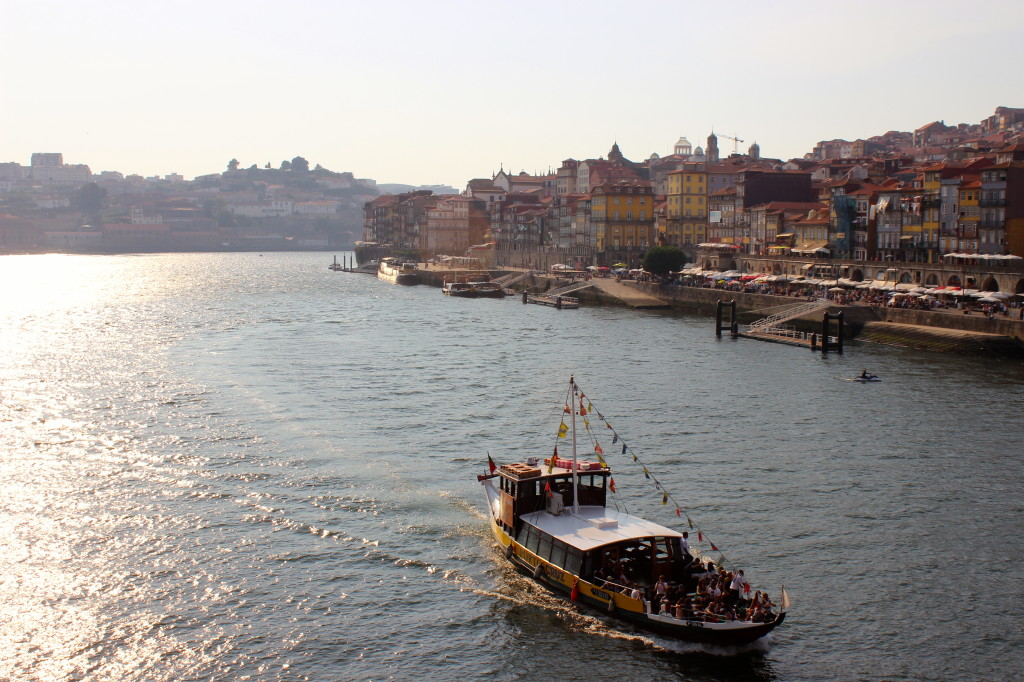 In a shocking turn of events, Nick and I found a wine bar to go to one night, overlooking the Douro River no less! We were lured in to Wine Quay Bar because we saw they had outdoor seating (and the view at dusk was too priceless to let go of), but the four outdoor stools were taken so we sat inside.
Outside: romantic, candle-lit, quiet. Inside: small (only 4 tables), bright, with stone walls and no music (to encourage conversation). We were happy we sat inside in the end – we not only could see the view but got to chat with our friendly Canadian neighbors at the next table and have conversations with the owners. The owners, Moises and Filipa, were incredibly friendly and hospitable. They're actually married and live upstairs, and the building's been in her family for over 100 years.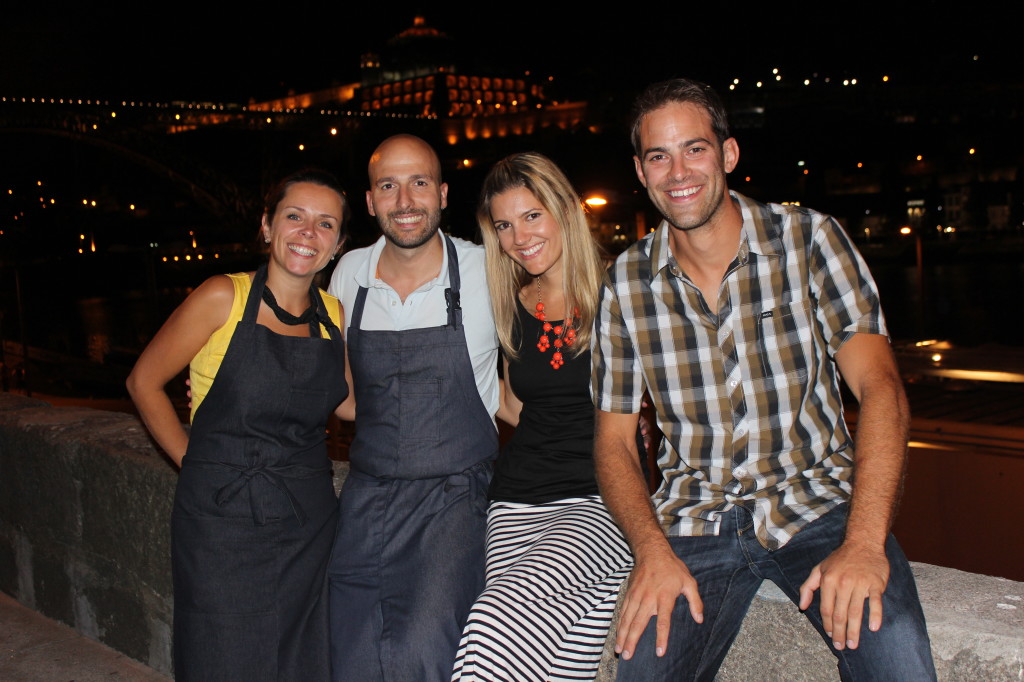 The décor in the bar, which opened in June 2012, pays tribute to Filipa's grandfather's profession of exporting coal and iron. If you go, be sure to take a peek at the 2 bottles of port in the glass case that have been in the family for 40 years.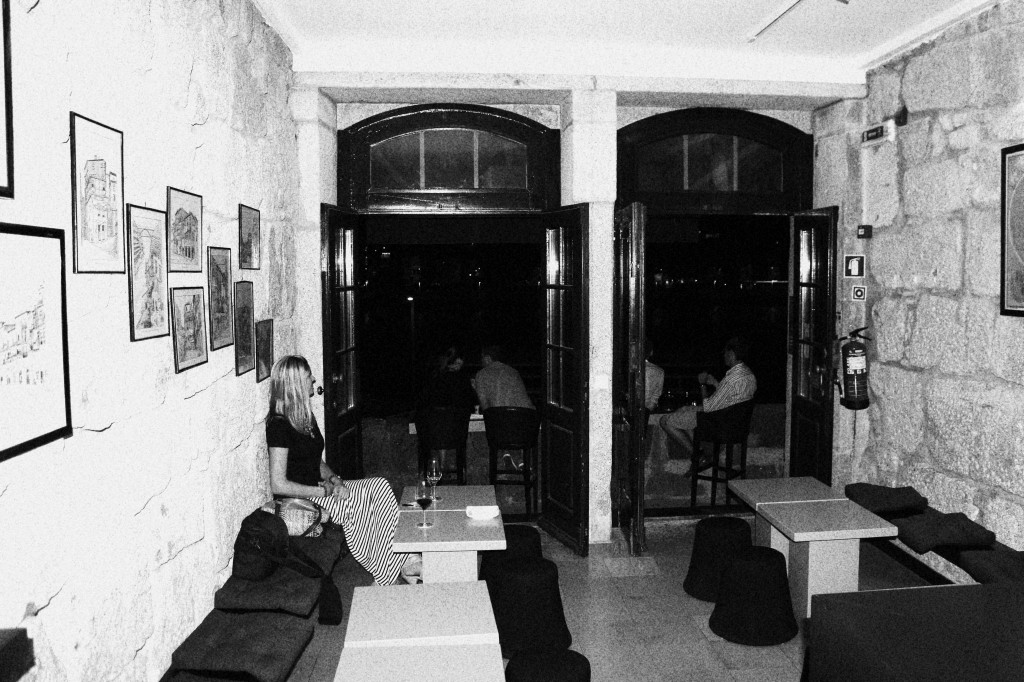 The place has a nice wine list, but we really just enjoyed the friendly atmosphere of the bar and its owners. They only serve cold tapas, so it's a great spot for a nibble of cheese and glass (or 3) of wine. Note that the 'flights' of wine are actually three full glasses of wine, not three tastes like in most places. Heyo!
Our final day in Porto was spent closer to the Sao Bento train station (which has beautiful tile work, btw), where we stayed in the Grande Hotel de Porto on the Rua de Santa Catarina, Porto's busiest shopping street. The hotel is grand, with old English decor and nice sitting areas.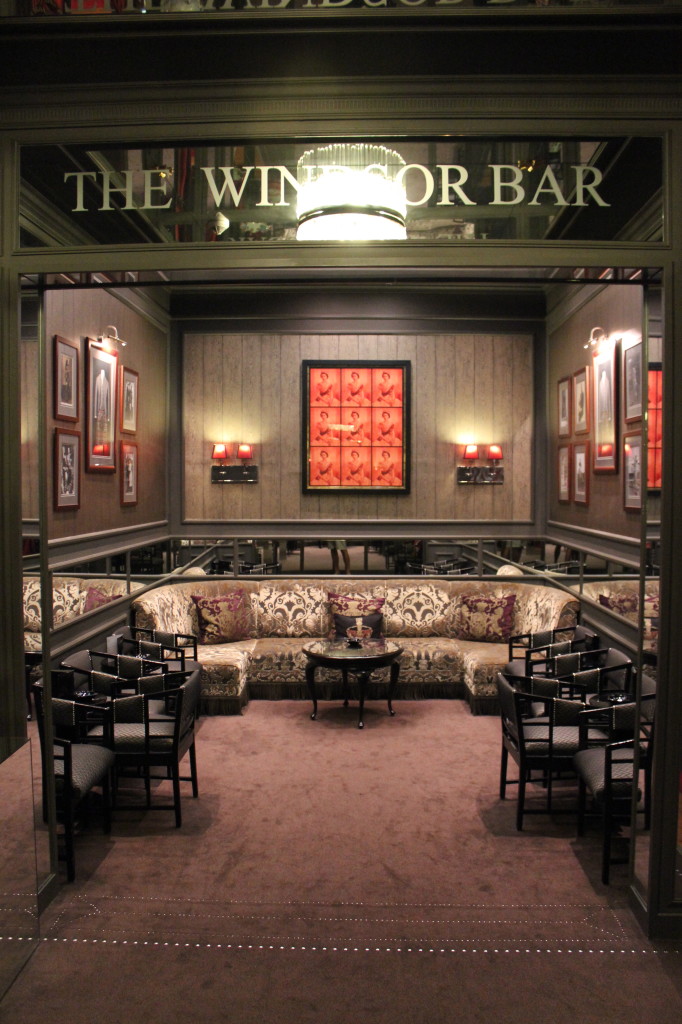 The room we were in was nothing special, but breakfast was included (and it was an exceptional continental) and it was fun to switch up locations. Within easy walking distance from the train station (helpful for those of us with large backpacks), it's located on the Rua de Santa Catarina, Porto's busiest shopping streets. There are boisterous locals drinking "café" outside, familiar Euro shops (Mango, Zara, United Colors of Benetton), and great people watching. (Tip: Portuguese "café" is actually a small [bica] shot of espresso with a sugar packet on the side). If you're looking for a great spot for a café while watching the people go by, head across the street from the hotel to Café Majestic and snag a table outside. Known mostly for their breakfast, they also have a formal tea service with sandwiches and scones in the afternoon… for when you're sick of drinking port and need something else.
Like I mentioned earlier, the sunset cruise on one of the rabelo boats is definitely a worthwhile activity. The boats, which were once the only way to transport port barrels from the Douro Valley to Porto, are a fun way to see all of the 6 bridges surrounding Porto.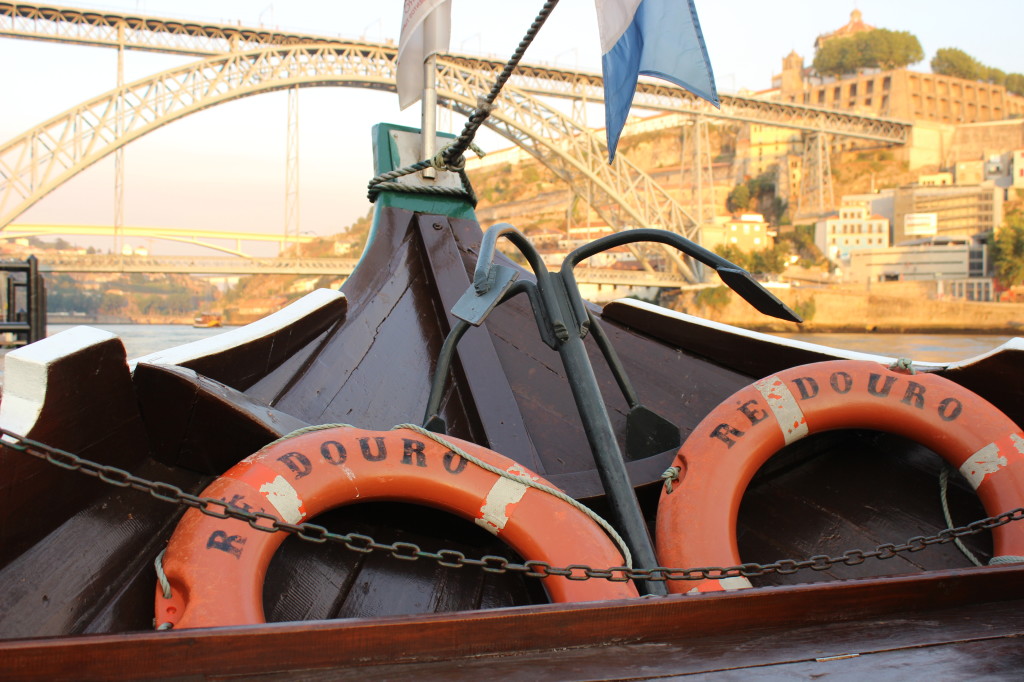 In early September, the last cruise left at 7:30 which gave us plenty of time to take in the scenery before the sun set, and enjoy the city lights as it got dark. Where else will you get a photo opp like this?!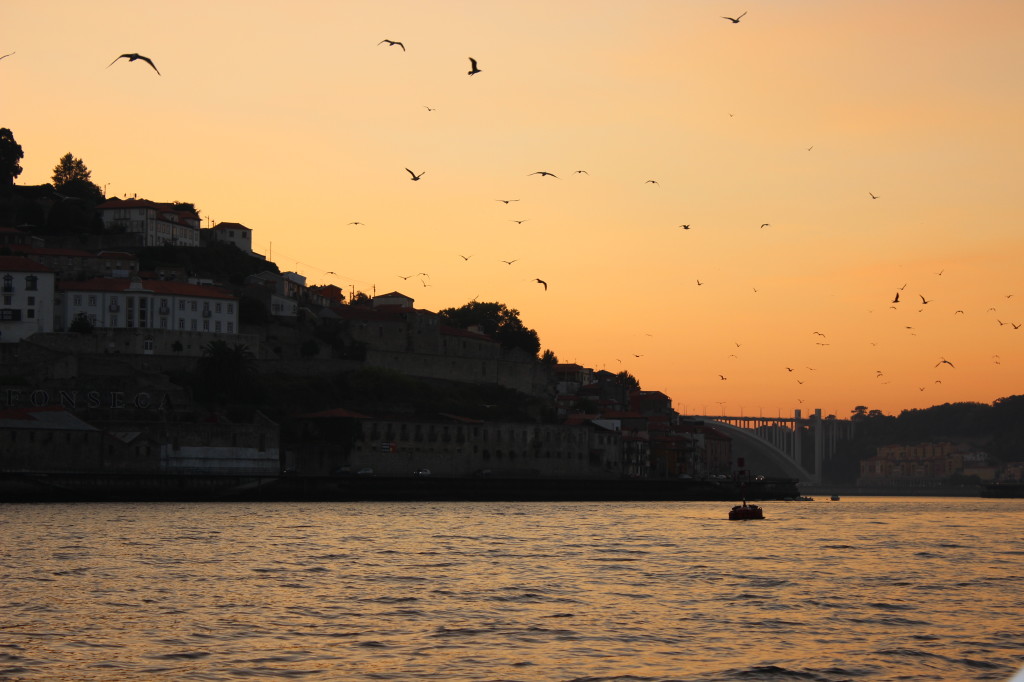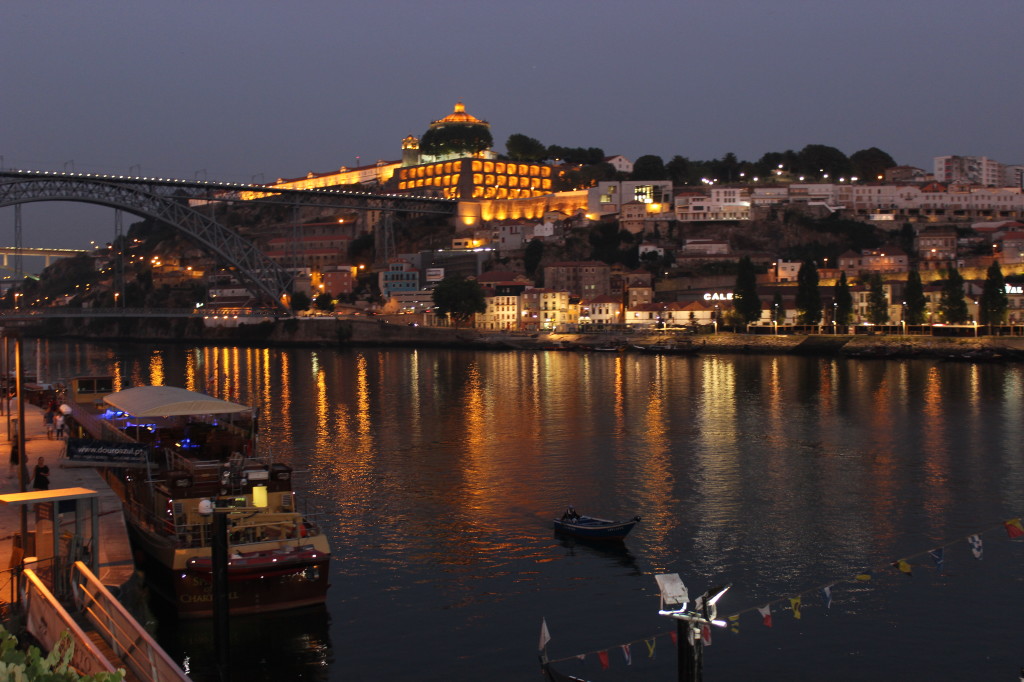 All in all, I loved Porto. I can't wait to go back and explore more of the city one day (and visit more Port Houses!). I think it's one of Europe's most picturesque and unexposed travel destinations. Cheers!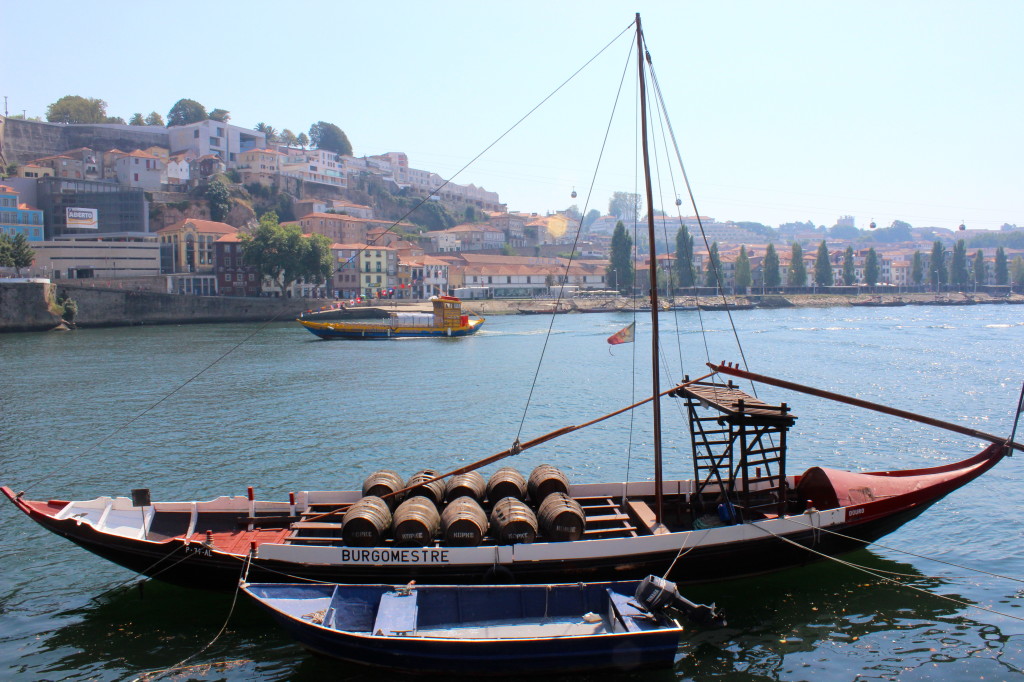 Enjoying the sunset boat ride on the Douro…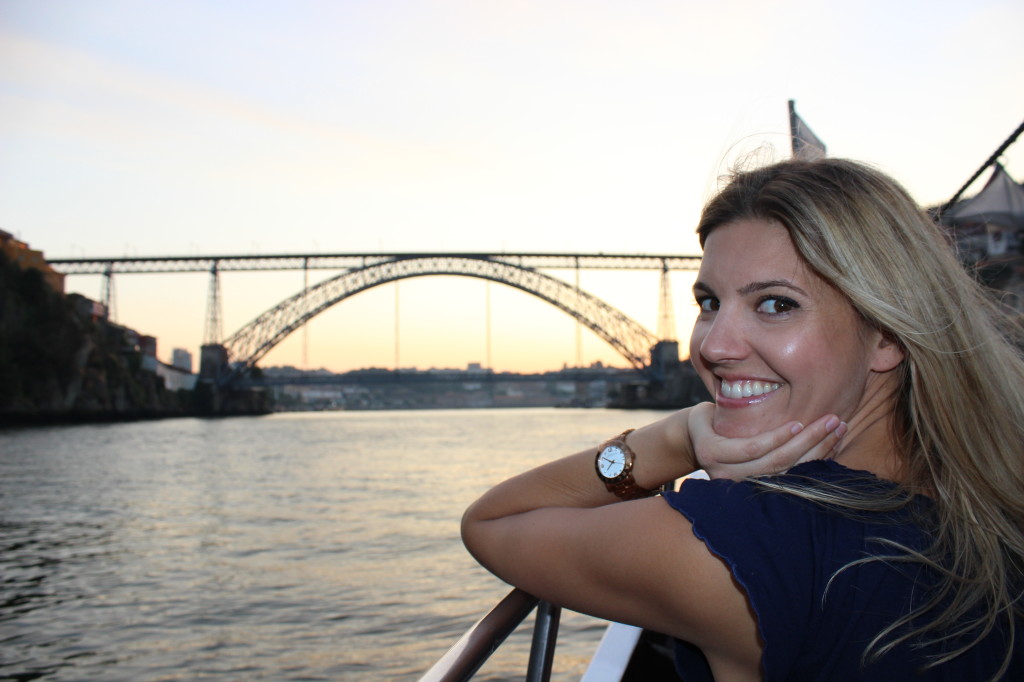 Gorgeous Azulejos (painted tilework) in the São Bento train station…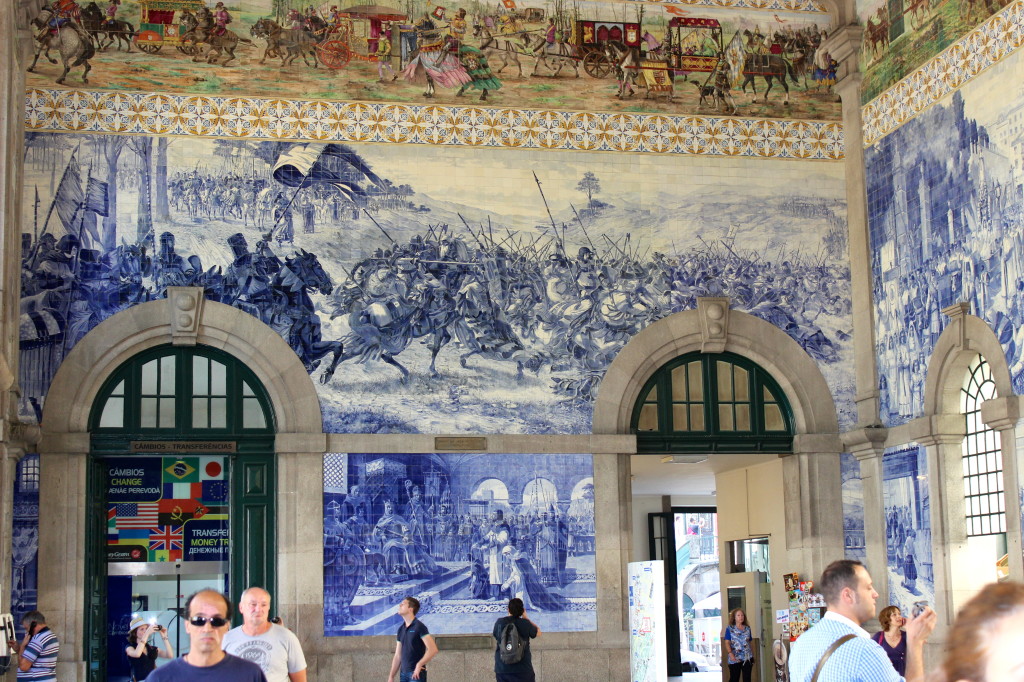 The tiled church (Igreja de Santa Ildefonso) in Praça de Batalha Square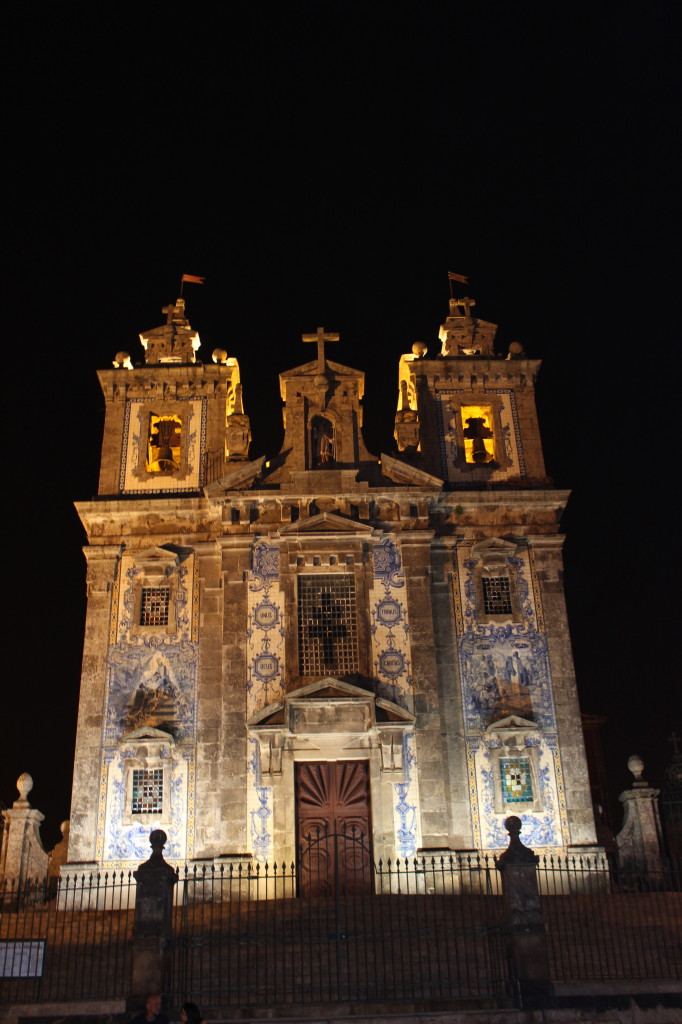 Until next time, Porto…
Looking for more info on Portugal? Check out the Douro Valley, Sintra, Évora and Lisbon!