After a full day of tasting wine at Benson, Lake Chelan, Karma and Tsillan wineries on Saturday, we spent Sunday morning leisurely making breakfast and chilling on the deck overlooking the lake. It was 10am and already very warm! To take advantage of the gorgeous weather, we decided to stick around for a few more hours and hit up a couple more wineries in the area. Why not? We first visited a winery called Hard Row to Hoe. Funny name that comes with a good story…
The winery was originally named after the Balsamroot flower, a yellow wildflower native to the area. After two years of people not remembering the name, owners Don and Judy Phelps decided to rebrand their business. In order to come up with something more memorable and interesting, they looked to local history for inspiration.
In the 1930s, construction was winding down on the Grand Coulee Dam and many of the men had to move to work on a mine in Lucern. Some "professional ladies" saw an opportunity and moved into a brothel at an area of the lake called Point Lovely. To help the miners get across the lake to Point Lovely, one man decided to start a row taxi service to transport the men back and forth. And… Hard Row to Hoe was born! The brothel theme continues into the tasting room, which is decked out with erotic wallpaper, an original iron bed from the Point Lovely brothel, and wines with names like Afternoon Delight and Burning Desire. Side note – the name Burning Desire pays homage to the brothel that was later burnt to the ground by some disgruntled wives of the miners. They don't mess around!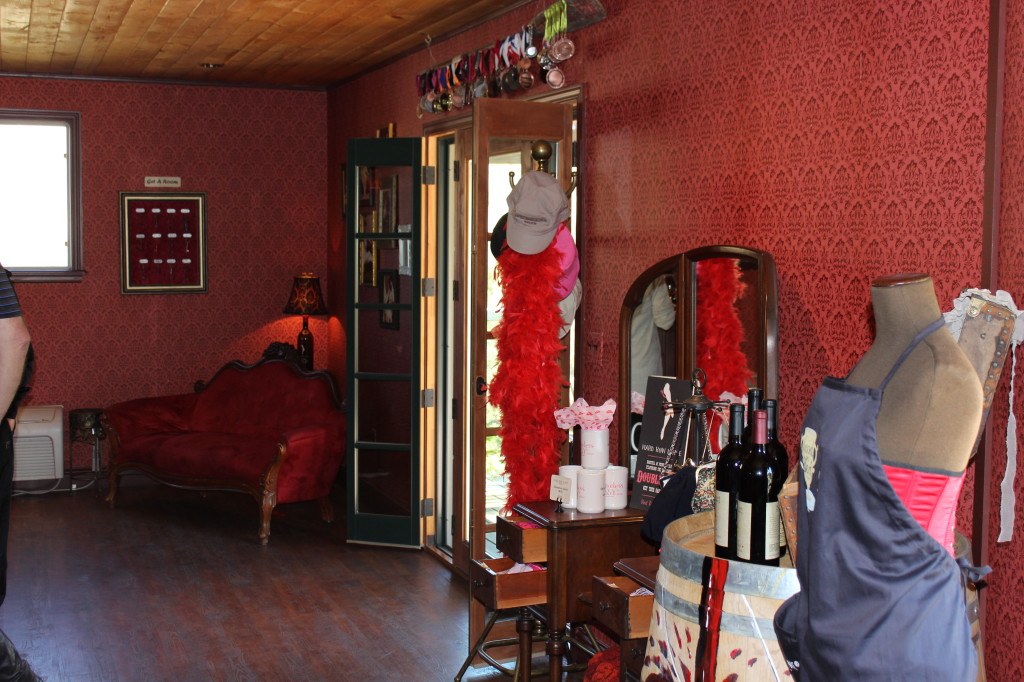 The winery produces about 2500-3000 cases per year, and their grapes are organically grown and certified salmon safe (Salmon Safe is an actual certification in WA and OR granted after inspection proves the winery uses sustainable agriculture practices that protect water quality and the salmon). Funny enough, the winemaker, Judy Phelps, used to have a career in water sustainability prior to making wine.
The tasting includes 5 wines for $5, and they change the selection up quite often. We first started with the 2012 Sauvignon Blanc ($17.99) which had summery aromas of pineapple, vanilla and a nice bright acidity. Very refreshing. Next, the 2012 Shameless Hussy Viognier ($17.99). The aromas were mouthwatering (lemon meringue pie, anyone?), but the pear and honeydew melon flavors were way too sweet for my liking. Afterwards, we tried the 2011 Tempranillo ($28.99), which had nice aromas of black cherry, spice and cigar box, followed by cherry, black licorice and earthy flavors. It was straightforward and pretty decent.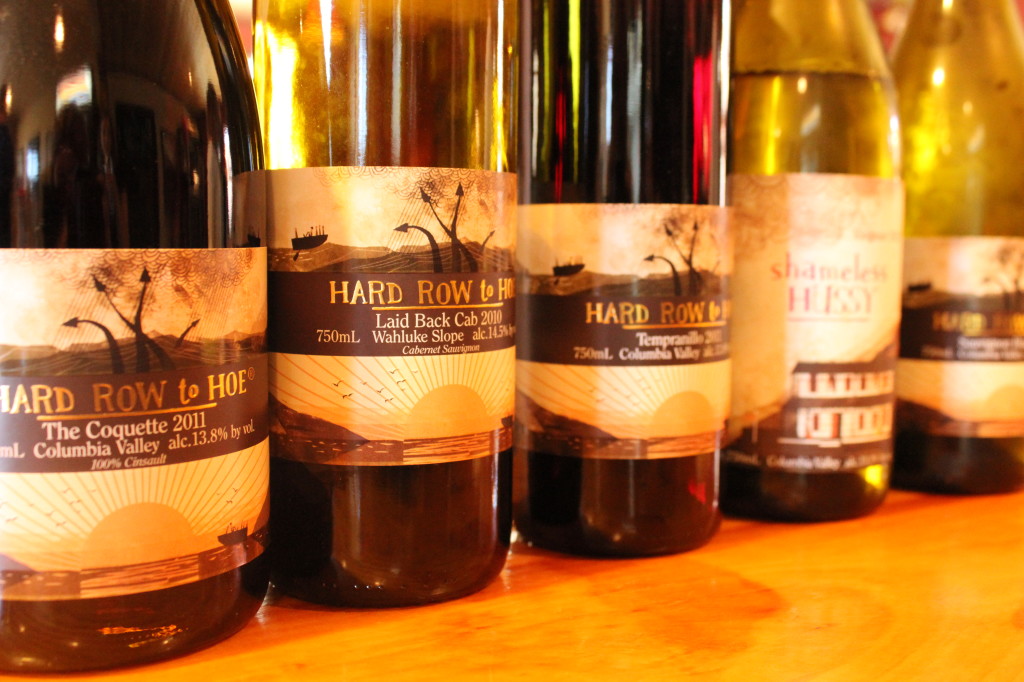 The 2010 Laid Back Cab ($31.99) had blackberry and mocha aromas with some dark fruit flavors and prominent oak. Although it didn't do anything for me, the next wine was very nice – The 2011 The Coquette ($36) made with 100% Cinsault. Cinsault, a grape native to the Rhône region of France, is most often used as a blending grape, but Hard Row to Hoe has let this grape shine on its own. The Coquette had a beautiful strawberry hue, and spicy raspberry, rose petal and white chocolate aromas. It was feminine, balanced and had lovely soft tannins. I really enjoyed it! It'd be the perfect compliment to a light summer meal that calls for a lighter red wine.
I wish I had been able to taste more of their wines, like the Cabernet Franc and Good In Bed Sparkling Rosé, but you can't taste them all! The winery was a fun little spot to visit and certainly lightens the mood. I mean, there's even a red light above the bathroom and a high heel hanging in the chandelier. It's a good reminder that wine tasting should be fun and doesn't need to be taken too seriously!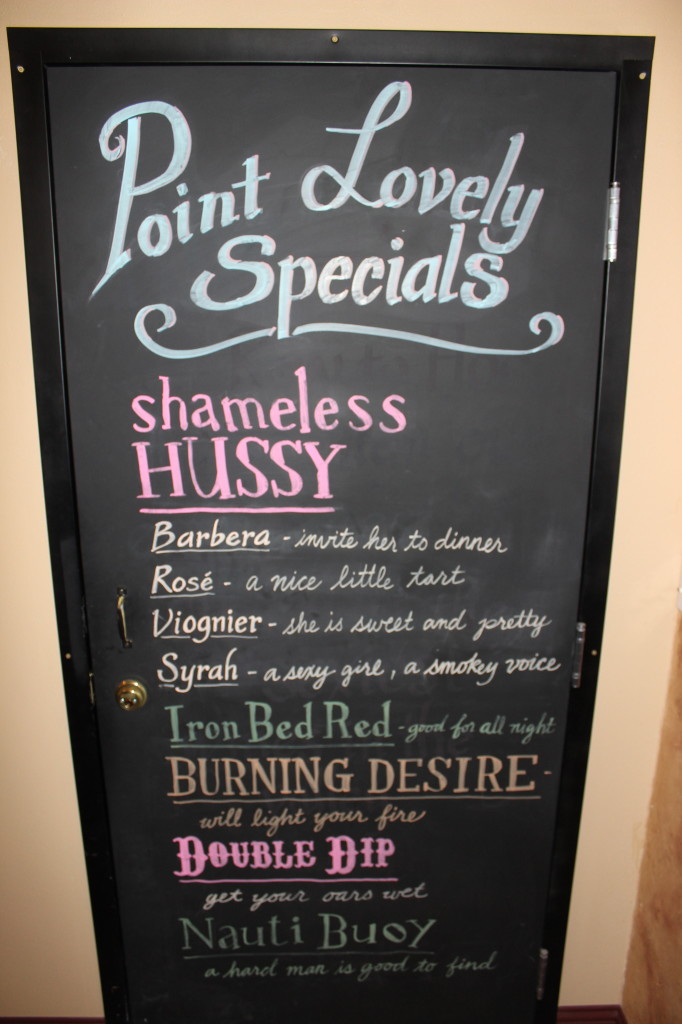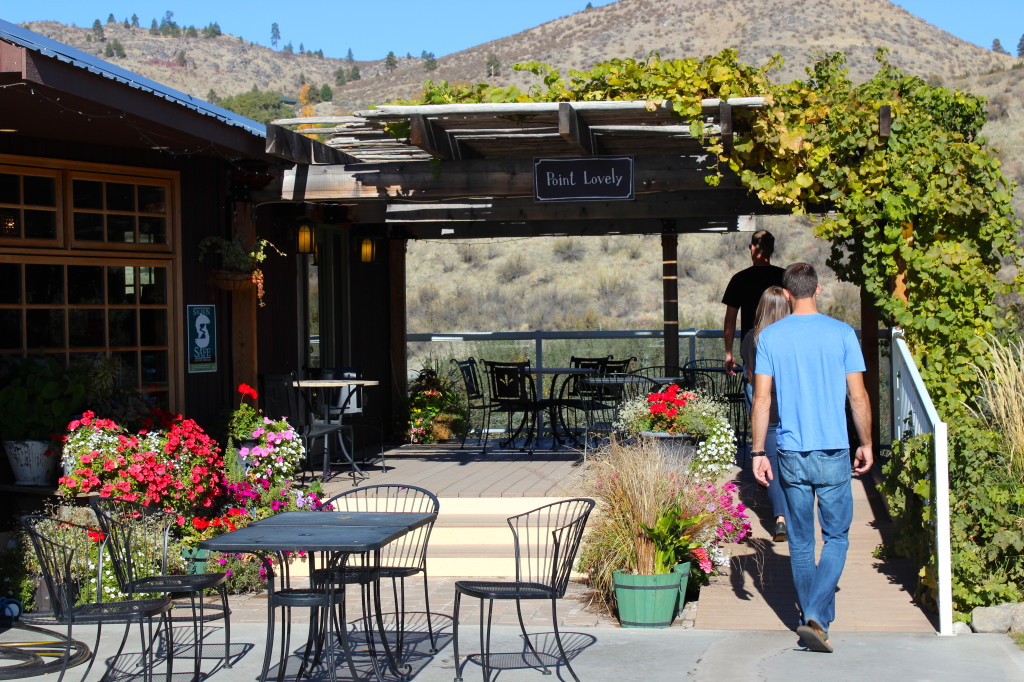 **Winery Notes**
Open: Daily 11-5pm
Tasting Fee: $5
Phone: 509.687.3000
Location: 300 Ivan Morse Road – Manson, WA
Tips: Be sure to check out the wallpaper in the bathroom – it's quite risqué!