Last week I shared with you the details of our delightful stay at the Inn at Abeja, located in Walla Walla wine country. Nick and I really did choose the perfect place to unwind post-wedding. Not only was the Inn peaceful and serene, but there's a working winery onsite, so we didn't have to venture too far to sample some highly regarded wine! Score.
Abeja Winery was started by Ken & Ginger Harrison (owners of the Inn at Abeja) and wine professionals, John & Molly Abbott. Ken, a lover of Cabernet, and his wife Ginger moved to Walla Walla from Portland to pursue growing Cabernet and start the Inn at Abeja. John & Molly Abbott came to Walla Walla from Napa and began Canoe Ridge, where John was the winemaker and Molly headed up marketing and PR. After 10 years, the two decided to pursue new ventures, and it was a similar vision and dedication to the craft that found them partnering up with the Harrisons to form Abeja Winery in 2002. With John as winemaker, Abeja's first release was in 2003. Production ranges from year to year but has stayed close to 4,500 cases annually. The desire to stay small allows them to give personal attention to the grapes and winemaking process, from sustainable vineyard practices to final production.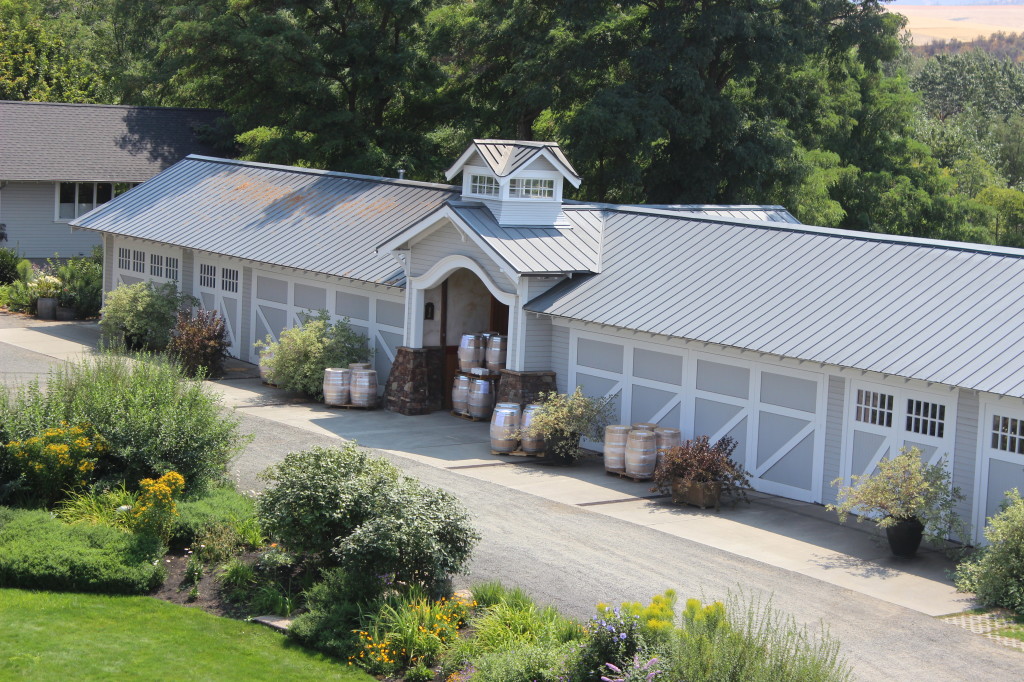 We started our tasting and tour with Molly, learning about the early years of the winery. She explained that the winery facility is actually housed in the old mule and horse barn, which is a state-of-the-art facility that still has a few antiquated features to remind you of the original farmstead.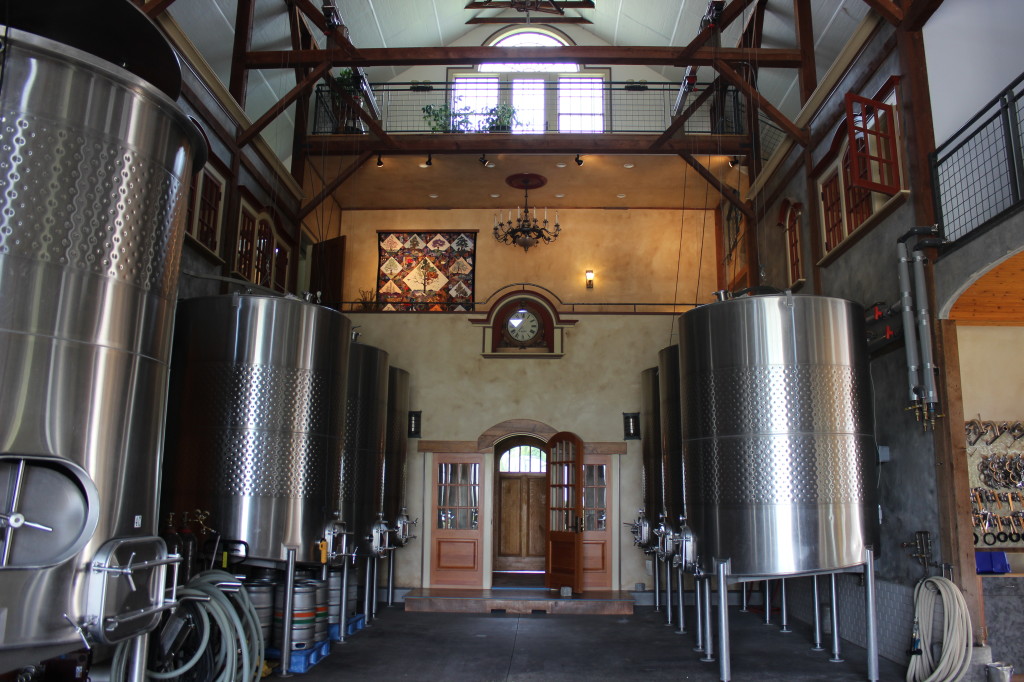 Reclaimed doors and windows throughout also pay homage to the past. Check out this original hay trolley and fork that was once pulled by mules to load large amounts of hay.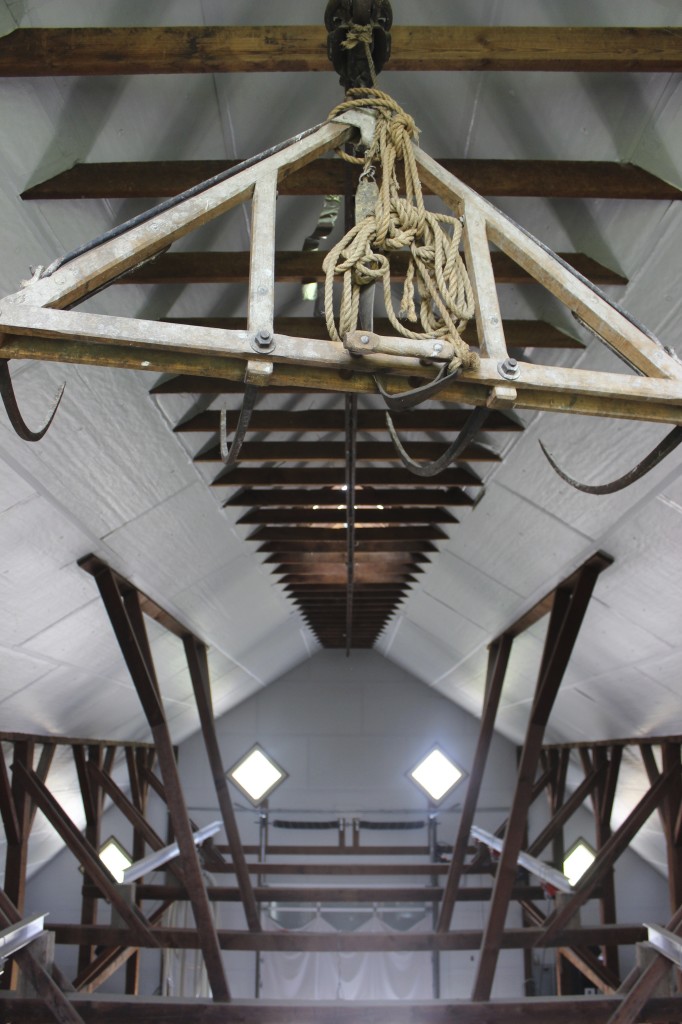 After our tour, we headed to the tasting room with Abeja's now head winemaker, Rob Chowanietz. Rob is a very nice, approachable guy who has a long history of making wine in Washington (like at Woodward Canyon, Canoe Ridge and Zefina). He's been with Abeja for a couple of years but took over as head winemaker somewhat recently. Rob walked us through a long list of current and new release vintages, starting with the 2014 Estate Viognier ($30), grown on vines right next to the winery facility. Lovely lemon blossom and honey flavors are followed by a generous roundness from neutral French oak, and tart acidity leaves a crisp zing on the finish. It was very good.
Although Abeja Winery is focused on producing Washington Cabernet (in fact, 85% of production is dedicated to producing it!), they do a nice job with all of their varietals, and this Viognier is a great example.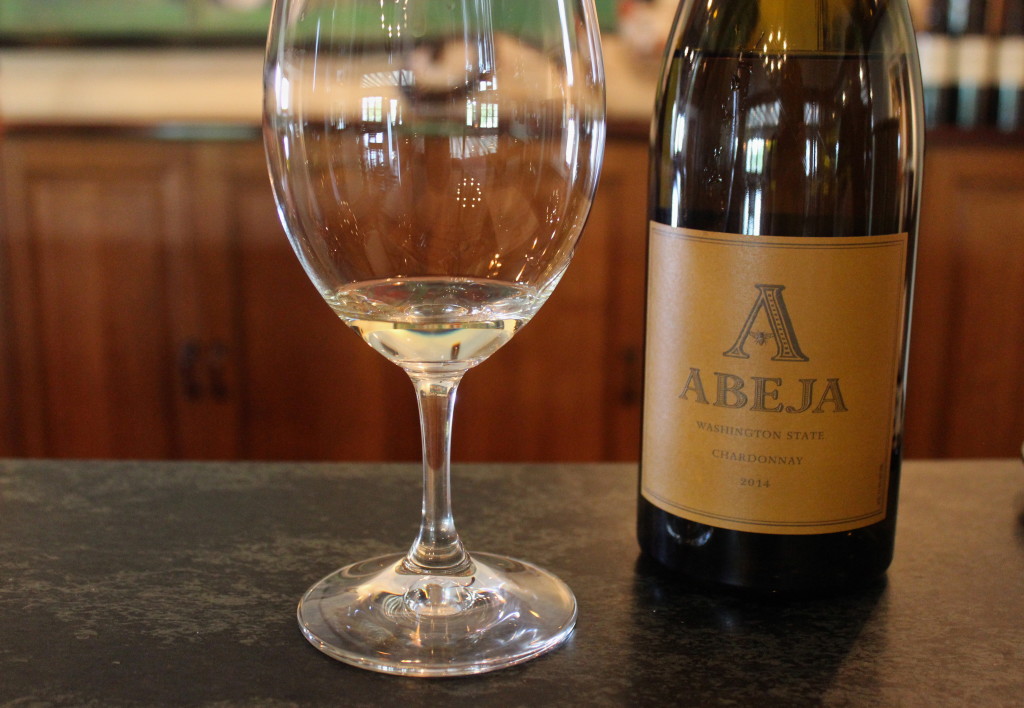 Next, we tried the not yet released 2014 Washington State Chardonnay ($36), which has ripe apricot aromas and a beautiful balance of rich texture and acid. Before we jumped into the Cabs, we tried the 2013 Columbia Valley Merlot ($40), made with mostly Merlot and a little bit of Cab. With 40% new French oak, it's earthy and leathery and everything you'd want in a Walla Walla Merlot. Lastly, we tasted Abeja's signature wine, the 2012 Columbia Valley Cabernet ($45). Oak nuances of vanilla and cigar box lead to notes of leather and black cherry. It's rich yet elegant, and in good company with the below 2012 Heather Hill Cabernet ($55), a more fruit-forward Cab from grapes grown on the estate vineyard.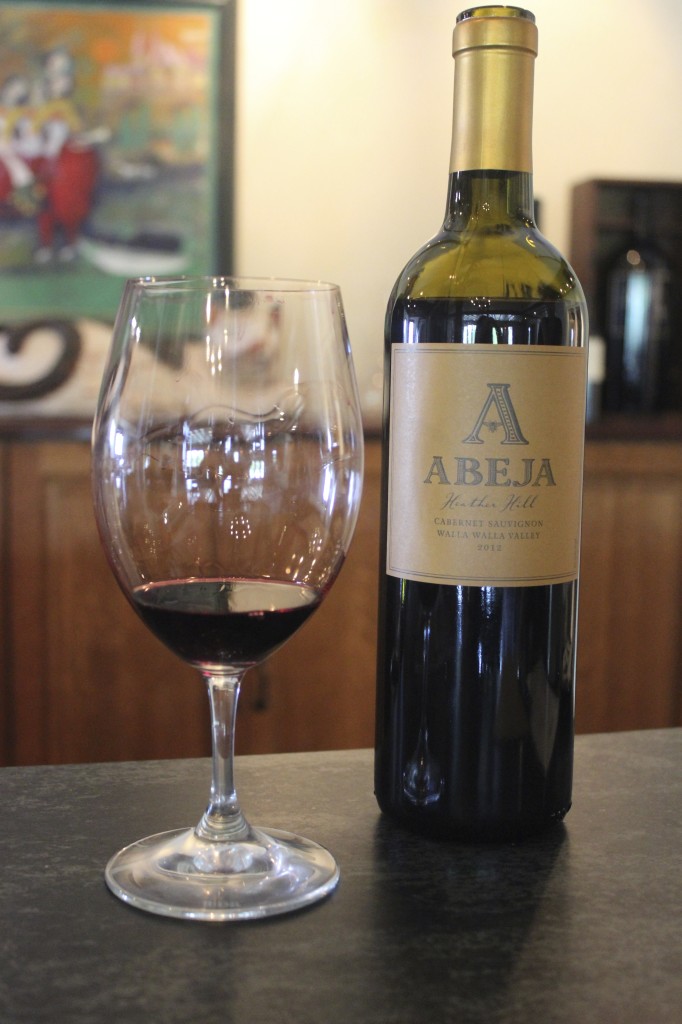 Wines range from $25 to $85, and everything I tasted was a great example of good quality Washington wine. Even the more reasonably priced bottles were balanced and tasty, and could easily be mistaken for pricier wine. Besides that, I think one of the neat things about tasting at Abeja is that it's a very intimate and exclusive experience. You either have to be staying at the Inn or be on their mailing list to try the wines.
Good wine, a peaceful ambiance, and down-to-earth, friendly people? Sign me up for my next trip back!
*Winery Notes*
Contact: wine@abeja.net
Phone: 509.526.7400
Location: 2014 Mill Creek Rd. – Walla Walla, WA