When it comes to Valentine's Day, my idea of the perfect date night is staying in. Forget the fancy prix fixe dinner and crowds — I'd much rather cook a nice meal with my husband at home. But, since Valentine's Day falls on a weekday this year, that meal has to be special without being time consuming. And the wine? Well, it can't break the bank either. So, in order to help you nail your Valentine's Day dinner at home, I've collaborated with fellow blogger Robin of CaliGirl Cooking on the perfect Valentine's Day Wine Pairing Dinner.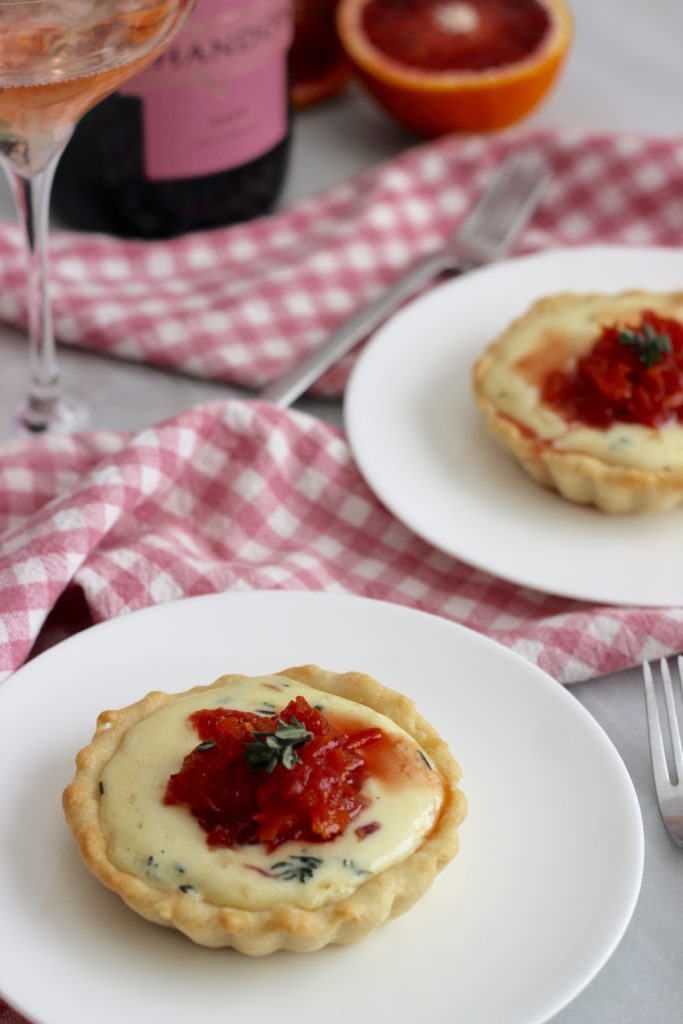 After a long day of work, the thought of cooking a 4-hour meal isn't exactly appealing. And, because ordering takeout just isn't as special or romantic, Robin and I came up with the perfect Valentine's Day solution without having to overextend yourself on a weeknight. For this dinner, you can pick up all of the ingredients at your local grocery store and find the wines there, too. 
THE MENU
Savory Triple Cream Tartlets with Blood Orange Marmalade
Paired with NV Domaine Chandon Rosé Sparkling Wine
Herb-Crusted Lamb Lollipops with Blackberry Reduction over Creamy Polenta
Paired with 2014 Tablas Creek Patelin de Tablas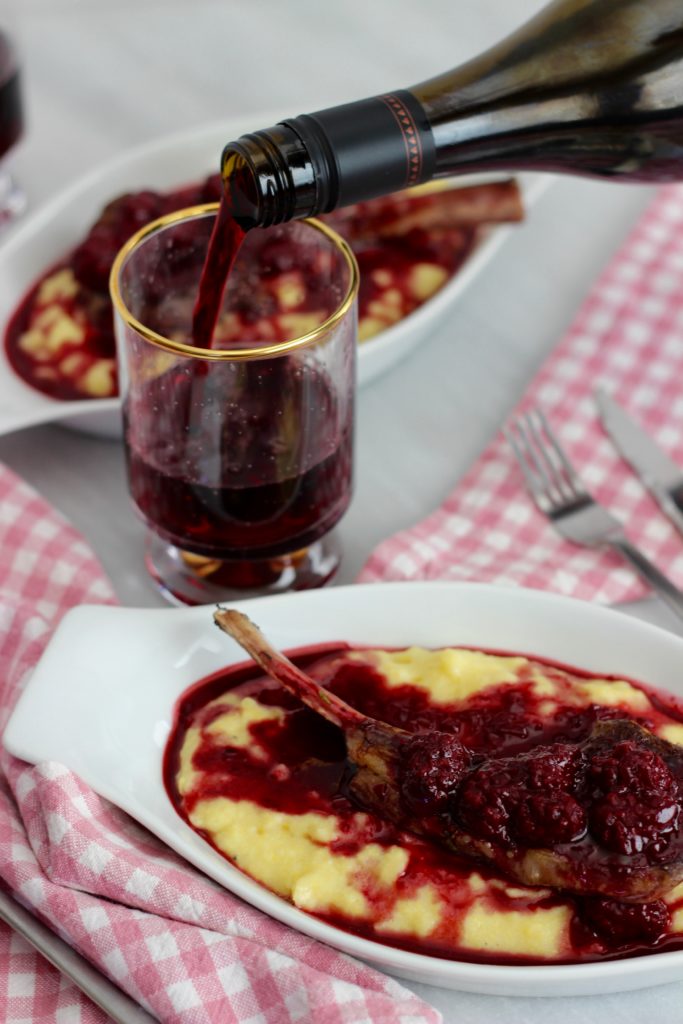 The Wine Pairings
In keeping with the theme, we chose rosé bubbles for obvious reasons — it's festive and easy drinking. But more importantly, sparkling wine (rosé or not) is extremely versatile when it comes to food. With enticing aromas of watermelon and ripe strawberries, this Chandon Sparkling Rosé ($24) has flavors of tart cherries with a slightly creamy structure. It's a great match for the cheese tarts — a mixture of creamy cheeses and thyme with a sweet/tart Blood Orange marmalade — for a couple of reasons. First, sparkling wine has enough acid and effervescence to cut through the creaminess of the cheese without affecting flavor. It sort of acts as a palate cleanser. Second, the abundance of sweet and tart fruit flavors in the wine subtly complement the sweet and tart marmalade topping. A great match.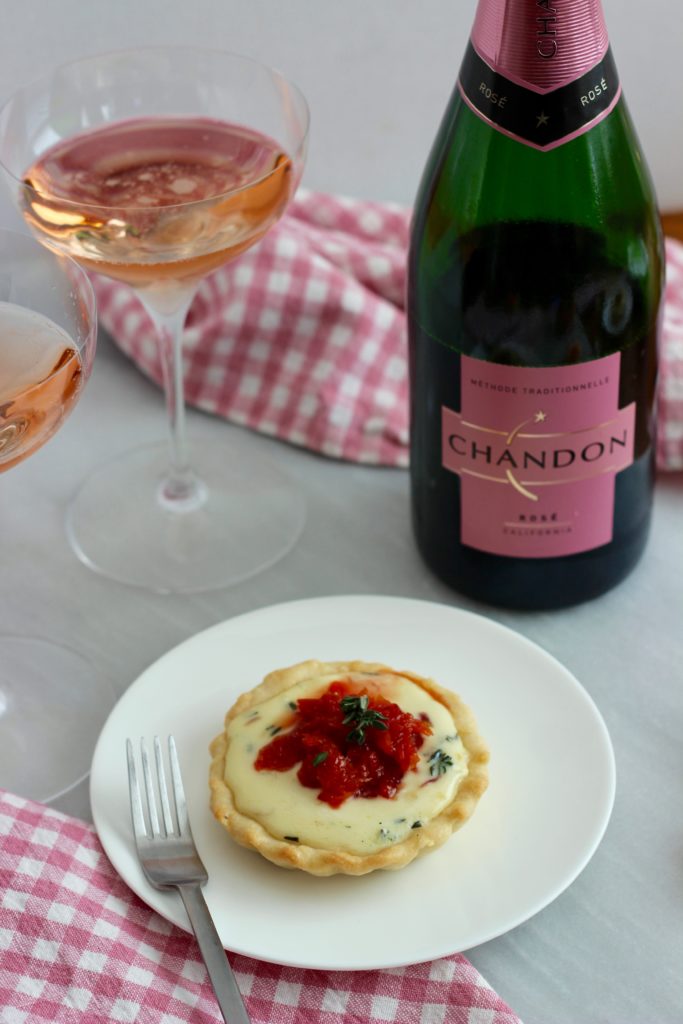 Next, we chose the 2014 Tablas Creek Patelin de Tablas ($25) from Paso Robles. Inspired by the red wines of the Rhône Valley, it's made with 55% Syrah, 29% Grenache, 10% Mourvèdre and 6% Counoise. The wine's enticing notes of boysenberries, herbs and roasted meat combined with a medium-bodied structure are a perfect complement to the thyme-crusted lamb with blackberry sauce. And, the chalky but not overpowering tannins equally match the weight and texture of the lamb. This pairing works well because the wine and food have similar flavor profiles that complement each other, rather than fight for your palate's attention. They're also medium in body, so neither dominate the other.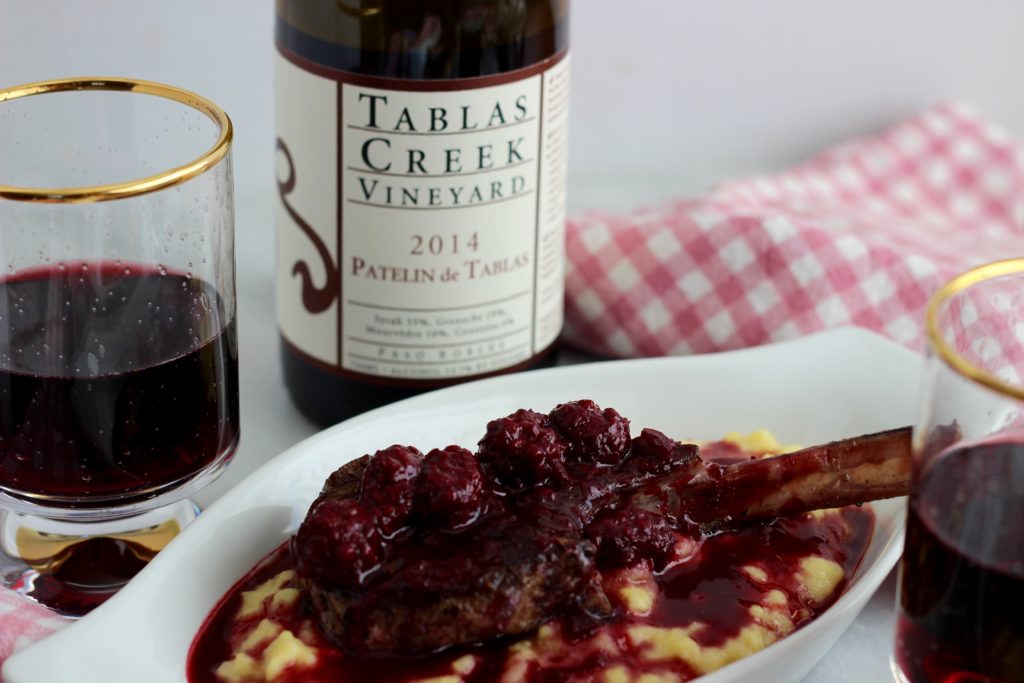 Dessert
You may notice there's no dessert on the menu. I know what you're thinking… it's Valentine's Day, where's the chocolate? Well, despite how it may be publicized this time of year, chocolate and wine are notoriously difficult to pair. Most of the time, you'd have to find a sweet dessert wine or a port to equal the sweetness of the chocolate. In our house, opening a nice port just for the two of us doesn't happen, especially on a Tuesday. If you really need some sweets, ditch the wine after dinner and finish the night off with chocolate cupcakes from your favorite bakery… or just stick with wine as your dessert!
Be sure to visit CaliGirl Cooking to view the full recipes for this Valentine's Day Wine Pairing Dinner. We hope this menu helps you have a very special day with your favorite person! Cheers.
Pin it!