It's been in the 90s around here in SB so it doesn't really seem appropriate to be thinking about fall staples like soup, scarves and boots quite yet. Pumpkin spice? It'll have to wait. It's true – Southern California is still very much in summer mode and you wouldn't know it's October except for the fact that there's football on. Before the weather turns and it 'officially' feels like fall, I'm still taking full advantage of my summer favs – from Sauvignon Blanc and picnics on the beach to light and zesty desserts, like these Lemon Blueberry Cheesecake Bars I made the other night. The recipe, which is adapted from Tyler Florence's, is an easy to make, not-too-sweet dessert that will leave you feeling like it's mid-July (even if you've already whipped out the sweaters and leggings).
Lemon Blueberry Cheesecake Bars
Ingredients:
Butter, for greasing
2 tablespoons sugar
1/8 teaspoon ground cinnamon
9 graham crackers
1/2 stick unsalted butter, melted (I used melted coconut oil)
For the filling:
16 ounces light cream cheese, room temperature
2 eggs
2 lemons, zested and juiced
About 1/2 cup sugar, eyeball it
1 1/2 cups fresh blueberries
~Preheat oven to 325 degrees. Grease a 9×9 baking pan then put parchment paper on top, making sure to press down at the corners. In a food processor, combine the sugar, cinnamon and graham crackers and process until similar to bread crumbs. Add the butter or coconut oil to incorporate. Pour into lined baking pan and press down evenly. Bake for 12 minutes until golden then set aside to cool.
~To make the filling, add cream cheese, eggs, lemon juice and sugar to a food processor. Mix well until smooth. Pour onto the cooled crust then cover with blueberries (they will sink down a bit).
~Bake for 35 minutes until the center only slightly jiggles. Remove and cool completely. Cover and refrigerate for at least 3 hours, then cut into bars.
Although it sounds fancy, this dessert is really quite simple and definitely a crowd-pleaser (although they might not come out as perfect squares after cutting, they sure taste good). I usually don't make it unless I have company, so typically there's wine involved… but beware when pairing sweets with wine! Dessert is notorious for being hard to pair with wine because the sweetness of the food can completely ruin the taste of many wines. A good rule of thumb to follow is to pair dessert with wine as sweet as, or sweeter than, the dessert.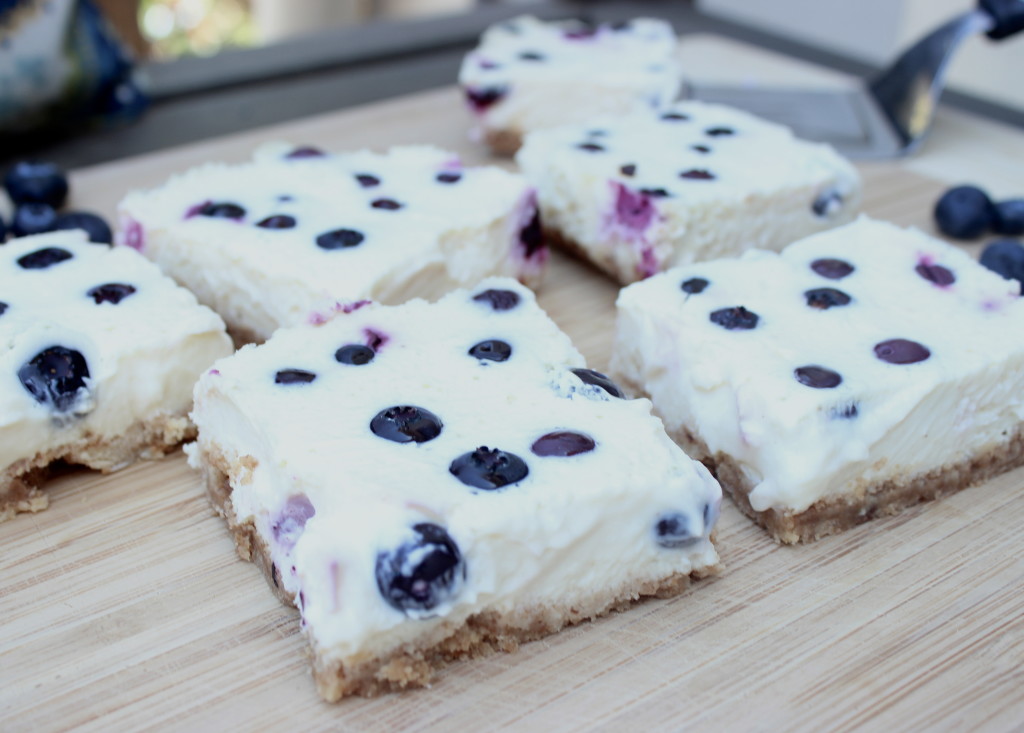 For a dessert like this, you want to find a wine that won't compete with the bright citrus, creaminess and sweetness but instead find something to balance it out. My choice? A Late Harvest Riesling. They're light but with enough body to handle the creaminess of the dessert, are sweet but not syrupy, and can even have citrus and spice characteristics that'd match the cinnamon and lemon components in this cheesecake.
So what's the difference between regular Riesling and Late Harvest? Late Harvest Rieslings are made when the grapes have been left on the vine a bit longer than normal, allowing the grapes to retain more sugar. Since the grapes have high concentrations of residual sugar when picked, the grape juice is in turn much sweeter than a regular old Riesling. Sugar is also converted to alcohol during the fermentation process, which is why Late Harvests have high levels of alcohol — and why servings are much smaller for dessert wines!
A good pairing for these Lemon Cheesecake Bars would be the Hogue Late Harvest Riesling from Washington. It's crisp yet moderately sweet with zesty citrus notes. Or, if you really don't like dessert wines, opt for a sparkling or Rosé sparkling wine with a hint of sweetness. The Sofia Blanc de Blanc, a blend of Pinot Blanc, Muscat and Riesling, is a light and bubbly choice. Salud!