I heart July… not only because it's my birthday month, but because it's usually warm, people are out and about, and because of the Fourth of July holiday! This year to celebrate the 4th, I spent the day with some friends out at their lake cabin. We pretty much spent most of the day either lounging on the dock or chilling on the deck cooking food. It was fun and relaxing and probably one of the top 4th of July holidays I've had in a while. If you're wondering, my favorite 4th of July holidays were also spent at a lake (Tahoe) but didn't involve as much wine as they did Rum Runners, followed by rafting on the Truckee (and falling out of said raft) and laughing so hard that no sound actually came out. Those were some of the memories that made my 20's!
Now back to this 4th… We started off the day with a Rosé that was more red in color than pink. Side note – I sort of overlooked the fact we were drinking a French wine versus an American on Independence Day (oops), but I've been trying to buy more French wines lately and thought I'd bring it. Anyways, I know what you're thinking… it's far too bright and bold in color so it must be sweet. Nope, the 2012 Domaine Les Grands Bois Cotes Du Rhône Cuvée Les Trois Soeurs Rosé ($12) was definitely a dry wine (most French Rosés are dry). It was medium-bodied with strawberry, peach and grenadine aromas and flavors, and a slightly floral/rosey hint on the nose as well. It had nice acidity and a lingering finish with almost a slate / wet stone aftertaste. The wine was good, with a few disclaimers: there was a tad too much heat on this wine (meaning, the alcohol was noticeable) and it's not the most complex of Rosés. However, if you're looking for a decently priced French Rosé that's straightforward, food friendly and pretty in color then it's worth a try. It'd be a great match for most foods (cheese, salad, chicken, salmon…), typical of most dry Rosé and French wines in general! Oh, and if you're wondering what 'Les Trois Soeurs' stands for, it's French for three sisters (I had to look that up). Perhaps it stands for the three grapes that this wine is blended with? – 65%  Grenache, 25% Carignan, 10% Cinsault.
After a glorious day on the lake, some festive libations and delicious grub, it was time for dessert and fireworks. I'm in no way a seasoned baker, but I do love to make special desserts every once in a while, and when I came across a recipe for a red, white, and blueberry pie, I just knew I had to make it. The pie, based on a recipe from the blog Yummy Mummy Kitchen, was super easy and everyone raved about the crust! I used a smaller pie dish, so you may need to adjust the amounts depending on dish size…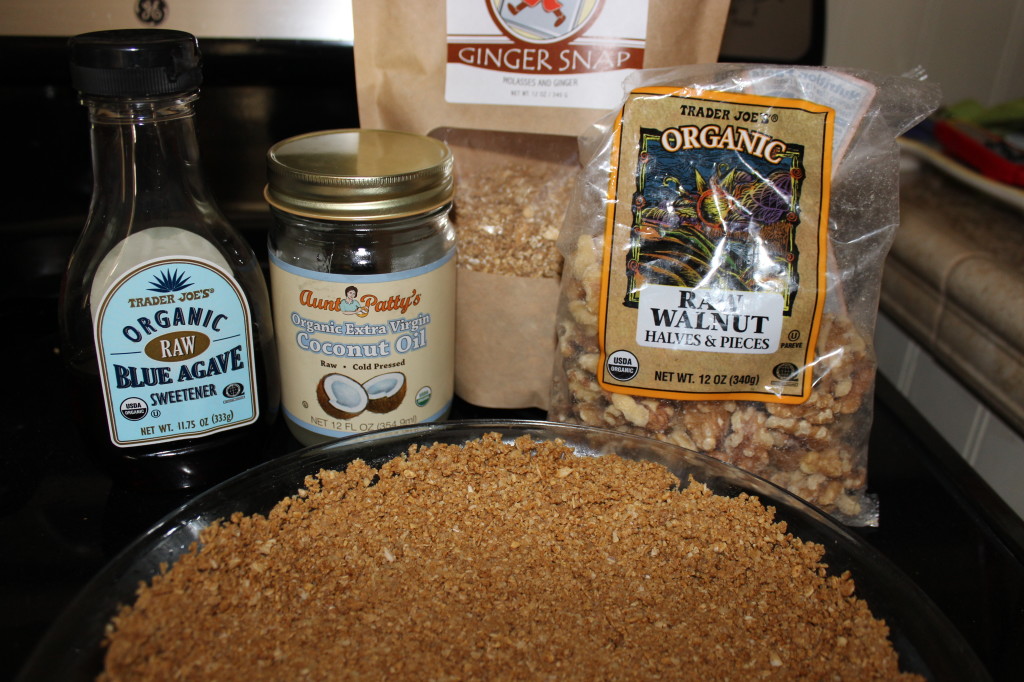 For the crust:
1 1/2 cups granola (I used a gluten free ginger granola)
1/2 cup walnut pieces
3 tablespoons melted coconut oil
1 tablespoon agave syrup
For the filling:
vanilla ice cream, softened so it's easily spreadable
For the berry toppings:
6 oz. fresh raspberries (about 1 1/4 cups)
6 oz. fresh blueberries (about 1 1/4 cups)
2 tablespoons agave syrup
2 tablespoons water
2 lemons
2 teaspoons cornstarch
In a food processor, pulse crust ingredients until combined and granola is ground to crumbs. Lightly coat a pie dish with cooking spray and press crust into bottom of dish and up the sides. Bake for 10 minutes at 350 degrees. Let cool.
In a small saucepan over medium high heat, stir together raspberries, 1 TB agave, 1 TB water, juice of 1 lemon, and 1 tspn cornstarch. In another small saucepan over medium heat, stir together blueberries, 1 TB agave, 1 tspn water, juice of the other lemon, and the other tspn of cornstarch. Simmer both until berries have broken down and sauce has thickened, stirring occasionally with a whisk, about 10 minutes. You may need to add more cornstarch to make sure the sauce is thick enough. Cool and pour each sauce separately through a fine mesh sieve into small separate bowls. Let sauces cool completely, then pour into Ziploc bags and snip a very tiny corner of each Ziploc.
Alternating bags, pipe circles over the pie starting in the center and working outward. Drag a toothpick from the center of pie outward to the crust so that the berry sauces are pulled upward, then drag in the opposite direction and so on. Decorate with fresh berries as desired, then freeze uncovered for at least 3 hours. It'll be a huge hit, I promise!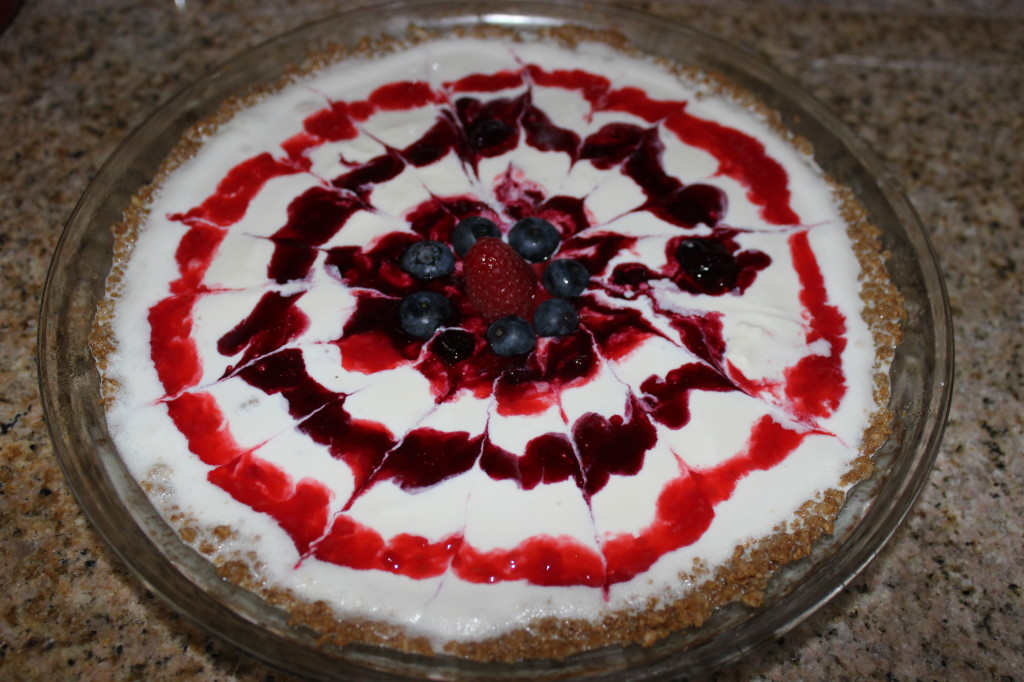 The recipe serves about 6-8, unless you love sweets and/or are with two hungry dudes because the 4 of us killed it before the fireworks show ended. I used a small pie dish, remember!? Haha. You definitely won't want to wait until next year to make this easy dish… it's 'summery' enough for any special occasion in July or August, or, even just on a Tuesday night for no reason. Hey, when it's summer time, every day is a holiday in my book. Enjoy!