Okay, so I've focused on history in Sintra, the making of Port in Porto, the scenery in the Douro Valley and the excitement of Lisbon (if you missed any of it, click on the name of each place to read those posts)… now it's time to finish off my recap of Portugal with the city of Évora. Warning: this post may cause one to become hungry.
Évora is a city located near the Spanish border in the Alentejo (Ah-len-tay-zhoo) region, which is a pretty dry region in the Southern part of Portugal. It's known for its wine (particularly red), cheese, livestock and most importantly, for its production of cork. Did you know that southern Portugal produces roughly 50% of the world's total cork production? That makes Portugal a pretty important country to the wine industry!
The region looks dramatically different than other parts of the country where there's more lush, tropical vegetation. Here, it's dry and open, dotted with cork trees, olive orchards, and sheep roaming the hillsides. The landscape is actually somewhat similar to the way Santa Ynez, CA looks!
So what does a cork tree look like, you're wondering? Cork trees are a type of oak and are easy to spot because their trunks look different than most trees… once stripped of the outer bark to make cork products, the inner bark left behind is an orangey red-color that is quite striking. It takes 7-9 years for the bark to grow back before it can be harvested again, but the harvest of just one mature tree can produce 4,000 corks! Amazingly, a cork tree can produce new bark for over 100 years.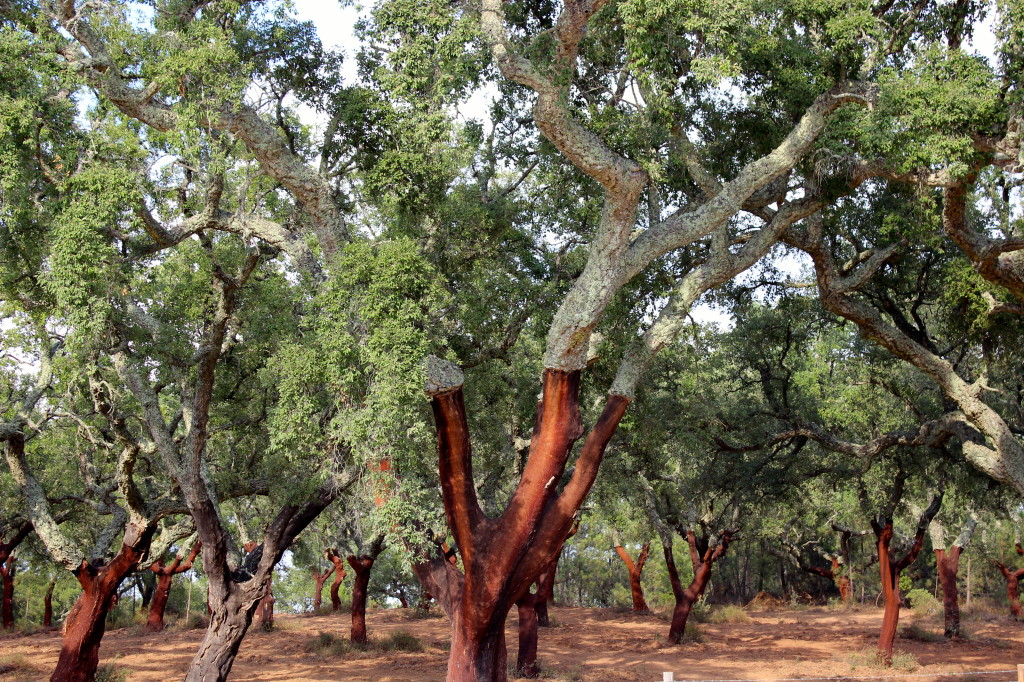 You'll know when you've reached Évora when you see a city partially contained within a 14th Century wall and all the white-washed buildings with yellow trim (the trim is believed to repel evil spirits). The old town is quaint, easily walkable and charming. You can tell that it's a place that values tradition and a slower pace of life.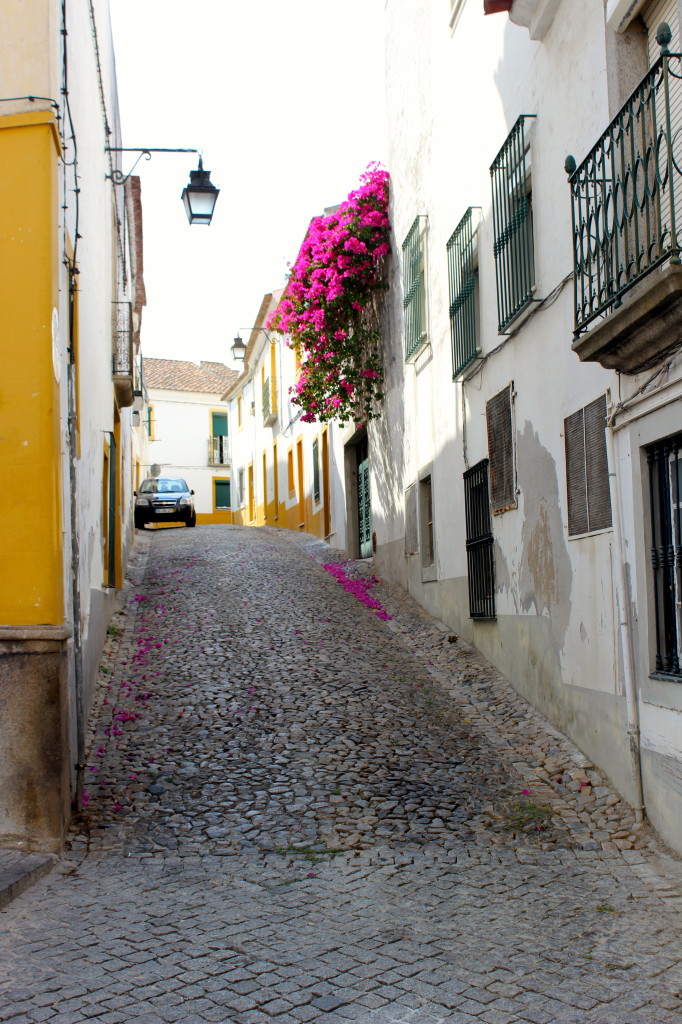 Once we arrived, we immediately walked to a restaurant called Botequim de Mouraria. I thought it was somewhat of a hidden gem, but according to Trip Advisor it is rated #1 and maybe isn't such a secret anymore! We got there right when it opened for lunch to ensure we'd have a seat, since the place only has about 10 stools at the bar. The inside is small and super charming, and it's got a warm and welcoming feeling like being a guest in someone's home. The owner, Domingos, doesn't speak English but luckily we had some fluent-in-Portuguese company with us to do the ordering. They do have an English menu, but it's more fun to not know what's coming!
We started with the fried carapauzinhos, which are small white fish lightly fried and served with lemon. They might not look that appetizing, but these were excellent little 'fries.'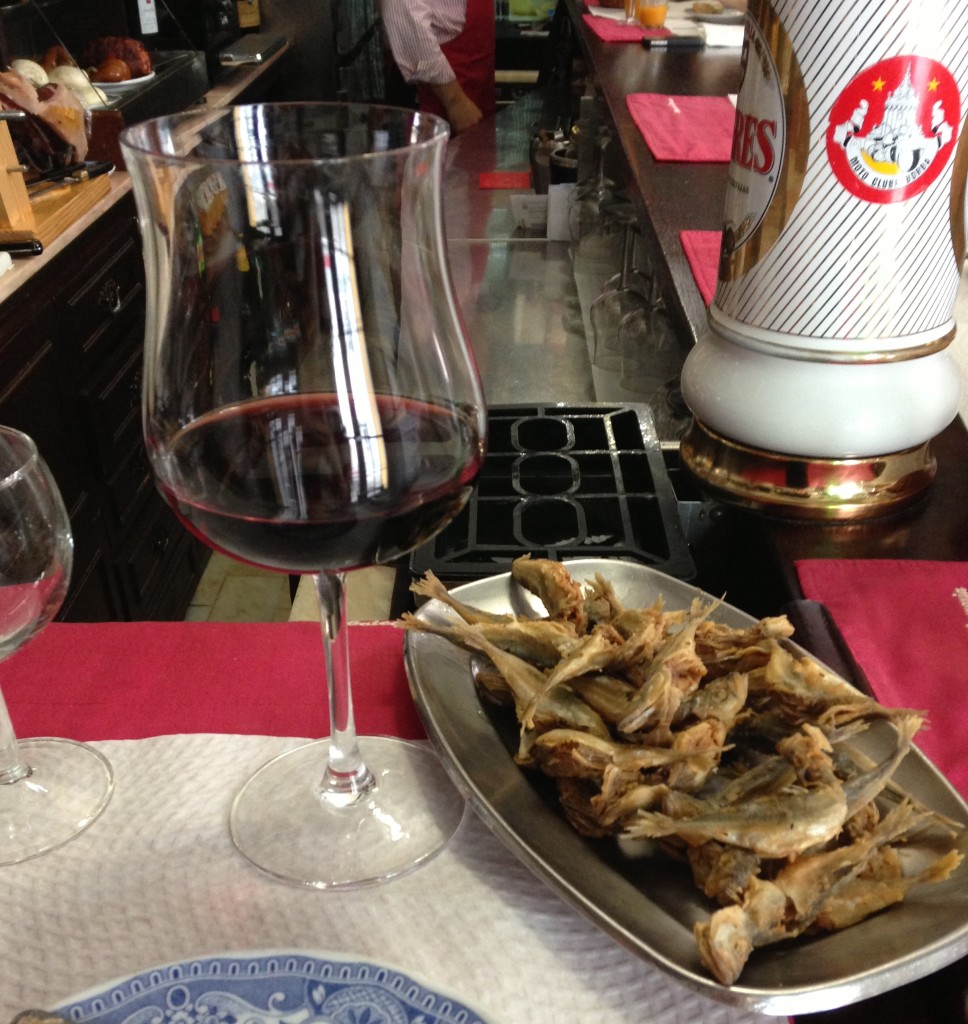 I was surprised that I enjoyed this appetizer so much since I've never really liked seafood. I'm happy to report that Botequim de Mouraria made me a seafood believer – finally! It's probably because Domingos chooses quality, fresh ingredients and truly celebrates the flavors of the food rather than masking them with heavy creams or sauces.
While we enjoyed our fried white fish, we saw Domingos uncover the leg of an animal (complete with hoof!) on the counter and slice off pieces of perfectly pink prosciutto to layer onto juicy melon. Superb! From there, it just kept getting better and better… We had clams in a simple garlic sauce (my favorite thing of the day!), farinheira (a "sausage" made of wheat that is shaped to look like a sausage link), crisp salad with thinly sliced onions and a simple olive oil and thyme dressing, plus a perfectly tender veal steak.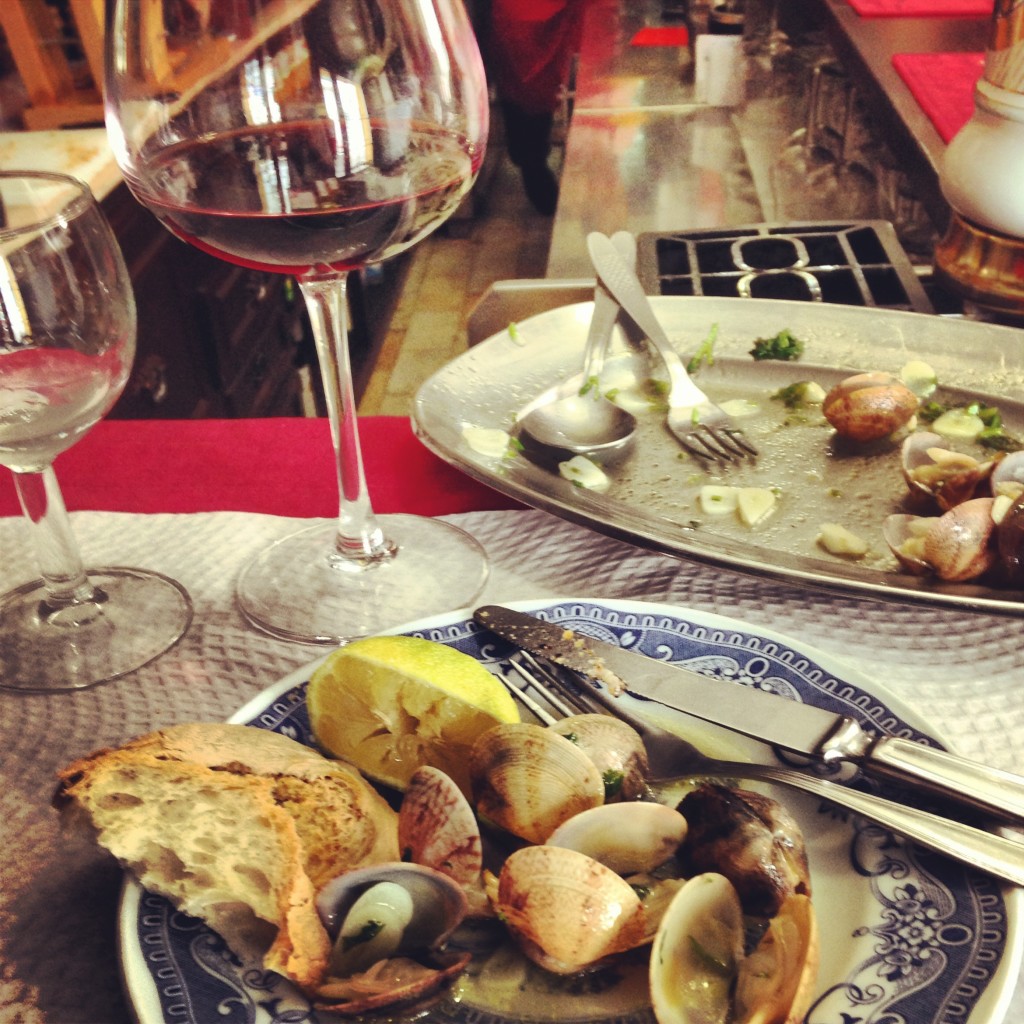 In the true European way, we had a bottle of local Alentejo red to go with our lunch. Everything we ate went perfectly with the 2010 Herdade dos Grous (€9), a blend of Alicante Bouschet (kind of like Grenache), Syrah, Touriga Nacional, and Aragon (Tempranillo). It was rich, with prominent red fruit, oak characteristics and a soft finish. Super straightforward, balanced and easy-drinking (and affordable!).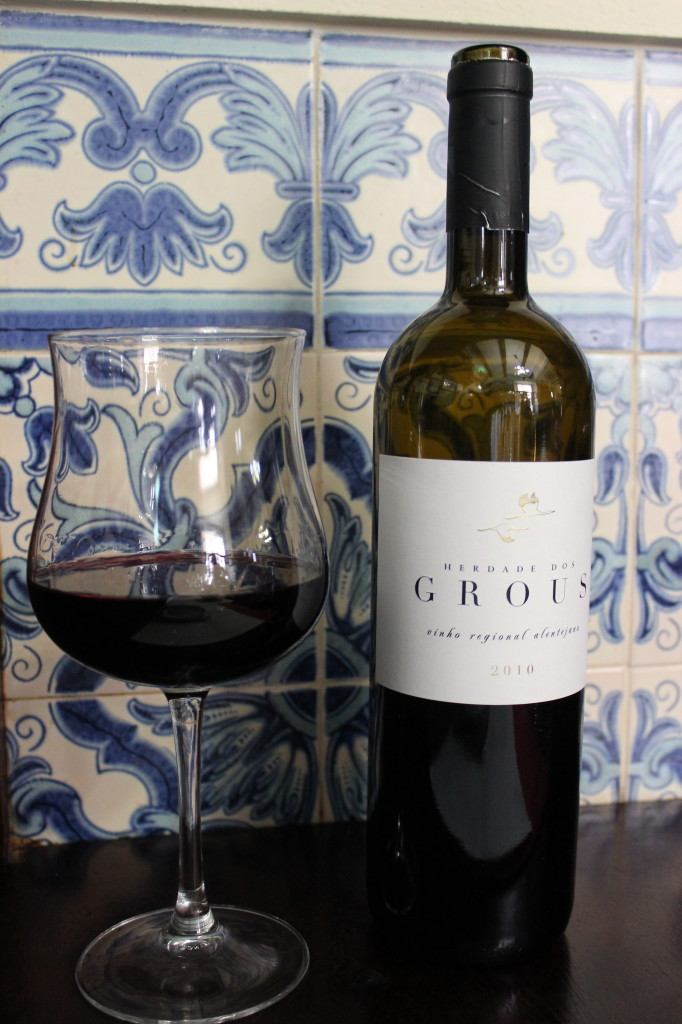 Surprisingly, after all that food, we still had room for dessert – a no-bake chocolate cake that was a mix between fudge, pudding and cookie dough. Sinfully delicious! Everything was amazing and it's hard to believe that this place is a two-man (aka man and wife) operation. I would go back to Évora just so I could eat there again. No joke! Big thanks to my Aunt and Uncle for introducing us to this place!
There is only one good thing to do after a meal like that, and that would be walking it off, so after lunch we wandered around the old town to see some of the sites. Like most places in Europe, there's a ton of history to be explored here. There are ruins of a Roman temple with 14 Corinthian columns, some museums, a university and interesting churches to see.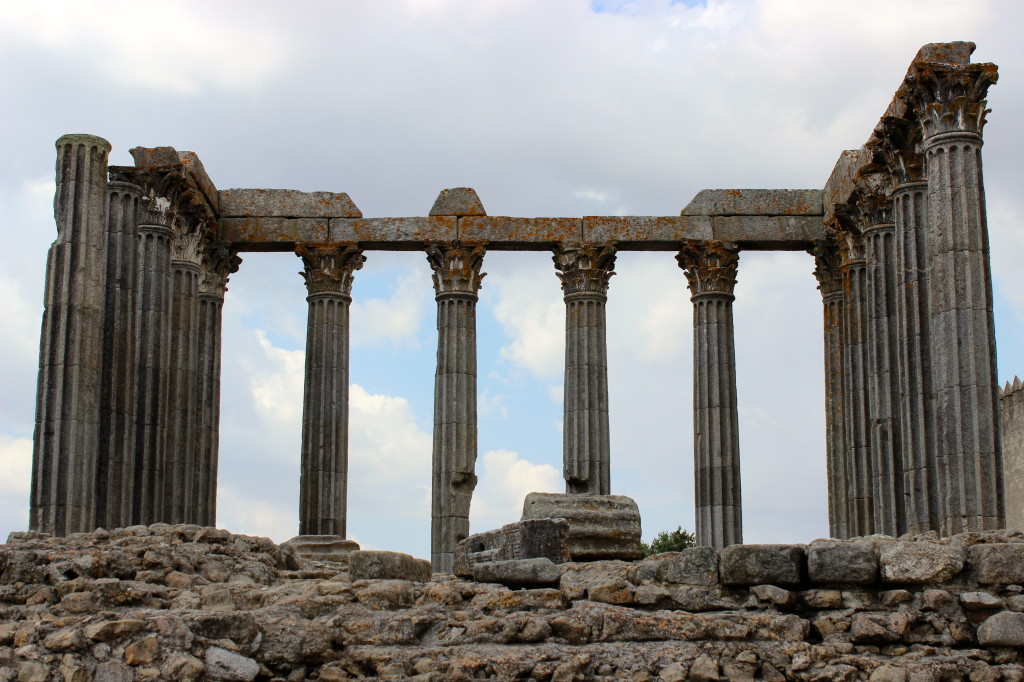 We stopped into the Santa Maria de Evora Cathedral, built in the 12th Century, and walked around it's large cloister. Even if you don't pay to go inside of the cathedral, it's nice to walk around the cloister and enjoy the sculptures and architecture. If you walk up a tiny tight staircase, you can even go up to the roof where you can see the town from above.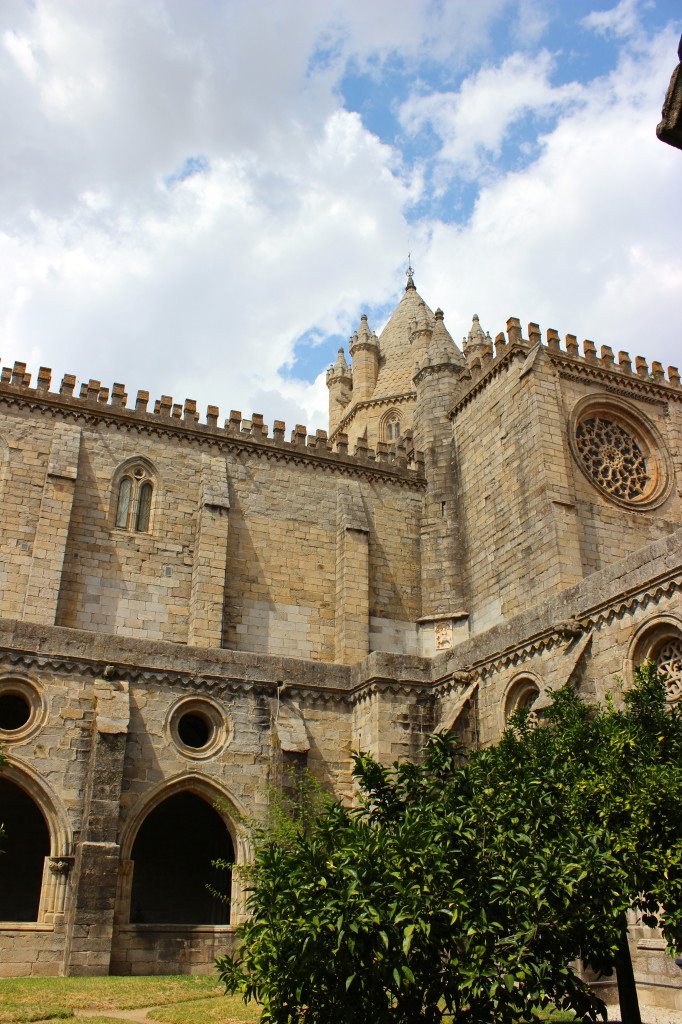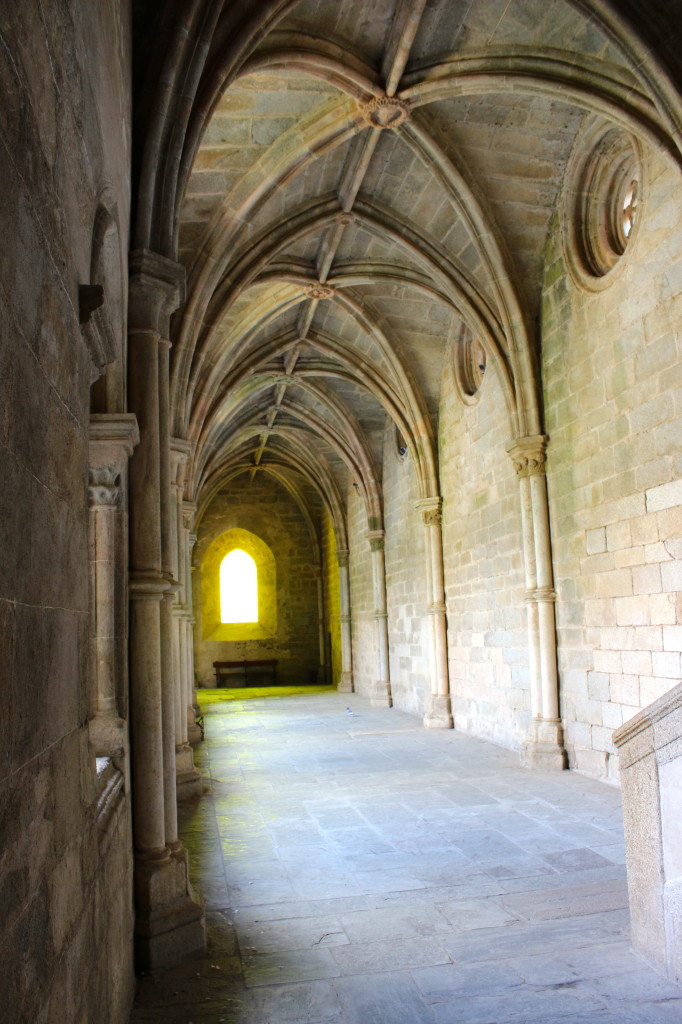 Outside of town about 20 minutes away, is Portugal's version of Stonehenge, dating from about 5500 B.C. Here there are dozens of large prehistoric stones erected in the shape of a horseshoe. It's unreal!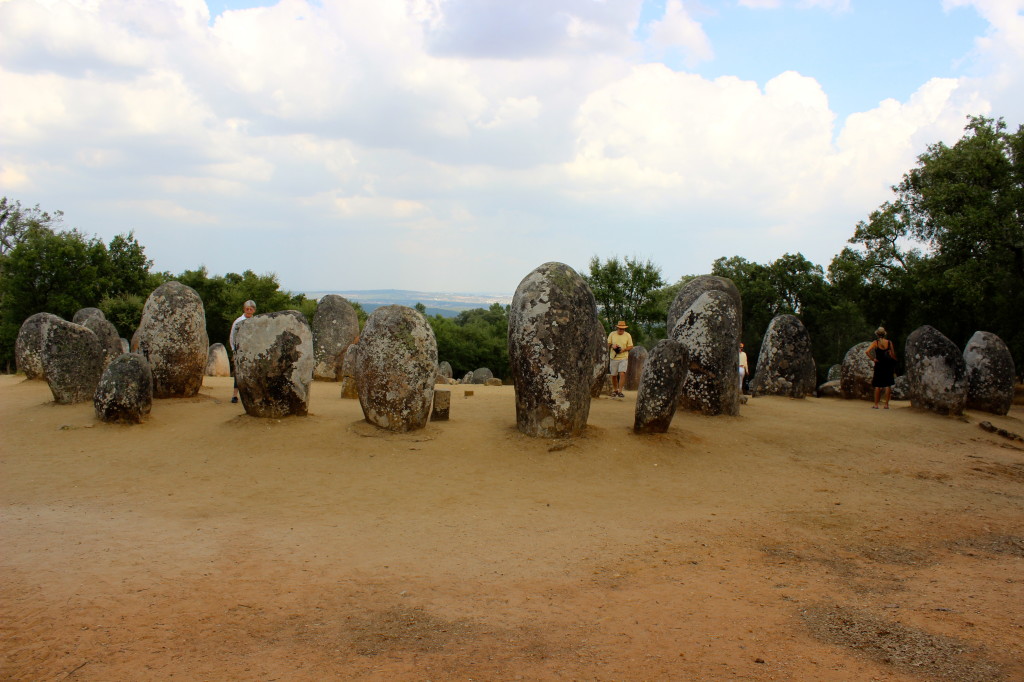 These stones represent one of the oldest megalithic monuments in Europe and are about 2,000 years older than Stonehenge. Believe it or not, they weren't discovered until the 1960s! Although it's not clear what the stones represent, some believe that Stone Age sun-worshippers gathered here to pray for harmony between the earth and the cosmos. Others think this was some sort of celestial calendar. Regardless, it's pretty cool and is a great reminder of how old the world is!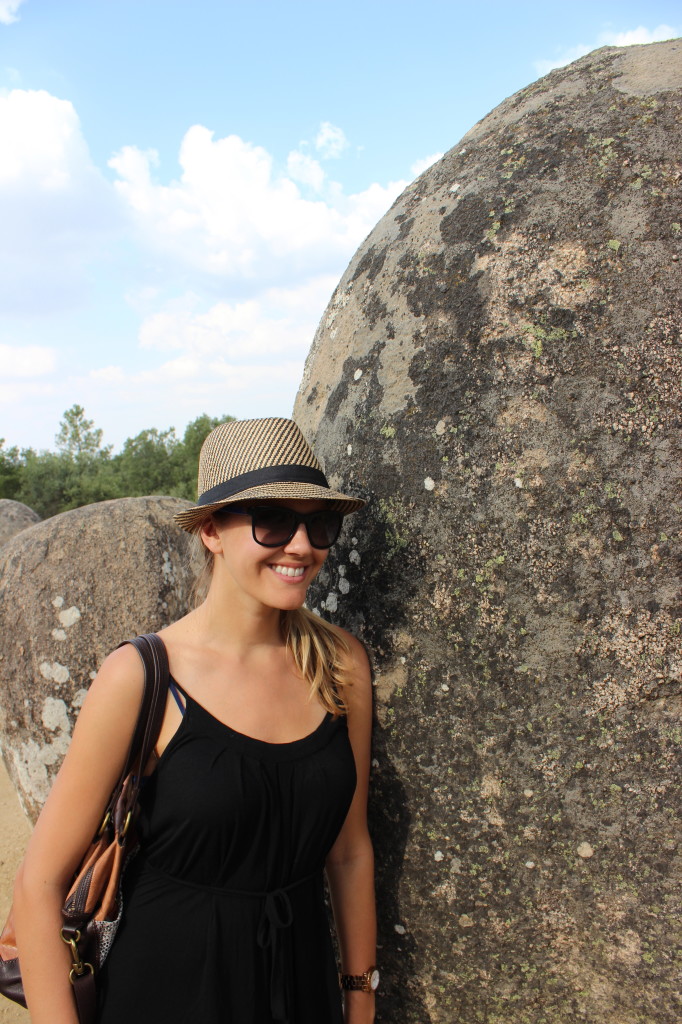 And that's a wrap! Hope you enjoyed exploring Portugal with me. Happy travels!