Oh, winter, how I love thee. Ha! That's not exactly how I really feel, but when it's chilly and foggy outside, what better activity than to head inside for some wine tasting! That was the idea last weekend when my mom and I ventured to Townshend Cellars in Green Bluff, Washington, for a little wine tasting.
Townshend Cellars was started in 2000 by Don Townshend who, after trying his hand at winemaking with no formal training, produced a Cabernet and a Merlot and loved the outcome. The winery is located in an area called Green Bluff, just outside of Spokane, WA. It's a farmland area known for apples and pumpkins, but not necessarily for wine. You guessed it, there aren't really any vineyards around since it's just a bit too cold to grow grapes here (although Trezzi Farm down the street is making wine from their own grapes), so Townshend buys their grapes from the Prosser and Yakima areas of Central Washington. They produce mostly red wines that have a bit of a cult following in the area, mostly because of their T3 wine (read more below) and its popularity in local restaurants.
Townshend started with about 1,000 cases of wine, making a Cabernet, Merlot, Chardonnay and a Huckleberry Port. Since then, the winery has grown to produce over 16,000 cases of wine annually and recently moved into a much larger tasting room about 2 miles from the original location.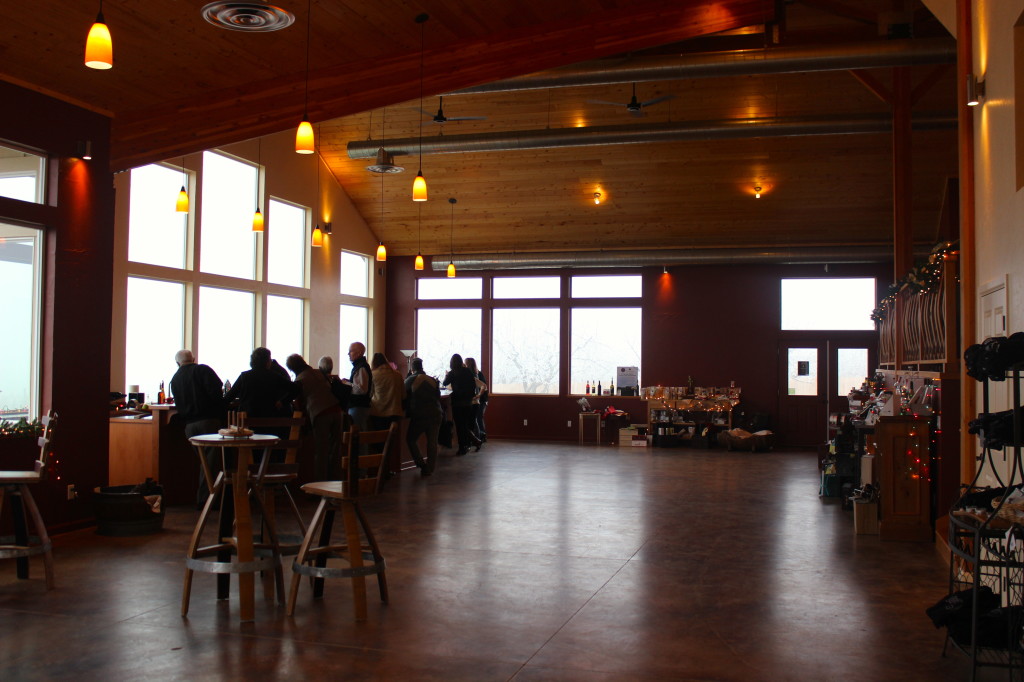 The tasting room is definitely big, occupying a space that was once a family home (you can still see the original kitchen) and sharing land with a Christmas tree farm… wine and Christmas trees? Sounds like a fun December outing to me!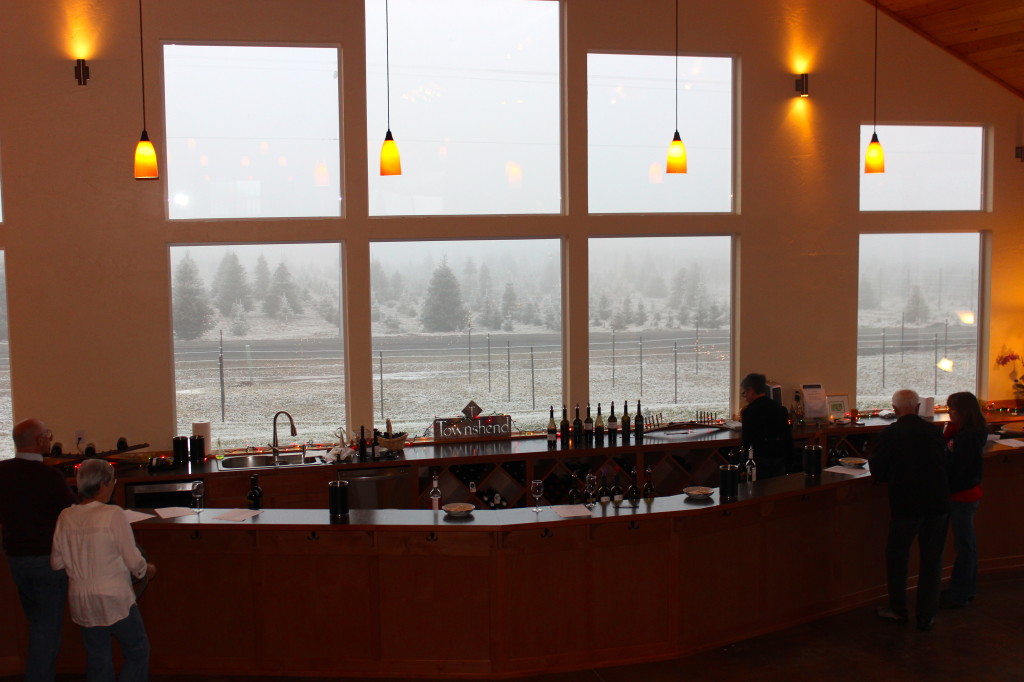 There are two tasting choices available – the first is complimentary and the second is $5 for 4 tastes. Our wine pourer, Jill, was nice enough to let us taste from both sides. We first started with the Non-Vintage Mt. Dome Brut sparkling wine ($15), which is made of 2/3 Pinot Noir and 1/3 Chardonnay. It had pear and spice aromas and a whole lot of fizz! Next, the 2012 Sauvignon Blanc ($10) which is a decent white wine for the price. It had lemon aromas and a fresh apple flavor followed by ginger hints on the finish. I next tried the 2010 Viognier ($14), which was a pretty nice, balanced white. It smelled of baked apples and pears with a hint of cinnamon and honey (my mom and I decided we needed to have baked apples after smelling this wine). I thought the whites were all simple and straightforward, probably pretty easy drinking in the summer.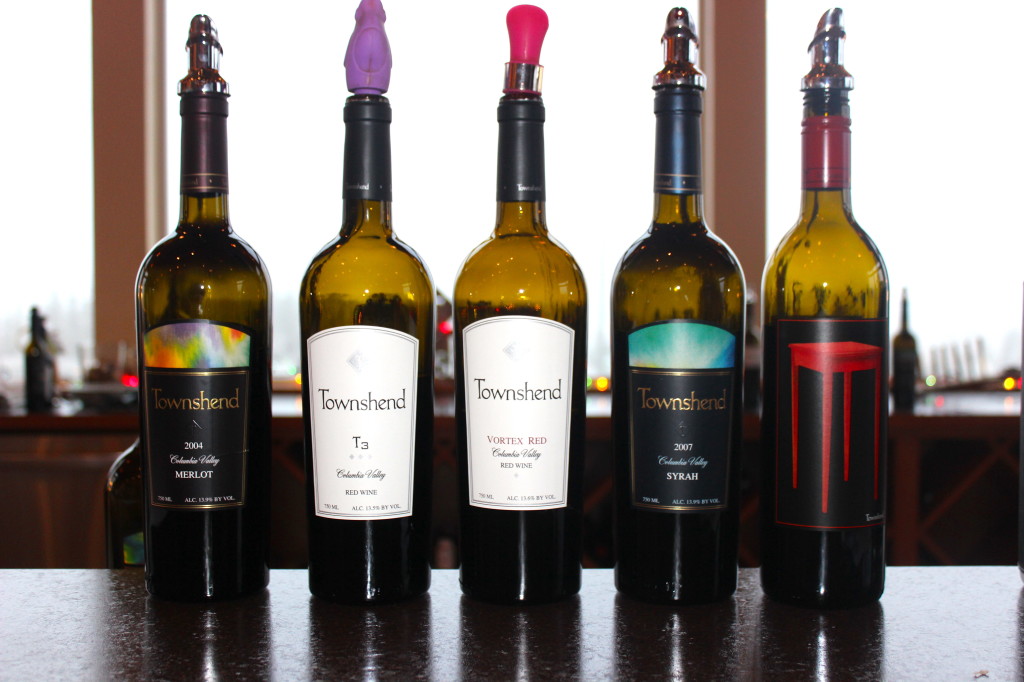 Moving on to the reds, which the winery is more known for, I first tried the NV Townshend Vortex ($15) which is a blend of 47% Cabernet, 43% Merlot and 10% Cabernet Franc. It was good, with lots of tobacco, dusty leather and smokey meat aromas and a smooth finish. The NV Townshend T3 ($18), the winery's most popular wine, is made up of the same blend, but with different amounts of each – 43% Cabernet, 40% Merlot, and 17% Cabernet Franc. This wine was good, too, but with more noticeable fruit and pepper on the nose than the Vortex. It also had more prominent tannins. My favorite wine of the day, though, was the 2005 Cabernet Franc ($28), which is a 100% Cabernet Franc wine. It had nice aromas of fig, cherries, and cigar box, followed by earthy, dried herbs and tobacco on the finish.
In general, Townshend is making some of the better wines in the Spokane area, with big, earthy flavors and bold tannins. Are they phenomenal? Not exactly, but they are really well priced and easy to enjoy, especially for those that prefer the bigger reds of Washington. Grab a bottle and hang out in the tasting room or just stop by for a tasting the next time you're out and about picking apples in Green Bluff. Warning – just avoid going in October during the Fall Harvest season if you want more one on one attention, because the place gets REALLY crowded!
**Winery Notes**
Open: Fri-Sun 12-6pm
Tasting Fee: $0-$5
Phone: 509.238.1400
Location: 16112 N. Greenbluff Road – Colbert, WA (just outside of Spokane)
Tips: Try to Vortex and the T3 side by side to see how the two compare.