I'm super excited to share that I'm now a guest contributor to Club W's The Juice blog! Club W is an online wine club that personalizes your wine selection based on your tastes and makes it easy to try a wide variety of wines at a great price. On Club W's blog, they cover topics from wine tasting and winemaking to wine-related crafts and recipes to pair with wine.
My first post (on the blog today!) gives a glimpse into the wine growing regions of Santa Barbara County. Part of the reason this region is so diverse is because of its location. SBC is located between mountain ranges that run east to west instead of north to south like most mountains, creating somewhat of a funnel for cool, maritime influences to roll into the valley. This results in warm days that cool off quite a bit at night closer to the coast, and more moderate temps further inland. Mild winters overall and little rainfall, although not good for the drought, help the area have a much longer growing season than other wine regions.
The area is divided up into 5 American Viticultural Areas, or AVAs, each representing a unique area of the region based on climate and terrain: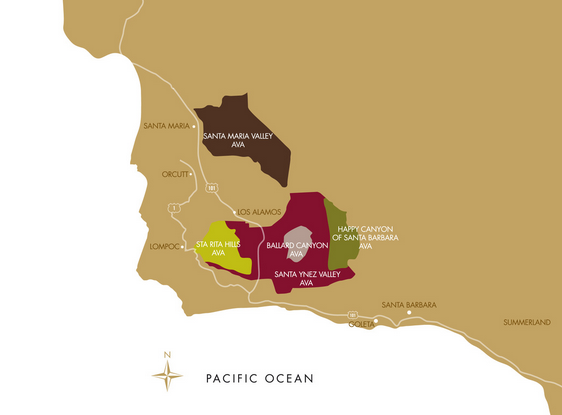 Santa Maria Valley AVA
Furthest north, this AVA was established in 1981 as the first official AVA in the area, although vines were planted here as early as the 1960s. With little rainfall and an average temperature of 64 degrees (rarely exceeding 75 degrees), it has one of the longest growing seasons in all of CA, producing grapes with natural acidity and tension. The area is known for chardonnay and pinot noir, but syrah also does well here.
Santa Ynez Valley AVA
This is the second AVA established in the county, and has the largest concentration of wineries and most diverse microclimates (and is home to three other AVAs!). Closer to the coast, very cool temperatures allow pinot noir to thrive. Further east moving inland, the temperature rises 1 degree every mile, and you'll find syrah, grenache, cabernet, merlot and sauvignon blanc. If you're looking for variety, this is your AVA!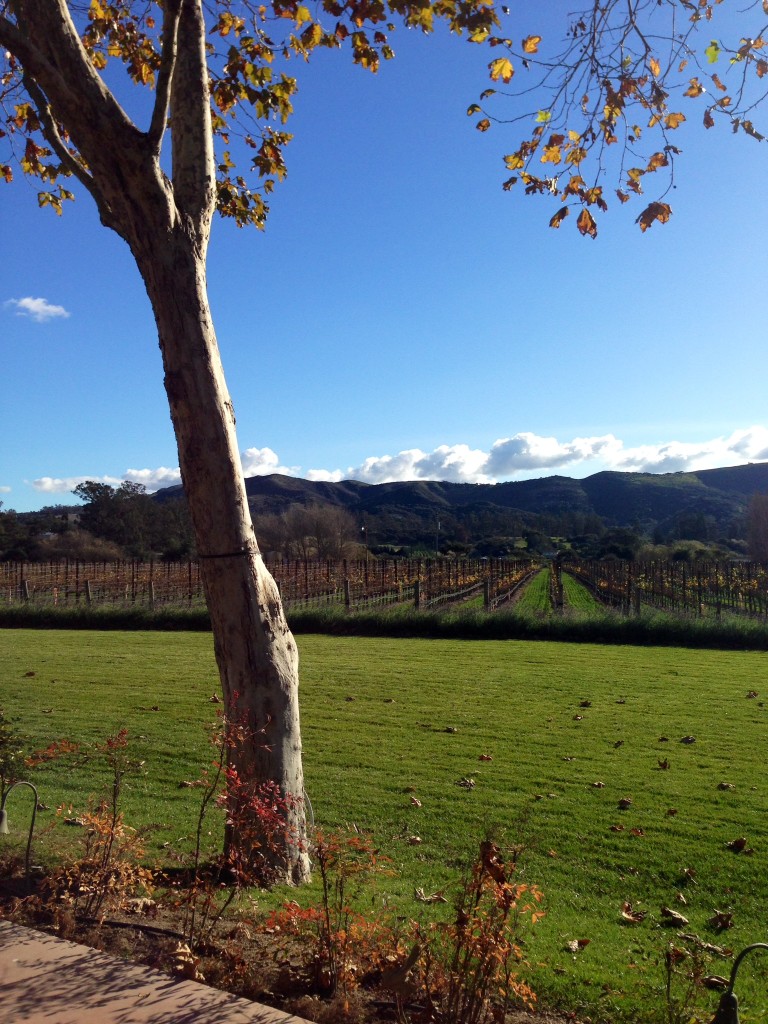 Sta. Rita Hills AVA
On the western edge of the Santa Ynez Valley AVA, lies Sta. Rita Hills. Located between Lompoc and Buellton, the area is distinguishable by its unique soils and climate. In the morning, the area gets a lot of fog from the ocean which burns off mid-to-late morning, allowing for lots of sunshine until the cooler afternoon winds pick up. Here, chardonnay and pinot noir do well, developing great acidity and firm structure.
Happy Canyon AVA
On the other side of the Santa Ynez Valley AVA on the eastern edge is Happy Canyon. Due to its location further inland, it has the hottest temperatures in the valley, with minerally soil perfect for growing Bordeaux varietals (think cabernet, merlot and sauvignon blanc). Although temps often reach into the 90s during the day, the fog rolls in at night cooling things down quite a bit.
Ballard Canyon AVA
Ballard Canyon is the most recently established AVA, located in the center of the Santa Ynez Valley AVA. Here, there's plenty of sunshine and heat during the day, but at night it cools off dramatically from the cooler ocean breezes that sweep through. It's typical to have temps drop as much as 40 degrees! Luckily, syrah can withstand the temperature swings and this area is dedicated to producing it, along with other Rhône varietals.
So there you have it, all you need to know to become an expert on one of the most exciting, laid back and beautiful wine regions in the U.S.! I promise I'm not just saying this because I live here. :) Cheers!
For more information on Club W, visit ClubW.com/wanderwine and use referral code wanderwine at checkout for a discount!