After a great start to the day at Benson Vineyards (read more here) in Lake Chelan, Nick, our friends, and I decided to head down the road to Lake Chelan Winery to not only taste the wines but to also get our grape-stomping on! Rumor had it they were letting people stomp grapes and of course that is something I didn't want to miss!
Game on.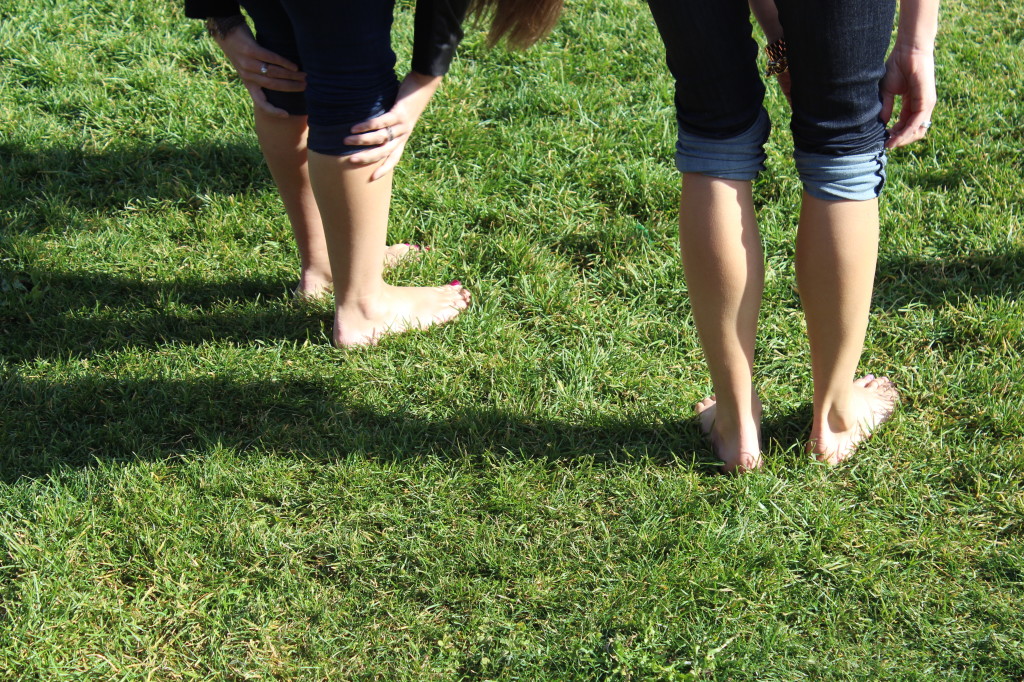 The winery was letting people jump into half barrels to crush the grapes. Normally, when wineries use the traditional method of crushing grapes by foot rather than with a machine, there's a whole vat of grapes to climb into that several people can fit in… it's an age old practice that doesn't involve one person standing in a barrel. :) So maybe this wasn't so authentic, but it was a neat experience nonetheless!
Jamie and I each stomped on some Pinot Noir grapes for 5 minutes and tried not to slip! It was pretty funny and we were laughing hysterically. In case you are wondering, they don't use our crushed 'grape juice' to make wine (which is probably a good thing because the juice was pretty much dirt brown).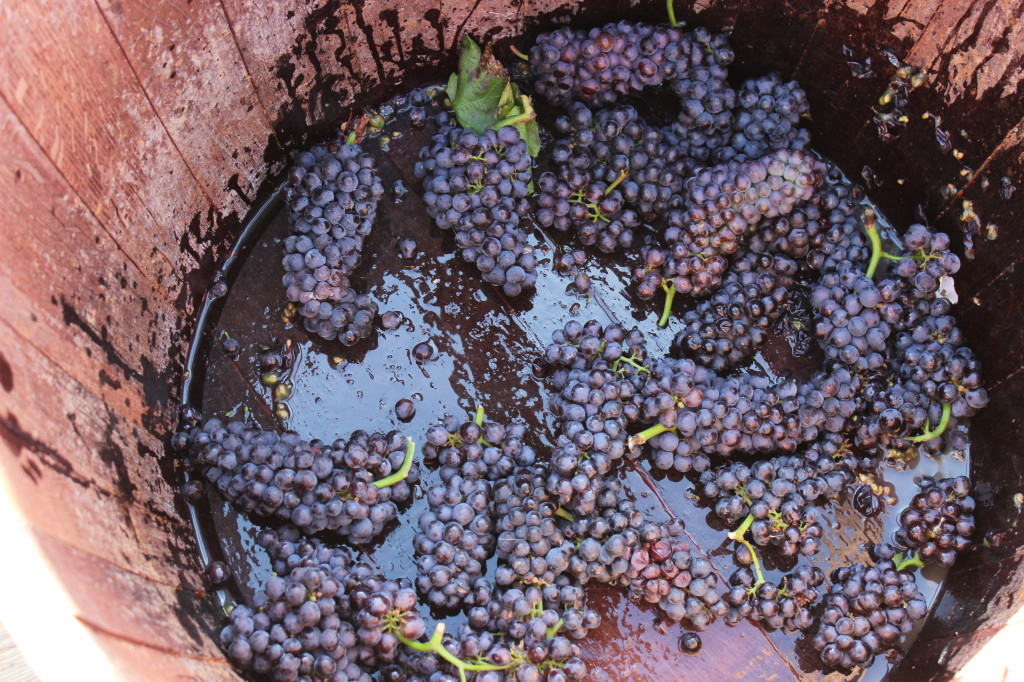 These Pinot grapes came from a row of vines that has an underground stream running beneath it, so the grapes get too much water and are not suitable for making wine.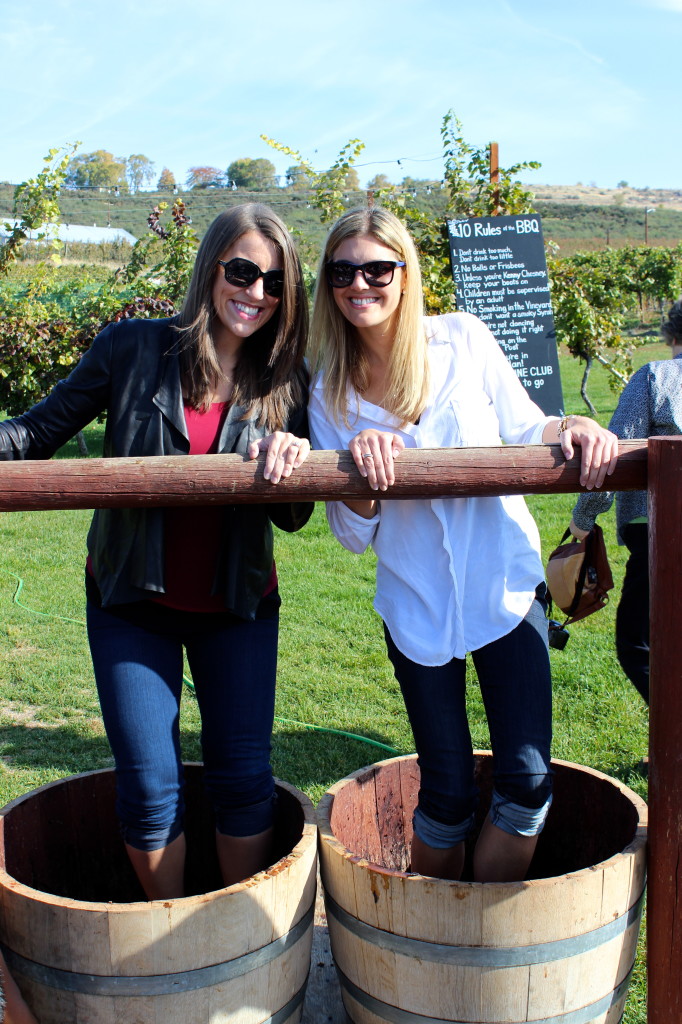 After drying off our feet and putting our boots back on, it was time to head inside the tasting room to try some wine. Lake Chelan Winery is owned by Steve and Bobbi Kludt, who were the first to plant commercial vineyards in Chelan in 1998. Today, the winery has the largest production of wine in the area – an impressive 10,000 cases of wine! I was excited to try some out.
The tasting includes 4 wines from their list of 9, and they even produce a hard cider to sample. I decided to start with the 2012 Stormy Mountain White ($22), a blend of 69% Syrah, 16% Riesling, and 15% Pinot Gris. Yes, you read that right – it's a white wine made with mostly red grapes. Basically they separate the red skins from the juice as soon as possible in the winemaking process, so the juice doesn't get any color and stays white. The resulting wine was incredibly fragrant, with aromas of ripe apples, white peaches, and guava. It was slightly sweet (with 1% residual sugar), easy drinking and would probably pair well with a pear and goat cheese salad (on a warm day). They also have a sweet Rosé and an even sweeter Riesling, which I didn't try, but good to know if you're into the sweet stuff.
Next, I tried the 2010 Pinot Noir ($32), which is made solely for wine club members – oops, guess I ventured off the normal tasting list! The grapes for this wine come from the original vines planted in 1998. The wine had appealing aromas of raspberry, vanilla and even toasted coconut (a somewhat typical characteristic of the oak barrels used). The body was slightly bigger than most Pinots (very different in style than, say, Oregon Pinots) with strawberry and raspberry flavors. It fell a little flat on the finish for me, but it wasn't bad.
I next sampled the 2009 Falling Cow Red ($28). This wasn't my favorite wine, but it certainly has an excellent story around the name! The short story according to the winery: Once upon a time, a falling cow landed on a moving car, putting the small town of Manson on the map. And everyone lived happily ever after…except the cow.
The full story? Well, in 2007 a couple visiting from Michigan were driving down the road in Manson when a 600 pound cow fell 200 feet off a cliff and landed on the hood of their minivan. Luckily, they weren't hurt! The cow, needless to say, didn't make it. Since then, Lake Chelan Winery has held an annual 'Falling Cow Festival" complete with 16 oz Ribeye steaks, live music and a cowboy theme. They also drop 100 toy cows (like in the pic above) with parachutes from a helicopter above the winery. I mean, how completely random yet hysterical is that!? Now it makes sense why there is a large fake cow in front of the winery. ;)
Although it doesn't come with a cool story, the last wine I sampled was the NV Stormy Mountain Red Blend ($24), which is their most produced wine (1096 cases produced). Made with a blend of 2010-2011 grapes (49% Pinot Noir, 28% Merlot, 22% Syrah and 1% Cab Franc), this is a medium-bodied wine that has vanilla, toast and red currant aromas and flavors. It was smooth and pretty easy drinking. It may be a touch too high in price for an everyday wine, but at 50% off per case, it'd be a great little $12 bottle. Hurry in before the sale is over!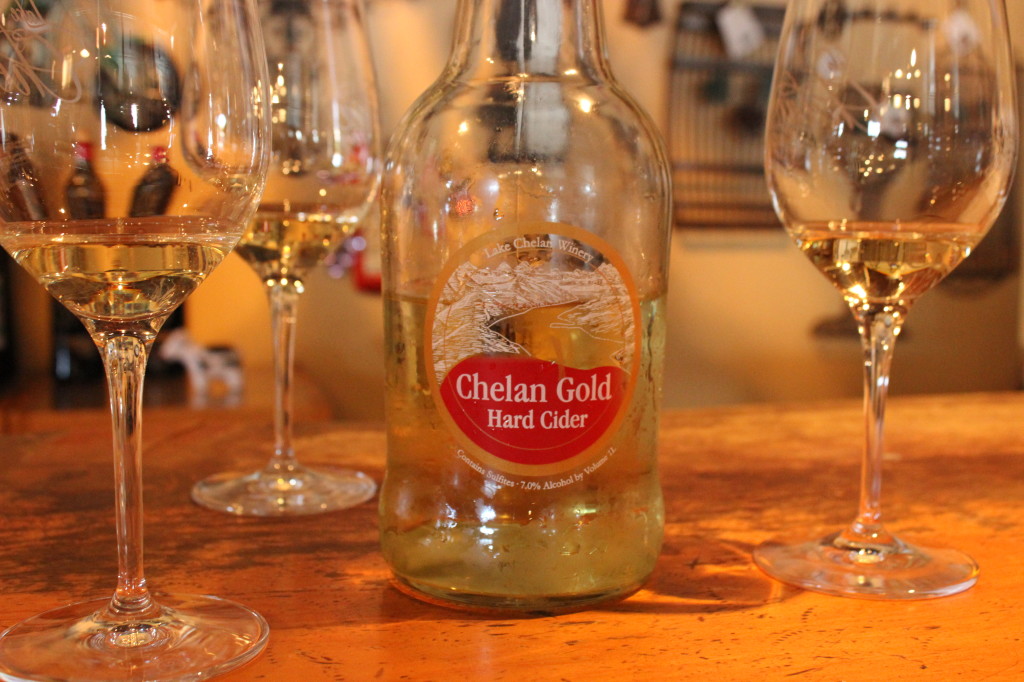 Like I mentioned, the winery also has a cider, the Chelan Gold Hard Cider. It's made with a variety of apples (Jenneting, Granny Smith, Braeburns and Gala to name a few…) and the juice is fermented for 3 weeks before champagne yeast is added. At the end, they add in 20% natural apple juice with the fermented juice to give it a natural sweetness. It wasn't that great at first, but after a few sips it wasn't so bad. I think it's just missing some carbonation (or maybe the bottle had been opened too long).
One of the best parts about the winery is the fact that there's an actual cheese shop inside the tasting room. If you missed it here, Lake Chelan Cheese has an assortment of some 40-50 cheeses, perfect for a snack in between wineries. They let you sample, too, which is awesome because it's hard to know whether the Coconut Cream Gouda is worth buying over the Blueberry Stilton. If you want something a little more substantial than a cheese plate, grab a table outside and enjoy the winery's BBQ in the Vineyard. They've got BBQ sandos, burgers, ribs and brats that can be enjoyed over an excellent view of the vines! Cheers!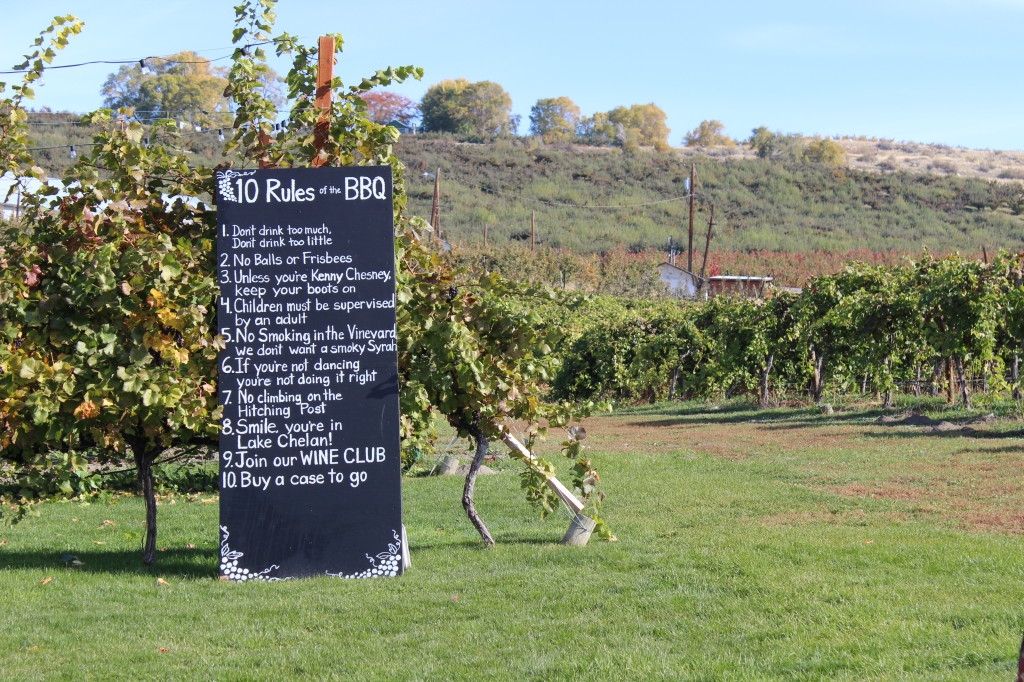 **Winery Notes**
Open: Fall hours – 11am-6pm (till 7pm on Friday and Saturday)
Tasting Fee: Free
Phone: 509.687.9463
Location: 3519 SR 150 – Chelan, WA 98816