I have been a fan of Steve Matthiasson's wine for a while… I remember first tasting his 2013 Matthiasson Rosé while having lunch at Zuzu in Napa, where I savored every sip of the wine and its bright grapefruit and minerally flavors. Made with a blend of Syrah, Grenache, Mourvèdre, and Counoise, it's the type of wine that's versatile enough to drink on its own or to enjoy with food. I loved it!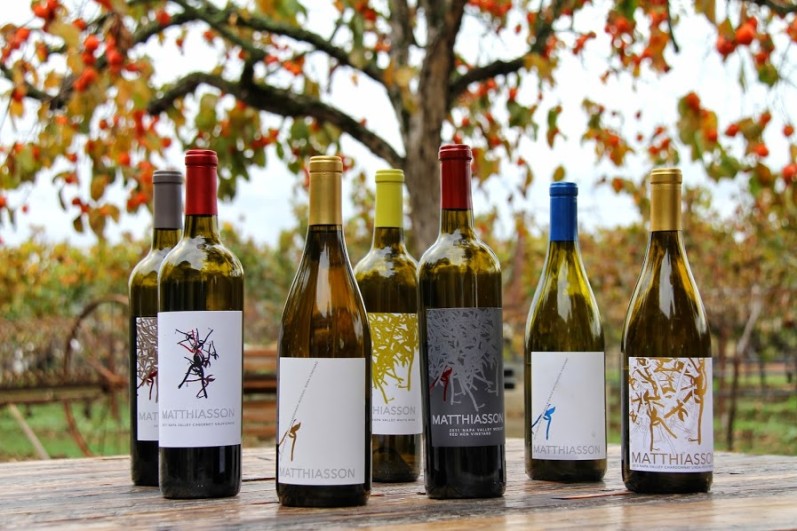 The wine is also memorable because one week after my lunch, a 6.0 magnitude earthquake hit Napa Valley, devastating many downtown buildings and, of course, destroying a lot of wine.
Steve happened to be one of the winemakers affected by the earthquake, which he discusses in the movie, Somm II: Into the Bottle. Despite the travesty, he remained positive and resilient – a true testament of character! Now, some good news for this winemaker: Steve was recently nominated for a James Beard Award, which recognizes leading wine/food industry professionals, and was named a semi-finalist for Outstanding Wine Professional. That's a huge honor!
Read on to learn more about the man behind his namesake label – like what his off-duty drink of choice is and what he'd take on a deserted island besides his wife, Jill, pictured below.
What's your current job title?
Farmer/Winemaker
How did you get started in the industry?
Working as a field tech on a sustainable agriculture project in almond orchards in 1995. The company I worked for also handled vineyards, that lucky break combined all of my interests: food, wine, and farming, allowing me to finally find my calling.
What is your most memorable wine or wine tasting experience?
1990 Robert Mondavi Reserve Cabernet Sauvignon, I tasted it back in 1995, and that wine was classic Napa Valley, moderate alcohol and balanced with great structure and acidity, full of savory and red fruit characters as well as black fruits and graphite; since then the industry in general has moved away from that style, but that wine is still a touchstone for our own Cabernet.
Do you have a go-to wine and food pairing?
Local Dungeness crab and Chardonnay, ratatouille and (classic styled) Cabernet, grilled veggies and sausages and Refosco, local lamb and Cabernet franc, egg pasta with butter and poppy seeds and Ribolla gialla, and the best pairing of all is sunshine and rosé.
What's the strangest word/s you've used to describe the smell or taste of wine?
Curry powder (for a very well-aged Riesling).
Which wine varietal do you think is underrated?
Italian varietals in California. So many of them are perfect for our climate, and they work so well with food.
Is there one person in the industry you really admire and/or has been a role model for you?
There are tons of people I admire, from Robert Mondavi, who I've only ever briefly met but admire, to Warren Winiarski, an icon of wine quality who I worked with for years, to Rajat Parr, who lives to share and teach; but most importantly, George Vare, the most generous wine and people lover I've ever known.
When you're all wine-d out, what is your drink of choice?
Village Mescal or a clean dry pilsner.
Favorite place in the world you've visited?
Slovenia, a fairy-tale country.
If you had to describe yourself in 3 words, what would they be?
Focused, un-focused, hedonistic.
Do you have a random talent or party trick?
Over-eating.
What 3 things would you take on a deserted island with you other than water?
Red Burgundy (Volnay), wild boar sausage from Mendocino, and Jill, my wife (not in that order). If the kids wanted to come they might bump the wine and sausage.
Thanks to Steve for participating in my 12 Questions series! Click here for more information on Matthiasson wines. Cheers!