Who doesn't enjoy a good game night with friends? My friends and I have been known to have some seriously fun game nights. There's usually wine involved, but we've never actually played a game centered around wine. That's why when I heard about the new wine game Bottle Bracket, my interest was piqued. Especially when I learned that it's a game/wine club hybrid!
Bottle Bracket is an interactive wine club that's centered around a blind wine tasting game. Everyone who's ever participated in a blind tasting knows how surprising the results can be without the influence of a label, price or ratings.
Personally, I think blind tasting is a great way to learn what you like and don't like without preconceived notions. I know most people don't do the type of blind tasting that wine professionals experience — i.e., contemplating every component of a wine and taking a lot of notes. That's where Bottle Bracket comes in. It's a fun, less intense way to blind taste and learn something new… all while having an excuse to get friends together for game night.
A WINE CLUB AND TASTING GAME IN ONE
So how does it work? Bottle Bracket sends you four bottles of wine every three months from rotating regions. Each wine varies in price and usually comes from a small producer in that month's designated region. While ordering the game set is not mandatory, it's really what makes this wine club different.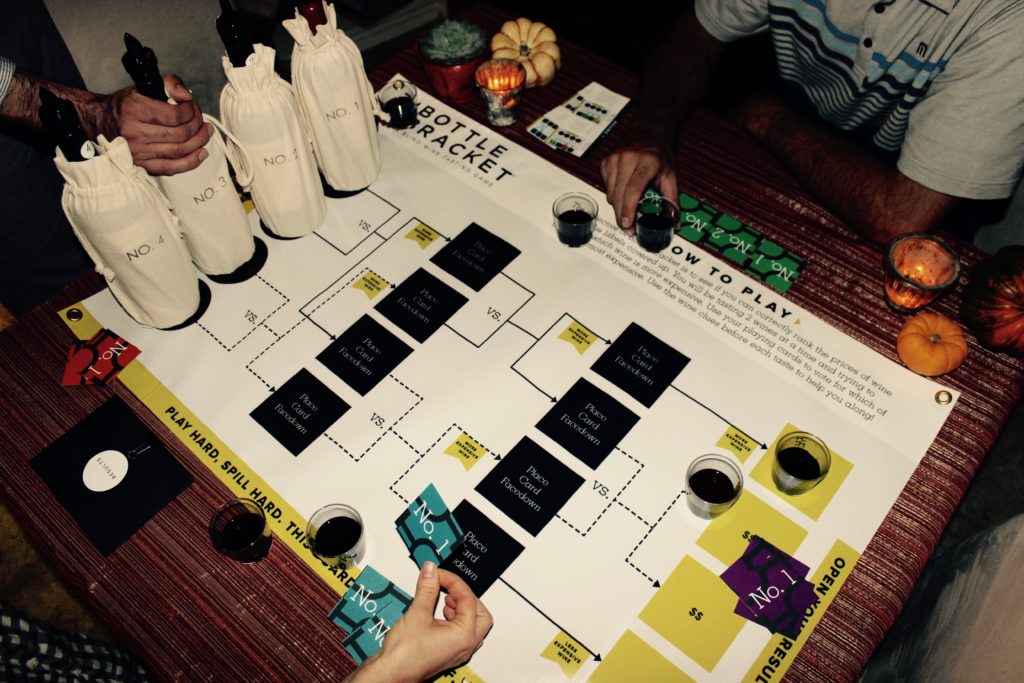 With the game, you'll receive a spill-free game mat, wine bottle covers, pour spouts and tasting cups. The point is to taste the wine blinding, pinning bottles against each other in a sports-like bracket to decide on price. Your team will taste wine 1 against wine 2 then decide which wine you think is more expensive. The same goes for wine 3 versus 4. Next, the teams will taste the wines thought to be more expensive against each other and rank again. The results come in a sealed envelope that you open once ranking is complete.
When we played, everyone guessed the most expensive wine correctly, but after that it was totally random. What we thought was the second most expensive was actually the cheapest wine. It was fun to be so surprised by the results… and it just goes to show that you shouldn't judge a wine based on price.
Sure, you can be in any wine club and conduct your own blind tasting. But with Bottle Bracket, they've made it easy by putting it all together for you. And if you're playing with friends who aren't in the club, they can go online and purchase their favorites directly from the site. It's a great excuse to get together with friends and explore some new wines. Don't be shocked if the results surprise you. Cheers!
---
Disclosure: I received Bottle Bracket for my review and participation in this sponsored post. All photos and words above are my own.