Not many people realize that Alsace is one of the few wine regions in the world devoted to mostly white wine. In fact, about 90% of production is dedicated to whites! From Riesling to Pinot Gris, Muscat to Pinot Blanc, those Alsace winemakers know a thing or two about white wine. One of the most well known wines coming out of Alsace is Gewurztraminer, an aromatic white wine known for its fruity, floral and spicy notes. The name may be hard to pronounce, but that shouldn't stop you from getting to know Gewurztraminer from Alsace!
THE REGION
Alsace is located along the Rhine River on France's eastern border near Germany. Although it's a French wine region, Alsace has been part of Germany at various times in history. Today, you'll see both French and German influence in everything from the architecture to the language.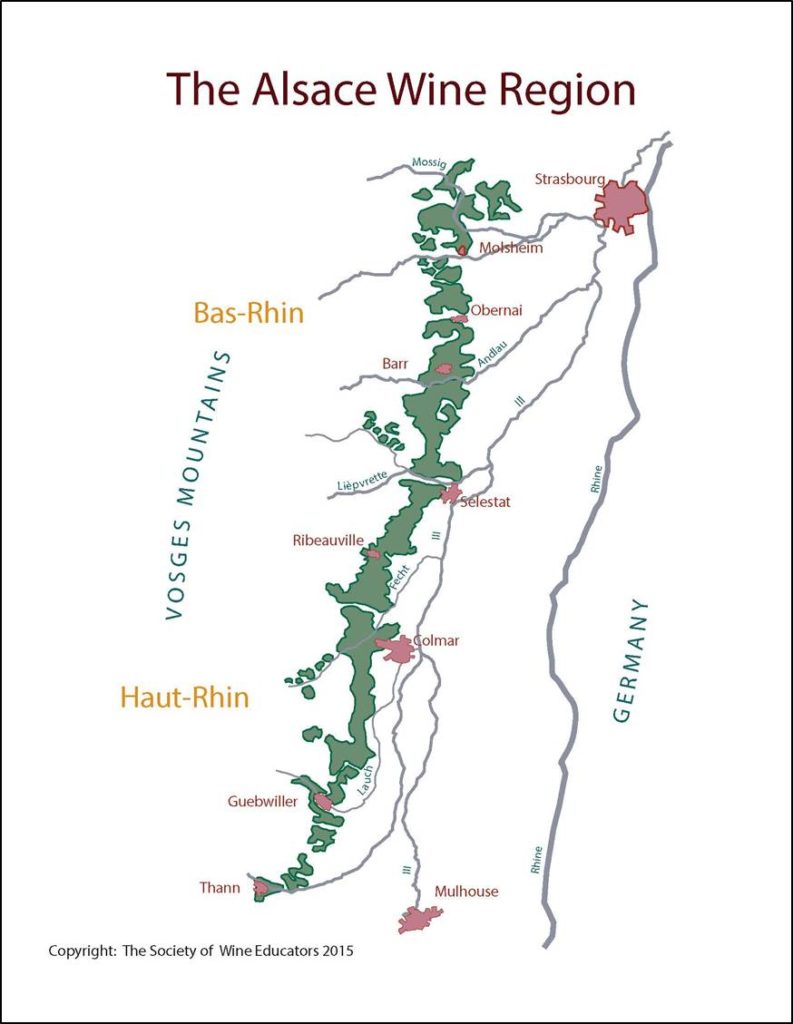 Alsace may be one of the most northern wine regions in France (after Champagne), but it's surprisingly sunny and dry thanks to protection from the Vosges Mountains. The region is broken up in to two parts: The Bas-Rhin to the North and the Haut-Rhin to the south. Here, they produce wines from seven main varieties — all white varietals with Pinot Noir being the exception. 
THE WINE
Unlike the rest of France, Alsatian wines are labeled by varietal rather than by vineyard or village. Across the board, these 100% varietal wines are mostly dry or off-dry aromatic whites that never see new oak. Winemakers put heavy emphasis on showcasing the purity of the grape, relying on the natural balance of fruit and acidity to add complexity to the wine. 
Next to Riesling and Pinot Blanc, Gewurztraminer (Guh-vertz-trah-meener) is one of the most important grapes in Alsace. Typically dry or just a touch sweet with low acid, Gewurztraminer from Alsace has signature aromas of tropical fruits (lychees, passion fruit), roses, apricots and tangerine. What makes it really stand out, though, are bold notes of pepper, clove and exotic spices. Side note: 'gewurz' translates to 'spiced' in German. Many Gewurztraminers can seem sweet and floral on the nose but taste completely dry. So rule of thumb, expect it to smell sweeter than it tastes.
GEWURZTRAMINER FOOD PAIRINGS
One of my favorite things about Gewurztraminer is its ability to pair well with food. It's a nice match with lighter foods like fruit, cheese, salmon and chicken, as well as warm, hearty dishes perfect for this time of year. Don't be afraid to pair a dry and zesty Gewurztraminer from Alsace with spices like coriander, perhaps with Coriander Chicken Thighs? Or try an off-dry, floral Gewurz with foods that have ginger or allspice, like this Ginger Roasted Squash! Not only that, but Gewurztraminer is a perfect companion to spicy ethnic foods, especially Thai, Indian, Asian and Spanish cuisine. Take-out and Gewurz? I know what I'm doing tonight!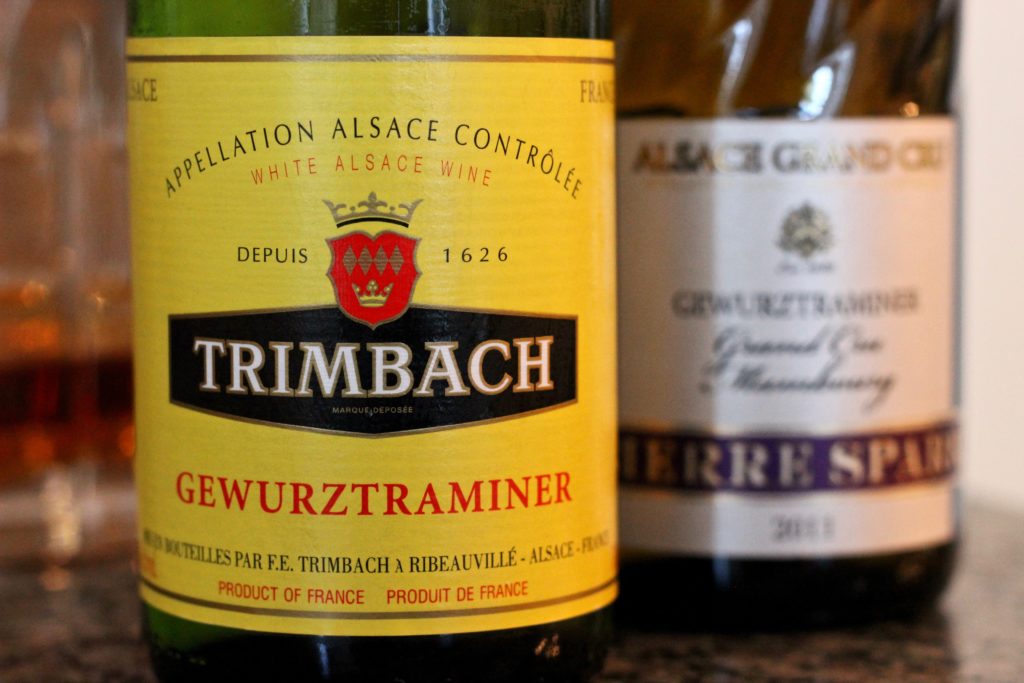 Of course, the best way to experience Gewurztraminer from Alsace would be to visit in person. Obviously! For those of us not willing to book a plane ticket (not quite yet at least!), there are a few widely distributed producers to look out for. Zind-Humbrecht, Trimbach, Josmeyer and Pierre Sparr all make lovely examples of Alsatian Gewurz that aren't hard to find, nor are they too expensive.
Guess it's time to head to your local wine shop, grab a bottle of Alsatian Gewurztraminer and dig in to the complexities of this interesting varietal (perhaps over some Thai curry). Then let me know what you think! Cheers.
---
Thanks to Wines of Alsace USA for collaborating with me on this post.