I'm never one to shy away from a fun challenge, especially if it involves food and wine (duh!). So when fellow blogger, The Wandering Gourmand, asked me to participate in his wine and food pairing challenge, of course I was up for it! The task? Find a wine or beer that would best pair with shrimp and grits, the ultimate Southern comfort food.
Hmmm… have I made shrimp and grits before? Nope! I have probably only had it twice in my life, but remember ordering it at a restaurant in the South where it was extra cheesy, extra spicy and extra good. Since I only had a couple of hours to decide before the deadline, I went with my best educated guess: Albariño or Gewürztraminer.
Why those two you ask? Albariño typically goes well with seafood, and it's got a lot of racy acidity that might balance out the richness of the grits. Gewürztraminer has a good amount of weight and intensity so it wouldn't get overpowered by the food, yet its perceived sweetness could balance out the smokiness and spice in the food (especially if there's spicy sausage or cajun seasoning – yum yum).
To see how I did, I decided to do a taste test of my own with some shrimp and grits with spicy sausage and peppers. The two wines I chose: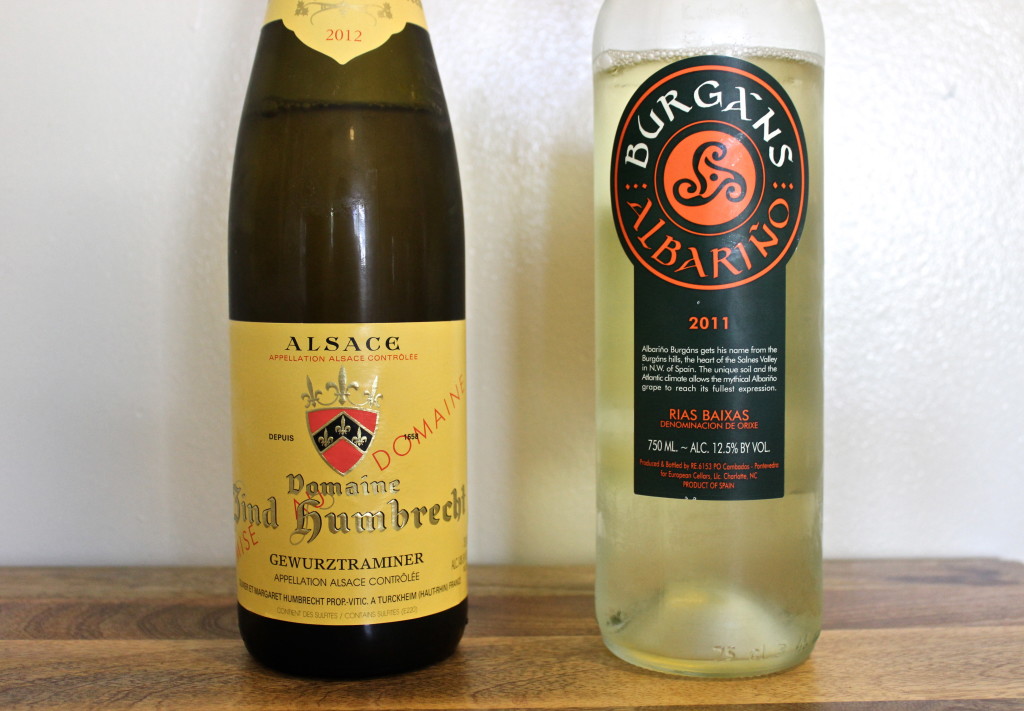 2012 Domaine Zind-Humbrecht Gewürztraminer ($28), from France's Alsace region. The region, which borders Germany, is known for aromatic, dry Gewürztraminers which tend to take on floral, exotic fruit and spicy aromas like this wine. The aromas were full of sweet white peaches, roses and ginger, and, although it smelled sweet, the wine was dry with spice and noticeable acid. A pretty nice wine! I guess they know what they're doing, as the winery is owned and operated by the Humbrecht family who have been growing grapes since the 1600s (fun fact: Olivier Humbrecht, who operates the winery, is the first Frenchman to qualify as a Master of Wine).
2011 Burgáns Rias Baixas Albariño ($16), from the Rias Baixas wine region in the Northwestern part of Spain, which is known for clean, crisp and refreshing whites that almost take on a saltiness like the ocean. Hey, if wine can smell like 'wet dog' or 'cat pee' then it can certainly smell like the ocean! This wine did have a bit of ocean saltiness on the nose, with appealing aromas of honeyed apricots and tropical fruit like pineapple and mango. It was juicy and zesty with good minerality and body. A great value wine!
So which one was the winner? To me, the Albariño worked best. The wine stayed relatively the same after trying it with the food, and the food tasted just as good with the wine. On the other hand, the food brought out the spice characteristics in the Gewürz, subduing the fruit in the wine and leaving the mouth with a bit too much heat. It wasn't terrible, though.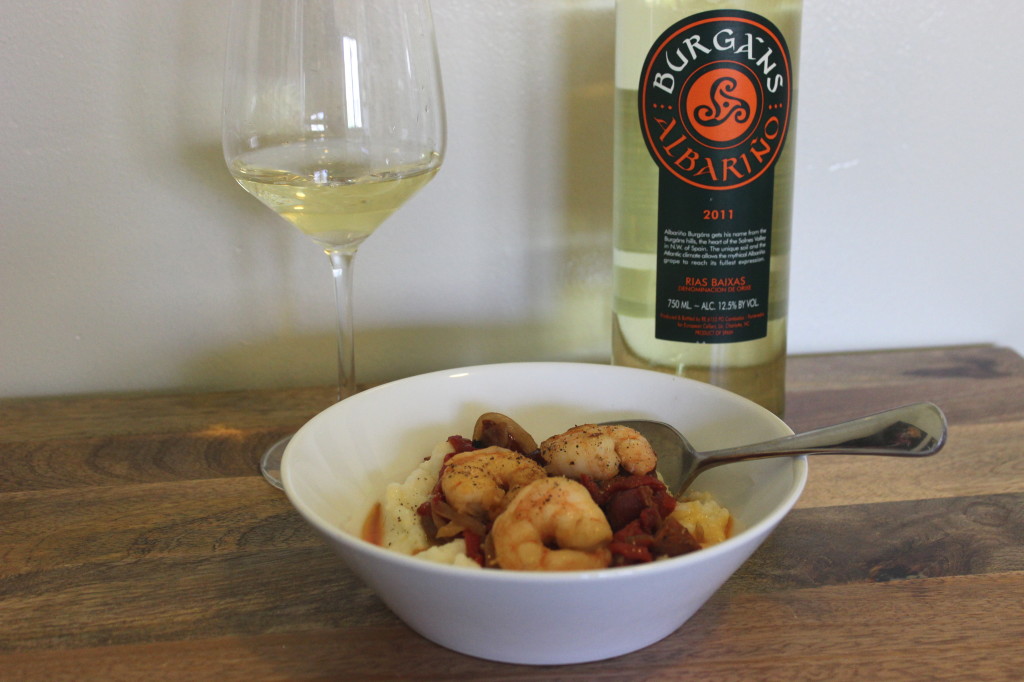 Want to see what other participants suggested? Check out The Wandering Gourmand to vote for me (or your favorite answer) in this month's wine and food pairing challenge. Voting ends April 8!
Cheers!