In addition to my day job, I've been spending a lot of time doing some wine writing outside of the blog. It's been really fun because A) I like to help people learn more about wine, and B) writing is enjoyable for me! Recently I had an article about pairing wine with healthy food published in North Idaho Wellness Magazine. Most people, even dedicated wine lovers, don't know a lot about pairing wine with food, let alone the healthy kind. Asparagus? Arugula? Intimidating…
It's actually not that hard to pair wine and food once you learn the basics. Of course, I say this now, but in my early 20s I didn't know much about pairing besides red wine with steak and white with chicken or fish. I now know that matching wine and food isn't so black and white, but that there's a whole lot of grey.
One of my favorite things is having a nice glass of wine with a meal, especially at a fancy restaurant where the Somm is selecting the wines for me. Duck, bone marrow butter, bacon-wrapped filet – ha! Who can eat that every day? It's not only expensive but it'd be really unhealthy. Outside of a restaurant, I try to pair wines with things I eat more regularly – like healthier food that I can cook at home. So, which wines go with things like tomatoes, veggies, etc? Just follow my tips below!
Match the weight of the food with the weight of the wine
Hearty, heavier foods tend to pair well with wines that will stand up in body to the food and not be overpowered (aka, fatty steak and tannic Cabernet). Lighter, more delicate foods work well with lighter wines because neither is dominating the other. So, since a lot of healthier foods are lighter in body, you're probably going to be reaching for the whites and the light-to-medium bodied reds more often than not.
Find similar flavor profiles
Similar flavors in food and wine are BFFs. Why? If you have food with a rich, earthy or mushroomy flavor, you wouldn't want to pair it with something really acidic and fruity, you'd want something to complement the earthy flavors. For example, Pinot Noir can have earthy characteristics that are reminiscent of mushrooms and herbs. Sautéd mushrooms with rosemary might be a perfect match. A Pinot Noir that has more fruit-forward, berry flavors might be better matched with pork with a cherry or fig sauce.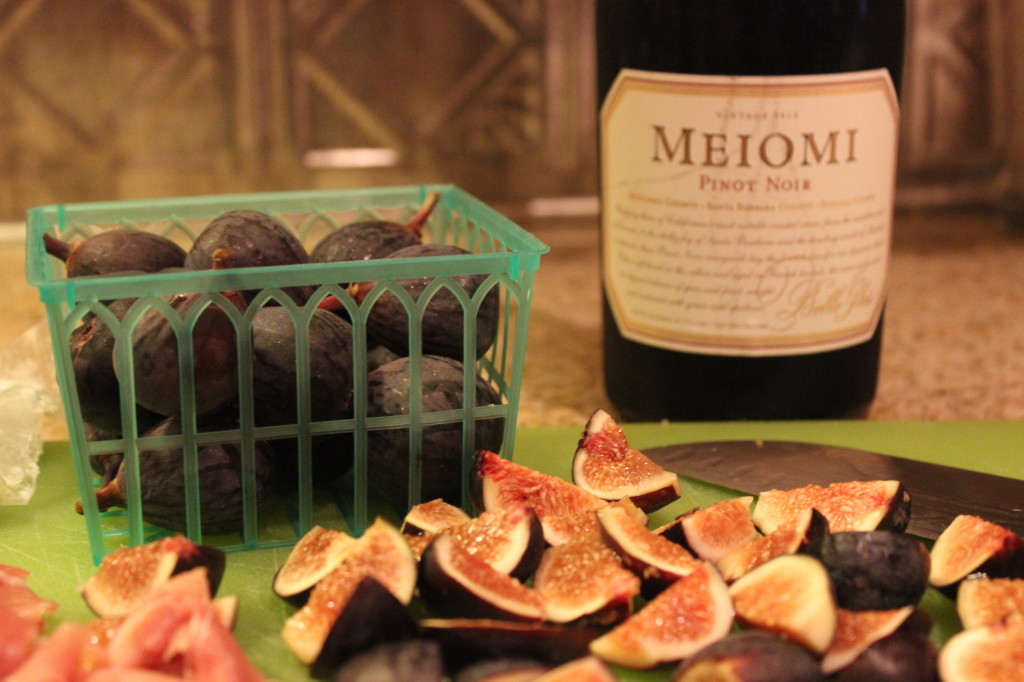 Think Regionally
Wines from a certain region are usually made to go with the foods of that particular region, especially in "Old World" countries in Europe. It makes perfect sense… over there they've been doing it for centuries. Take Montepulciano d'Abruzzo wine from Italy's Abruzzo region, which is a red that tends to have bright cherry flavors, tart acidity and earthy, herbaceous characteristics. The foods of that region, like simple tomato sauces, braised meats, mushrooms and olives, are all a safe bet.
Get to know some staples for healthy foods
Sauvignon Blanc has citrusy, green, herbal notes that tend to work with many green veggies, like arugula, asparagus and even artichokes, especially with a lemon sauce or pesto. Gruner Veltliner and Vinho Verde would also work with these foods.
Pinot Noir is a light-bodied red with low tannins and diverse flavors. It can have bright, spicy fruit or meaty, earthy characteristics. It's a safe bet for chicken, pork, vegetables, and fish. Dry Rosé is another nice option for these foods.
Chianti contains a high amount of acid. It's a great match for tomatoes and tomato sauces, which naturally contain a lot of acidity, so they balance each other out. Montepulciano d'Abruzzo, Sangiovese and Barolo are also good options.
When in doubt, Champagne is usually a good choice. It's light and versatile enough to go with chicken, vegetables and soft, creamy cheeses when you need something rich. On that note, it's time for me to make dinner… tonight it's gnocchi with a tomato basil sauce and roasted veggies. Anyone want to take a stab and what wine I might be opening? Cheers!