Although I don't drink many Cabernets from Napa Valley, there are a few producers that I admire and would gladly drink their wines any day. Larkmead Vineyards — located in the Calistoga area of the valley — is one of those producers. I first visited Larkmead back in 2008, just a couple of years after the tasting room first opened. So, when I visited Calistoga a couple of months ago, I was excited to return to Larkmead to taste how these wines and the winery as a whole have evolved. Bottom line, it did not disappoint!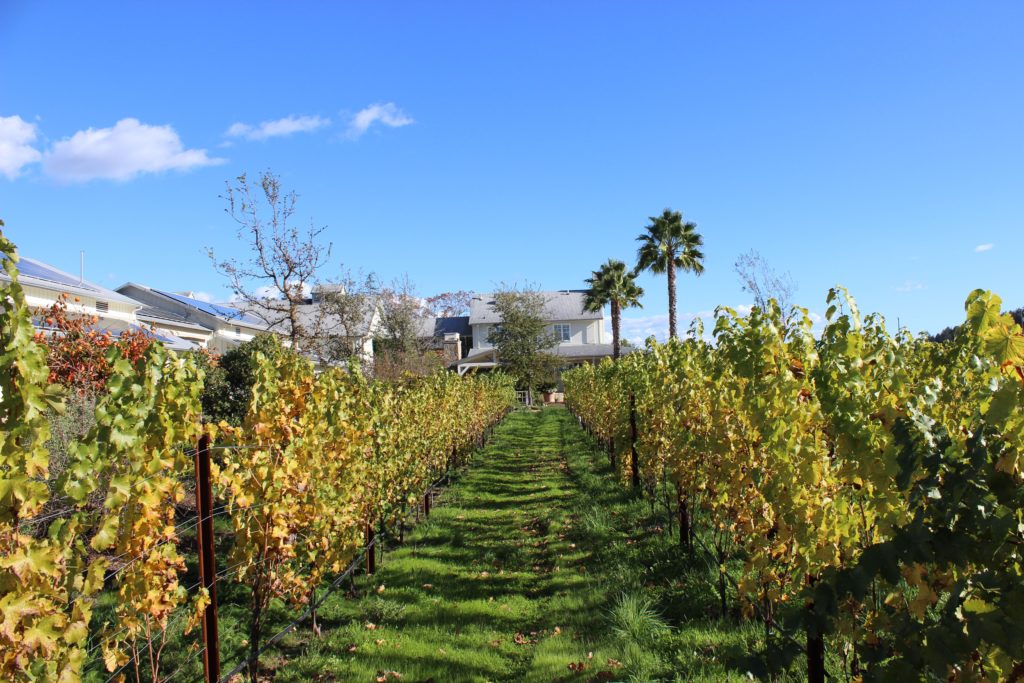 THE HISTORY
As one of the oldest, family-owned grape growing estates in Napa Valley — originally established in 1895 — Larkmead Vineyards is rich with history. In fact, the famous estate was once the largest and most respected wineries in Napa Valley in the late 1940s. Today, Larkmead is owned and operated by Cam Baker and Kate Solari Baker, who have spent the last 20+ years revitalizing the estate. With Winemaker Dan Petroski heading up production, the team has focused on capturing its history without being afraid to challenge tradition, making tweaks in the vineyard and cellar that translate to serious wines of distinction.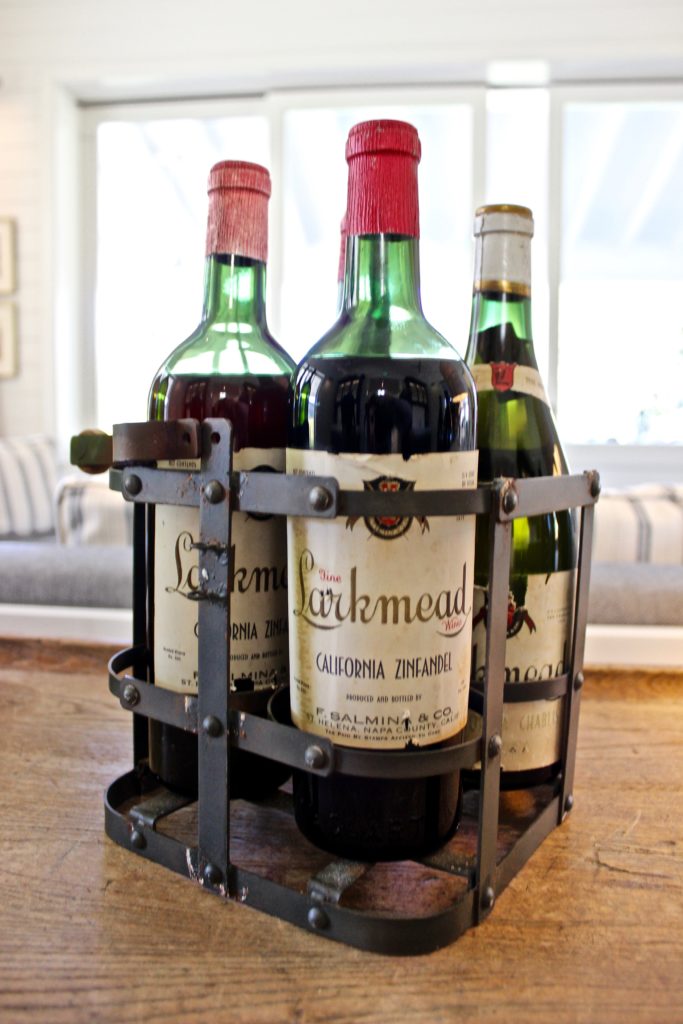 During our beautiful but chilly November visit, my friend and I arrived to Larkmead where we were met by Dan, who's been the head winemaker at Larkmead since 2012. He gave us a tour of the tasting room, completed in 2006, which was designed by famed wine country architect Howard Backen (PS – that's the same guy who designed Davis Estates winery). We also explored the winemaking facility and property while Dan told us a bit about the history of the estate and the changes they've made in the vineyard.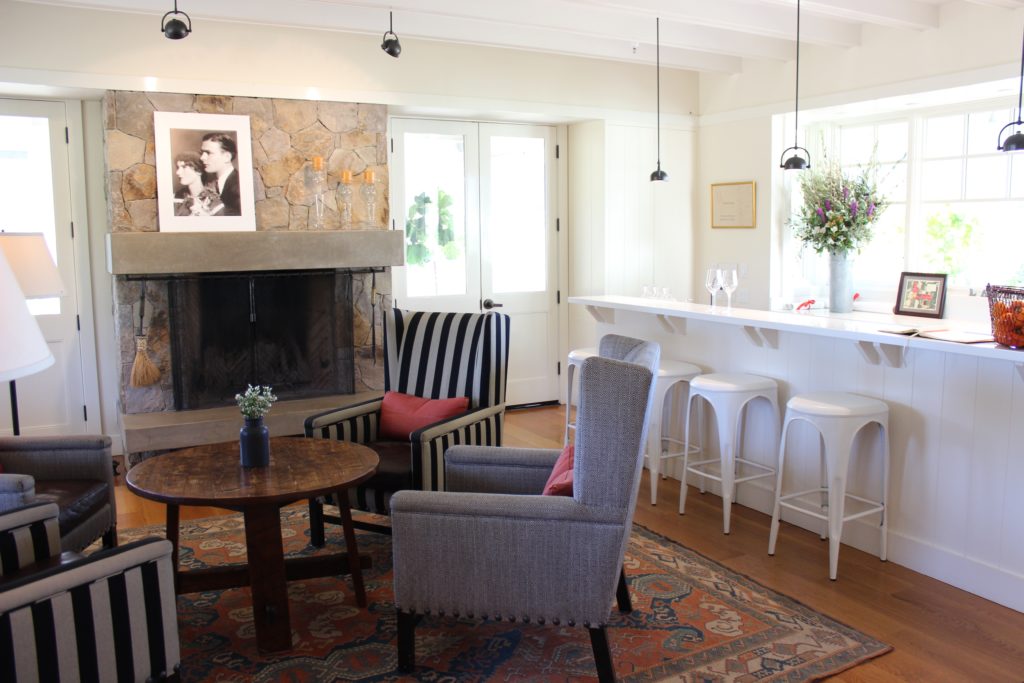 THE VINEYARD
Larkmead Vineyards is unique in that it's situated on the valley floor between the Vaca and Mayacamas mountain ranges. With the Napa River cutting right through the property, the estate has incredible diversity in soil types: sand, clay, rock and gravel. Needless to say, the unique terroir has allowed for many different types of grapes to grow here.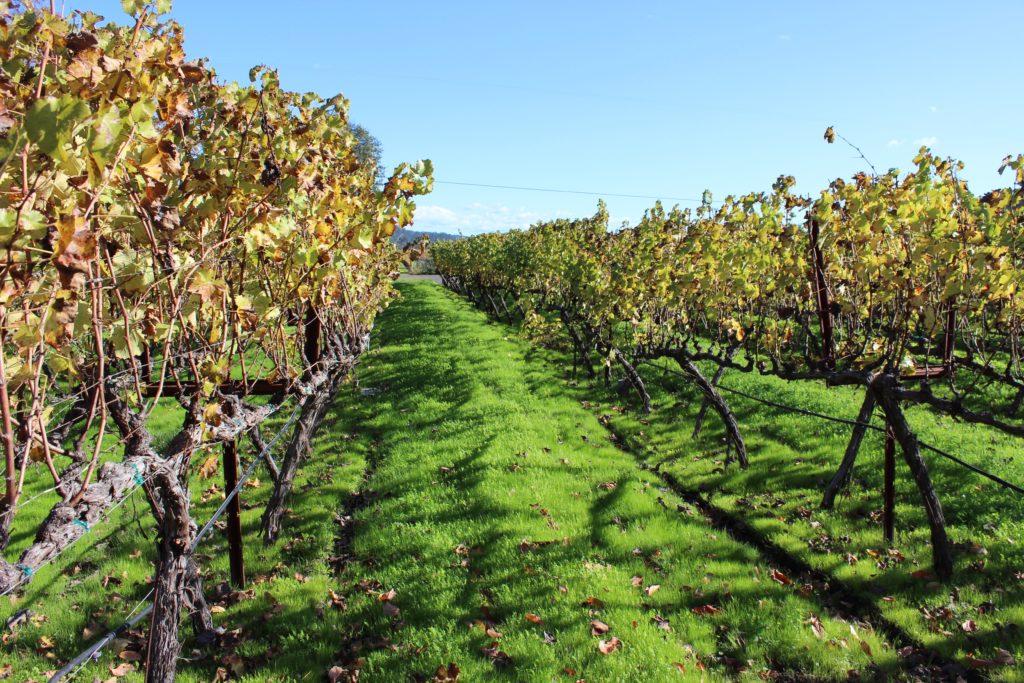 Throughout its history, there have been roughly 27 different varieties planted on the estate. The Bakers have since replanted to mostly Cabernet, which now encompasses over 60% of its total acreage. About 90 acres of the entire 110-acre vineyard have been replanted, and within the last year, Larkmead has transitioned to using organic farming practices.
DAN PETROSKI
After spending a bit of time with Dan, it's clear he's an incredibly knowledgeable winemaker. Interestingly, though, winemaking wasn't on his radar until his early 30s. Dan started his career working in the magazine industry for Sports Illustrated and Time. Despite finding success, he came to the conclusion he wanted to spend the rest of his life doing something he was truly passionate about. He had an interest in wine and was an amateur collector, but had never worked in the wine industry. But in 2005, he left the corporate world behind and moved to Sicily to work at a family-owned winery. A risky move that has definitely paid off!
Upon his return to the states a year later, Dan moved to Sonoma. He worked one harvest for DuMOL before being introduced to Larkmead Vineyards. Clearly, the stars were aligned and he was able to start his winemaking career. Side note – he also makes wine for his own label, Massican, focused on rare Italian varieties.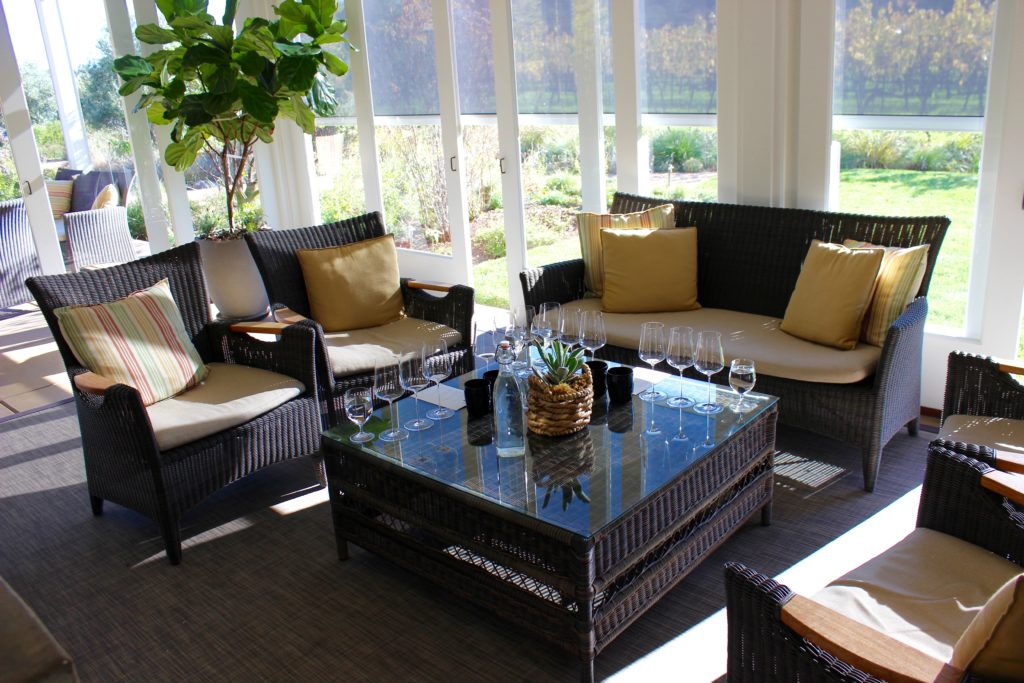 THE WINE
Centered around single-parcel sites, the goal at Larkmead is to highlight the unique characteristics of the diverse vineyard site. Picking the grapes earlier than most (at lower sugar levels) allows Dan to craft wines that are more classic in style; in general, they seem to have a bit more restraint and finesse than other Napa Cabs.
Although the wines aren't priced for every day drinking (they'll run you $75 – $300 per bottle), these are beautiful examples of Napa Valley wines. The 2013 Dr. Olmo Cabernet has aromas of kalamata olive and spearmint, leading to liveliness on the mid-palate. We also tasted the 2013 Solari Cabernet, also 100% Cabernet, with earth-driven aromas and a more vibrant, broad finish. A favorite was the 2012 The Lark Cabernet, which sings with notes of blue fruit, spice and roasted meats. This wine's dense yet soft palate and incredibly lengthy finish leaves you longing for another sip. Stunning!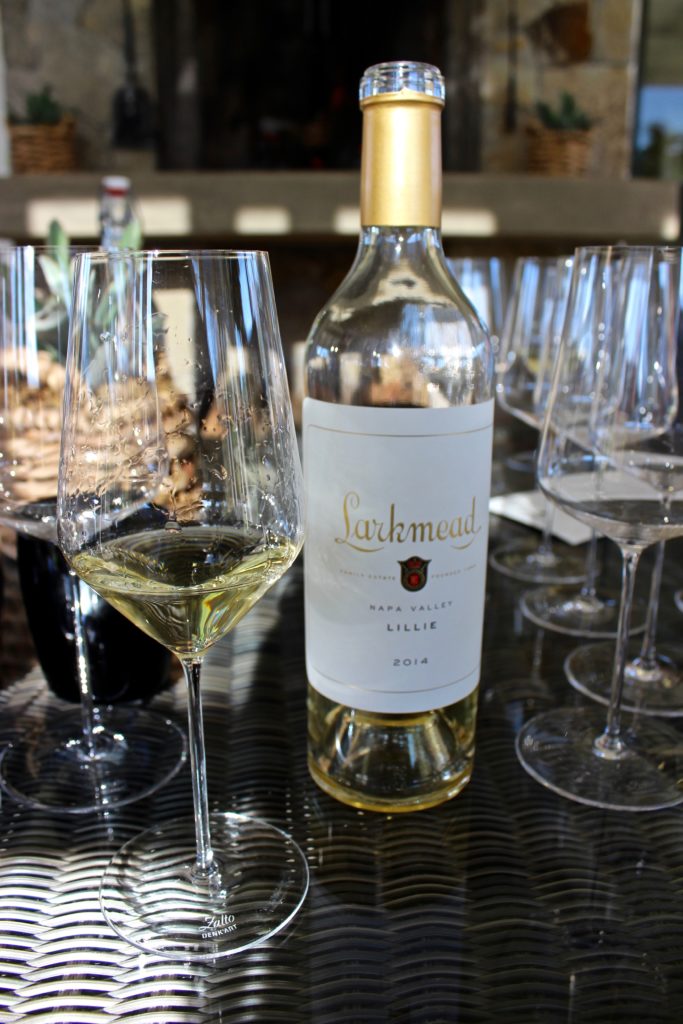 Besides Cabernet, we also tasted the 2014 Lillie Sauvignon Blanc – a lovely wine. Vibrant minerality and fresh citrus is accented by a round mouthfeel thanks to 9 months aging on the lees.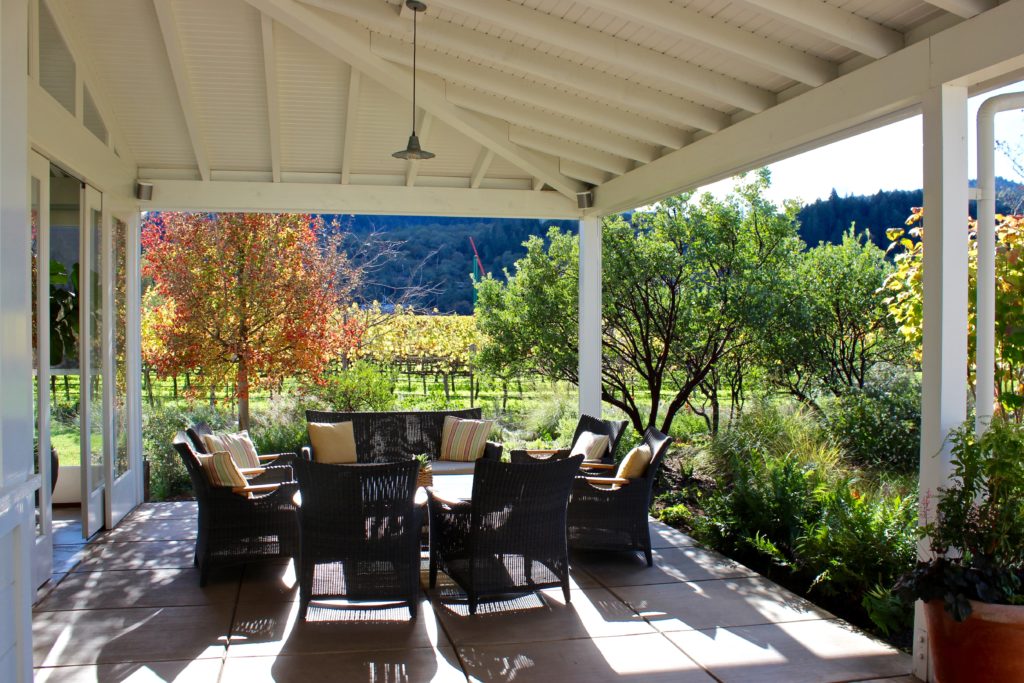 TASTINGS
Tastings are by appointment only and cost $75 per person for 4 wines. It includes a guided tour and tasting inside by the fireplace or outside overlooking the vineyards.  The winery's rustic 'California Coast meets Cape Cod' style — yes, I'm coining that — is comfortable and inviting. Certainly a beautiful place to taste exceptional wine!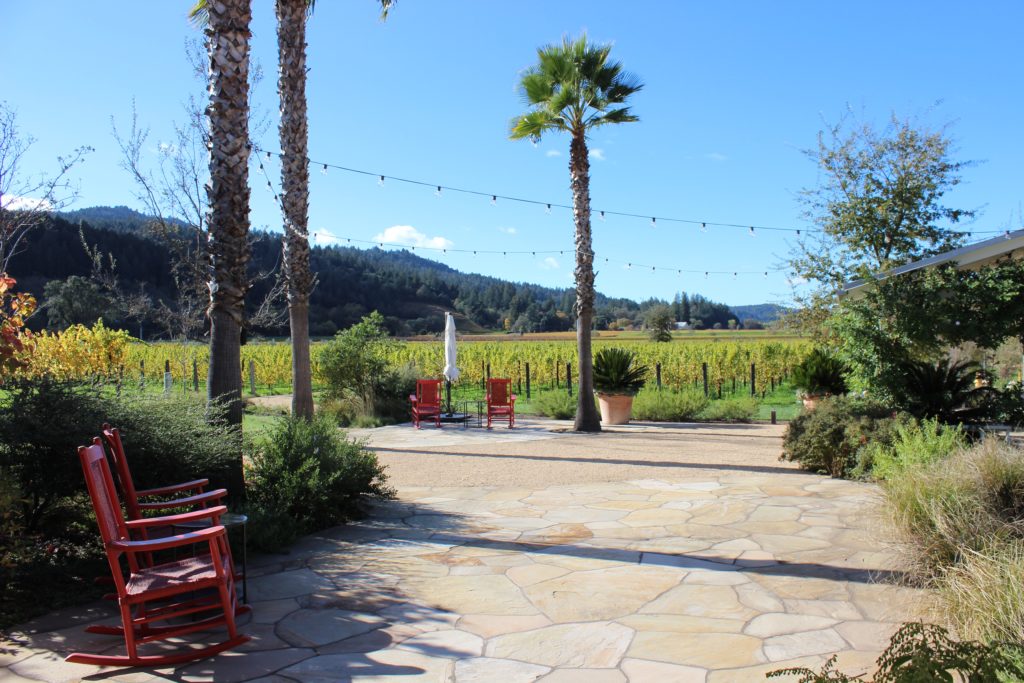 **Winery Notes**
Open: 10-3:30pm daily
Tastings: $75 per person, waived with each $250 purchase
Location: 1100 Larkmead Lane – Calistoga, CA
Phone: 707-942-0167
---
Many thanks to Dan Petroski and Larkmead Vineyards for hosting me and providing a wonderful, informative experience! As always, all opinions and photos are my own.