Now that it's summer, I find myself reaching for wines that are easy on the budget and the palate… the types you can throw into the picnic basket (screw cap) or take to a casual bbq (food-friendly) without spending a fortune. It's a good thing, then, that I was recently introduced to Terroir Selections' newest brand of wines, Cultivate Wines.
You may have heard of Terroir Selections and their impressive line-up of wine brands, like Leviathan, Wind Gap, Qupé, Mayacamas, Fable Mountain and Sandhi. If you remember from my post on the Pebble Beach Food & Wine Festival, I got the opportunity to taste through a vertical of the famed Napa Valley Mayacamas Cabernet (vintages 1989, 1999 and 2008, oh my).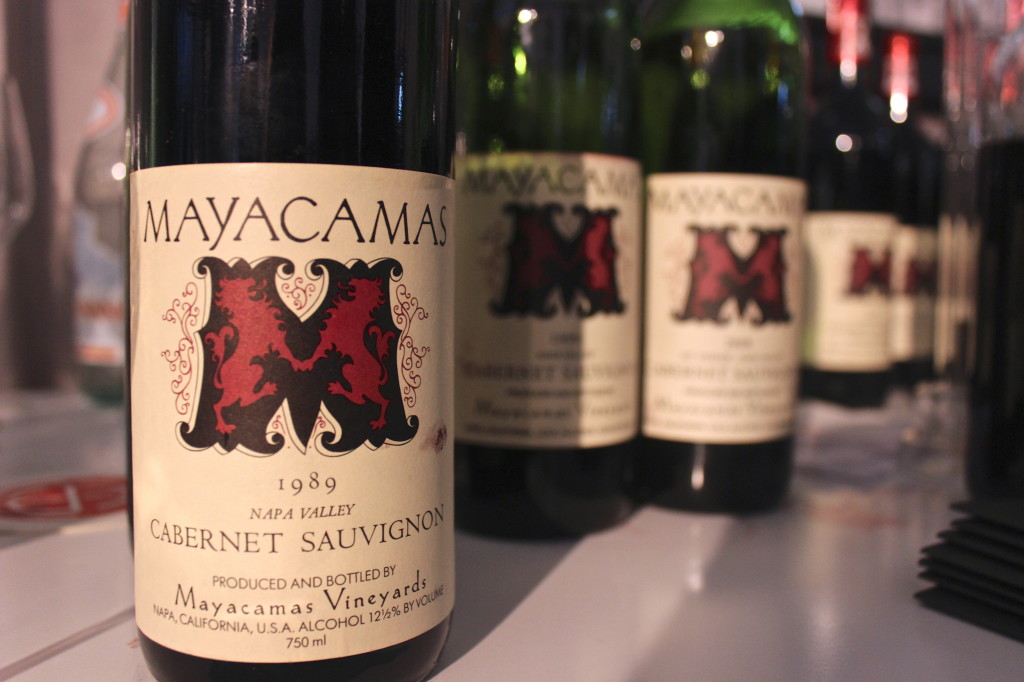 Exceptional! The 1989 had aged really gracefully, having a surprising intensity of aromas and a lengthy finish. It just goes to show that some wines are meant to be stored away for awhile. Cultivate's wines, on the other hand, are made to be consumed young (no need to "age" these wines) and shared amongst friends in casual (or non-casual) settings. They're also easy on the wallet, ranging between $12-$25.
At Pebble Beach, I got to meet with Cultivate's wine maker, Nat Gunter. Really nice guy! He walked me through a few of their wines and told me a little about the brand. Cultivate was started by Santa Barbara's own Charles and Ali Banks, a very nice couple who have had many years of wine industry experience (they once owned cult Napa winery, Screaming Eagle, for one). Recently, I met up with Ali for coffee (she's wonderful!) since we both live in the area, so she could tell me a little more about Cultivate and the vision behind the brand.
Unlike a lot of the brands in the Terroir Selections portfolio, the Cultivate wines are meant to be more everyday wines. They source grapes from all over the world, seeking out locations that show off the terroir. Remember, terroir is the set of things that give character to the grapes (climate, soil, geographic location…). Since the wines are made all over (Italy and Argentina, for example), you can imagine how distinct each wine tastes. Regardless of your preferences, you'll find something you enjoy from this selection.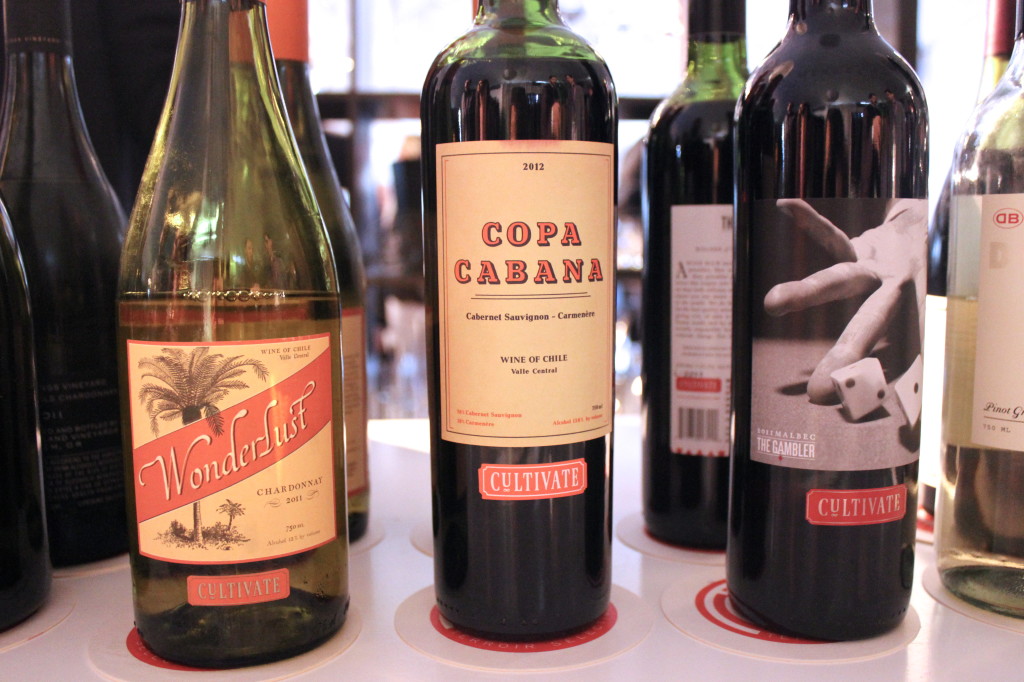 The 2011 Wonderlust Chardonnay ($12) is a great little every day wine. The grapes actually come from Chile, allowing it to be a great value wine (FYI – land is cheaper down yonder). With notes of tropical fruit and a crisp finish (due to the use of steel barrels instead of oak), it's easy on the palate and certainly a good value wine. An especially good choice if you're not into oaked, buttery Chards. I think this would be great with lighter summer foods like salads and white fish.
The 2011 Copa Cabana ($12) is a juicy Chilean blend of 60% Cabernet and 40% Carménère. Really approachable, this has a surprising amount of structure and balance for the price point. Prominent raspberry fruit is complemented by leather and spice, with a smooth, full finish. Carménère is actually Chile's signature grape, and typically has berry, spice and smokey notes like in this wine. Try it with grilled meats, from hamburgers to pork tenderloin.
The Gambler ($14) is a rich Malbec made with grapes from the Mendoza region of Argentina, which is the highest altitude wine region in the world. Mendoza is known for producing rich, powerful wines like this Malbec. I noticed prominent blueberry and dust aromas with some leather and olives. A touch of Bonarda (13%), Argentina's second most widely planted red grape, gives the wine a bit of that dusty characteristic. Full-bodied, this wine would go great with grilled meats at your next summer BBQ.
I also recently tried the 2013 Double Blind Pinot Grigio ($17) from Italy's Veneto region. I was impressed with this Pinot Grigio, which happens to be Italy's most well known white varietal. It has some tropical aromas like banana and sweet coconut, with honeysuckle and hints of hazelnuts. Although it has zesty acidity, it doesn't overpower the honey lemon flavors on the finish. A refreshing summer vino!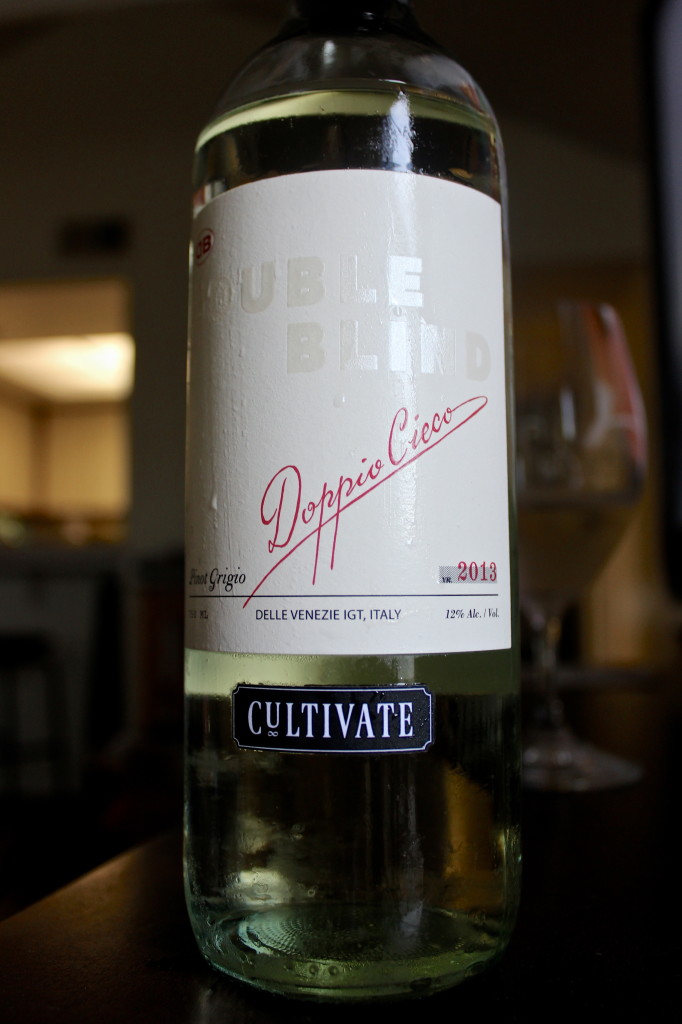 So where did the name "Cultivate" come from? Actually, it came from a conversation in which the Banks asked themselves, what do we want to cultivate more of in our life? The answer? Love, happiness, friendship, giving. They wanted to find a way to not only share wine with people but actually give back to the community. Cultivate gives back 10 cents of every dollar to support non-profits across the world. Hello! A wine that lets you be charitable every time you buy it – now that is a wine that is truly shareable. Share it around the dinner table with friends and share with the community. They've raised over $550,000 so far which is truly incredible (visit The Give for more info). 
I'm always a fan of drinking wine for a good cause, especially if the people involved with that wine are such good people. To that, I say go out this summer and eat, drink and "Cultivate Life." Cheers!