Remember my posting on blind tastings? In case you missed it, I described my love for switching it up and tasting blind once in awhile (you can read more here). It's actually quite fun to dissect a wine's aromas, flavors, body, acidity, etc. without the influence of a label or vintage or price. Come on, you know you've done it before… liked a wine just because it was a big name with a big price tag and your brain forced you to think positively about it? It's human nature! And you know what, sometimes it's just plain fun to want to like a wine so much that you end up liking it… no one wants to be let down.
Speaking of not being let down, for my latest wine tasting group meet up, we were treated to several older Syrahs from our hosts' cellar. Now, this isn't your makeshift 'cellar' with a few cases stored in the basement or stuffed under the stairs. No, this is a LEGIT temperature and humidity controlled cellar, complete with a port waterfall! Check it out.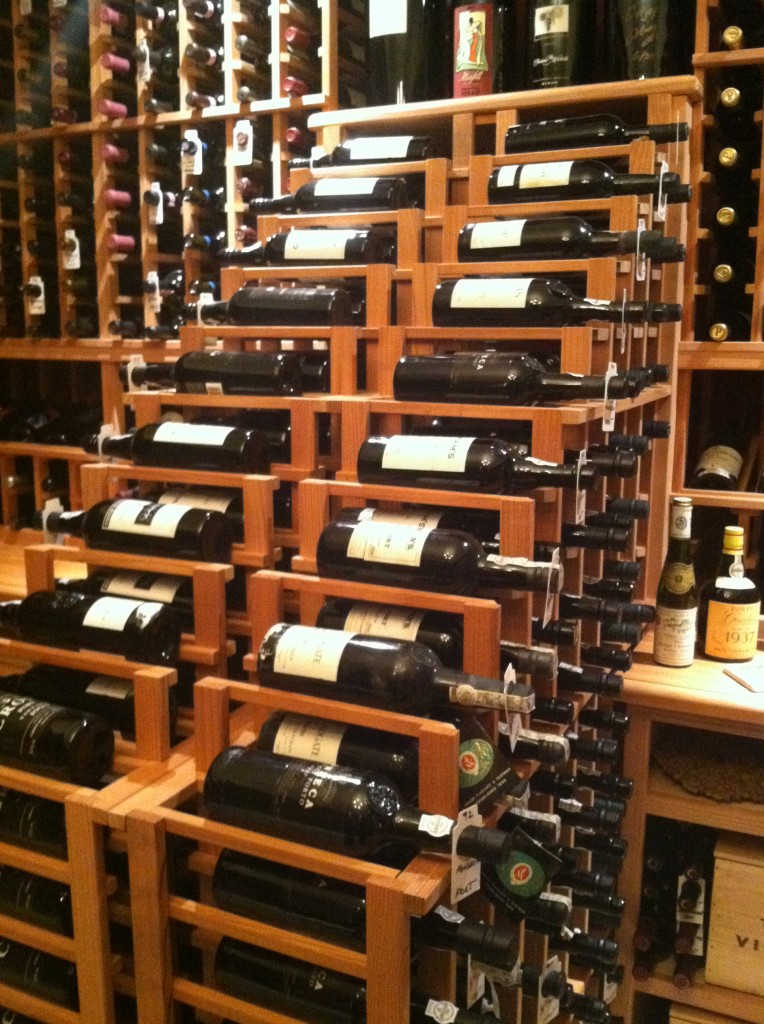 Syrahs (not to be confused with Shiraz, which is the Australian name for Syrah) are made from the thick-skinned, very dark Syrah grape. Originally from the northern Rhône region of France, the grapes have become more widely planted in the US over the last 20 years. Our hosts have an affinity to New World Syrahs, particularly from California and Washington, so our tasting was based on Syrahs from both states. CA and WA are producing some stand-out Syrahs that, although pretty high in alcohol, are big, complex, velvety, and made to withstand several years of aging. They typically are quite different than Rhône styles, which are lighter in body, higher in acid, and lower in alcohol (around 13%).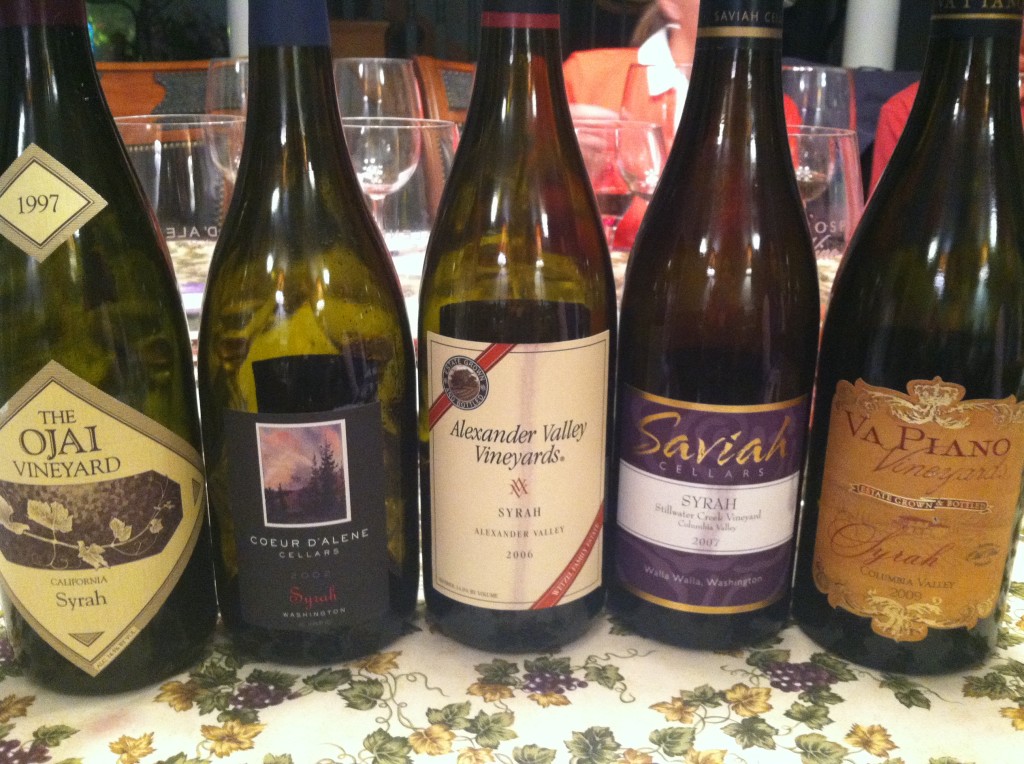 Before I go into the wine notes, let me just say that these were ALL very nice wines that have benefited from being properly stored over the years. If only we could all have a temperature controlled glass cellar on hand! Now, for my notes…
Wine A, the 1997 Ojai Vineyard Syrah, was cherry in color with very pleasant and powerful aromas. I found blackberry, leather, tar, cigar box, black pepper, cayenne, and mint on the nose, followed by aromas of ginger and cranberry… very complex! It had noticeable flavors of ripe plum and oak, and a smooth mouthfeel. I enjoyed this up until I tried it with some food (Manchego and salami), which didn't work that well, so I ended up rating it #3. If you're a fan of the lighter French-style Syrahs, you might not love this one, but it was certainly a treat to taste such an old Syrah. Oh, and it's from one of the cutest towns in California – Ojai (pronounced, Oh Hi). I spent many summers at tennis camp here (great memories) and playing ping pong in my down time…aka losing ping pong to my brother (shaking fist!!) :)
Back to the wine… Wine B, which I rated #2 and ended up averaging as the second favorite of the group, was the 2002 Coeur d'Alene Cellars Syrah. Fun fact: CDA Cellars, although located in Idaho, gets their grapes from the Columbia Valley in Washington. With black cherry, leather, and salty/savory components in this wine, the secondary aromas of vanilla and toast really rounded out the nose. It had lively acidity, full body, and tastes of dark berries and game/meat. This was the winery's first release and it has held up really well!
Next, Wine C – the 2006 Alexander Valley Vineyards Syrah. This wine had the highest percentage of alcohol (14.9%) and ended up being my least favorite. Although the aromas were nice (blueberry jam, violets, black licorice, and salami), the flavors on the palate just didn't do it for me. All I could taste was bacon fat, oak and a bit of a soapy characteristic in this dry wine. Bummer! Everyone else seemed to really like it, though, and a few ranked it as their top choice.
Wine D, which was the 2007 Saviah Stillwater Creek Vineyard Syrah, was delicious before and after having it with food. Although Saviah is a Walla Walla producer, the grapes for this wine come from the Columbia Valley AVA. (Walla Walla, also its own AVA, is located within the greater Columbia Valley AVA). The wine was deep in color with mouthwatering aromas of vanilla bean, shortbread cookies, maple syrup and a hint of meat/game. The aromas were extremely powerful and certainly on the sweet side, which carried over into the mouth with flavors of raspberries, strawberries, cedar and a touch of chocolate. Let me just say that although I went back and forth between #1 and #2 on this wine, I was definitely craving some sweets before our tasting so I think my palate was gravitating towards the more medium-dry versus very dry wines that night. Sometimes I want super earthy, dry wines and sometimes I want more ripe fruit flavors! Think of it kind of like deciding what to wear… sometimes you just want some Lululemons and comfy shoes and sometimes you want to go with the dress and wedges. I'm sure all you guys can totally relate. ;)
Finally, Wine E, the 2009 Va Piano Syrah. Also a Walla Walla winery, this wine had blackberry, tobacco, pepper and baking spices dominating the nose, followed by hints of apricot or orange Pez candy… yes, old school Pez candy! It was a full-bodied wine with noticeable savory/meaty flavors and a medium finish. Nice, but nothing particularly memorable, so I rated it #4.
Overall, it was a fun tour of CA and WA Syrahs and certainly fun to try some oldies! And to cap off the night, our hosts opened up a very special bottle of 1994 Martinez Vintage Port Quinta da Eira Velha ($120), from Portugal. It was SO good…stunning, really. Full-bodied and medium-sweet, it had chocolate, pomegranate, and nutty flavors reminiscent of a Tawny. Delicious with dark chocolate! I honestly could have stayed there and enjoyed it for hours…
So, even if you're typically a fan of Old World Syrahs and tend to steer clear of the bigger stuff, California and Washington are producing some great Syrahs (both in the French style and not) so it's worth exploring! Especially if you can get your hands on some older vintages to taste how these big wines are aging so gracefully. Enjoy!