I've been holding on to this bottle of 2008 Unti Grenache for a while now after having tried the same varietal by this producer a few years ago. My friend Leigh introduced me to them because it's one of her favorite wineries (thanks, Leigh!). This small California winery, located in Healdsburg, is family-owned and operated by the Unti family, focusing on mostly Mediterranean red wines (think Grenache, Barbera, Sangiovese…). Although I haven't been to the winery, I really enjoy this Grenache and can't wait to get my hands on more of their wine!
The 2008 Unti Grenache ($25) is a really nice smelling vino… it's got black currant, raspberry, pepper and savory aromas that are noticeable but not overpowering. On the palate, flavors of blueberries, spice and a hint of smokey game leave you wanting another sip. It's a nice medium-bodied red with a good balance of acid and refined tannins, and a soft yet rich finish. A real standout, especially at this price point!
Don't know much about Grenache? You'd be surprised how many of the best wines out there are comprised of some Grenache! For starters, it's actually one of the most widely planted grapes in the world, largely planted in France, Spain, Italy, Australia and the US. More often than not, it's used as a blending grape, but it's becoming more popular as a single varietal star (you'll also see the grape used more frequently in some rosés).
The grape itself is almost black, but the wine it produces is typically lighter in color with an intense nose and spicy and fruity flavors. Depending on where it's grown, it can also take on more herbaceous, savory characteristics. Any wine where I can use the word "herbaceous" said in a snobby wine geek way with an accent "eeeehr-baaaay-shuhs" wins for me. ;)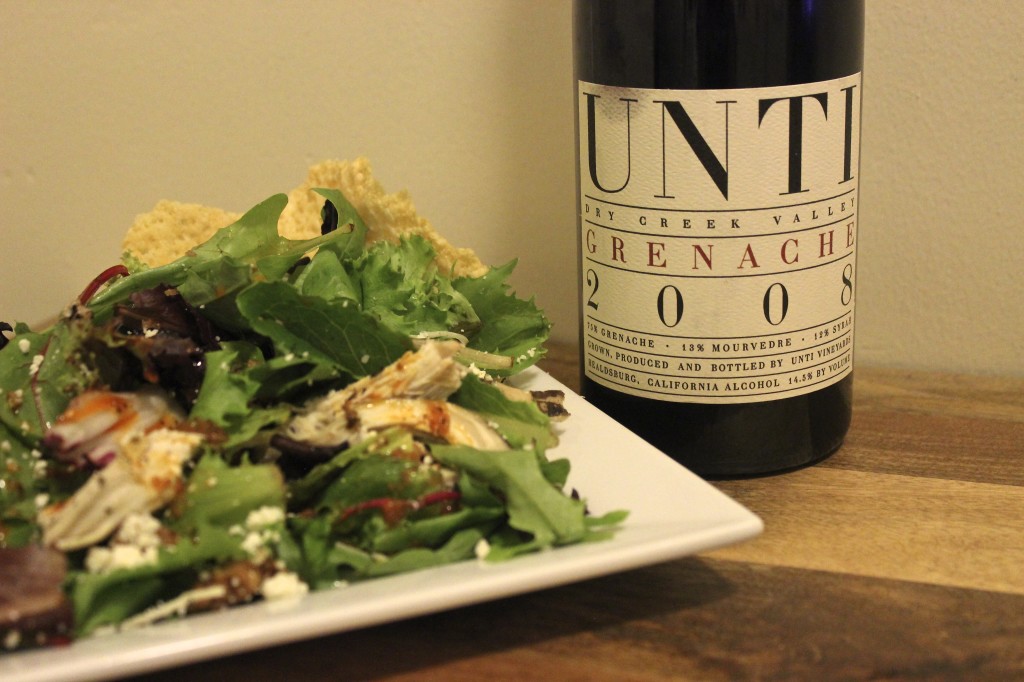 Grenache is also the dominant grape in most Côtes du Rhônes. Although named after an appellation in the Southern Rhône region of France, it's usually a blend of mostly Grenache with Syrah, Mourvèdre and sometimes Cinsault. In Spain, Grenache (known as Garnacha there) is usually blended with Tempranillo. This particular Grenache by Unti is actually made up of 75% Grenache, 13% Mourvedre, and 12% Syrah. These are also the 3 varietals that go into widely popular GSM blends (get it? Grenache, Syrah, Mourvedre). Yum yum.
Whether you're drinking to learn more about Grenache or just want to enjoy a nice wine, definitely go look for this Grenache by Unti!
**Wine Notes**
Producer: Unti Vineyards
Region: Dry Creek Valley, CA
Varietal: 75% Grenache (with 13% Mourvedre, and 12% Syrah)
Vintage: 2008
Alcohol: 14.5%
Cases Produced: 715
**Winery Notes**
Open: Daily, 10-4pm
Tasting Fee: $5
Phone: 707.433.5590
Tips: The winery is open by appointment only.