A couple of weeks ago, I attended the 2016 Wine Bloggers Conference, sponsored by the Lodi Wine Grape Commission. The event included various seminars and wine tastings, but my favorite part of the weekend was the Friday night excursion to Oak Ridge Winery. Located in Lodi's wine country, the family-owned winery put on a special vineyard tour and dinner for 12 of us. With a cheese plate as big as a truck (literally) and dinner under the stars, it was incredible.
Originally a co-op, Oak Ridge Winery is the oldest operating winery in Lodi. Built in 1934, the winery is owned and operated by the Maggio, Reynold and Donero families. Known for their Chardonnay and Zinfandel, they produce over 400,000 cases of wines under several labels. And all of the wines are made from their 500 acres of estate vineyards in the Lodi AVA, located between the Sierra Nevada foothills and the San Francisco Bay. 
Despite 100 degree temperatures, I boarded a bus with my new wine loving friends (the Jetsetting Fashionista, Laura Wines and Cuvee Appeal) and headed to the Maggio family estate.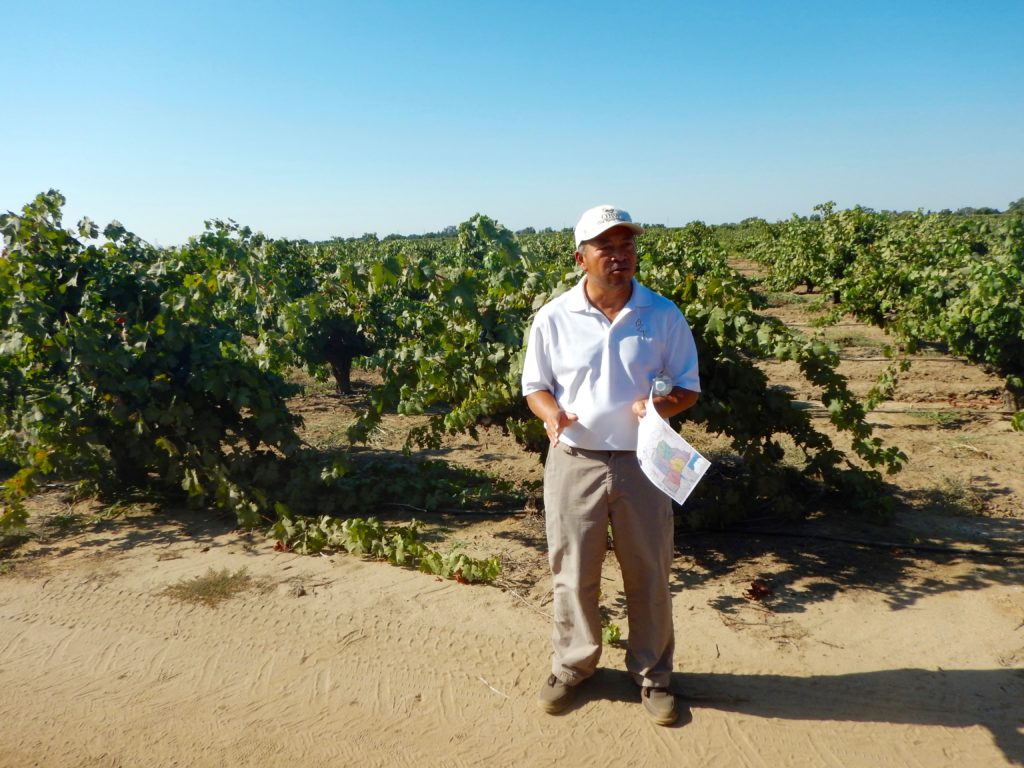 The tour started with a walk through the vines with Oak Ridge winemaker and production manager, Chue Her. Chue has worked at Oak Ridge Winery for 10 years, so he was very knowledgeable about the Lodi area and Zinfandel specifically. He explained that the Zin vines surrounding us were 60 years old — all hand-harvested and dry farmed.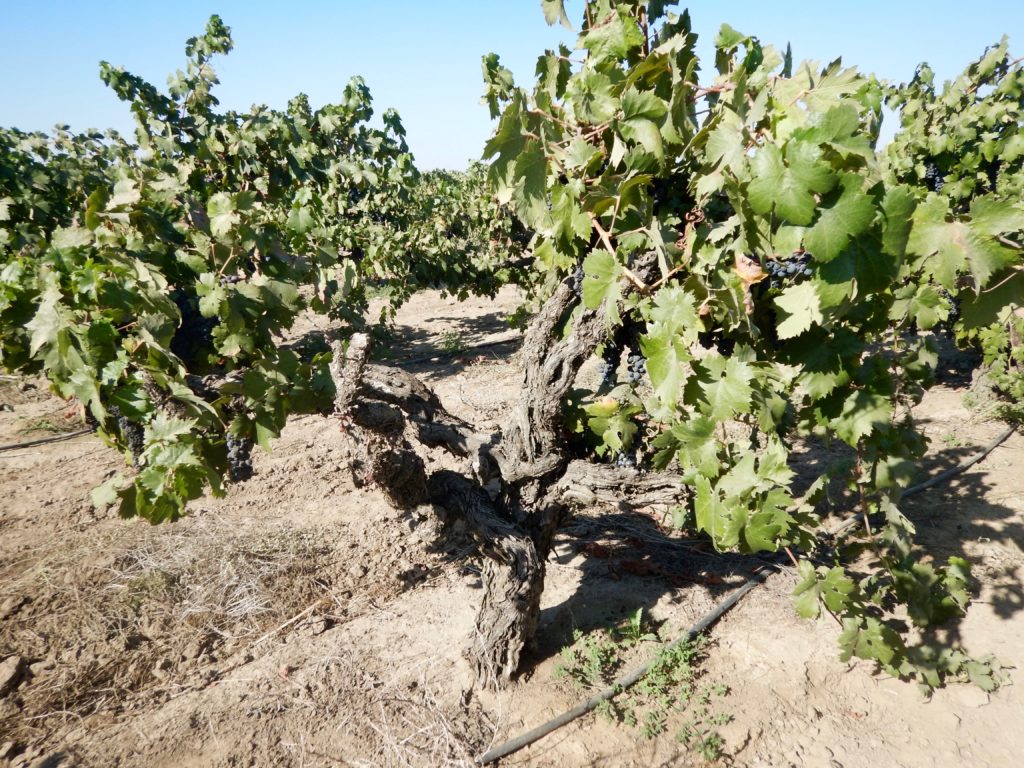 We continued through the vineyard until we came across a truck in the middle of the vines. A plethora of different meats, cheeses, fruits and nuts were displayed in the bed of the truck. Talk about picture perfect!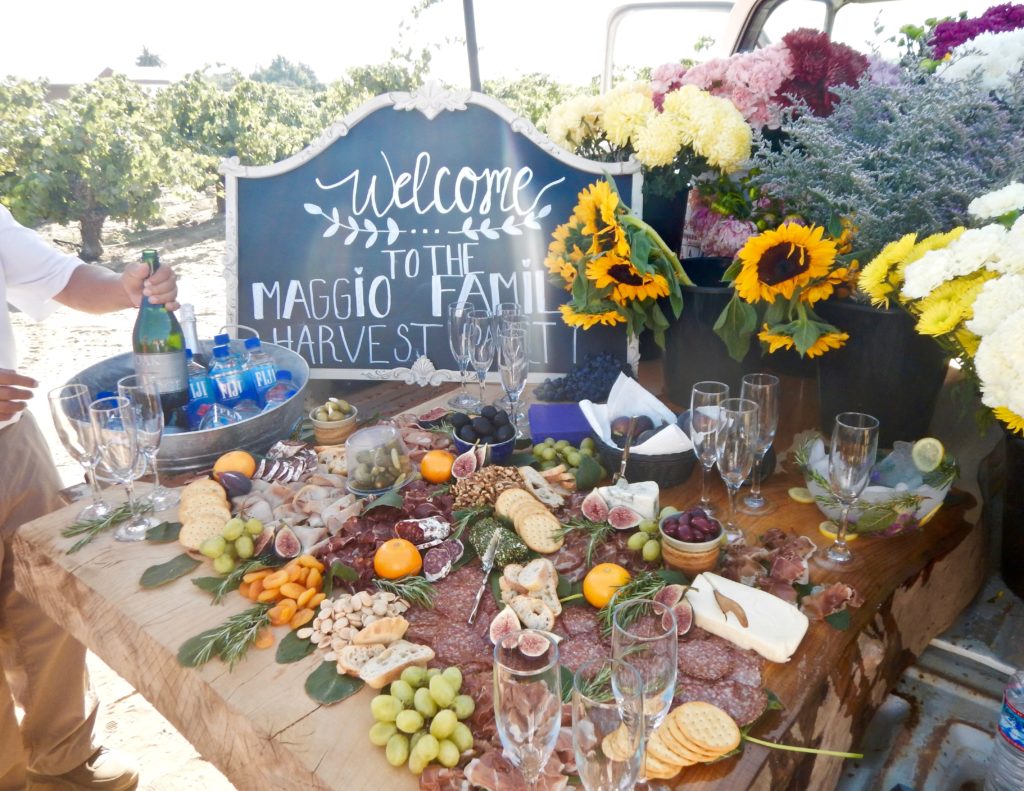 We washed it all down with Oak Ridge Winery's slightly sweet bubbles before heading to the house for dinner.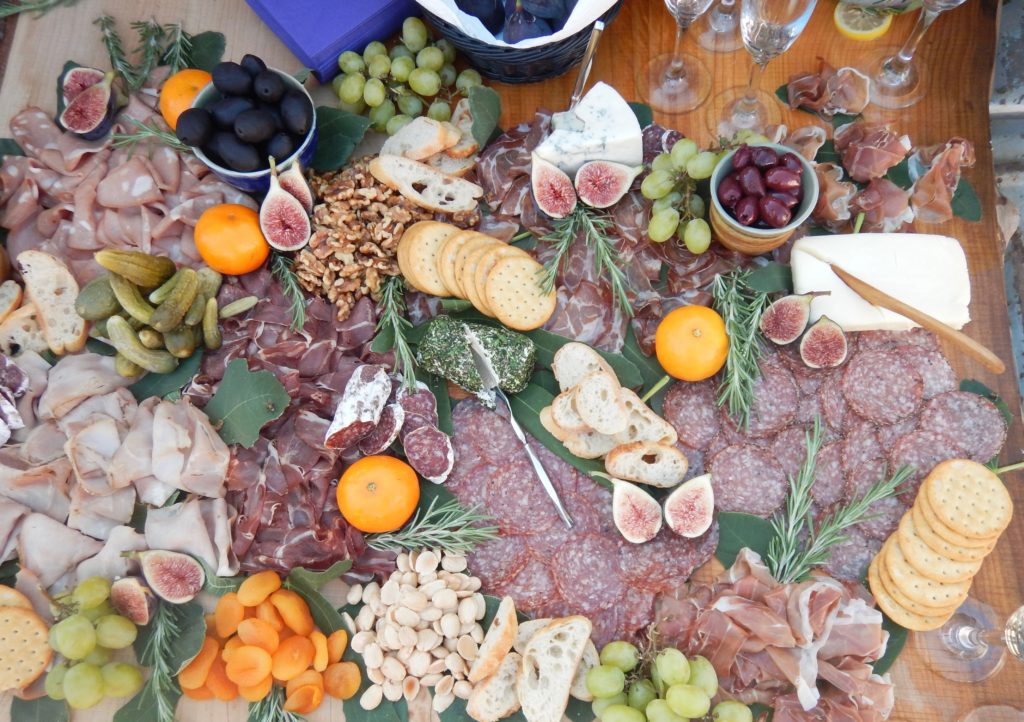 I have to say, the Maggio family went above and beyond to make this an unforgettable experience. They welcomed us with open arms and the setting was divine. So, you can imagine our surprise when we learned the entire meal was being made by Shelly Maggio-Woltkamp and her family! So impressive. One look at the menu, and we knew we were in for a treat.
The Menu: Oak Ridge Winery Wine Pairing Dinner
Dinner started with the OZV Rosé ($11), a blend of Zinfandel and Chardonnay. It was paired with an incredible Balsamic & Feta Watermelon Salad.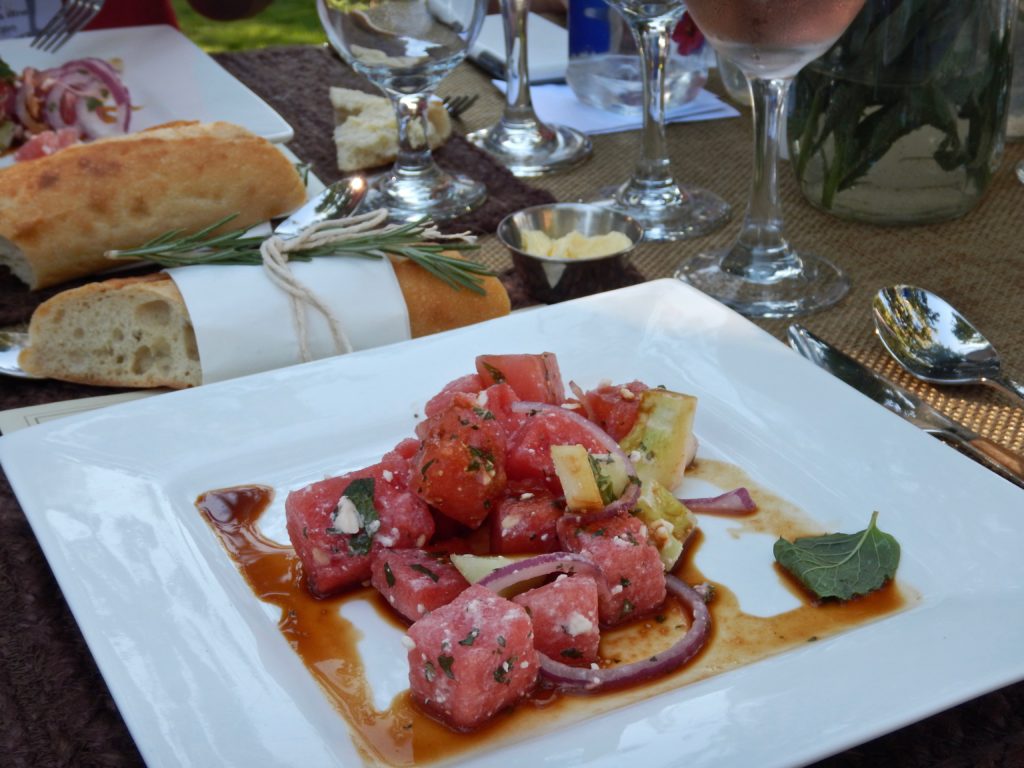 Up next, the 2015 Old Soul Chardonnay ($13), a crisp yet round wine with notes of tropical fruit. It went perfectly with the Creamy Corn Gazpacho with Cilantro. I couldn't get enough of this soup!
Our third course included Roasted Mushrooms with Goat Cheese, Herbs and Cipollini onions. It was paired with the 2014 Old Soul Pinot Noir ($13). Next, a delicious dish of Gnocchi with Prosciutto, Peas and Blue Cheese, served with the 2014 Maggio Merlot ($9). The Merlot, which is blended with a bit of Zinfandel, had concentrated notes of black fruit and mocha.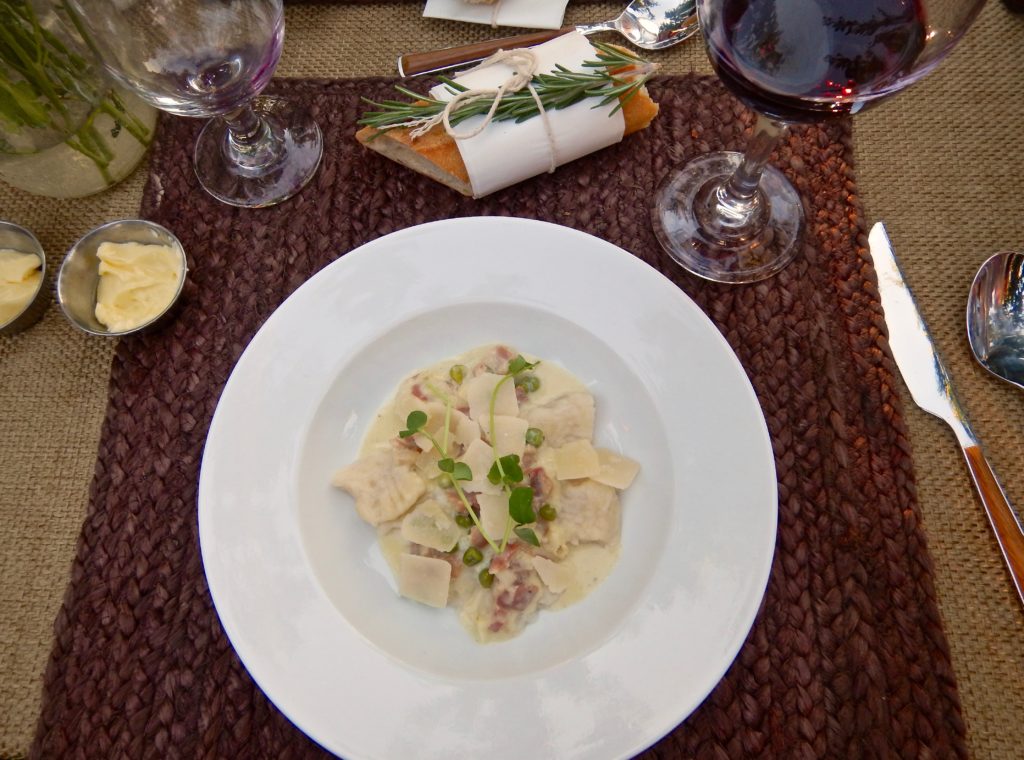 Our main course consisted of a Filet with Brown Butter Roasted Vegetables and the 2014 Lodi Estates Cabernet ($8).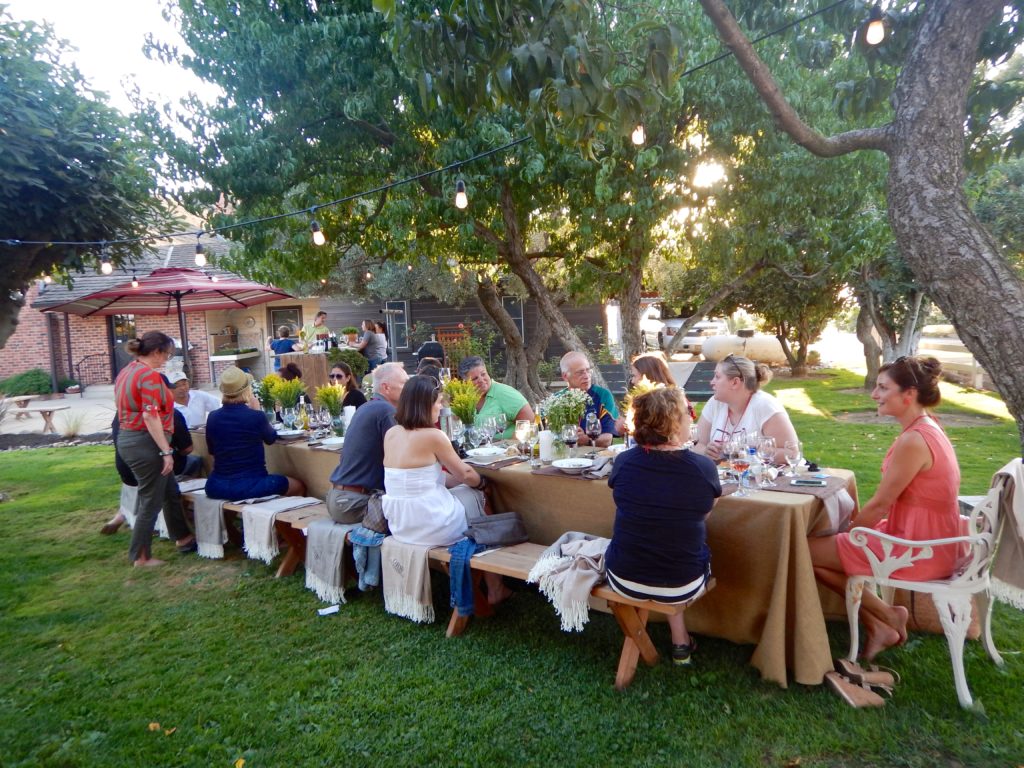 The night ended with a Mocha Pot de Creme served alongside the jammy 2014 OZV Zinfandel ($11). Yum!
This fabulous dinner was a perfect balance in contrast. We got to enjoy a fancy 6-course dinner paired with everyday, affordable wines. It just goes to show that entertaining doesn't always have to break the bank!
Afterwards, we walked back to the bus with big smiles and full stomachs, feeling grateful for such a beautiful night. What a memorable evening in Lodi's wine country!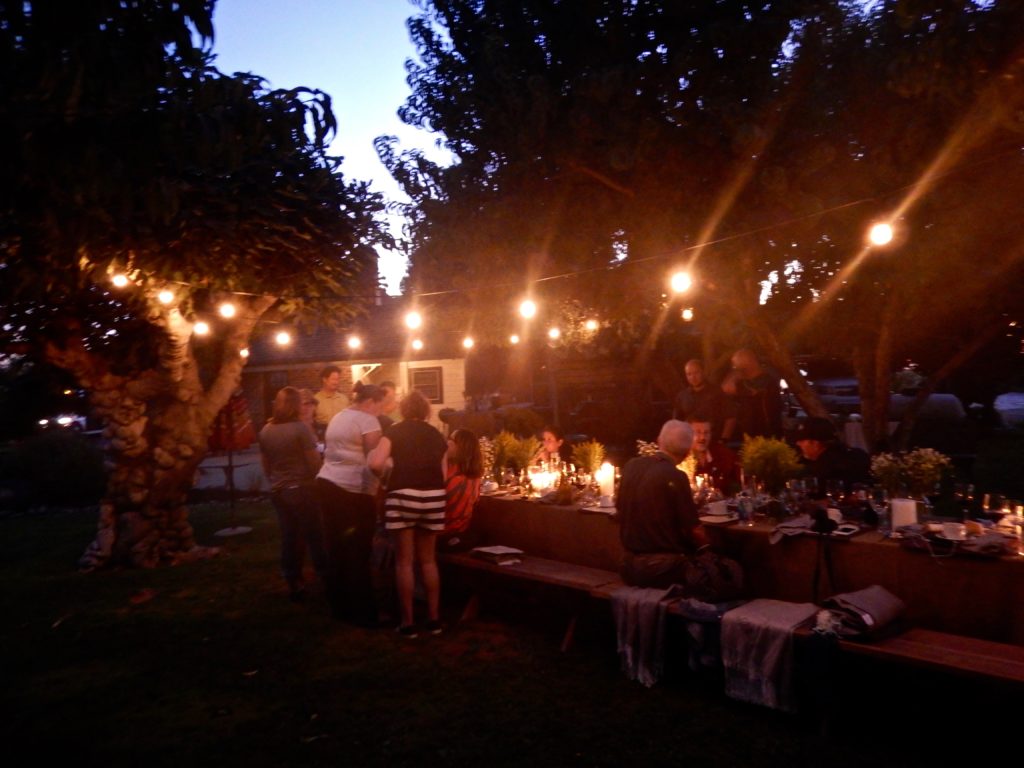 A huge thank you to the Maggio Family and Oak Ridge Team for hosting us for an incredible evening!