My friends all know that I've always been a fan of throwing parties and getting people together… from book clubs to wine clubs to white elephant parties, it's something that I love to do. And since moving out of San Francisco, I have totally embraced being able to eat outside in the summer (yards! no fog!). I heart that city, but I sure do love eating outside!
Last week I decided to have some girls over for a fancy, coursed wine pairing dinner to celebrate summer and switch things up from the standard summer BBQ. Yes, entertaining can be a lot of work, but since the group was small, I just had everyone help out with the food. Thanks, ladies!
~ First Course ~
Salad with candied walnuts, apples, goat cheese and citrus dressing  ~  Sauvignon Blanc
~ Second Course ~
Assorted cheeses and salami; tomato bruschetta with balsamic glaze  ~  Rosé
~ Third Course ~
Grilled pork tenderloin with a fig and balsamic sauce; sauteed broccoli and snap peas  ~  Pinot Noir
~ Fourth Course ~
Lemon yogurt cake with fresh blueberry sauce  ~  Late Harvest Riesling
Fancy, right? I'd never done anything like it but once you know the tricks for pairing wine and food, it wasn't too hard to plan. It's all about considering the body of the food and wine, and balancing textures and flavor profiles (sweet, salty, sour, bitter).
First, we started with the 2012 Matua Sauvignon Blanc ($12), from New Zealand's Marlborough region (read more about this region in this post). Very pale in color, this wine is crisp and clean, with aromas of peach blossoms, citrus and freshly cut grass. I noticed flavors of apricot, tropical fruits, and lime zest with an equally zesty acidity. Straightforward, simple and perfect for a hot evening like we had, it was a great match with the delicious salad my friend made. I asked her to add goat cheese and citrus to the salad, as those are typically nice matches with this type of wine. Why? Because goat cheese has a strong tart acidity that goes well with the acidity of the wine. Same with citrus – it's acidic and crisp.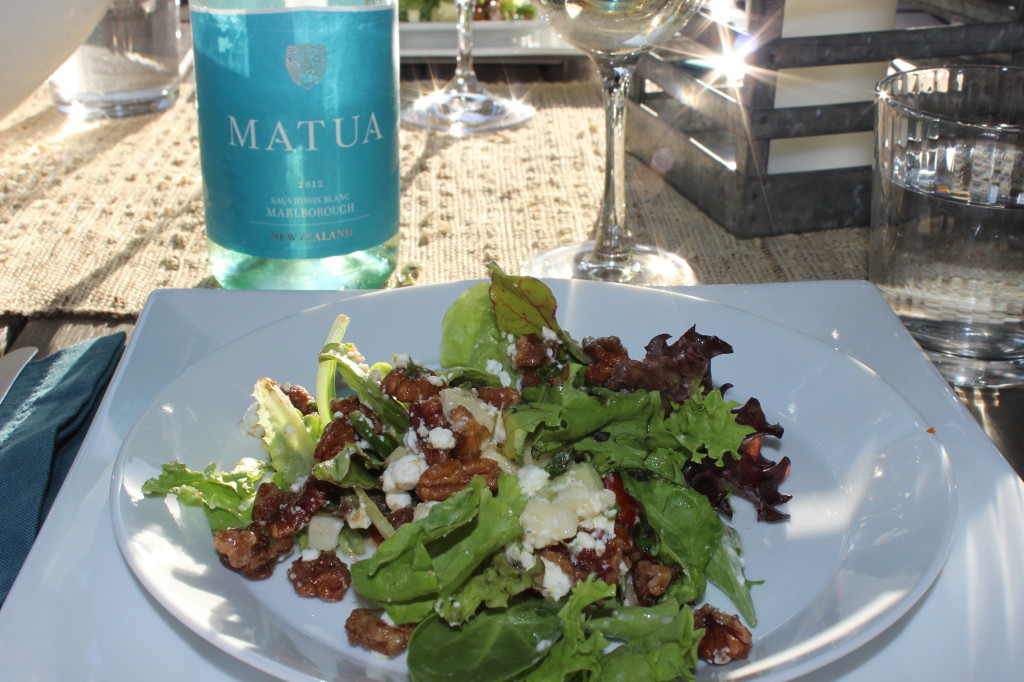 For the next course, we had bruschetta and cheeses with salami. I paired these with the 2012 Barnard Griffin Rosé of Sangiovese ($12). Dry Rosés like this one go well with these foods for a few reasons. Rosé is super food friendly – it's not super light like a white wine, nor heavy in body like a red… it's somewhere in the middle and has a crispness to it that easily compliments many types of foods. It also has great acidity, low alcohol, and just enough light fruit to work with everything from acidic foods to salty foods to even spicy foods. This wine was a great pairing and everyone enjoyed it. It had strawberry, raspberry and red licorice aromas with strawberry flavors and floral characteristics… all with a mouthwatering finish. Are you getting hungry yet??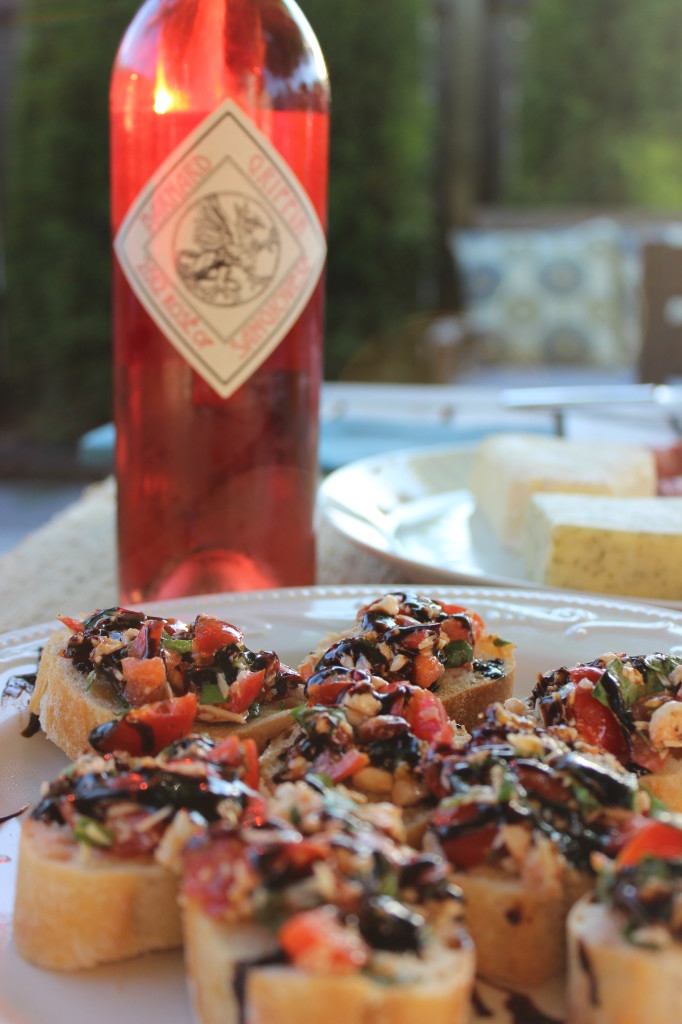 Next, for our main course, we had pork tenderloin with a fig and balsamic sauce paired with an Oregon Pinot, the 2011 Eola Hills Pinot Noir ($15). The sauce, made with red onions, fresh figs, balsamic and Pinot Noir was a delicious topping on the pork and worked well with the wine because they have similar fruit and earthy characteristics (and it doesn't hurt that there's also Pinot in the sauce). Pork tenderloin in general works with Pinot, too, because they both have similar body weights. Just think how a super heavy steak goes with a big, bold Cabernet but a Pinot with low tannins would be dominated by the meat. Poor little Pinot! He's just not strong enough to handle it.
This Pinot, luckily, had perfect characteristics for this meal (and was pretty affordable for a decent Oregon Pinot!).  It had a wonderful bright cherry color as well as interesting aromas. I got lots of warm spices (cinnamon, clove), black cherries, and oregano on the nose, followed by flavors of thyme and savory flavors. When I tried it before the food, it was good but extremely light on the finish. With the food, though, the savory flavors really came forward and complemented the meal.
Finally, we ended the night with none other than the dessert course because no good meal is complete without dessert! :) I made an awesome recipe for a Lemon Yogurt Cake (I used this recipe from Barefoot Contessa) and topped it with a fresh blueberry & lemon sauce. The cake was light, moist and delicious! I gave the recipe to my mom to make for a dinner party my parents had this weekend and it was a big hit there too. Since desserts are typically hard to pair with wine because the sweetness can kill the flavors in a wine, I had to find a wine with enough sweetness and acidity to balance everything out. I ended up pairing our cake with the 2011 Hogue Cellars Late Harvest Riesling ($12), which had prominent apricot and citrus flavors. It was more moderately than overly sweet and, because it's a Riesling with a decent amount of acidity, it worked well with the lemony sweetness of the cake. Side note – "late harvest" simply means the grapes were left on the vines longer than normal harvest time to gain a higher sugar content in the grapes.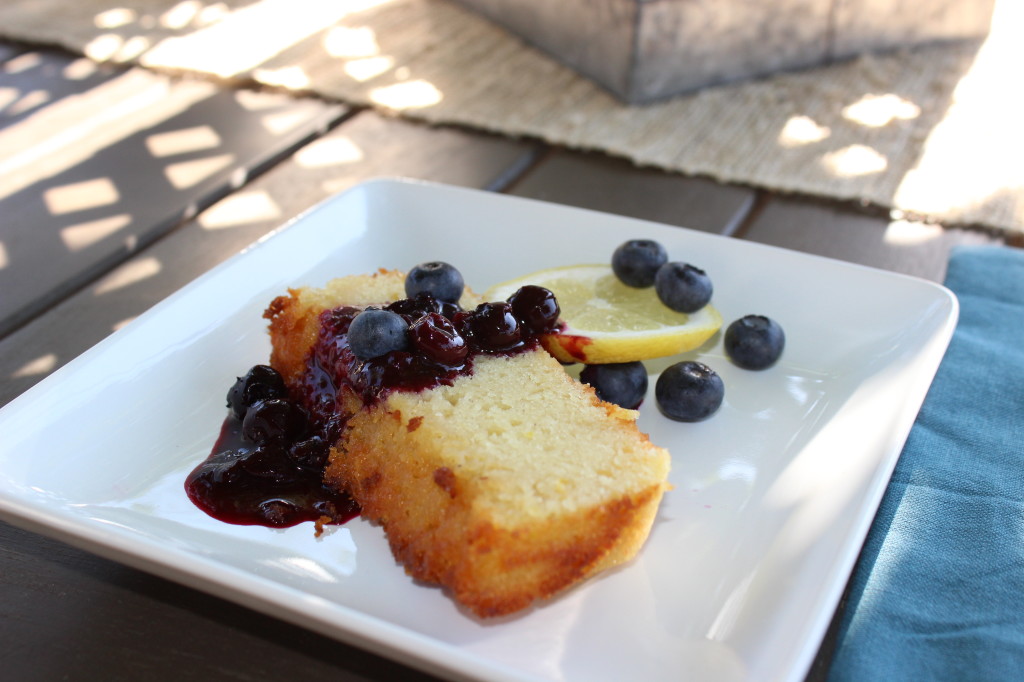 Whether you're new to pairings or do it often, it's fun to see which flavor profiles work and don't work between wine and food. Experimenting is always encouraged…  but when you do find the perfect pairing (at home or in a restaurant) then you'll know how awesome it can be!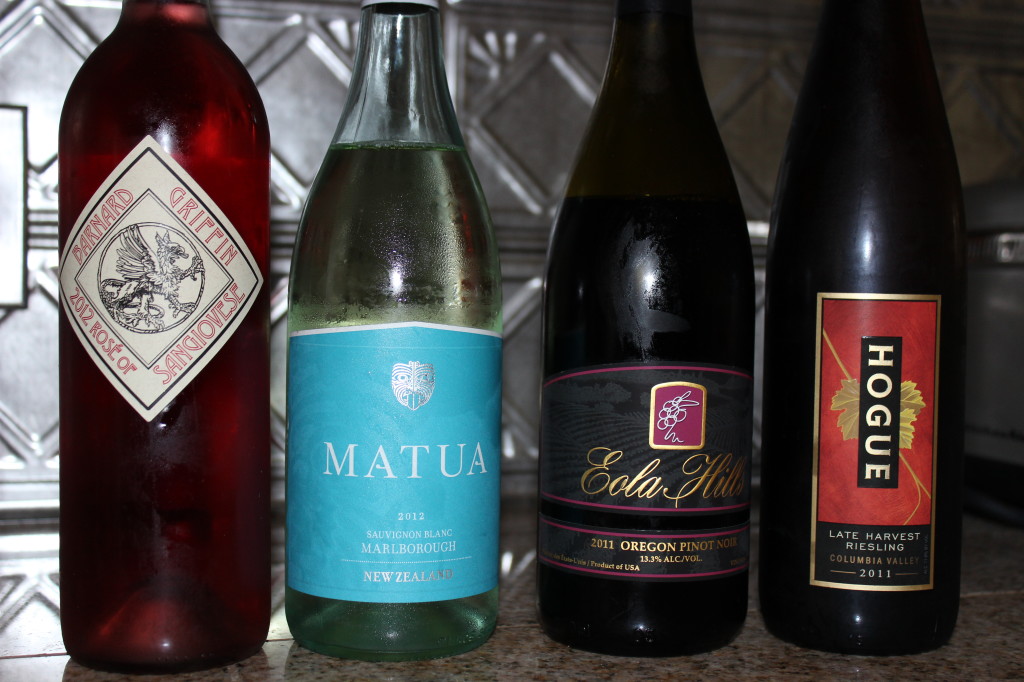 **Featured Wines**
2012 Barnard Griffin Rosé of Sangiovese – $12 – Region: Columbia Valley, Wash. Alc: 12.6%
2012 Matua Sauvignon Blanc – $12 – Region: Marlborough, New Zealand.
2011 Eola Hills Pinot Noir – $15 – Region: Willamette Valley, Oregon. Alc: 13.3%
2011 Hogue Cellars Late Harvest Riesling – $12 – Region: Columbia Valley, Wash. Alc: 11%