I'm not one of those people who hates birthdays. It doesn't matter if it's my birthday or someone else's, I love to celebrate big. This week, I got to ring in another year, and you better believe that I've been celebrating all week! So what did I drink to celebrate? A whole lot of wine, naturally!
On my actual birthday, I enjoyed a perfect dinner alfresco with Nick. Because it was so hot out but I didn't want a white, we opted for a light Oregon Pinot – the 2009 Thistle Pinot Noir Dundee Hills ($30). I had never tried this wine, but after my trip to the Willamette Valley last September, I totally have a new appreciation for Oregon Pinots. This one happened to be savory, spicy, fruity and delicious, too! The color was really unique – super light and almost a hint of garnet. On the nose I noticed lots of complex aromas like savory and sweet spices, vanilla, dried cranberries, strawberries and red licorice. It had a very silky texture and creamy, smooth finish, with flavors of strawberries, plums and blanched almonds and a persistent spicy note that lingered on the finish. At $30 for a complex Pinot like this, it's a great buy (and if you find it, snatch it up because there were only 192 cases made).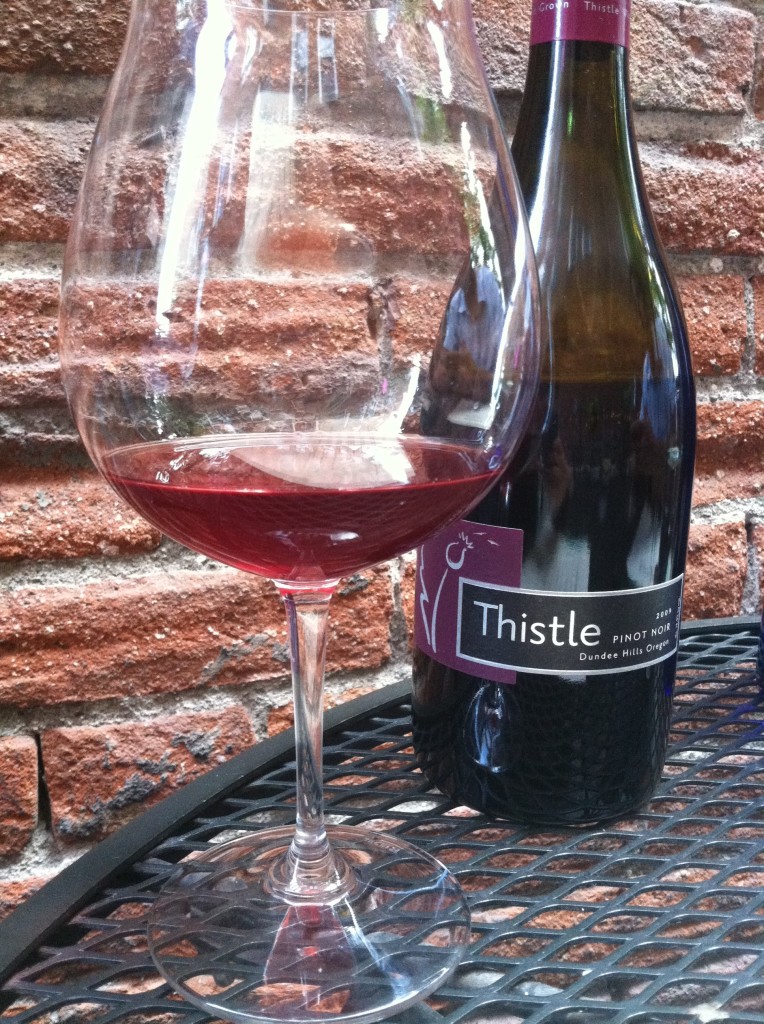 We both ordered the mustard-braised pork served with veggies and fingerling potatoes, and it was a great match with our wine. NOM NOM.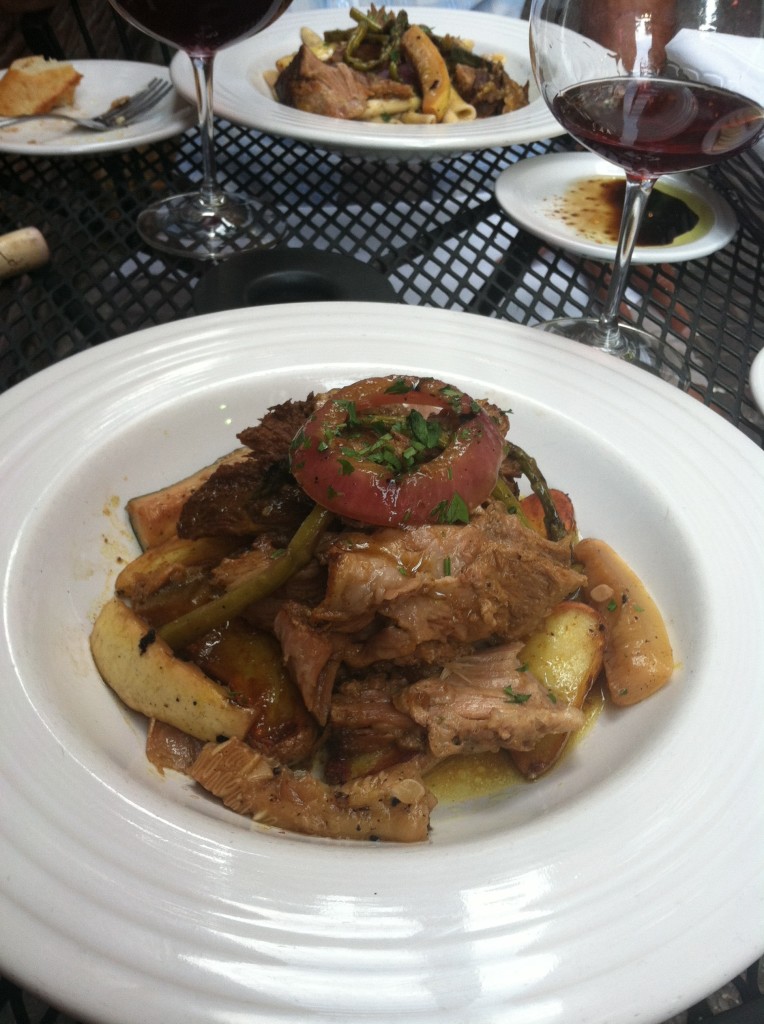 Thistle Wines is owned by John and Laura Jennison, who moved their family to Oregon with the purpose of making wine. I sure do love those romantic 'follow your dreams' stories! They started making wine in 2003, and their grapes are grown using organic methods. And because they don't use fining agents in their wines (like egg whites or animal based organic compounds), the wines are vegan friendly! If you're thinking that egg whites or animal compounds in your wine is kind of gross and wondering why the heck that's done, it's because fining removes the visible particulates in wine you might not want.
Another delicious wine I was treated to during my birthday week was this 1996 Buena Vista Carneros Merlot. WOW has this wine aged well. It had extremely rich and dignified aromas of cassis, black cherry, plum, tobacco, leather and pepper with subtle caramel and nutty secondary aromas. My parents and I kept describing the smell as a rich old man's library/den with old books and cigars! It was rich and extremely smooth, with spicy fruit, pepper, anise and a somewhat salty aftertaste. It was the perfect precursor to an evening spent listening to a piano player/singer at a cool old hotel restaurant. Thanks for the birthday wine, Dad!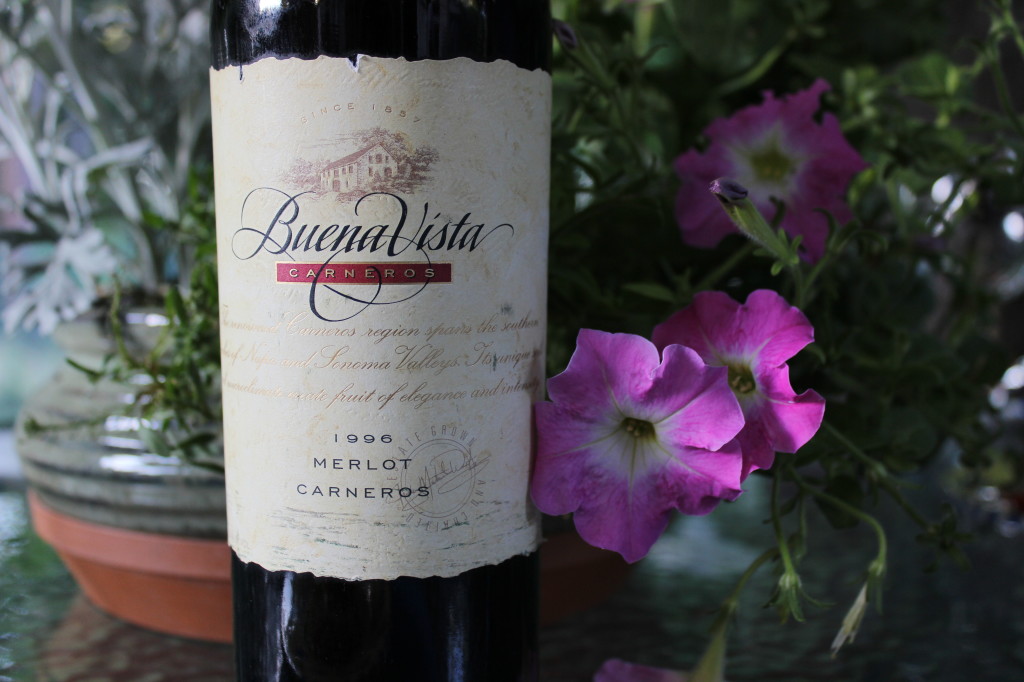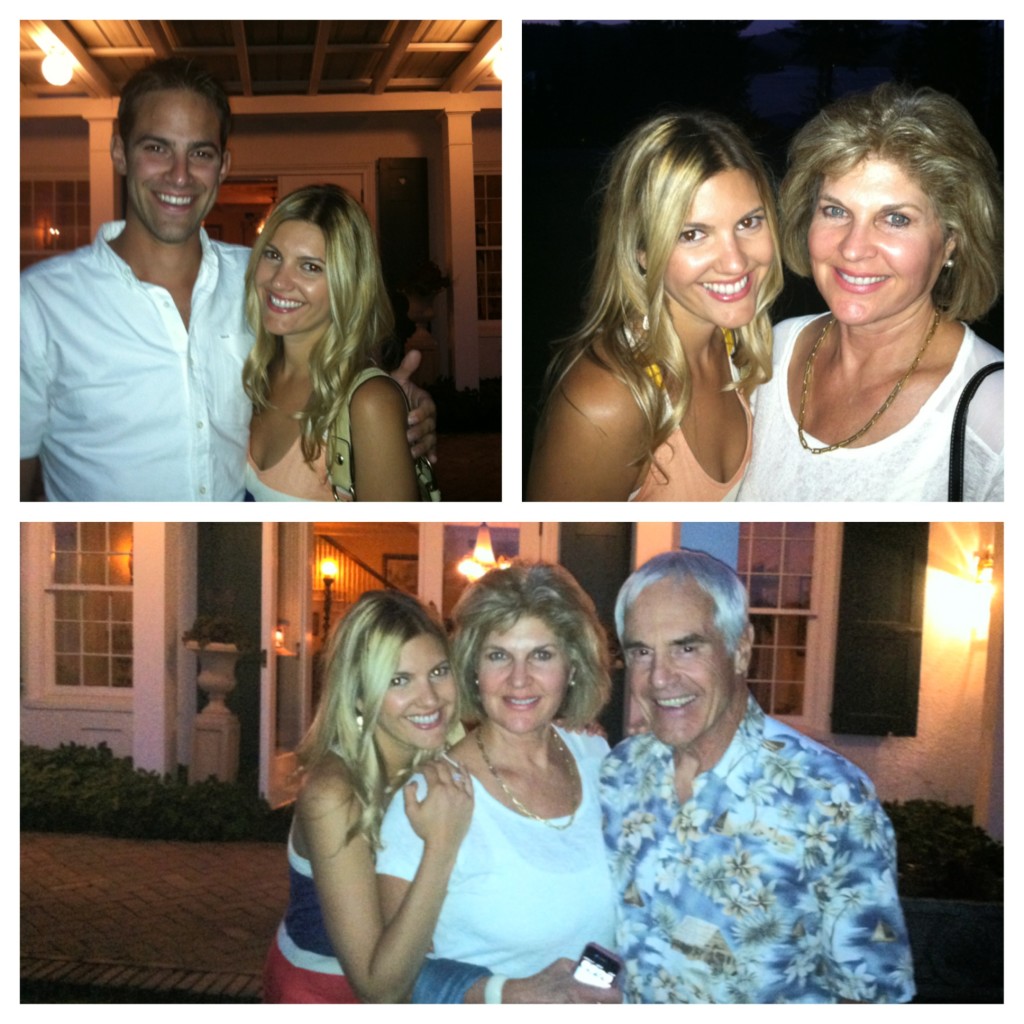 But wait! There's more! Did you really think I was done celebrating? :) Over the weekend, I went out on the lake for a sunset cruise with a few friends for some casual food and casual wines. It's been really hot (even at 7pm) so I wanted to bring something easy to drink in the heat – like the 2012 Lenz Moser Grüner Veltliner ($11).  Ever had a GV? It's Austria's most famous wine and is known for being crisp, green, and peppery. If you're a fan of Sauvignon Blanc from NZ or Riesling from Austria, give Grüner a shot. It's a dry, medium-bodied wine that's wonderful to sip in the summer, plus it goes really well with seafood, light meats, and spicy ethnic food like Thai and sushi. This particular Grüner was quite a steal at $11 for a 1 litre bottle (party size!), but don't expect anything complex about this wine. Uncomplicated yet lively and perfect for a hot day. A little bit on the leaner side than I tend to like my GVs, it's got pepper, herbs, citrus, wet stone and bananas on the nose, followed by spicy lime and pear flavors. It's not an amazing wine, but it's a good casual 'bring to a bbq' wine.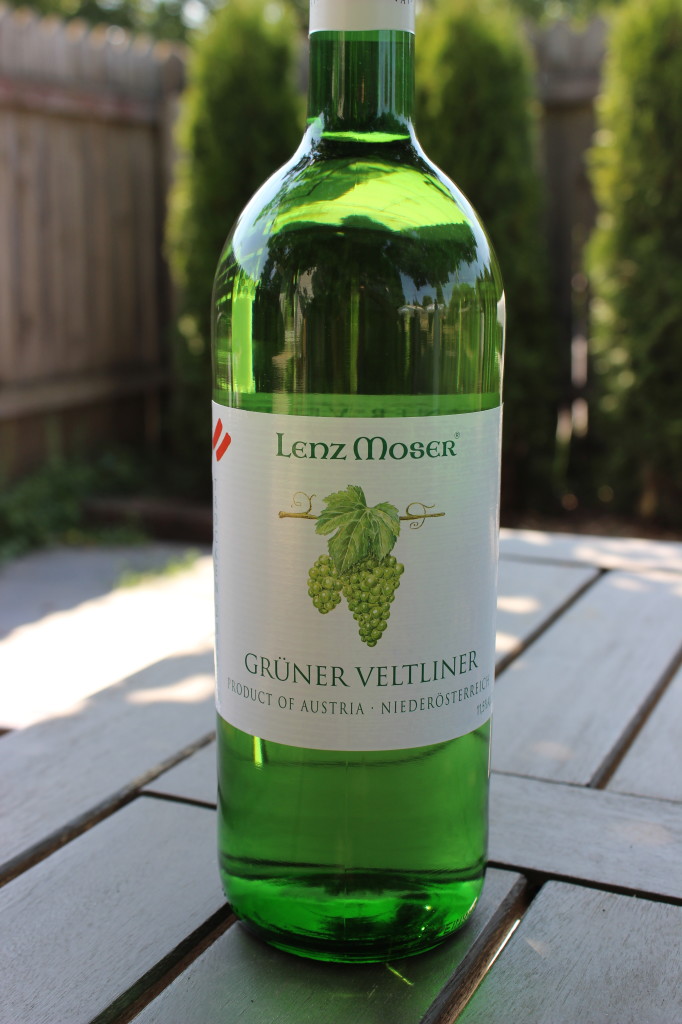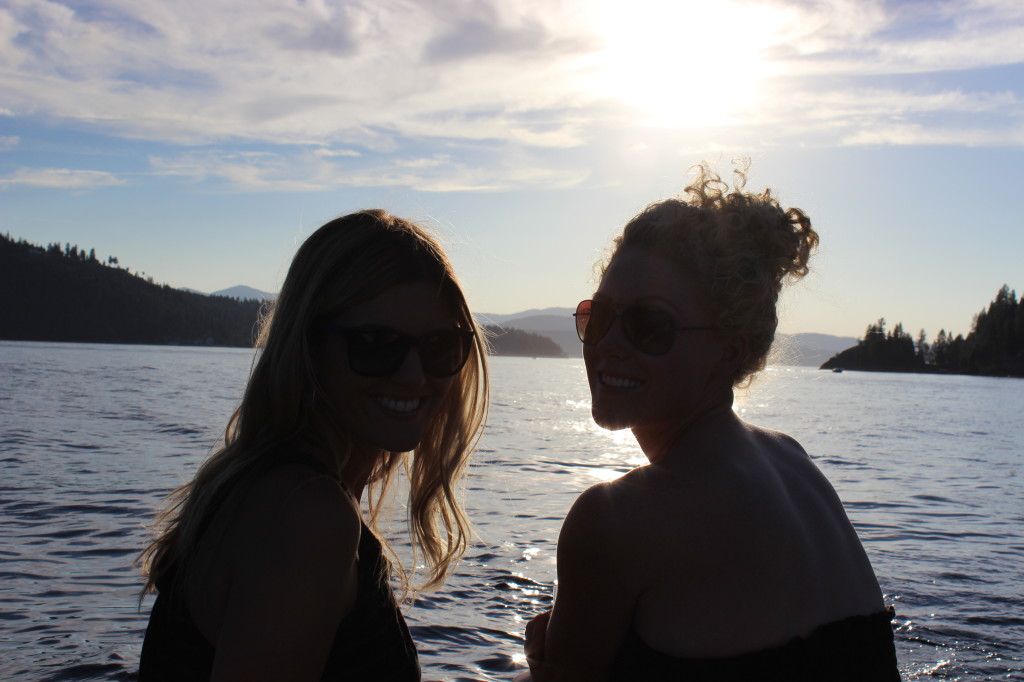 We also opened a bottle of the 2012 Antonio Sanguineti Vermentino ($12) from Italy's Tuscany region (thanks for the vino, Hayley!). Vermentino is a medium-bodied white wine that's typically very affordable. If you tend to like Pinot Grigio or Sauv Blanc, then you'd probably enjoy this wine as well. Its zesty acidity and lemony characteristics are a great match for most Mediterranean flavors (olives, pesto, seafood, tomatoes…) and even spicy foods and green veggies. This one had a lot of lemon and slate aromas with lively acidity – straightforward and enjoyable.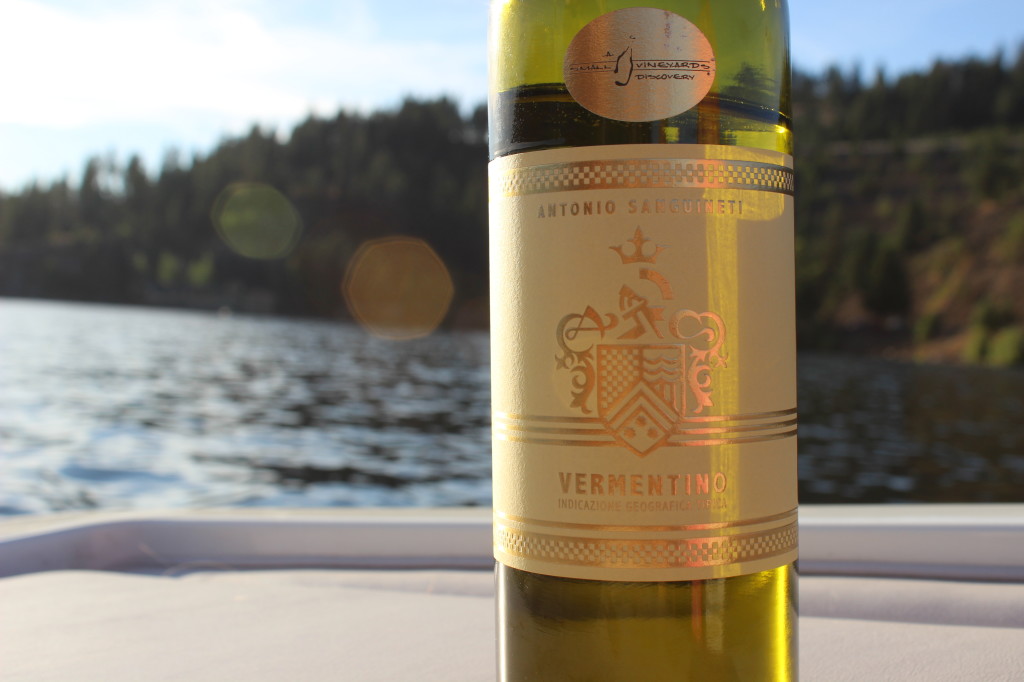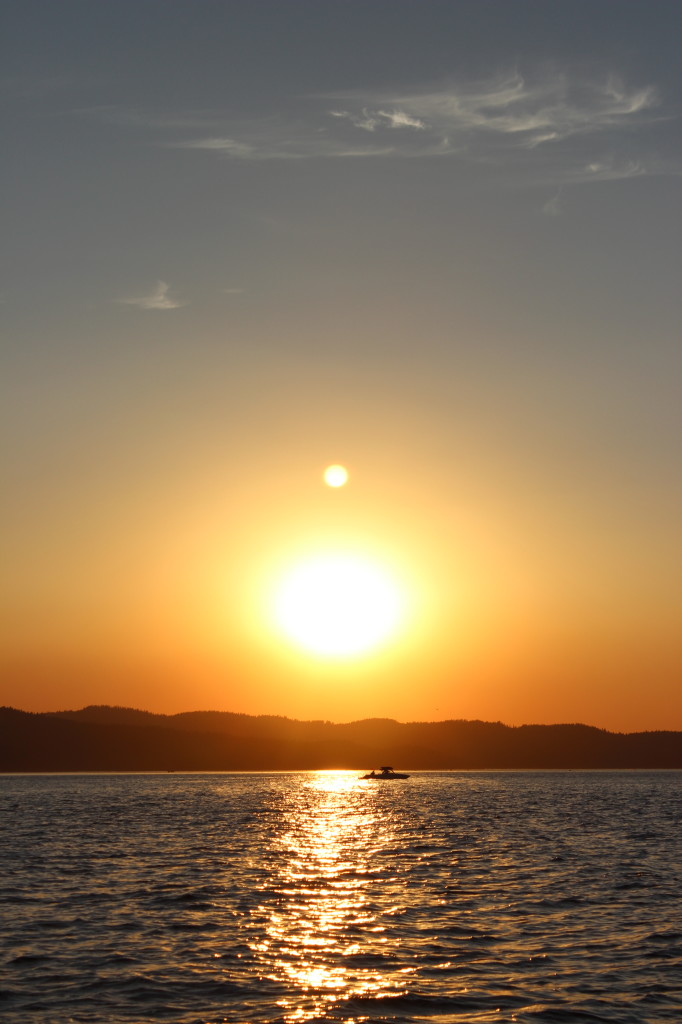 Thanks to all who helped celebrate my birthday. Cheers to another great year!