Lazy Sundays no more! Since moving back to Santa Barbara, Sundays have become more of a day of fun and exploration than R&R. It's typically Nick's one day off (such is the life of a business owner), so we usually find ourselves spending the day out and about. This past Sunday was no exception when we decided to hop in the car with our lab, Joey, for some wine tasting in Los Olivos. Our first destination? Beckmen Vineyards, based on the suggestion of a local wine friend.
Los Olivos is located in the Santa Ynez Valley, about 40 minutes from Santa Barbara. Just outside of downtown Los Olivos, amongst vines and horses, is Beckmen Vineyards. The winery is owned and operated by Tom Beckmen and his son, Steve, which they started shortly after the family purchased the land in 1994. Not only are the grapes estate-grown and organic, but they're certified biodynamic (no chemicals used here!). Although more and more wineries are using biodynamic farming practices (think of it as a holistic approach to grape growing and winemaking), the number is still pretty small. So if you're looking for tasty organic or biodynamic wine options, these are all pretty good wines!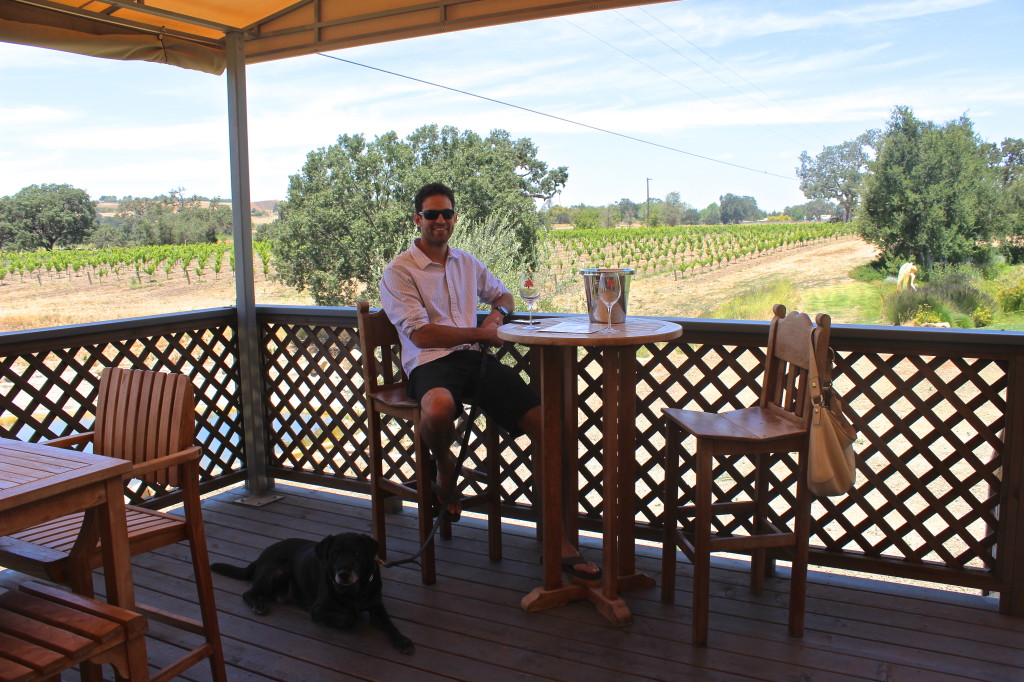 In the tasting room, you can choose between the Estate Tasting list and the Reserve Tasting list. The difference, besides the price, is that all of the wines on the Reserve list come from grapes grown on the winery's Purisima Mountain Vineyard (PMV) in Ballard Canyon, which they purchased in 1996. This location has elevation levels ranging between 750 ft to 1,250 ft, which has proven to be an optimal growing region for the Rhône varietals they're producing, such as Grenache and Syrah.
We started with their flagship white blend, the 2011 Le Bec Blanc ($18), a blend of Marsanne, Roussanne, Grenache Blanc and Viognier. With notes of peach and orange blossom, it's an easy drinking, uncomplicated summer sipper. Next, we tried the 2012 Marsanne, which had interesting aromas of anise, almond and spice with pear and peach flavors on the finish. A pretty good, full-bodied wine – and fun to see a 100% Marsanne because it's a varietal that's usually blended with Roussanne, Grenache Blanc and/or Viognier.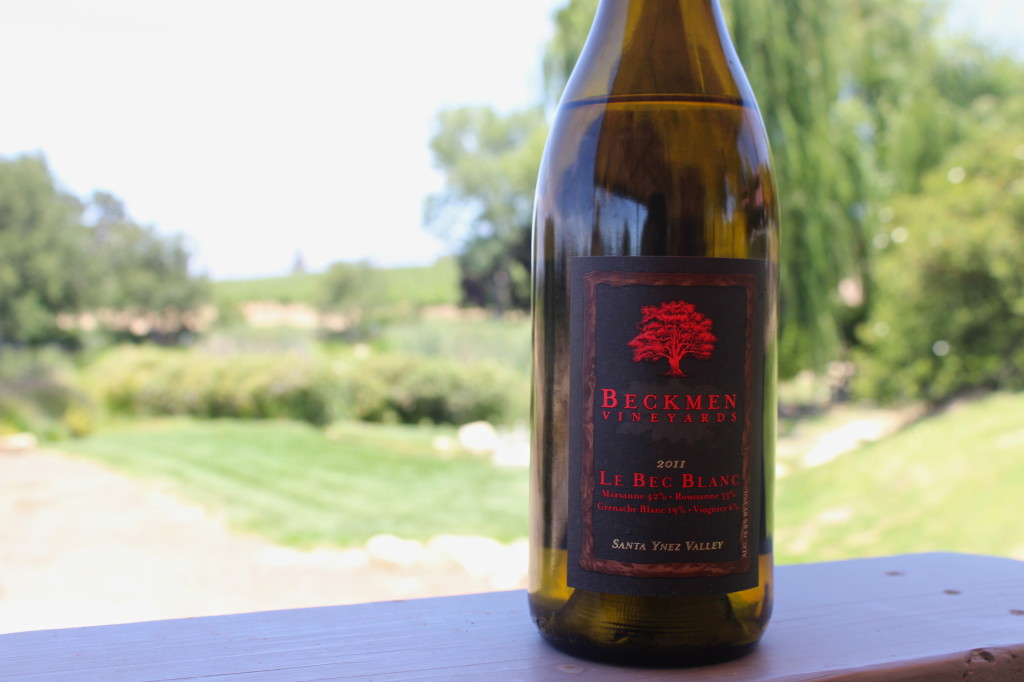 Nick and I both particularly liked the 2013 PMV Grenache Rosé ($20), which spent 17 hours with the grape skins before fermentation (which gives the wine its pinkish color and unique characteristics). It had enticing tropical fruit aromas (like guava) and rose petals with flavors of juicy watermelon and cherry candy. A very nice dry rosé for warm weather.
On to the reds, starting with the 2011 Cuvee Le Bec ($18) – a tasty blend for a great price. Made up of 46% Syrah, 36% Grenache, 11% Mourvedre and 7% Counoise (a spicy, high-acid grape pronounced "Coon-wahz"), it's a fresh wine with bright raspberry and tobacco aromas and soft tannins. The 2011 PMV Grenache ($48) was also a great wine, but with a little more structure than the blend. Black cherry, ripe plum and spice aromas lead to earth and pomegranate fruit on the palate. Although the wine has noticeable tannins (which should mellow out beautifully as it ages), it's got impressive depth. Yum! The 2012 Estate Grenache ($30) is more lean in style than the 2011 PMV, with notes of red licorice, cherry and pepper. Pretty approachable, though.
The 2011 PMV Syrah ($48) was yet another nice wine. Rich with meat, plum, coconut and chocolate-covered blueberry aromas, it's a bright and fresh Syrah with lower alcohol and higher acidity. It's fine to drink now or to hold on to for a few years. The 2011 PMV Syrah Clone #1 ($52) had ripe fruit, dark chocolate, vanilla and black pepper dominating the nose, but I think it needs a few more years of cellaring before it'll reach its true potential. If you're not one to hang on to wine (maybe you buy wine only when you plan to drink it that night), then go for any of the whites or Grenache blends… or just visit strictly for the wine tasting. Cheers!
**Tasting Room Notes**
Open: Daily – 11-5pm
Tasting Fee: $10 (Estate Tasting) $15 (Reserve Tasting)
Phone: 805.688.8664
Location: 2670 Ontiveros Road – Los Olivos, CA
Tips: Dogs are allowed outside on the tasting porch if leashed. Bring a picnic and sit at one of the tables near the duck pond if you want to buy a bottle and chill. It's very peaceful.