After having some amazingly delicious fresh figs in Portugal, I've been trying to incorporate fresh figs into more meals. Lucky for me it's fig season! Don't worry, I still have A LOT more to report on Portugal (coming soon), but wanted to share this in the meantime.
So last Friday I was craving pizza and thought it would be fun to incorporate figs into a recipe. After scanning some recipes online for fig pizza, I wasn't able to find the perfect recipe, so I decided to create my own version. Oh my, was it tasty!
I paired it with the 2012 Belle Glos Meiomi Pinot Noir ($22). I had tried the 2011 vintage at a wine tasting event, which was awesome, so I was excited to try the 2012 vintage. Luckily, the 2012 didn't disappoint! But unfortunately, it wasn't the perfect match for the pizza. Although the fig jam on the pizza was a touch too sweet for this wine, on its own the Meiomi was really nice. It's young but well structured and I'm sure this wine would be a crowd pleaser. I noticed savory herb, leather, cranberry and warm spice aromas on the nose. It was earthy, yet had prominent red fruit flavors and a medium to full-bodied mouthfeel. Luscious enough to drink now, for sure, but I'm excited to age this bottle to see if it becomes more expressive with age.
Meiomi (may-oh-mee) is the second label of Belle Glos, which is owned by 5th generation winemaker Joe Wagner (of the Caymus Wagner family). Yeah, that family knows their wines. What's with the name Meiomi, you ask? It actually means "coastal" in the native language of the California Wappo Indian tribe, a tribute to the land where the grapes are grown (cool-climate coastal areas in CA). This label was created to satisfy the restaurant demands for a good Pinot in the $20 range, and it's pretty much dominated the market. Give it a try and see what you think! It's quite different from the Pinots coming out of Oregon, which tend to be lighter in color with more delicate berry flavors, but pretty stellar nonetheless.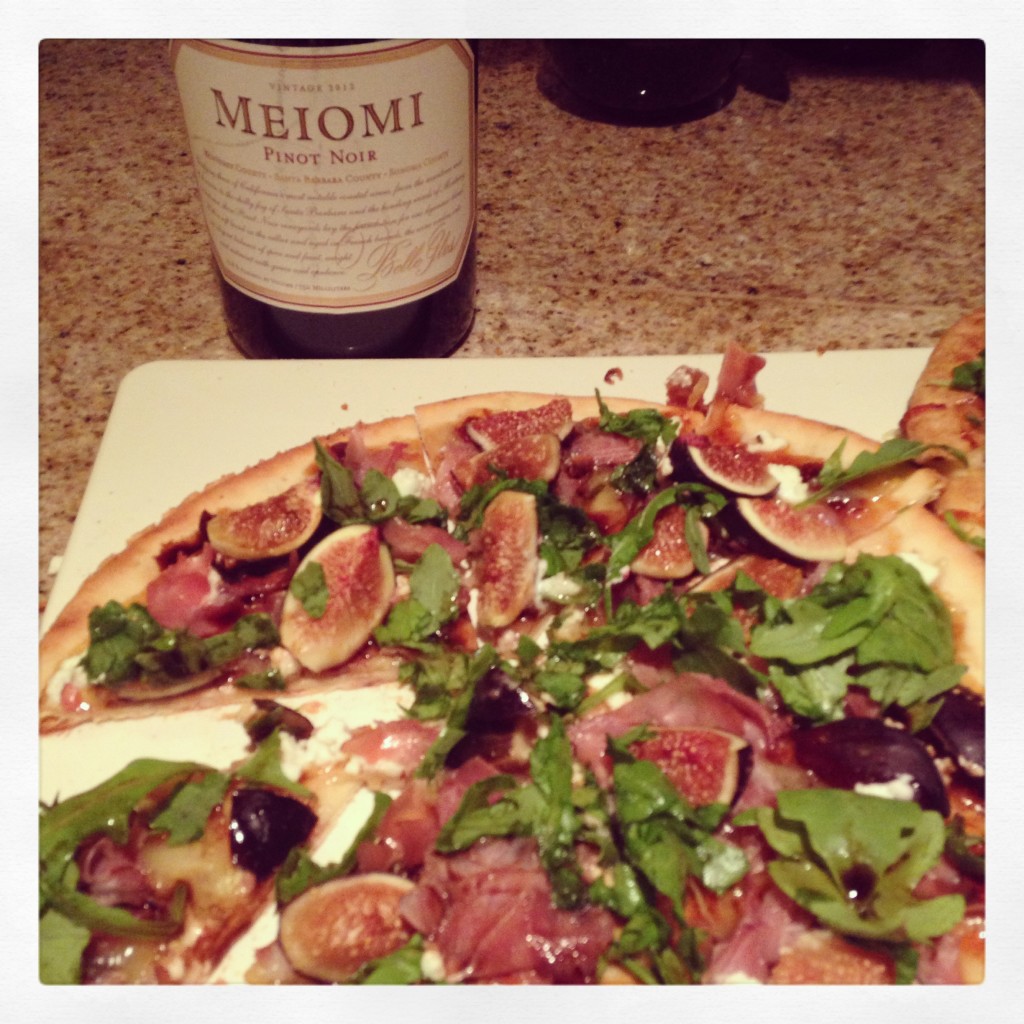 Okay, and now for the most important part… the recipe for my Fresh Fig, Prosciutto and Goat Cheese Pizza:
– pizza crusts
– fig jam
– mozzarella, shredded
– good quality goat cheese / chevre, crumbled
– prosciutto, sliced
– fresh figs, quartered
– one sprig fresh rosemary, chopped
– handful or two of fresh arugula
– balsamic glaze for drizzling
Start with pre-made pizza crusts (or fresh dough if you'd prefer, just be sure to cook it a bit before putting the toppings on). I grilled mine on the BBQ, so lightly drizzle one side with olive oil and grill for a few minutes (just to get a light toast on one side). Remove from grill and add a thin layer of fig jam to the side with grill marks.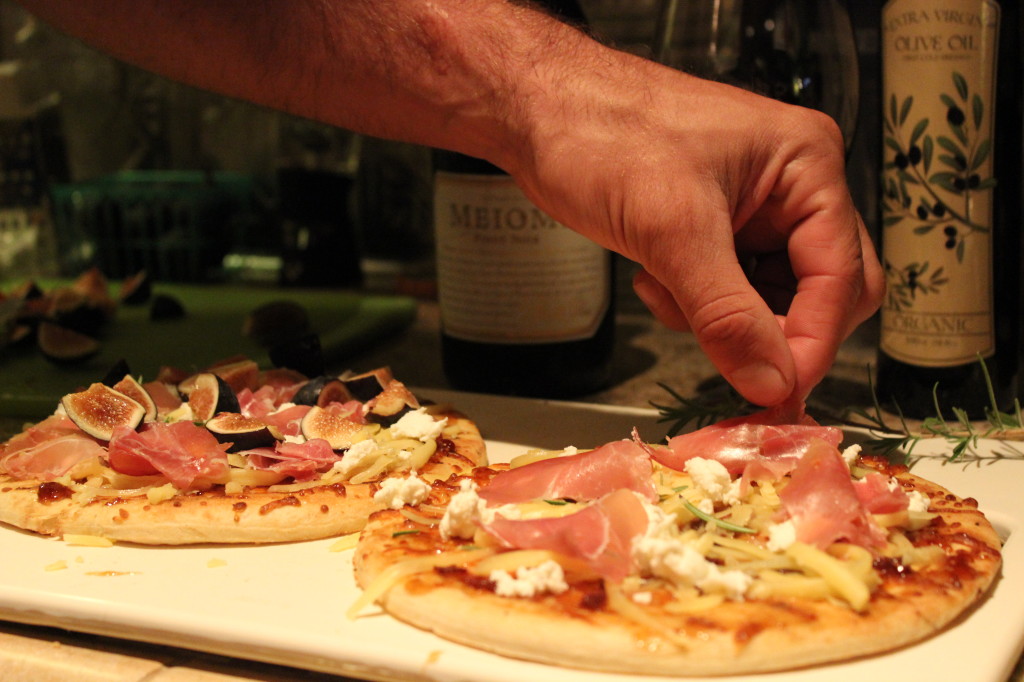 Then add the mozzarella, goat cheese, and add a little bit of rosemary. Next, layer on the prosciutto and fresh figs then grill. In case you are wondering, no that is not my man hand. ;)
Once finished, top the pizzas with a handful of fresh arugula and a tiny bit of balsamic vinegar or glaze. And voila!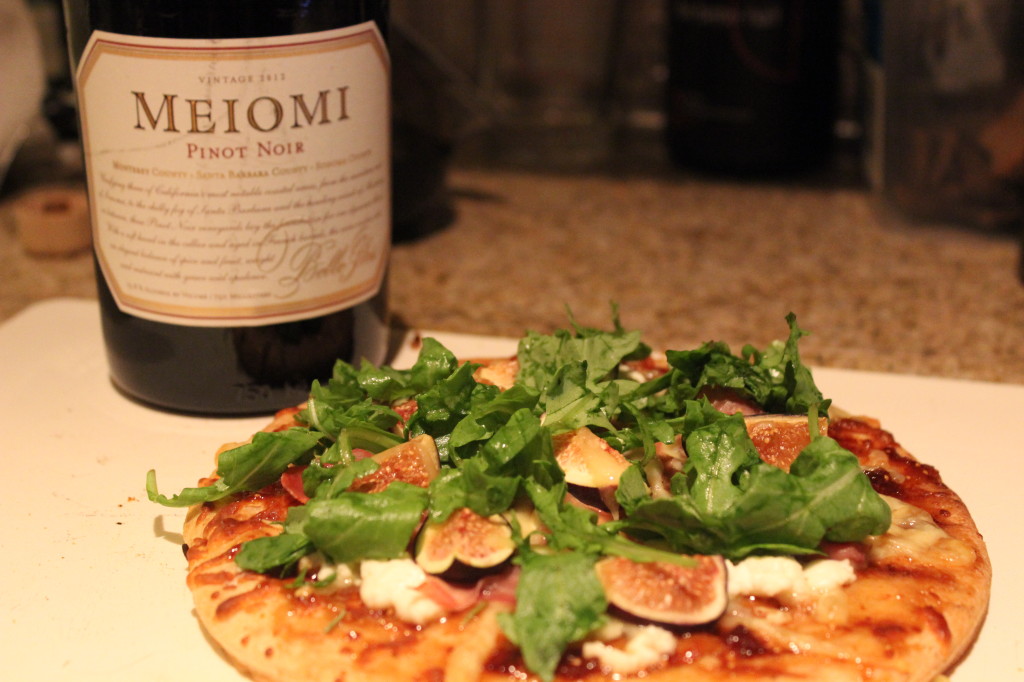 Even if you're not into figs, I'd give this recipe a try. It's delish. Or, just open a bottle of this wine and order takeout.
Cheers!
**Wine Notes**
Producer: Belle Glos
Region: CA Coast: Sonoma, Monterey, Santa Barbara
Varietal: Pinot Noir
Vintage: 2012
Alcohol: 13.9%
Price Point: $19-22