Outside of Vinho Verde (the super light, slightly fizzy "green wine") and Port (the fortified sweet after-dinner wine), I'm not very familiar with the wines coming out of Portugal. I'd heard that Portugal's starting to gain a following for their dry, flavorful red blends that are super affordable and chock full of tradition, and, since I've got a trip to Portugal coming up (eeee!), I was anxious to try some out!
Eager to find a new Portuguese wine to try, I went to a local wine shop and immediately noticed the above wine even before I realized it was from Portugal. Yes, even I get lured in by a wine's label (come on, there's a cute bike on it!), but the price tag is what really made me snatch this wine up. At only $7, the 2009 Paseo of Portugal Red Wine ($7) is a steal and proved to be a great little wine for the price! Made with a blend of grapes indigenous to Portugal (Castelão, Camarate, Tinta Miúda, and Touriga Nacional), the wine was dry, which is typical of Portuguese table wines, with cherry, currant, red apple and cedar aromas. The flavors were earthy and slightly spicy with some dark fruit, medium tannins and a medium-bodied finish. It was interesting and robust, and a fun alternative to the typical Cab/Merlot/Syrah blends. I would buy this bottle again.
Since the Paseo proved to be a great value wine, I decided to purchase a few more bottles of Portuguese blends for a blind tasting with a couple of friends. I know, I know… I'm just always looking for any excuse to bring people together to taste wine and learn a thing or two! :) All three of the wines were good (not great) but were certainly interesting and cheap ($8-13) and worth buying again! If you're sensitive to alcohol, though, beware when sniffing these wines because you'll get some heat!
Wine A, the 2009 House of DOW Vale Do Bomfim Red Blend ($11) had the most appealing aromas of the three wines, such as blackberries, violets, and vanilla. It was dry, like the others, but had more fruit-forward characteristics than the rest, followed by notes of savory herbs. It had good structure and was pretty tasty!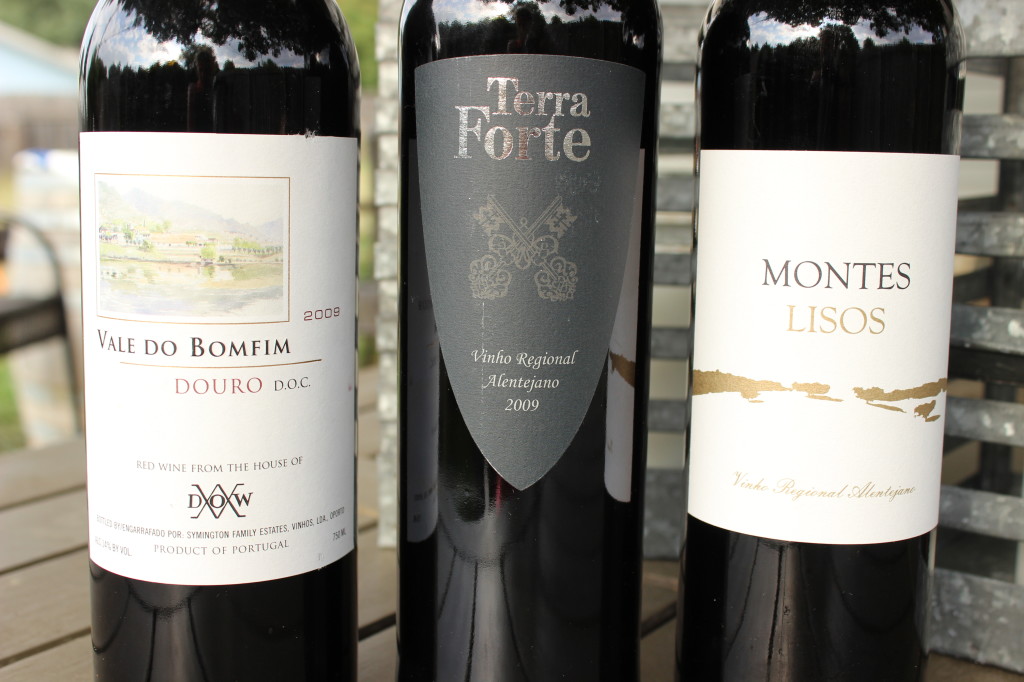 Wine B was the 2009 Terra Forte Vinho Regional Alentejano ($13). It had ripe red fruit aromas, red licorice and some earthy notes. With noticeable tannins and tart acidity, it opened up nicely and proved to be a consistently nice wine with and without food. We all enjoyed this wine the best, but Wine A was a close second.
Finally, Wine C was the 2010 Montes Lisos Vinho Regional Alentejano ($8). This wine definitely smelled differently than the others… almost funky (although it wasn't corked). I got strong smells of shitake mushrooms, overripe plums and beef pie. Weird, right? Although the wine tasted fine and grew on me, I just couldn't get over the strange aromas. Eventually, though, some of the funk went away and there was a hint of vanilla on the nose to balance out the earthy meatiness. Overall, it was a decent wine but the others were more appealing on the nose, so I ranked it my least favorite.
They weren't ah-mazing wines, but they're great for the price. Tasting these only made me more pumped to visit Portugal and the Douro Valley to try some awesome Port wines and red blends. I'm excited to learn more about the grapes and the history from the people who make the wine, but in the meantime I will certainly be adding these blends to the mix – they're an affordable and interesting option when you feel like switching things up! Try them with BBQ'd meats this summer or hearty beef stews this Fall. Saúde!
**Wine Notes**
2009 Paseo of Portugal Red Wine – $7
Region: Lisbon
Varietal: Blend – 55% Castelão, 20% Touriga Nacional,15% Camarate, and 10% Tinta Miúda
Alcohol: 13%
2009 House of DOW Vale Do Bomfim – $11
Region: Upper Douro
Varietal: Blend – 30% Tinta Barroca, 25% Touriga Franca, 25% Touriga Nacional, 15% Tinta Roriz, and 5% Tinto Cão
Alcohol: 14%
2009 Terra Forte – $13
Region: Alentejo
Varietal: Blend – 40% Aragonez, 30% Touriga Nacional, 18% Syrah, 12% Cabernet
Alcohol: 14.5%
2010 Montes Lisos – $8
Region: Alentejo
Varietal: Blend of Trincadeira, Aragonez, Alicante Bouschet
Alcohol: 13%
Fun Fact: Tinta Roriz is also known as Tempranillo in Spain.