Two words: Food. Wine. Those two things definitely make me happy. So when I had the opportunity to attend one of the nation's premiere food and wine festivals, of course I was beyond excited to attend. After all, experiencing the Pebble Beach Food & Wine Festival has been near the top of my list of "To Do's" for years and, even though I was sick the week leading up to the event, I doubled up on the vitamins and made sure to not miss it. I'm so glad I made it because it did NOT disappoint! If you're at all into top-notch food, amazing wine and rubbing elbows with some of the country's most influential chefs, sommeliers and oenophiles, then I would highly suggest making it a weekend.
This year marked the seventh year of PBFW, which officially kicked off on Thursday with an Opening Night Reception at The Inn at Spanish Bay. I didn't attend any events until Saturday, though, when Nick and I started the weekend off at the Lexus Grand Tasting. With over 300 wines from around the world and 30 of the most renowned celebrity chefs preparing bites of delicious food both Saturday and Sunday, saying this is a dream way to spend an afternoon is an understatement. It's not only an epicurean paradise, but it's a really spectacular event, taking place at the Equestrian Center inside of a very large tent… complete with fancy Lexus cars, food and wine booths and thousands of really happy people.
Nick and I tasted enough wine and food to make our taste buds hurt, and then some more, but it was worth it. To sample some of the most innovative dishes and quality wines in one day is kind of overwhelming, but luckily we had two days to enjoy it. Everything was truly amazing, but a few things really stood out. Here are some of my favorites from Saturday's and Sunday's Grand Tasting.
The Heirloom Tomato Gazpacho with Sweet Shrimp, Hass Avocado Mousse & Petit Basil, from Chefs Rory Hermann and Timothy Hollingsworth of the Sprout Restaurant Group, was so simple yet so flavorful. It was one of the first things we tasted but we remembered it all weekend.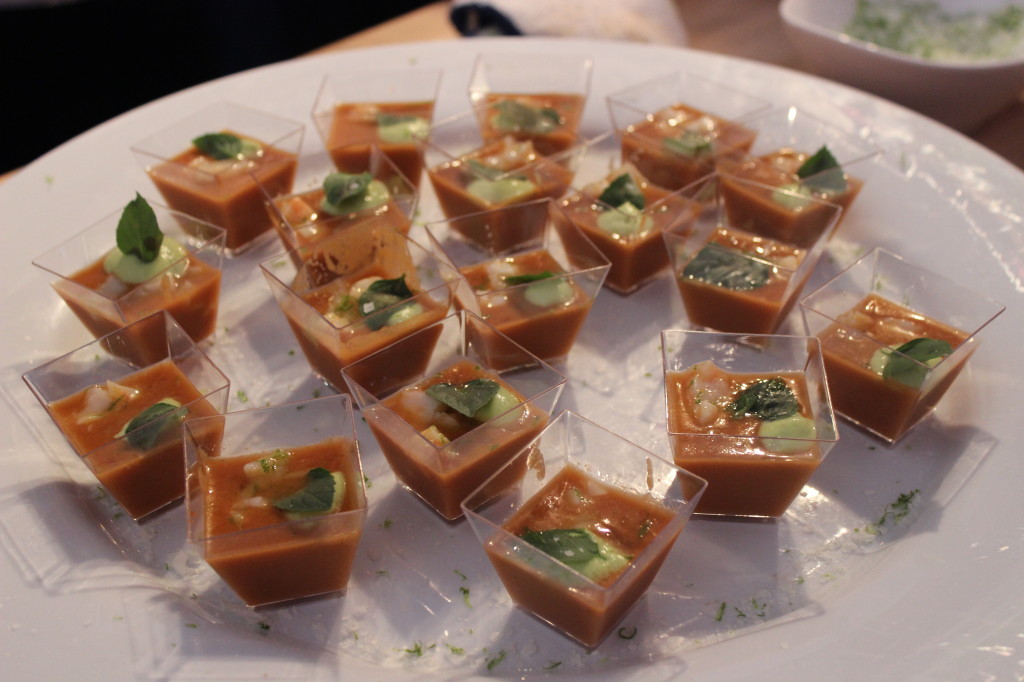 Chef Mario Perez from The Lodge at Pebble Beach definitely made some of our favorite food at the Grand Tasting. We just couldn't stop talking about the Liquified Popcorn with Caramel Froth. Talk about a delicious shot of dessert soup! His Slow Roasted Korean Pork with Scallion Rice and Kim Chee Puree was also a big hit.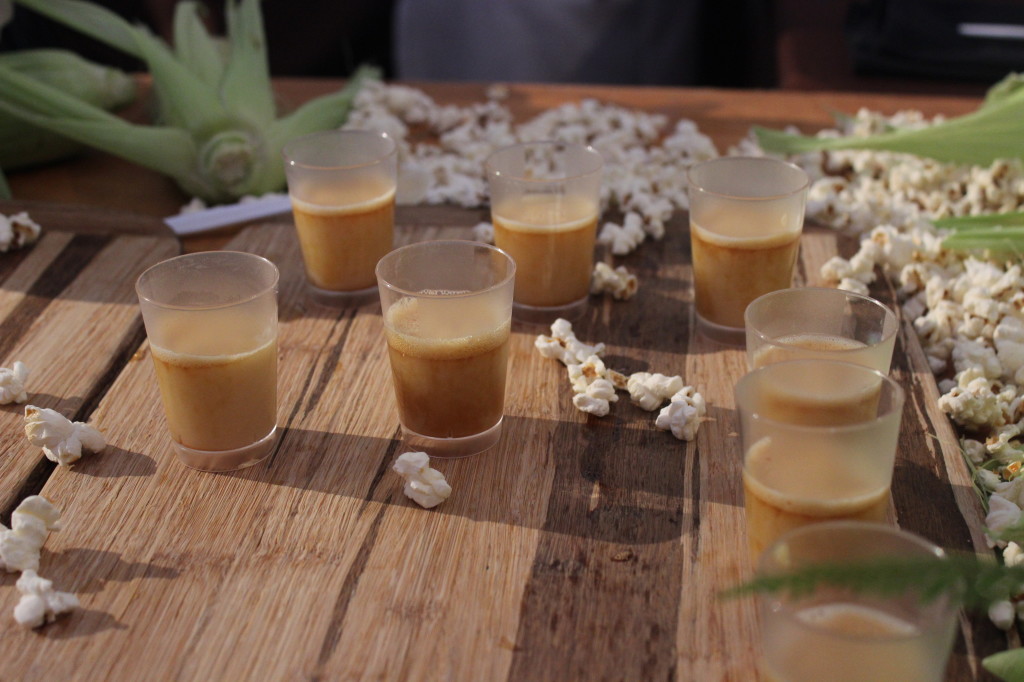 The Portuguese Seafood Soup with Linguica Sausage and Crackling Rice, by Chef Kim Canteenwalla of Honey Salt in Las Vegas, had the most amazing broth. I'm not always a fan of seafood, but this brought me back to our trip to Portugal last September. So tasty!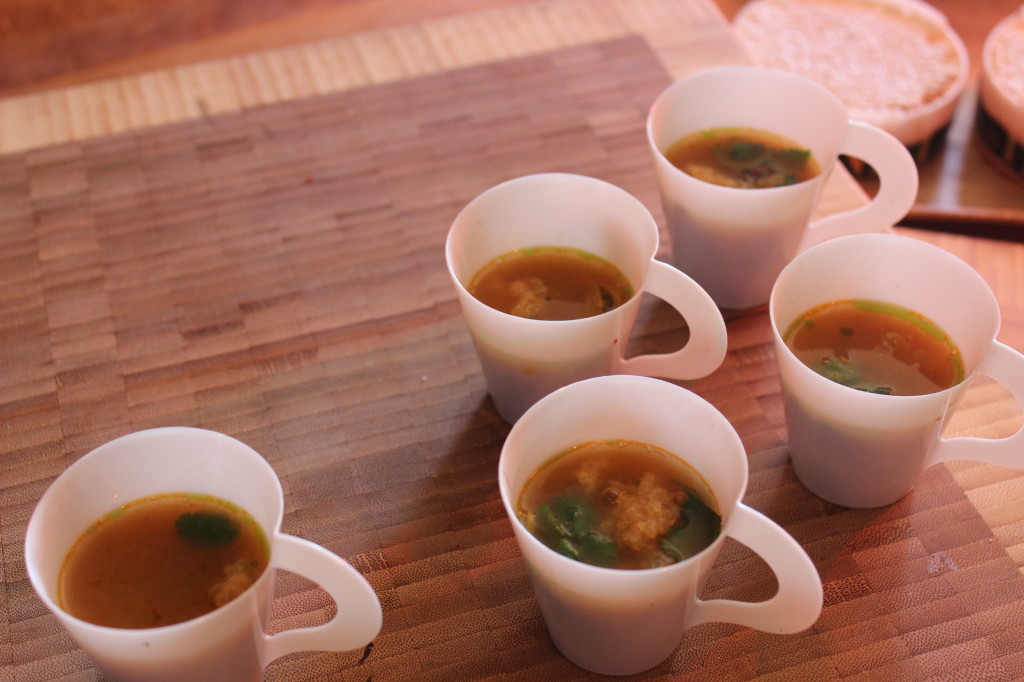 Who doesn't love a good sandwich, especially if there's a freshly carved piece of ham involved? Okay, maybe my best friend Jess because she hates ham, but I'm pretty sure even she would adore this sando. The Southern Artisan Sandwich with Shaved Country Ham, by Chef Linton Hopkins of Restaurant Eugene in Atlanta, was delicious. It had Pimento cheese, bread and butter pickles and a whole lot of southern love.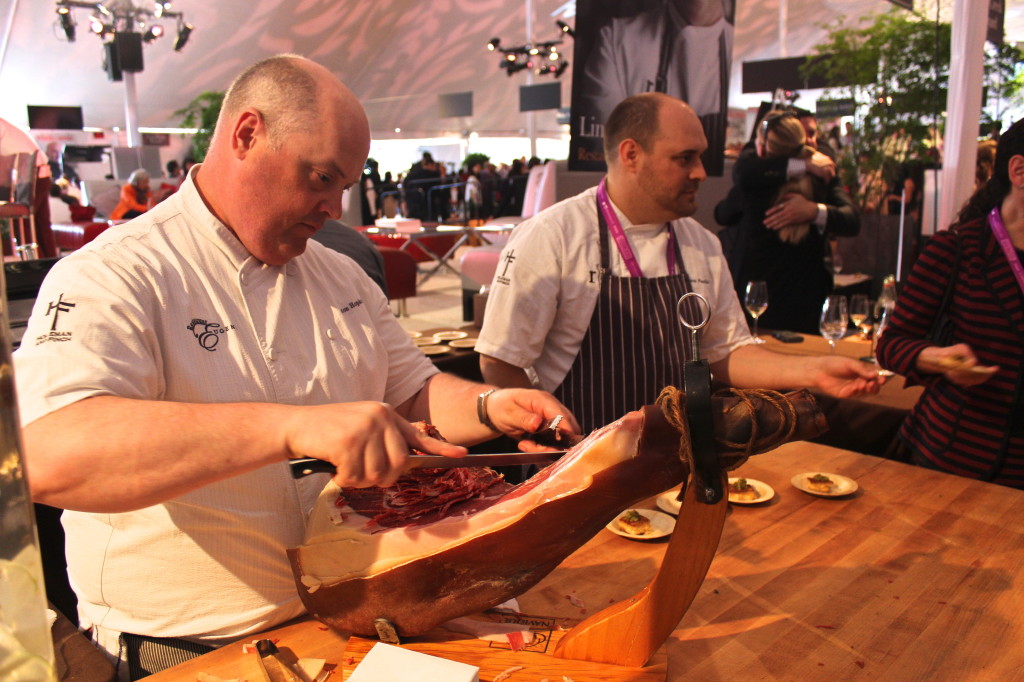 There were many other amazing dishes, like Chef Donatella Arpaia's Spicy Meatballs (Nick would be a very happy guy if he got to eat those meatballs every day), but what about the wine? THE WINE! Everything from Pinot Gris from MacMurray Ranch to well balanced dry Riesling from Dr. Loosen, Champagne Perrier-Jouet, Inglenook Cabernet, Tablas Creek Rosé and even 20-year Tawny port from Portugal, it was all great. And don't get me started on the 1989 Mayacamas Cabernet Sauvignon from Napa Valley that I got to compare to the 1999 and 2008 vintages. More to come on that later… but what a treat!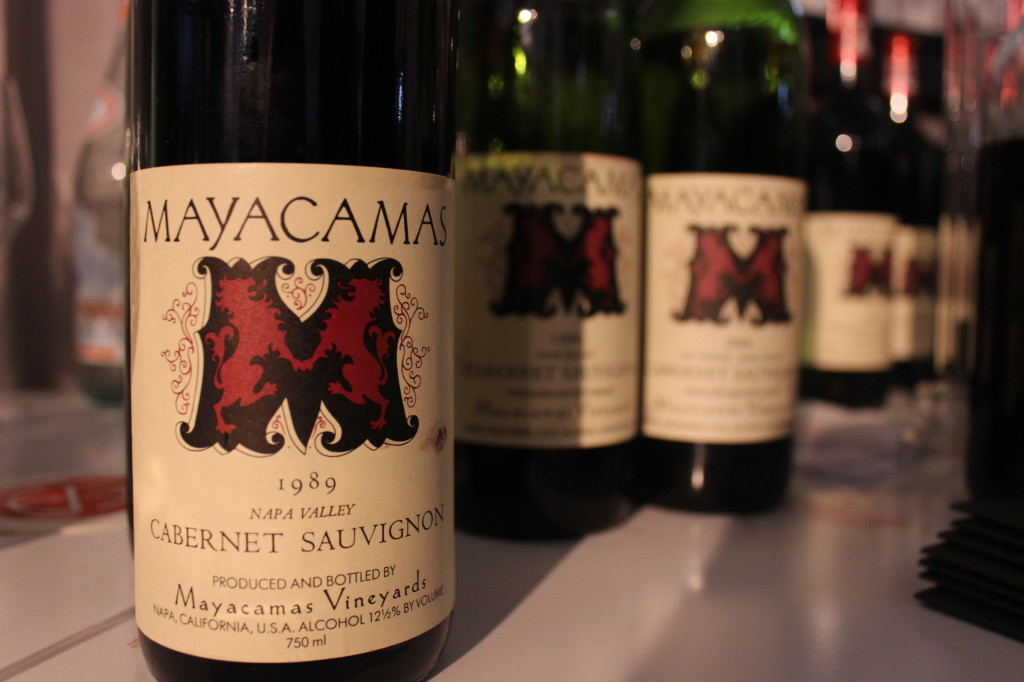 It was also fun to meet some of the winemakers that were there representing their wines… especially from wineries that Nick and I have visited, like Muiris Griffin from Round Pond. Hi Muiris!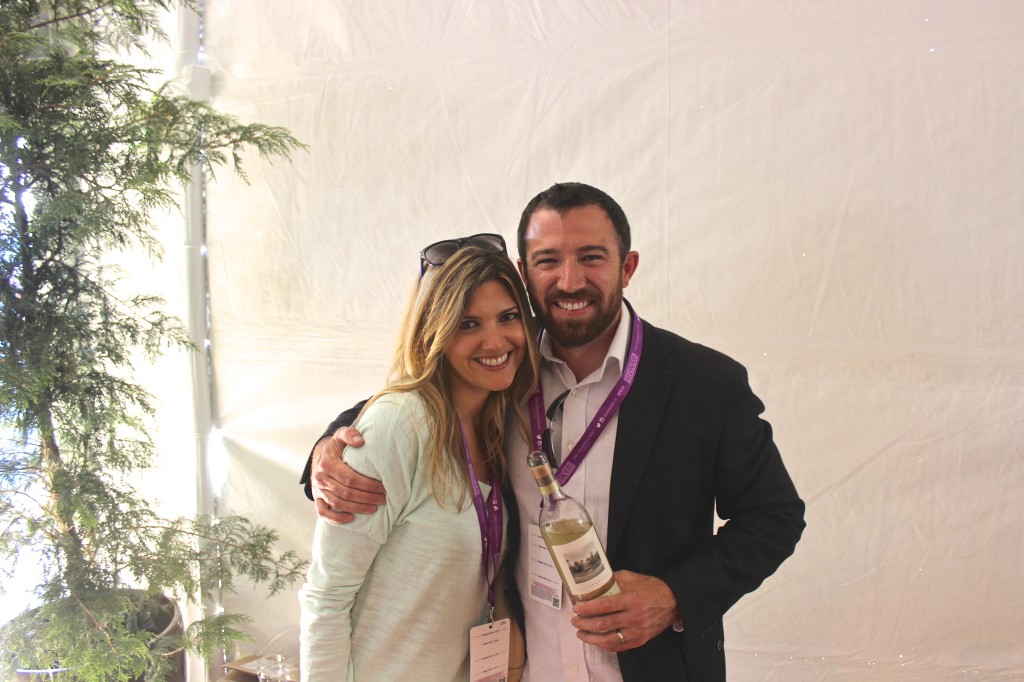 Of course, it's always fun to see some familiar faces from Santa Barbara, like Seth Kunin of Kunin Wine. Special thanks to Seth for everything!!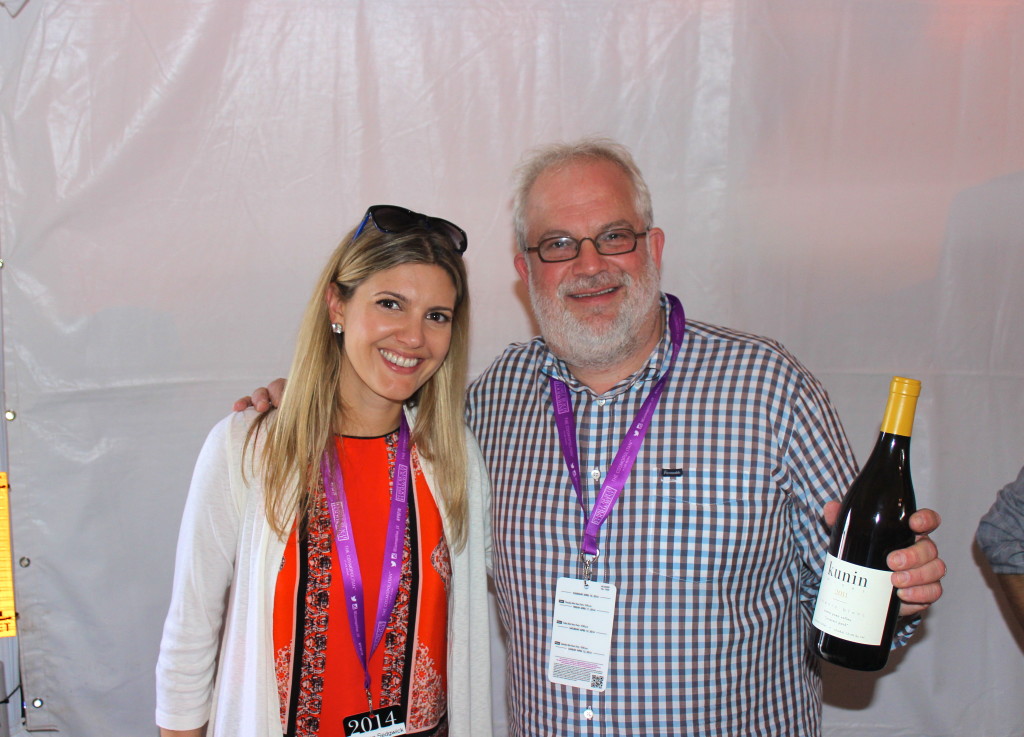 Up next – more from my indulgent and fabulous PBFW14 weekend: exclusive happy hours, 'last supper' dinners and after-hour parties with top chefs. Cheers!