If you remember my post on wine tasting in Los Olivos, you'll know how much the town has changed. Once a dusty little western town, Los Olivos is now what I like to call a wine-lover's Disneyland. There are over 30 tasting rooms (all within walking distance) in this quaint little town, with a plethora of good wine to choose from. It goes without saying that with so many options, it's hard to decide where to go. A safe bet? Blair Fox Cellars, owned by winemaker Blair Fox and his wife, Sarah (both Santa Barbara natives).
I caught up with Blair Fox recently at his tasting room to try his wine for my latest article in the SB Sentinel. What's kind of random is that I actually met Blair when I was a kid. His parents were friends with mine, and my younger brother was actually really good friends with his younger brother. From what I remember, Blair was always out working on old Broncos in the driveway. Blair still owns a Bronco but now spends most of his time making wine for his own labels and for well-known winery, Fess Parker, and doing a mighty fine job at it.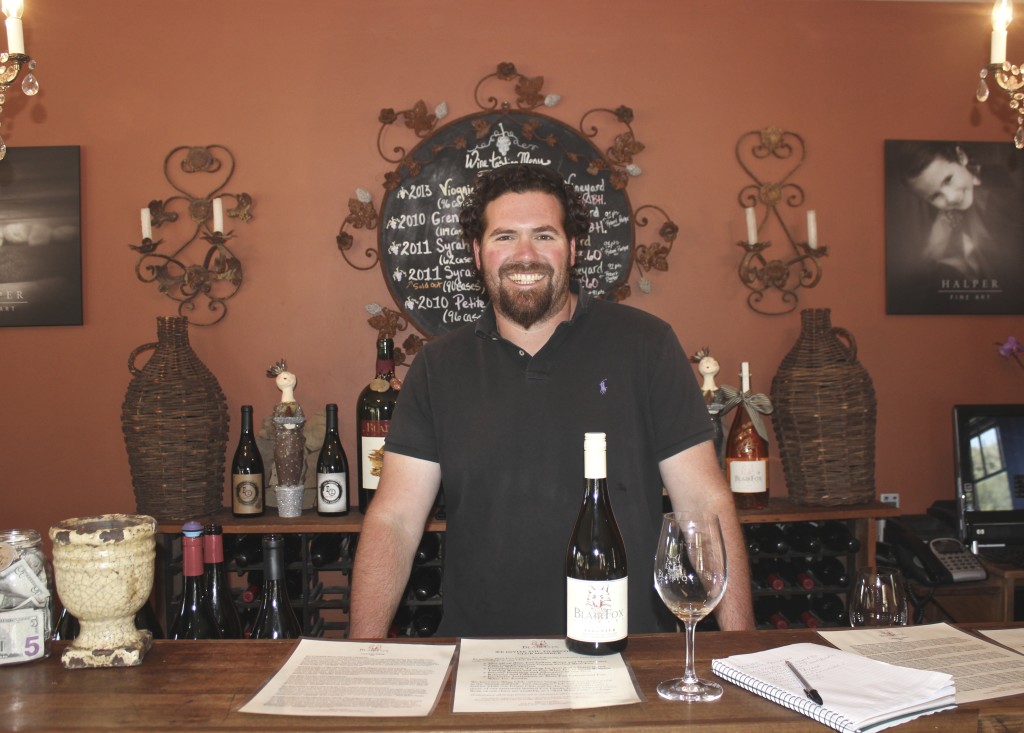 Blair has been on the Santa Barbara County wine scene for awhile now, first starting out as a consultant for Fess Parker after receiving a combined degree in Viticulture and Enology from UC Davis (he originally went to school for pre-med, by the way). He then moved on to gain winemaking experience at Sunstone Winery in Santa Ynez, spent a year in Australia's McLaren Vale wine region, traveled throughout France, and then moved back to SB in 2003 when he became Fess Parker's Rhône varietal winemaker. He's been the head winemaker there since 2005.
At Blair Fox Cellars, he focuses on producing high-quality boutique wines, specializing in Rhône varietals like Viognier, Grenache and Syrah. Many of the grapes Blair sources come from vines he planted himself on his family's organic estate vineyards in Santa Ynez. All of the grapes he works with are hand-harvested, hand-sorted and produced in very small lots to showcase the highest quality expression of the fruit and terroir.
I'm not going to lie, I enjoyed all of the wines I tasted (and I tasted quite a few). The 2013 Paradise Road Vineyard Viognier ($29) is bright and refreshing with nice fruit and floral characteristics. The 2011 Bien Nacido Vineyard Syrah ($42) has notes of blackberry and earth, complemented by soft vanilla and caramel aromas from 100% French oak barrel aging. It's a rich, incredibly smooth, not to mention approachable, cooler climate Syrah. Another notable Syrah is the 2011 Fox Family Vineyard Syrah ($45), which has notes of red fruit, chocolate and toasted spices. Full-bodied with nice texture, I'd say this wine will age well over the next several years. The 2010 Fox Family Petite Sirah ($45), aged in a combination of half American and half French oak, has great structure and silky smooth tannins. Very nice.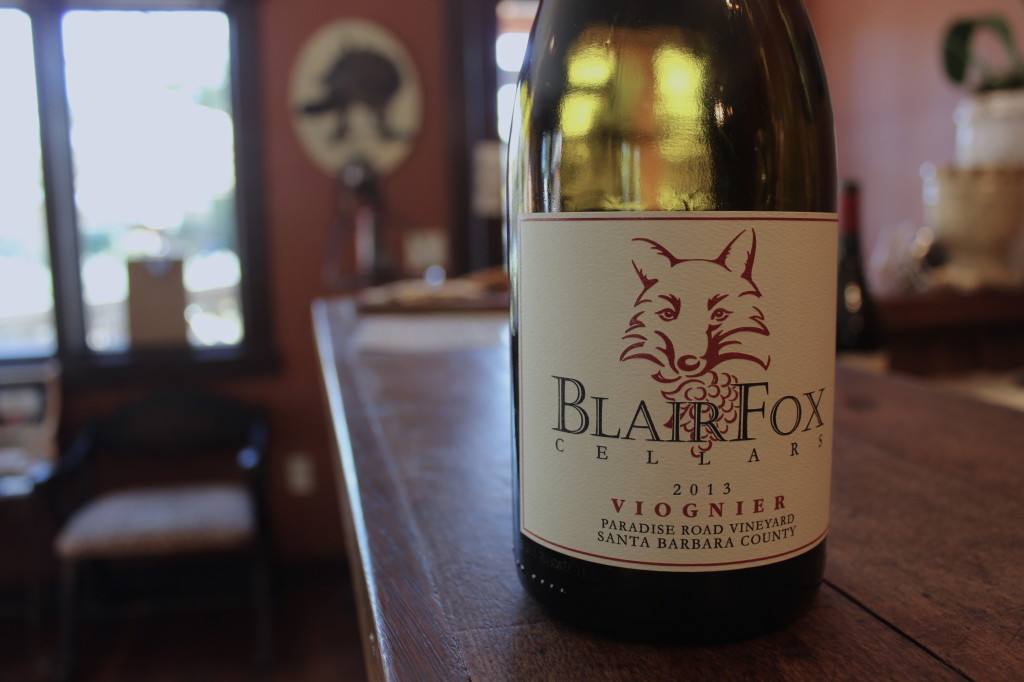 Blair Fox Cellars produces around 1,000 cases of wine annually, versus the 100,000 plus case production of Fess Parker Winery. As if Blair didn't have enough on his plate already, he and Sarah started another wine label in 2010, Fox Wine Co., producing around 1,000 cases as well. I haven't tried the wines he and Sarah make for Fox Wine Co. (the two share winemaker duties), but they specialize in Chardonnay and Pinot Noir, mostly in the $20-$30 price range. You can try the wines at their tasting room, which opened up this year in the Art Foundry down in The Funk Zone. Fun fact: Sarah's sister designed the Fox Wine Co. label (which is a cool label).
Blair and Sarah seem to have a real family-focused operation going and I admire the commitment they have to producing wines that matter to them. Overall, the wines are luscious and balanced, showing purity of fruit with beautiful structure. And hey, anyone that decides to make a sparkling Grenache in the labor-intensive méthode champenoise because his "wife loves sparkling wine" is A-OK in my book. PS. The sparkling Grenache is pink, sealed with a bottle cap, is super lively AND is called Foxy Bubbles, which makes it even more fun.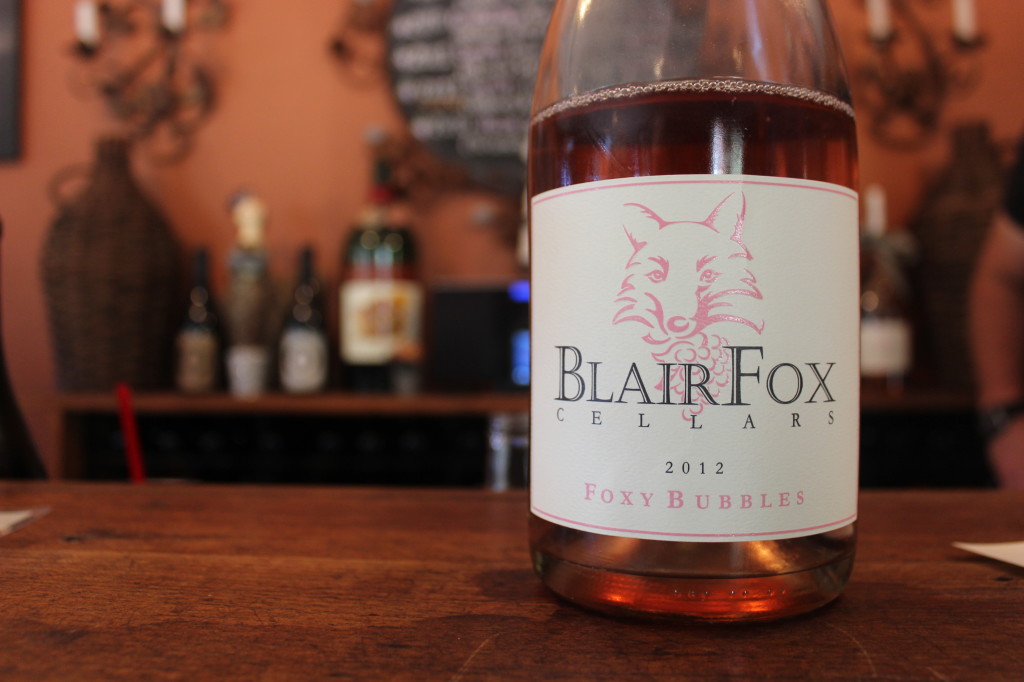 **Blair Fox Cellars**
Open: Fri-Sun 12-5pm; or by appointment
Phone: 805.691.1678
Location: 2902 San Marcos Avenue – Los Olivos
Tip: They're dog friendly!
**Fox Wine Co.**
Phone: 805.699.6329
Location: 120 Santa Barbara Street – Santa Barbara (In the Art Foundry in the Funk Zone).