I know I still have a ton to write about from my recent Napa / Sonoma trip, but wanted to share the exciting news that I now have my own wine column in the Santa Barbara Sentinel! It's actually been in the works for a couple of months, but because of a hectic summer schedule (is summer ever NOT busy?!), it took me a bit longer to get things up and running. Finally, my first story is out!
Now, most of you know that I grew up in Santa Barbara, but moved away long before I was old enough to drink wine. Now that I'm back (and am well past the legal drinking age!), it's been very fun to explore my hometown and the diversity of SBC wines. As with several grape-growing regions in California, there are a lot of great wines being made here, but most people don't know much about those behind the wine. So, in an effort to introduce readers to people involved in wine, my column will be a 'behind the scenes' look into our local wine scene, aptly named Behind the Vine. 
For my first story, I sat down with up-and-coming winemaker Ernst Storm to chat with him about his wines and winemaking philosophy. Originally from South Africa, Ernst has been on the SBC wine scene for a few years now, first at Firestone then at Curtis Winery. With dreams of making hand-crafted wines that express the diversity of the Santa Ynez Valley, he started his own label on the side. In 2006, Storm Wines started with 3 barrels of Pinot Noir, but has since grown to a 2,000 case production (and includes a Sauvignon Blanc, Chenin Blanc and several different Pinots). He also recently co-founded a brand new wine label with Les Marchand's Eric Railsback, called Notary Public. Remember Eric from the movie Somm? Super nice guy. Like Storm Wines, Notary Public also has around 2,000 cases, producing a Chenin Blanc and Cabernet Sauvignon (which can be found at the new SB Wine Collective in The Funk Zone). Needless to say, this Ernst guy sounds like a real slacker! :)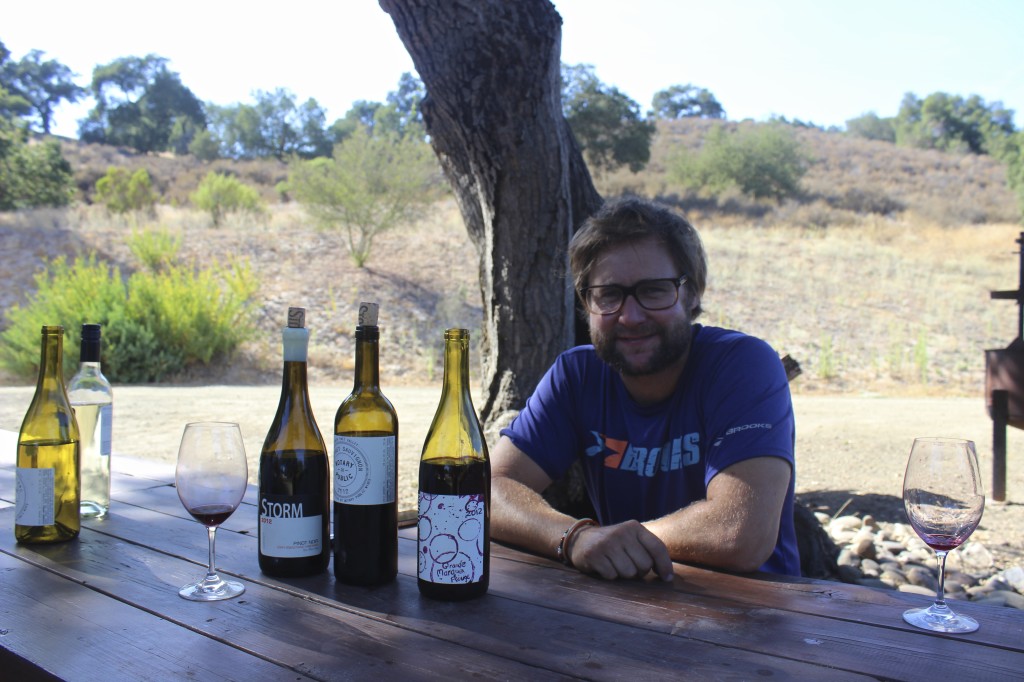 For both the Storm and Notary Public labels, Ernst uses Old and New World techniques to create more focused, terroir-driven wines, sourcing grapes from different parts of the valley to showcase balanced wines with distinct personalities. Truth be told, though, Ernst is really just making wine that he enjoys and believes in. Gotta respect that!
I first tasted the 2013 Storm Sauvignon Blanc ($23), made from grapes that come from four corners of the Santa Ynez Valley, representing the distinct characteristics of each growing area. This is by far his most popular wine (50% of Storm's production, as a matter of fact!). It's fresh and juicy, with tropical flavors that beg for sunshine and a picnic! And with the handy screwcap, it's perfect for impromptu picnics on the beach…
Next, the 2013 Notary Public Chenin Blanc ($28). The grapes for this wine were grown in the minerally soils of the Jurassic Park Vineyard in the Santa Ynez Valley, amongst fossils and old dinosaur bones. Okay so maybe not, but the soil is rich with minerals that add distinct characters to the wine. With hints of apricot and white peach, it's a fresh wine with nice texture and depth, dancing around in your mouth and leaving you wanting another sip. Yum!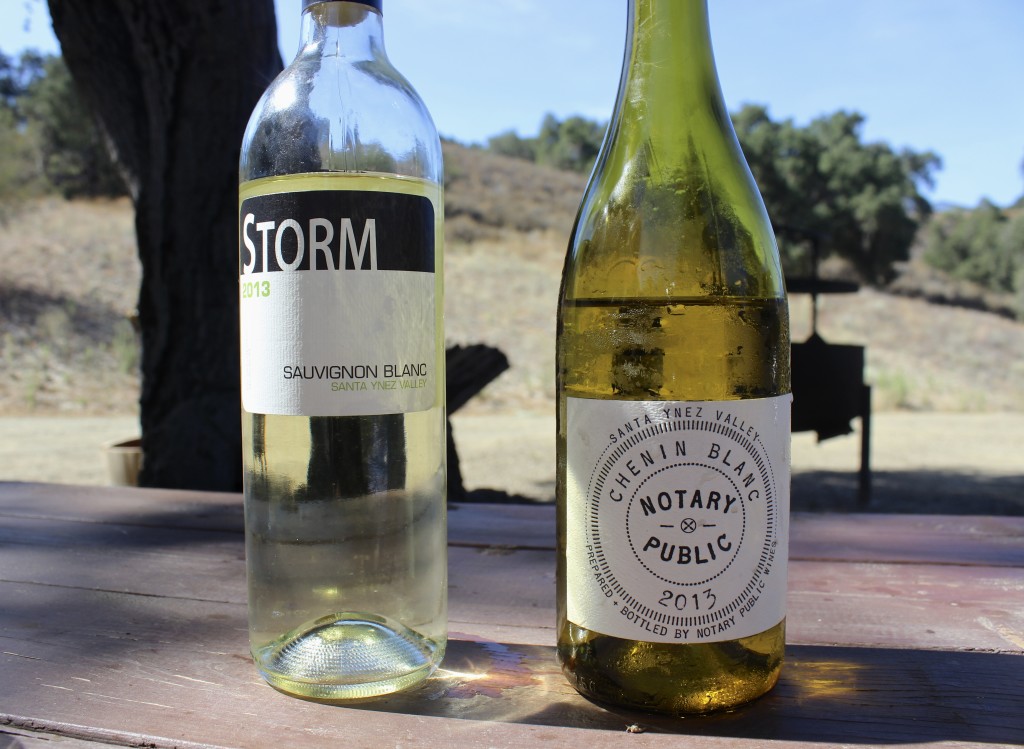 I also tasted a few 2012 reds, which all seem to showcase the SY Valley without being over ripe with fruit. The 2012 Storm Pinot Noir from Santa Rita Hills ($50) is a classically styled Pinot with great aromas of dried cranberries and earthy undertones. A touch of new French oak adds some depth, making it totally approachable now but ageable. His 2012 Storm Grande Marque Rouge ($35) is an unpretentious blend of 43% Mourvèdre, 29% Grenache, 14% Syrah and 14% Cinsault. With dark cherry flavors and well integrated tannins, it's super easy drinking and would be a good dinner party wine. And hey, it even comes with a conversation starter – Ernst made the label himself using a large sheet of paper, some barrels, buckets, red wine and an iPhone camera. Pretty cool. Lastly, the 2012 Notary Public Cabernet ($28). This wine balances the Valley's bright fruit with herbaceous, earthy notes and toasty oak. A smooth Cab with depth… and at a decent price!
Across the board, Ernst Storm's wines tend to have low alcohol, nice acid and a certain freshness that can easily be identified as his style. And Ernst is super down-to-earth and dedicated, which makes it easy to want to drink his wines. Cin cin!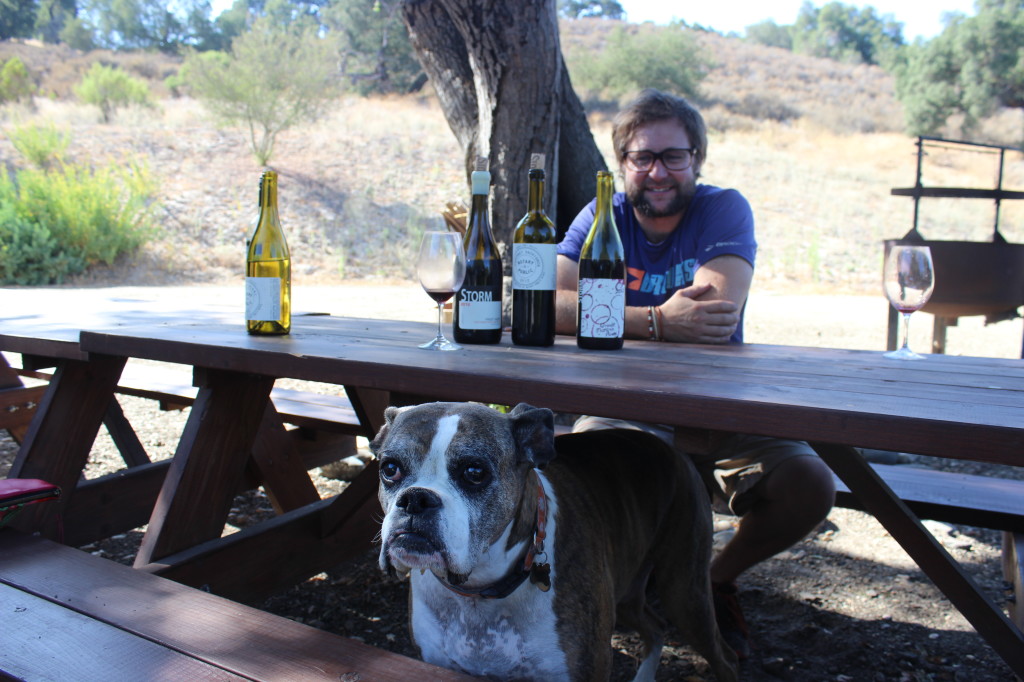 Read the Sentinel article here (page 8).