When I was in Santa Barbara recently for my grandpa's 90th, I convinced my parents and cousin to head downtown to do some wine tasting with me. Okay, so maybe I didn't have to do much convincing… the fam is usually up for a day of wine tasting with me! Kunin Wines was the first tasting room we hit and it's a neat little spot. Located less than a block from the beach (prime real estate), it's got the sort of beachy/cool vibe that Santa Barbara is known for. And if you know me, I love anything that has a beachy/cool vibe!
Kunin Wines was originally established in 1998 but has had this tasting room open in The Funk Zone for the past 4 years (if you missed it, read my post about The Funk Zone here).  The building has been around since WWII and has transformed from an old house to a flower shop then art studio and now tasting room. Seth Kunin, the owner and winemaker, focuses on Rhône varietals for his Kunin label. BTW, he also produces a wide variety of wines for his other tasting room around the corner, AVA Santa Barbara (formerly Anacapa Vintners). Read more here.
Kunin's tasting room is bright and minimalist, with large windows all around to let in ample amounts of sunshine and coastal breezes. Sounds like a lovely place to taste some wines, right? The tasting list includes three options, depending on what types of wines you're looking for (Classic White, Classic Red, and the Syrah Geek Tasting). I ended up going with the Classic Red so I could get a nice variety.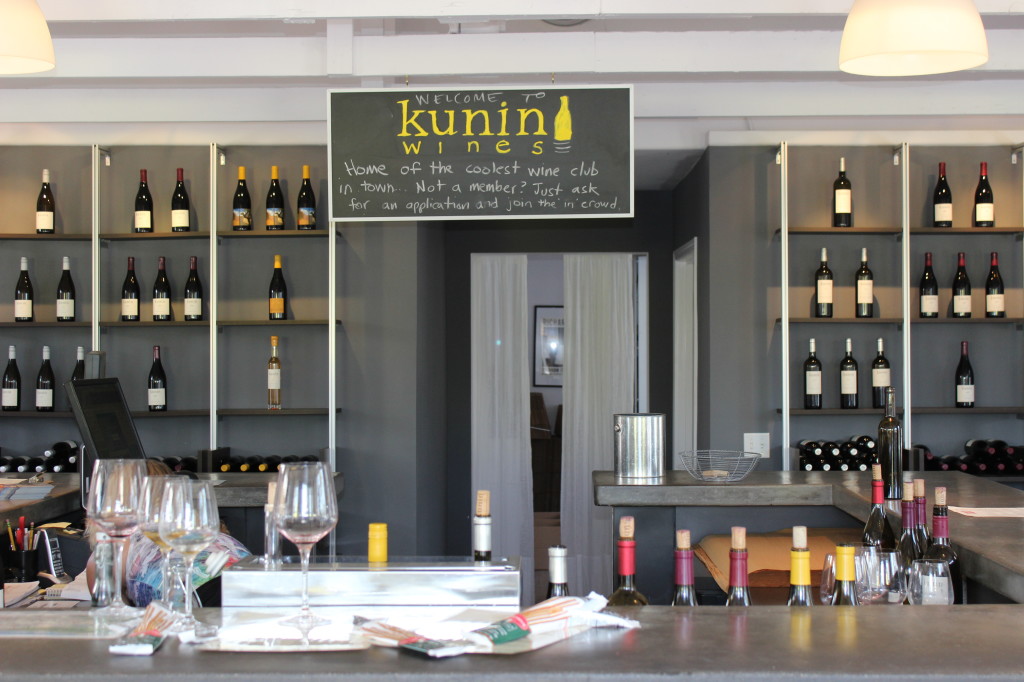 We started out with the 2011 Pape Star Rhone Blend ($25), which is their take on the French Châteauneuf-du-Pape. Made of 38% Grenache, 22% Syrah, 21% Cinsault and 19% Mourvedre, it was medium-bodied and earthy. I got some black fruit and tobacco on the nose, but the tannins were slightly rough. Those will mellow out, though, and this will be a crowd-pleaser. Next we tried the 2008 Grenache Larner Vineyard ($36), a fruit-forward wine with strawberry and currant aromas and somewhat savory flavors and a tart acidity. I enjoyed it.
Now, on to the Syrahs… First, we tasted the 2008 Syrah Santa Barbara County ($30). The grapes come from cool-climate vineyards for this SB Syrah. With aromas of beef jerky, mushrooms and a hint of spice, it is definitely the type of wine that would go well with some meat. Meaty goodness! A slightly different take on Syrah than the SBC is the 2006 Syrah Alisos Vineyard ($45), which had great aromas of smoke and spice but definitely could benefit from a few more years of aging.
Not on the tasting menu but definitely worth a mention is the 2011 Mourvedre Santa Ynez Valley ($30). Unfortunately you'll have to be in the wine club to get this one, but it was one of the best wines I tried from Kunin so if you come across this bottle it's worth trying. There were aromas of currants, blackberries and ripe apples, with red fruit flavors and a smooth finish. Nom nom.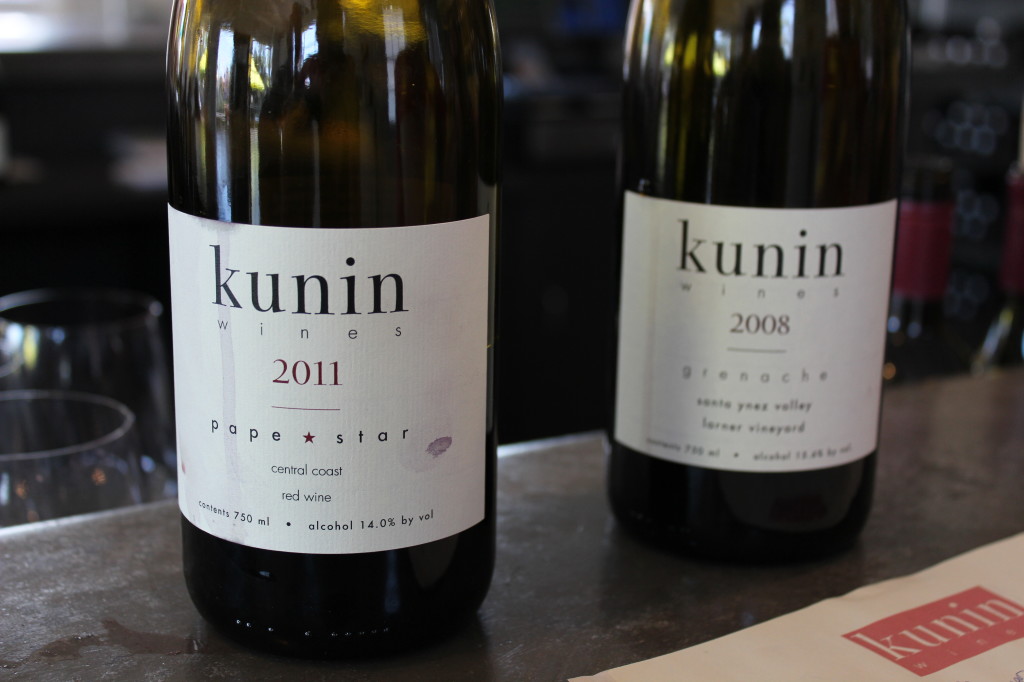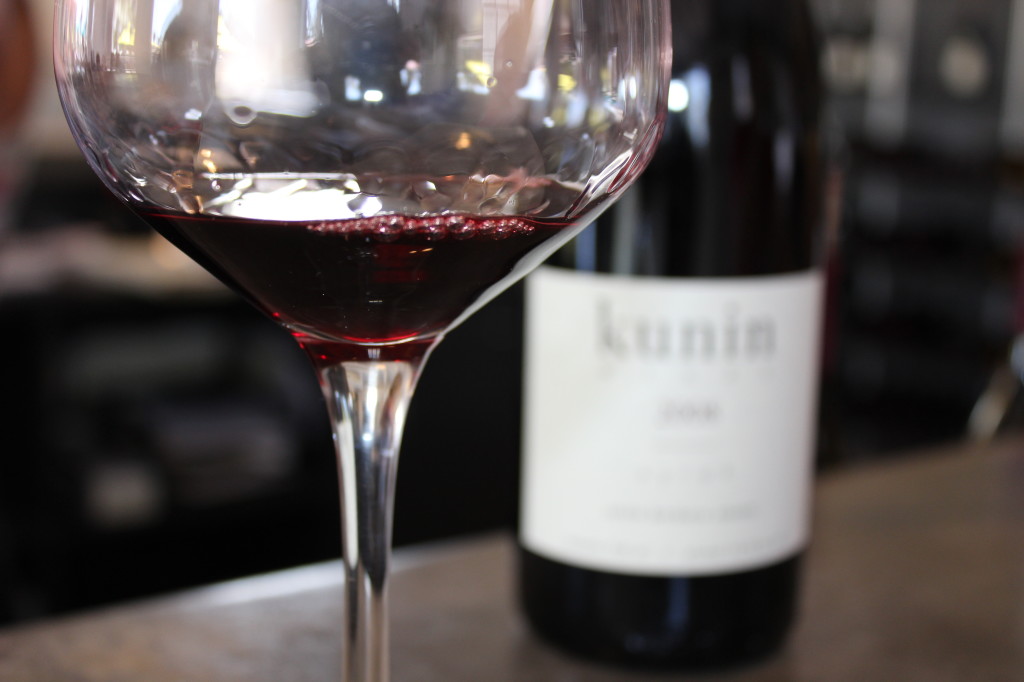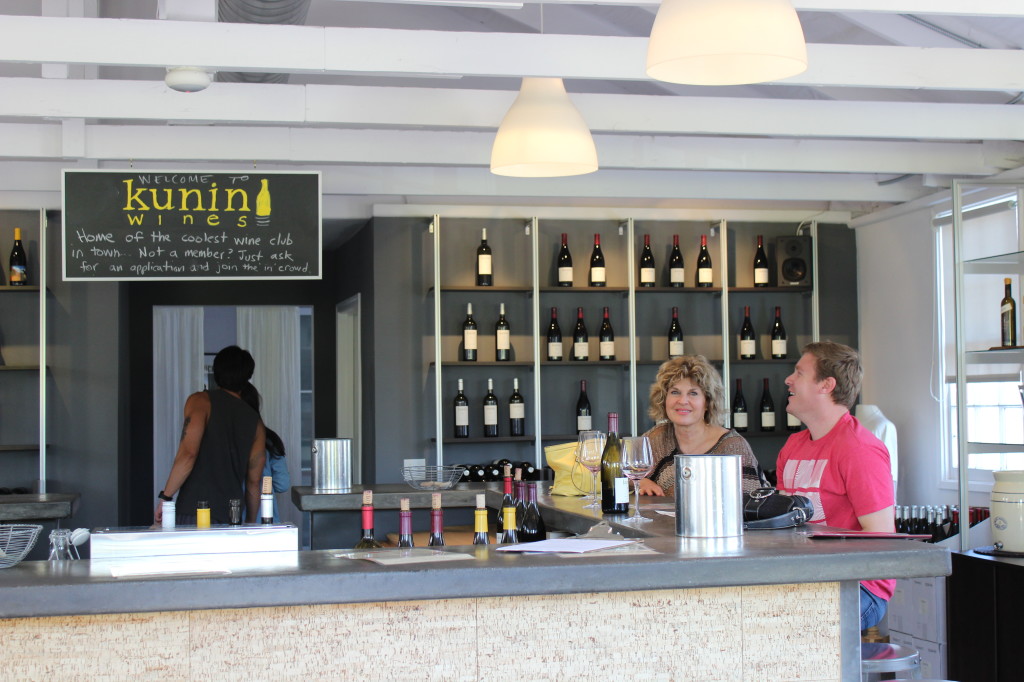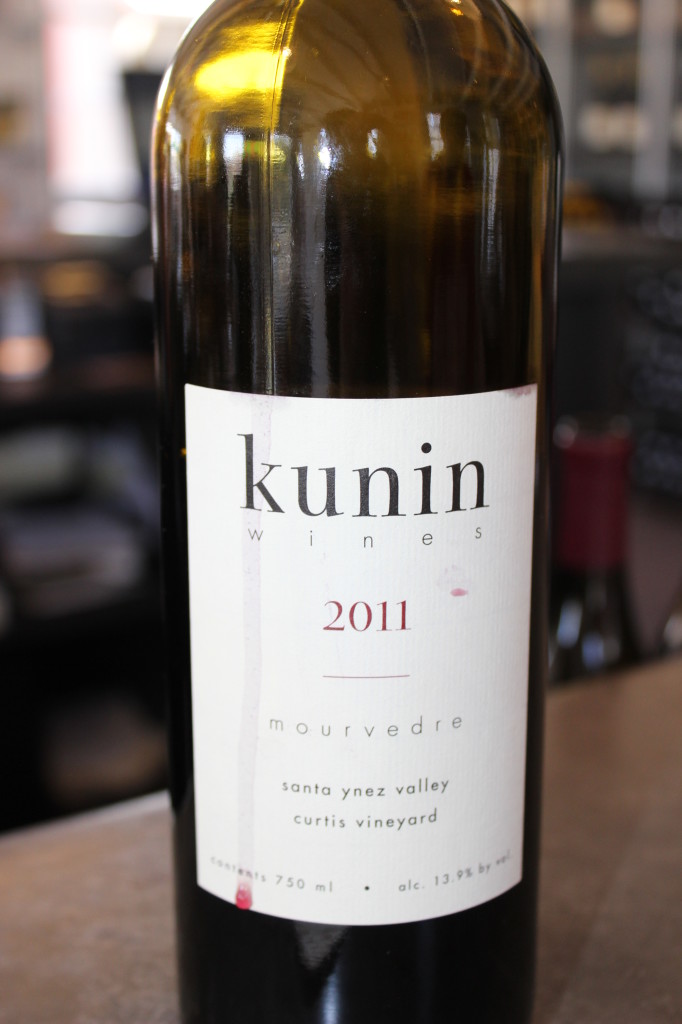 **Tasting Room Notes**
Open 11-6pm daily.
Tasting Fee: $10-$12
Phone: 805.963.9633
Location: 28 Anacapa St. – Santa Barbara, CA
Tips: There's a Natural Chenin Blanc on the Classic White tasting. If you've never tried a wine in its purest form (no fining or filtration, no added sulfur…) then check it out. It's not for everyone but it's got nice pear and apple flavors with a refreshing palate.
The wines are pretty well distributed throughout California, but for my Denver friends, you can find Kunin at Mondo Vino in the Highlands. And those of you in Seattle can find the wines in many restaurants and markets, such as Ballard Market and Whole Foods.