If you remember a couple of weekends ago, Nick and I ventured out of town and spent the day doing some wine tasting in and around Los Olivos. Back when my dad was growing up in the area, Los Olivos was a dusty little western town consisting of Carl Side's Hardware Store, a 76 gas station on the corner, a post office, Los Olivos meat market, the historic Mattei's Tavern and a colorful bar known as The Bucket of Blood (sounds like a classy establishment, doesn't it?). Obviously, it's changed quite a bit over the years… Los Olivos is now home to over 30 wine tasting rooms. THIRTY. Dusty little town no more… it's more like a wine enthusiasts' Disneyland!
After spending some time at Beckmen Vineyards, we headed into town and stopped into a new place called Zinke Wine Co. Open since May, Zinke Wine Co. (pronounced Zinc-y) focuses on Rhône varietals and brings a cool vibe to the quaint downtown area. The building is super cute, but it was the bocce court outside that made us stop in. Wine and games – always a fan!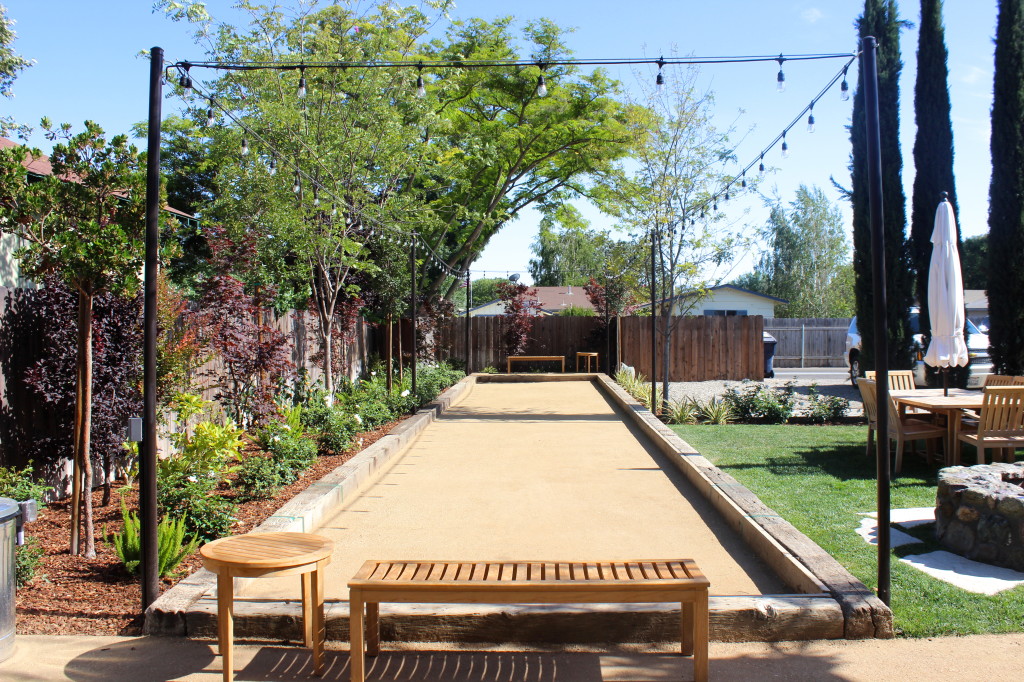 Zinke Wine Co. is the realization of husband and wife team, Michael and Ashley Zinke. Michael is the winemaker and Ashley runs the tasting room, wine club and handles the marketing – a real team effort! The two first became interested in wine while Michael was in culinary school in Southern California. After a few visits to Santa Ynez and falling in love with the local wines, they knew they wanted to pursue making their own wines and soon hit the ground running. Although Michael has no formal winemaking education, he's learned from mentors and through good old fashioned trial-and-error! Their first vintage was 2012 and, now on their second vintage, the Zinkes are producing wines made with grapes sourced throughout Central California.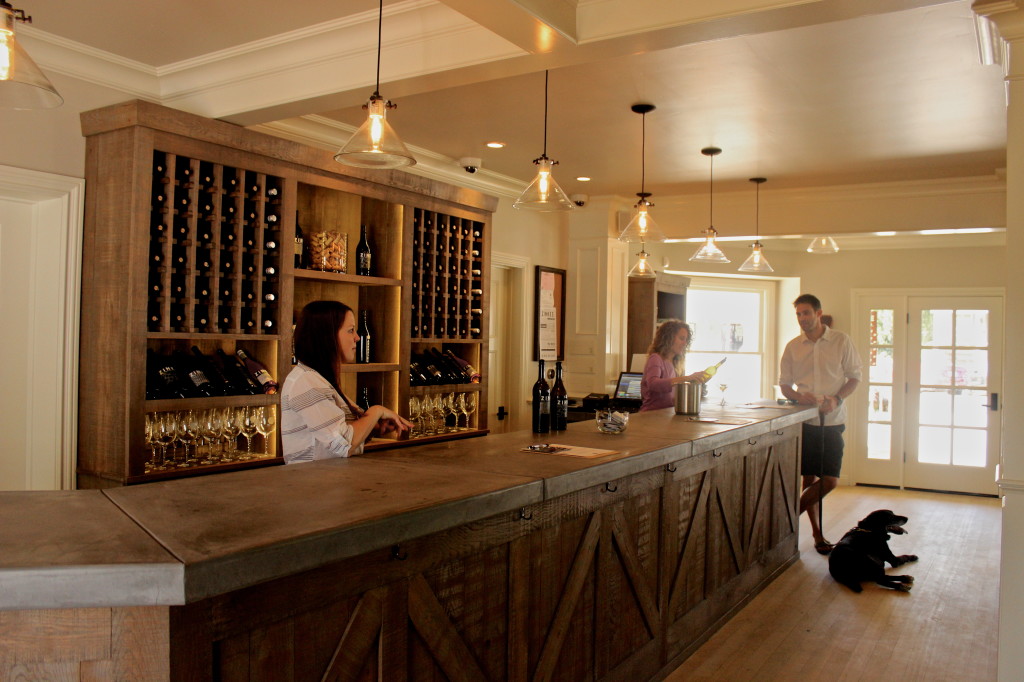 The tasting room is brand new and super sleek. It's modern yet rustic, spacious yet cozy – a great place to escape the heat for a few.
We started with the 2012 Zinke Vogelzang Vineyard Viognier ($24), a refreshing wine with honeydew aromas followed by noticeable notes of bread dough. It's full-bodied with tropical flavors that round out the palate. Next, the 2012 Kimsey Vineyard Roussanne ($28). It smelled like minty tea and lime with spiced apricots on the palate. Interesting stuff.
The 2013 Zinke Rosé ($14) was a favorite from the list, made up of 100% Grenache and 0% residual sugar (meaning this is a dry rosé). It's got aromas of ripe, sweet strawberry with hints of rosey soap and grapefruit. Nice minerality and bright acidity make this a wine you can drink a lot of in the summer. And at $14, it's a pretty good deal that will be a great addition to summer bbqs or pool parties (the screw cap makes it easy for picnics, too).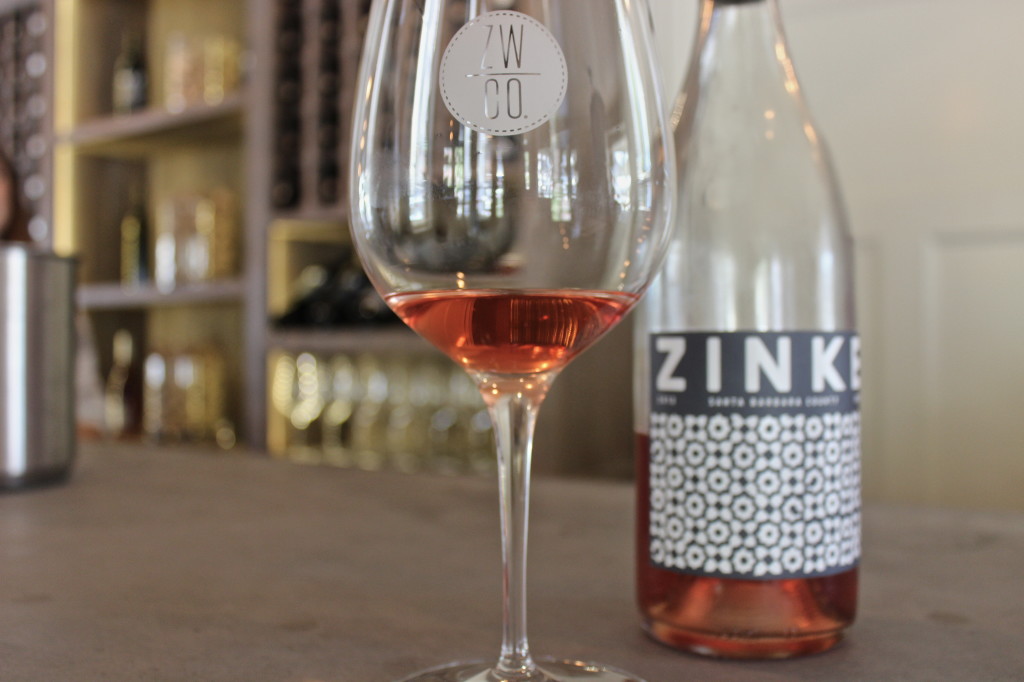 The two reds we tasted, the 2012 Gypsy ($38) GSM blend and the 2012 Thompson Vineyard Syrah ($45) were a bit too big on the alcohol and fruit for me. At 15.7% (Gypsy) and 16.5% (Syrah) alcohol, they're definitely packing some heat! These are wines not for the faint of heart, but lovers of bold, blackberry jam and peppery wines like Zinfandel will probably enjoy these wines.
Overall, the wines (both red and white) pack quite the alcoholic punch, but are enjoyable. I'd say it's definitely worth stopping in and staying awhile. Especially if it's a warm day and all you feel like doing is being outside, playing a little bocce or corn hole with friends all with a glass of wine in your hand. Joey's a fan!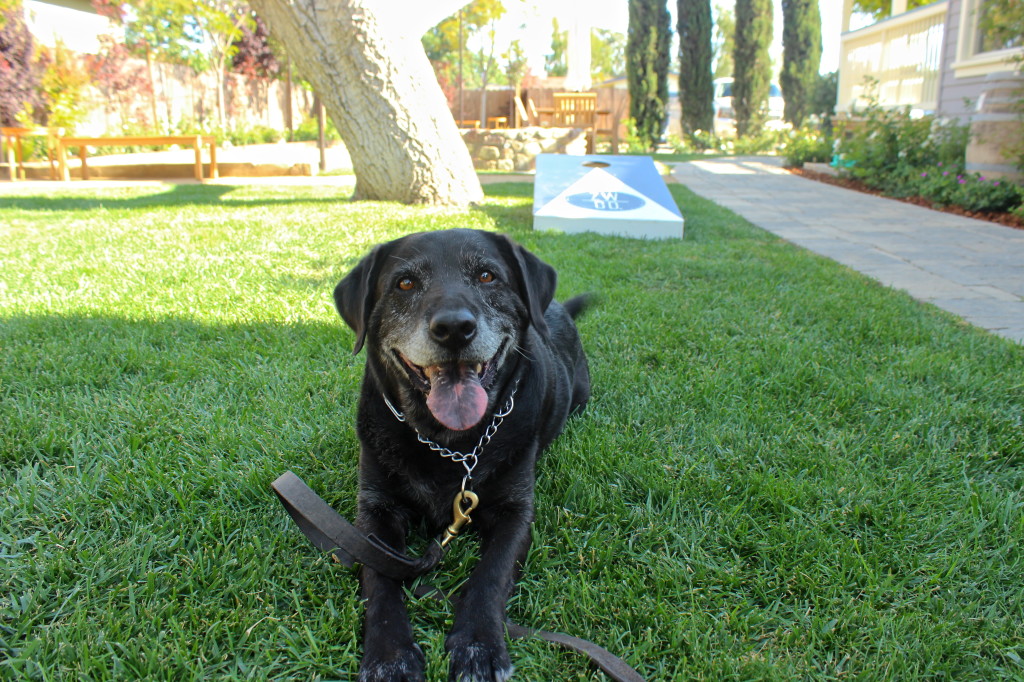 **Tasting Room Notes**
Open: 11-5pm Daily
Tasting Fee: $10 for 5 wines
Phone: 805.691.9718
Location: 2366 Alamo Pintado Ave – Los Olivos, CA
Tips: As you can tell, the tasting room is dog friendly. Woof!
If it's too chilly to enjoy the outdoor lawn games, grab a seat next to the fireplace inside while you enjoy a tasting.