Well, it was another fantastic weekend of Champagne and caviar dreams at Pebble Beach Food & Wine. Quite literally… bubbly and caviar were everywhere! This year marked the 8th edition of this over-the-top wine and food extravaganza, bringing over 300 of the world's top wineries and 100 celebrity chefs together for one celebratory weekend. Just like last year, it did not disappoint!
The event kicked off on Thursday with an Opening Night Reception at The Inn at Spanish Bay, followed by wine seminars, cooking demos, beach bbqs and grand tastings. If you're at all into delectable food, delicious wine and rubbing elbows with some of the industry's most influential people, I'd highly encourage you to attend next year!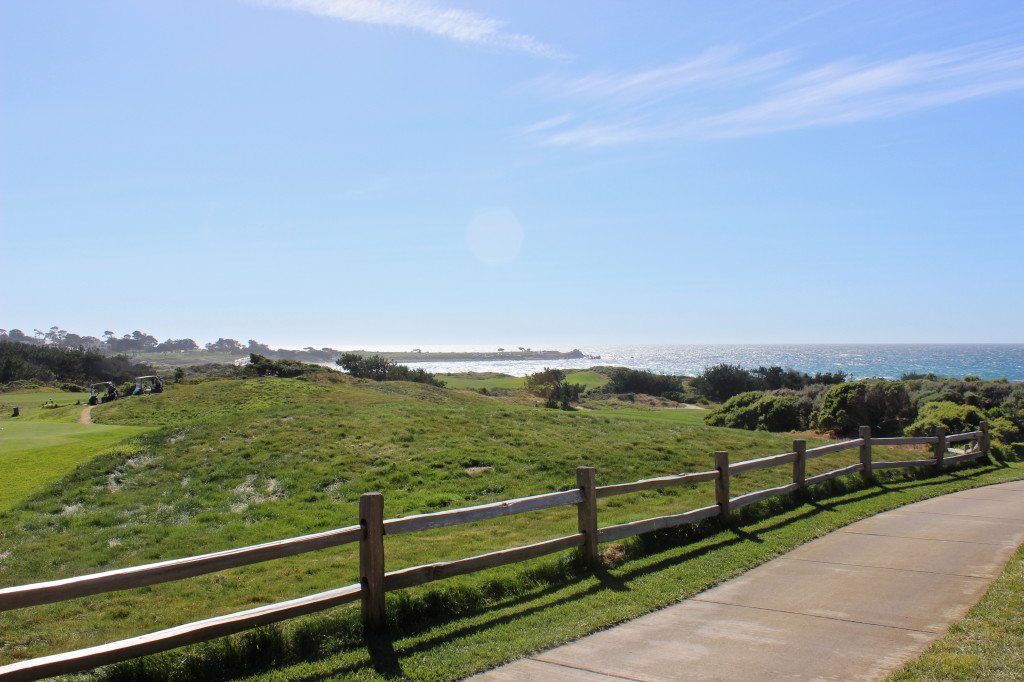 Although every part of Pebble Beach Food & Wine was spectacular, I will attempt to share some of my highlights from the weekend:
1) The Wines of Greece Seminar – Starting bright and early on Friday was my first seminar of the weekend, focusing on the different wines of Greece (which also turned into a helpful lesson in Greek pronunciation!). From an amazingly refreshing Assyrtiko from Santorini to an incredibly interesting Malagousia from western Greece, we tasted through some really great red and white varietals — some of which I had never sampled before. The food pairings were killer, too. Read more here!
2) Krug on the patio – Before heading into another seminar, I ran into my friend Ian Cauble (of SommSelect) who just so happened to be pouring Krug Champagne for his buddies on the patio. Of course I joined in on the action, sipping Krug and talking shop with Krug ambassador, Garth Hodgdon, as well as Greg Harrington of Gramercy Cellars (one of my fav WA producers) and Carlton McCoy of Aspen's The Little Nell. So many Master Somms in one place! Shortly after, I got to sit in on the Sommelier Secrets Blind Tasting seminar with a couple of those guys to hear their secrets for successful blind tasting. There were a lot of hilarious blind tasting stories, high-end wines, education and laughter!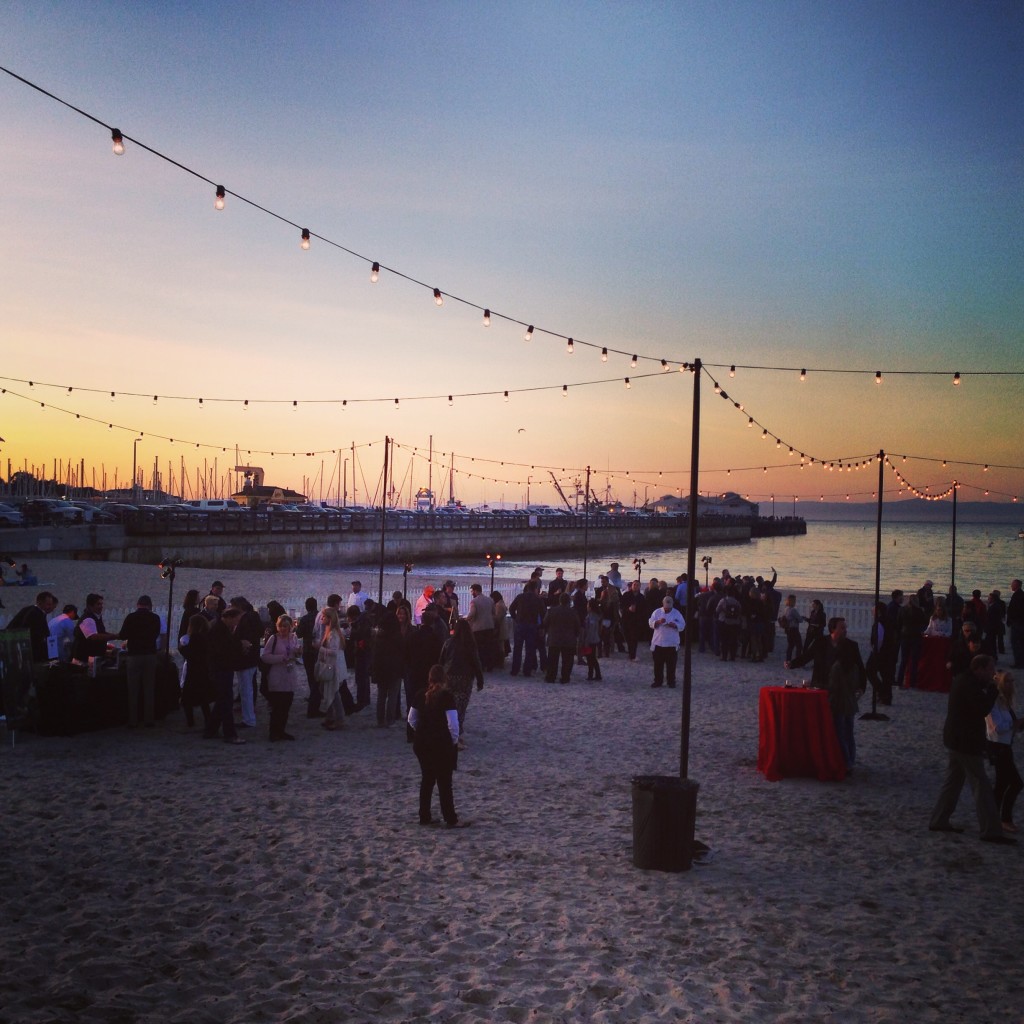 3) Meatopia on the beach – Despite the cold weather, everyone was in good spirits at Josh Ozersky's Meatopia for an evening of meat and more meat roasted over fire pits on the sand. Sorry, vegans, no land or sea creature was left uncooked.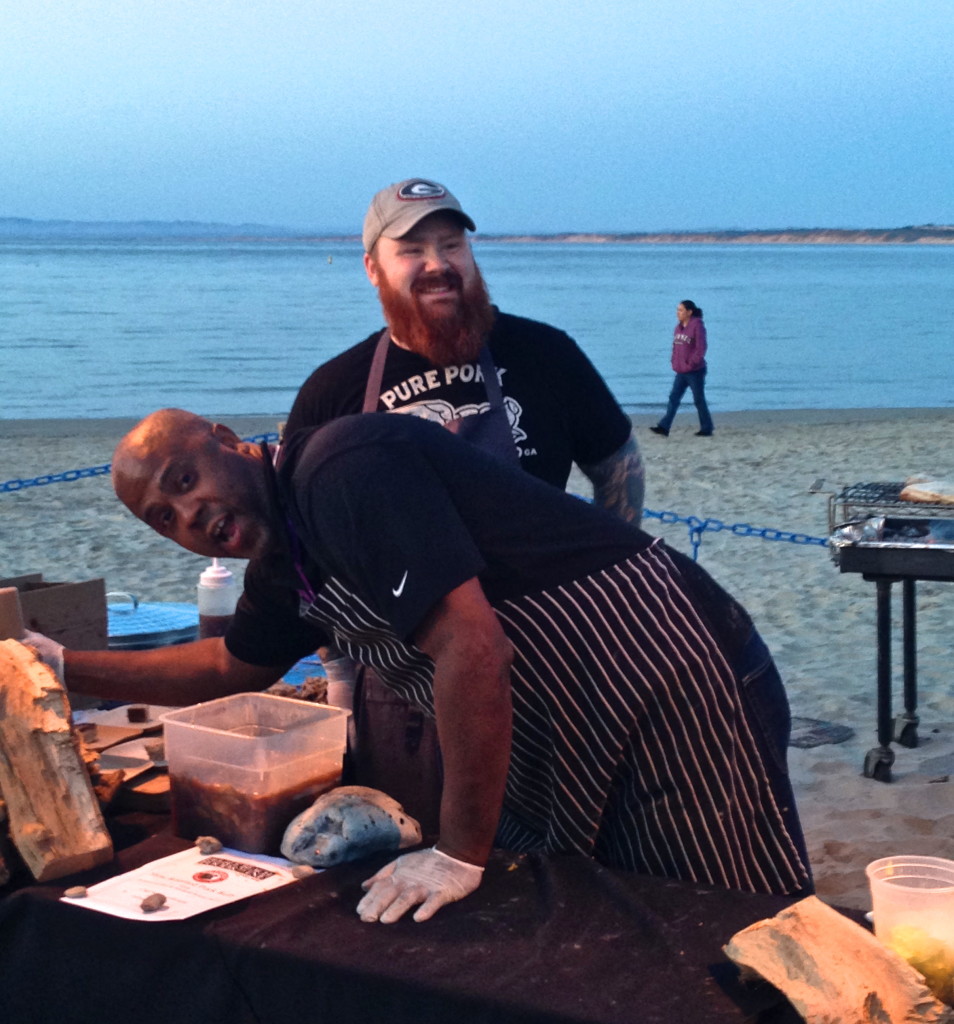 I really enjoyed Top Chef alum Kevin Gillespie's slow roasted pork belly with pickled apples and smoked peanut butter, and Zack Pallacio's spicy Monterey Bay spot prawns were a huge hit. Trust me when I say there was a whole lotta pig roasting going on that night!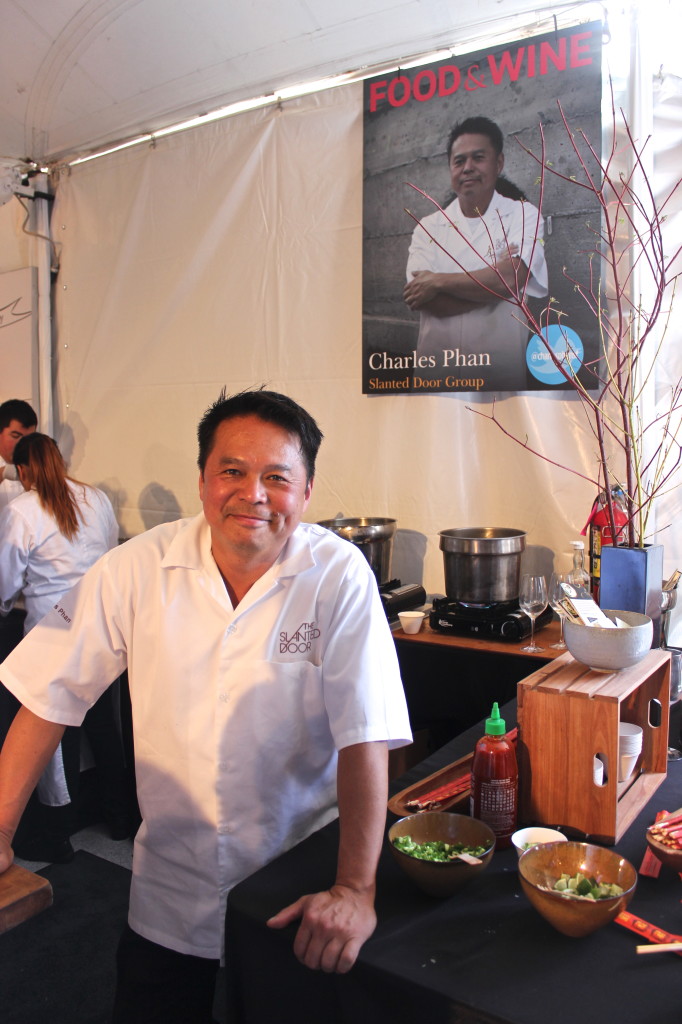 4) Food at the Lexus Grand Tasting – With wines from around the world and some of the most renowned celebrity chefs under one (large) tent, this is an event not to be missed. Some of the food highlights included Charles Phan's (of The Slanted Door) amazingly flavorful pho with bavette steak…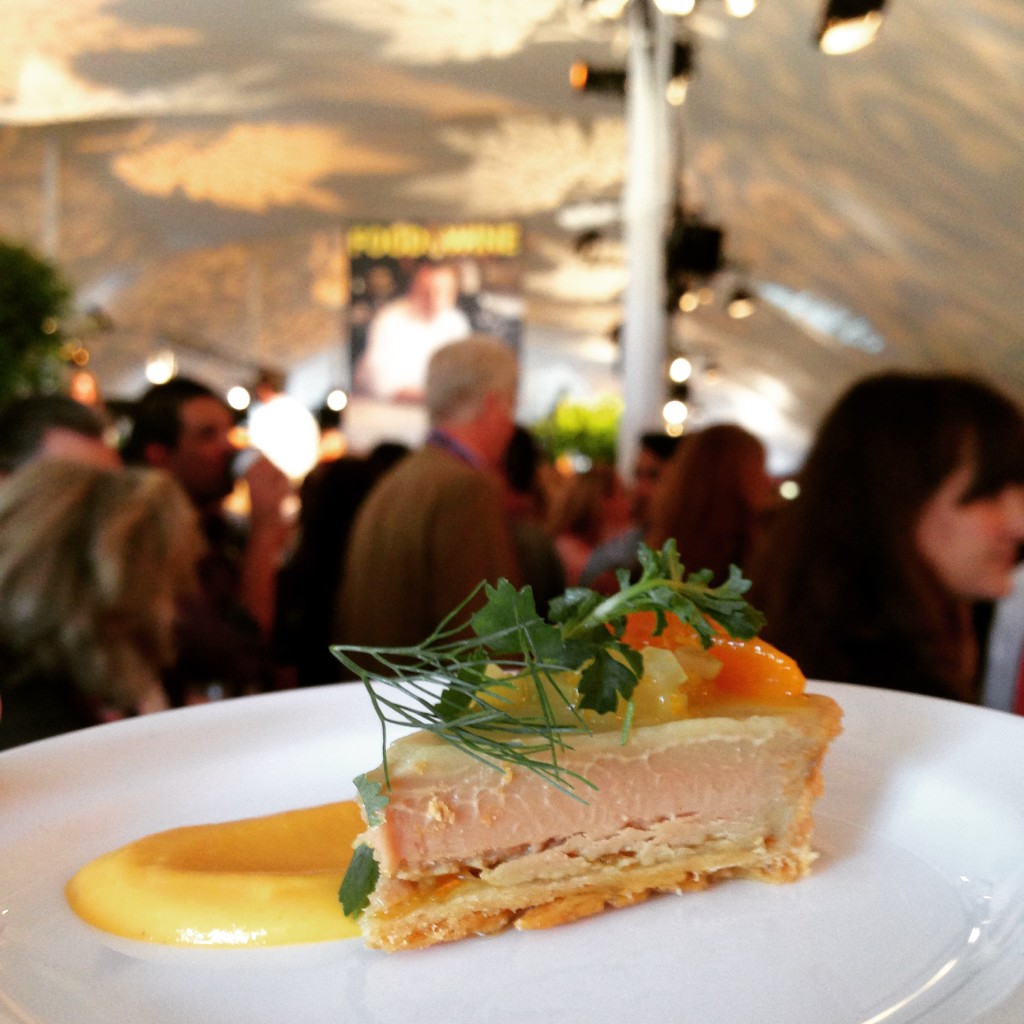 and the tart of Fois Gras & orange from Chef Abram Bissel (of The Modern NYC). Oh my gosh, so good. Speaking of foie gras, it was EVERYWHERE and it was damn tasty in all shapes and forms.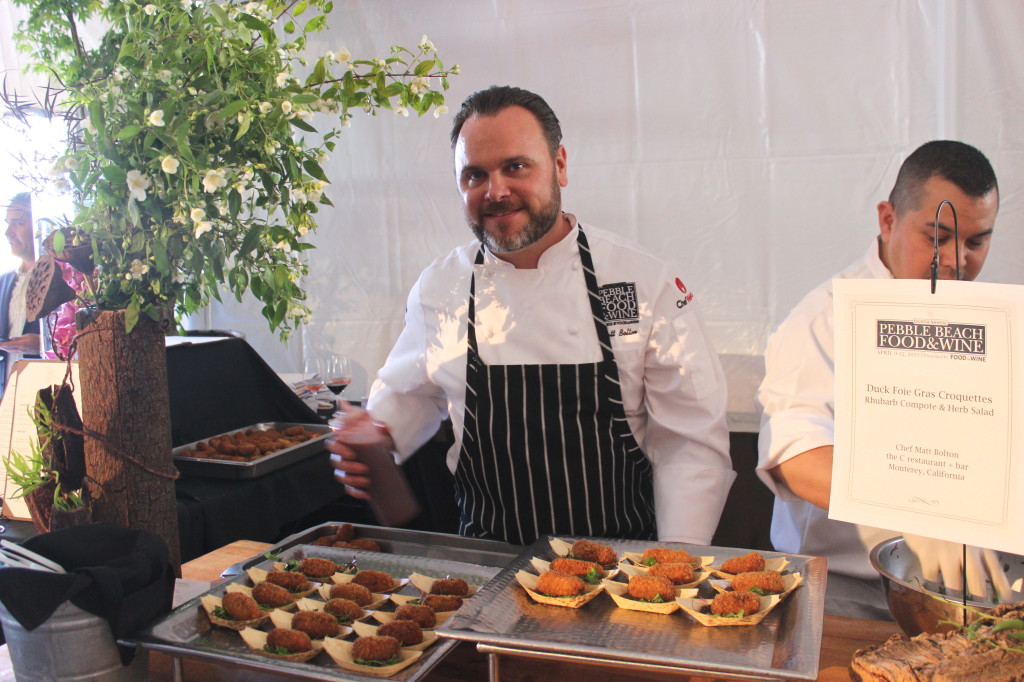 There were foie gras & peanut butter donuts… duck foie gras croquettes with rhubarb compote… even burgers with foie gras aioli! Chef Arron Burns from The Bench Restaurant created foie gras mousse parfaits with red wine sauce and fois gras brownies. I mean… come on! I also really enjoyed Chef Floyd Cardoz's chickpea & quinoa cakes with preserved lemon labne. Quite a welcome change from all the rich fois gras!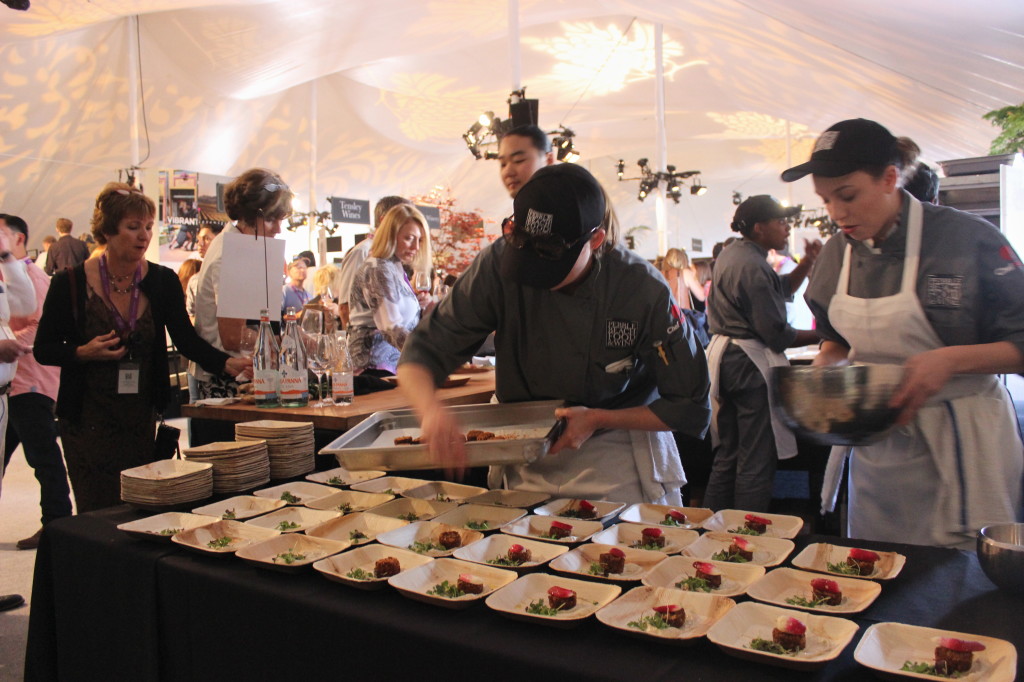 5) Cosmopolitan Las Vegas' Happy Hour at the Fire Pits – Remember my post last year on this fun happy hour? It might not have been as star-studded this year, but it was every bit as chic and wonderful. Hip music, raw oysters from Morro Bay Oyster Co and plenty of bbq'd meat served up by Joe's Stone Crab made it the place to be. It wouldn't be a Pebble Beach happy hour without "bumps" of caviar (this time served with Szechaun button petals) and of course, lots of champagne.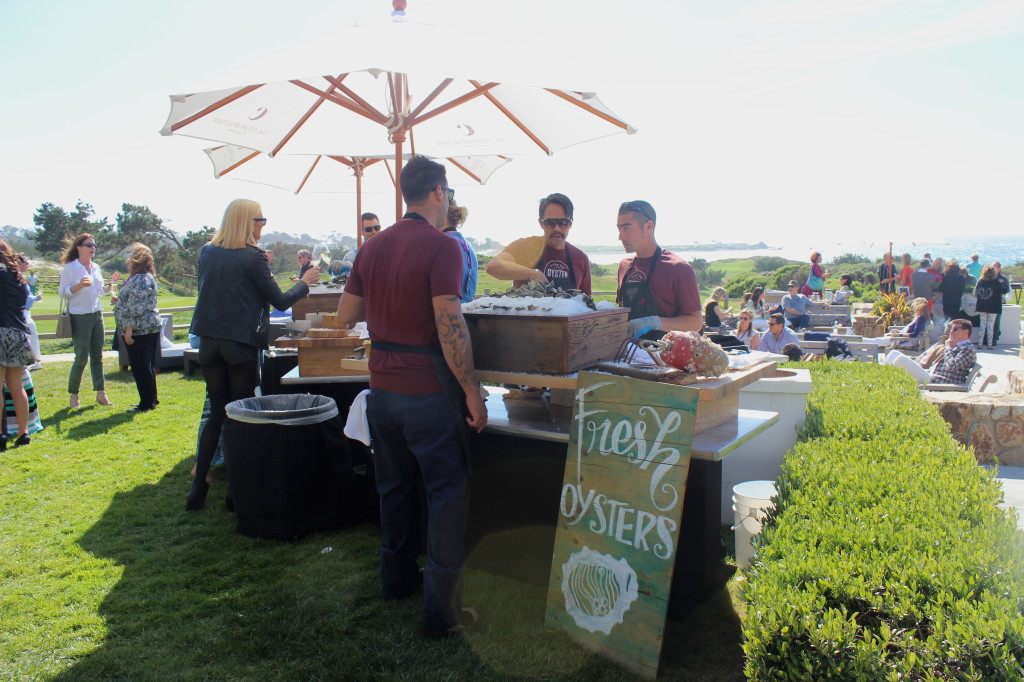 6) Awesome People – Sharing wine with legendary winemakers, hanging out with food bloggers and influential writers, bonding with other somms over bottles and seeing people I haven't seen since last year's event… you can't beat it! PBFW is really so much more than a celebration of good food and wine, it's a great community-builder for people with similar passions.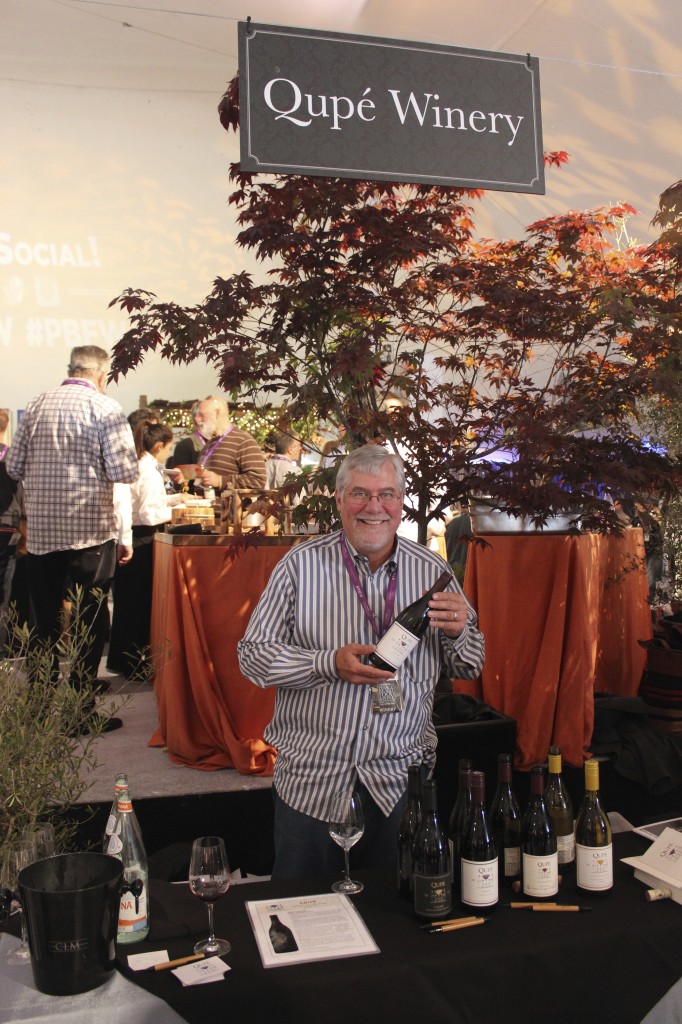 7) The views – When you have a view like this, sunshine, excellent people watching and all the food and drink you could ever want, how can you NOT have a phenomenal time?! Especially when there's a bagpiper involved.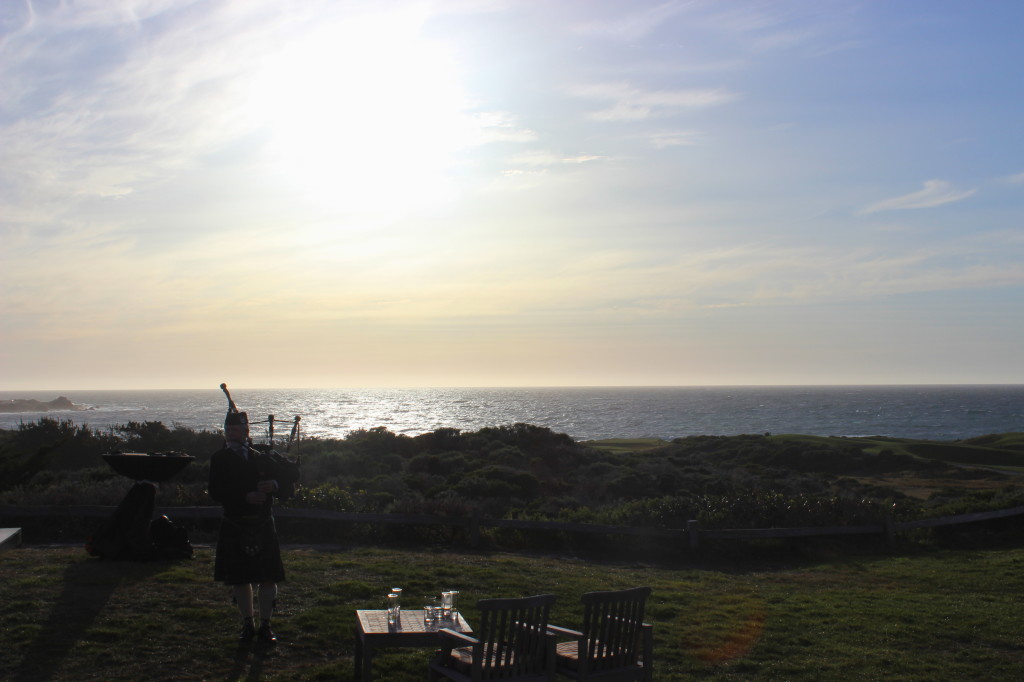 Until next year… Cheers!
Congrats to Coastal Luxury Management, Wagstaff Worldwide, Food & Wine and Seth Kunin for being a part of one of the best wine and food events imaginable. Thanks for all you do!