Nick and I weren't sure our Pebble Beach Food and Wine experience could get any better, yet somehow it did. We ended up going to one of the final dinners of PBFW, called My Last Supper: The Next Course. Sure, chefs have been playing this game for years… what would you eat for your last meal? There's even a book about it called, not surprisingly, My Last Supper. The book is a photo collection of 50 chefs and their food choices, captured by photographer Melanie Dunea, who just so happened to be the MC for our dinner.
It's fun to read about what meal famous chefs would choose as their last supper, but WAY more fun to actually experience it. The line up? Some fantastic chefs like Tyler Florence and Jonathan Waxman making some killer food, all paired with delicious wine from top producers like Far Niente. Sounds fun, doesn't it?
Each chef prepared some appetizers before everyone sat down, which unfortunately we missed because we were running late from our Happy Hour by the fire pits. That was okay, because there was plenty of food to be had… (although I'm still bummed I missed out on Nancy Silverton's Burrata with Caviar and Egg). At our table was a mix of people from Texas, Wisconsin and the Bay Area, like Mika Takeuchi of the blog, Food Fashionista. Fun to meet new people with common interests!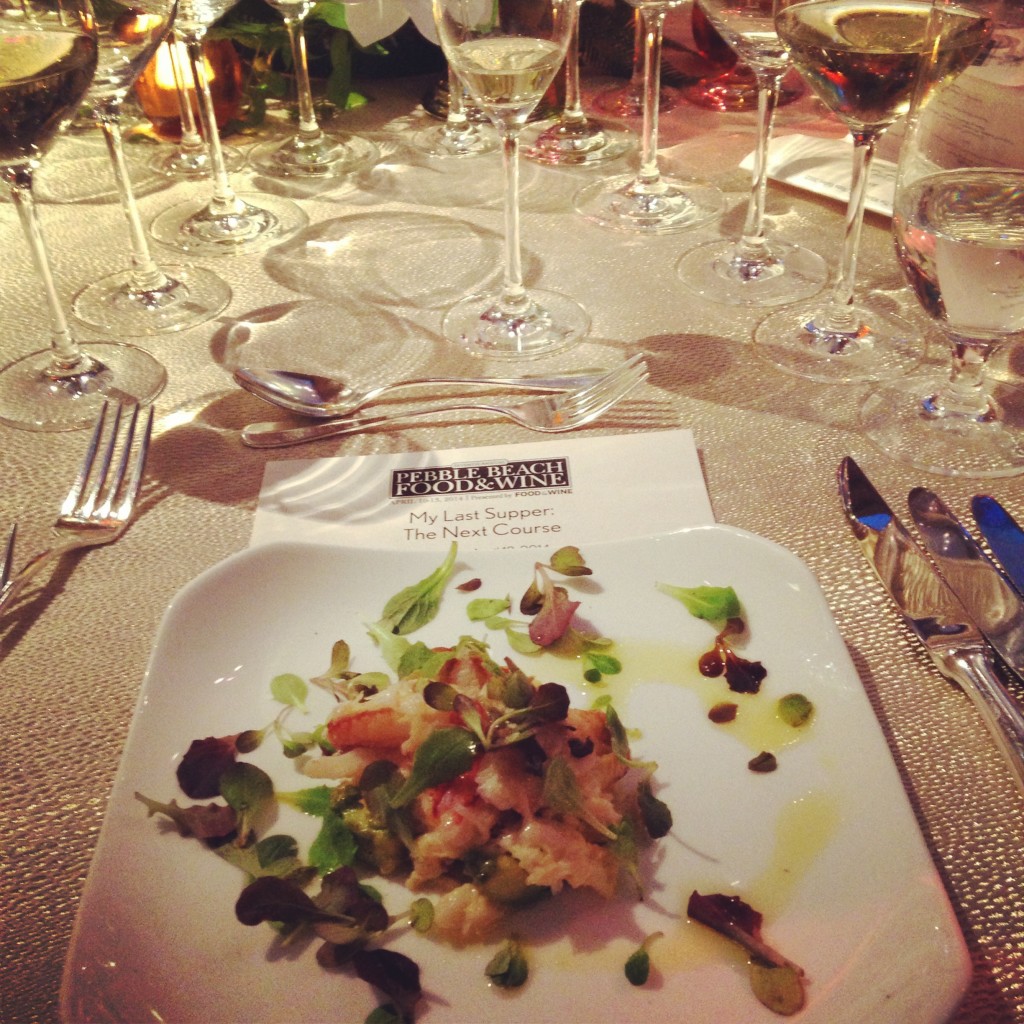 First course: Dungeness Crab Cocktail by Chef Jonathan Waxman. It's beautiful, isn't it? This was paired with the 2012 Arietta, "On The White Keys" from Napa Valley ($65), which is a blend of mostly Sauvignon Blanc with a bit of Semillon. It had grapefruit notes with crisp, citrus flavors and a hint of sea saltiness on the finish that went perfectly with the crab! (Side note: learn a little more about pairing food with wine here).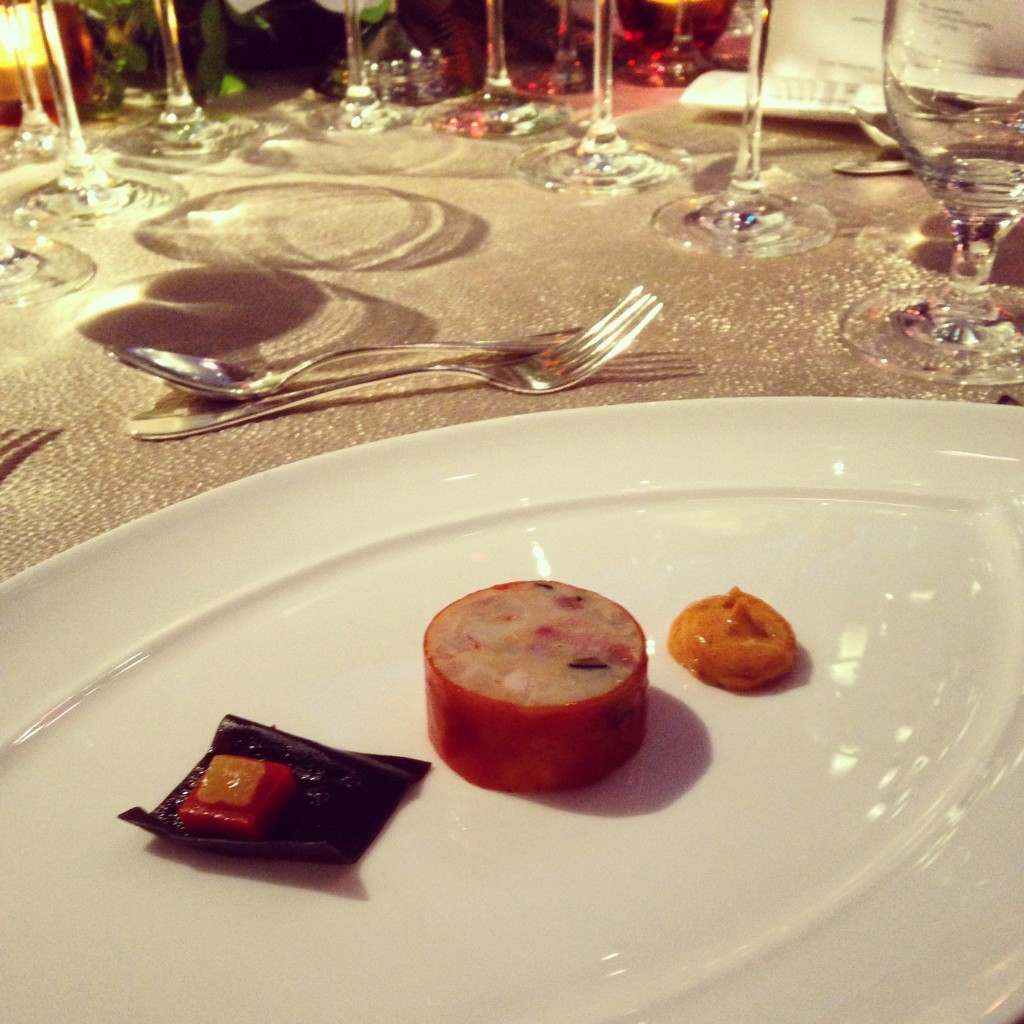 Second course: X.O. Spiral from Chef Paul Liebrandt, paired with Far Niente's 2012 "Estate" Chardonnay ($65). Rarely do I love Chardonnay but this was a lovely wine. It was minerally and clean with a long finish. What is X.O. you're wondering? It's a spicy Asian sauce… The "spiral" on the other hand, I'm not so sure of. I believe it was a mix of pork and shrimp??… It was a little too different for my liking, but I'm always willing to try something out!
Third course: Chef Susur Lee's Coffee and Cinnamon-Marinated Squab Breast, served with apricot mustard, chicken liver paté, a turnip cake and crispy taro. Fans of Top Chef Masters will remember Susur finishing in second place, and I can see why he almost won. This was delicious. The wine it was paired with was also delicious: 2008 Brooks Pinot Noir "Red Letter" ($75) from the Willamette Valley, Oregon. Earthy with a hint of smoke and dark fruit, it was silky with the right amount of tannins.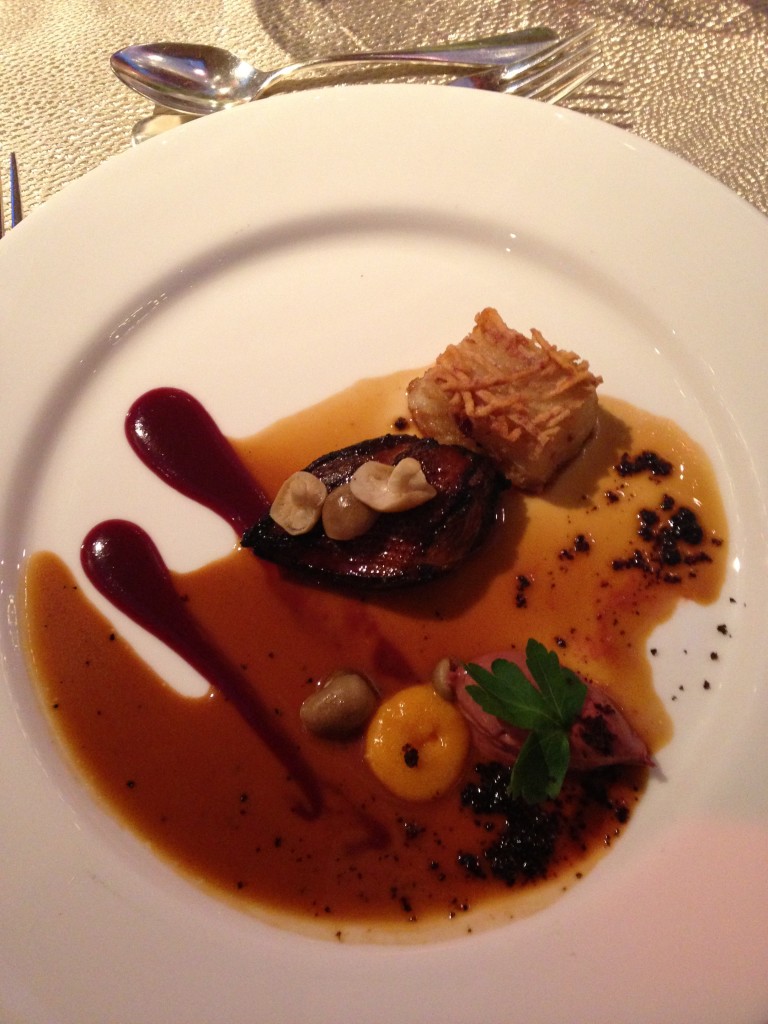 Fourth course: A "Southern Feast" by Tyler Florence. Perfectly tender yet crisp fried chicken (it was how all fried chicken should taste), black eyed peas, creamed collard greens, corn bread and a little pickled beet and cucumber salad. This was paired with 2011 Trefethen "Dragon's Tooth" Napa Valley wine. I'm always a big fan of Trefethen's wine, and this one didn't disappoint… it was tasty and hearty enough to stand up to the rich flavors in Tyler Florence's feast. It was also fun to meet Tyler Florence, so Nick could tell him in person, "that was the best fried chicken I've ever had!" High five!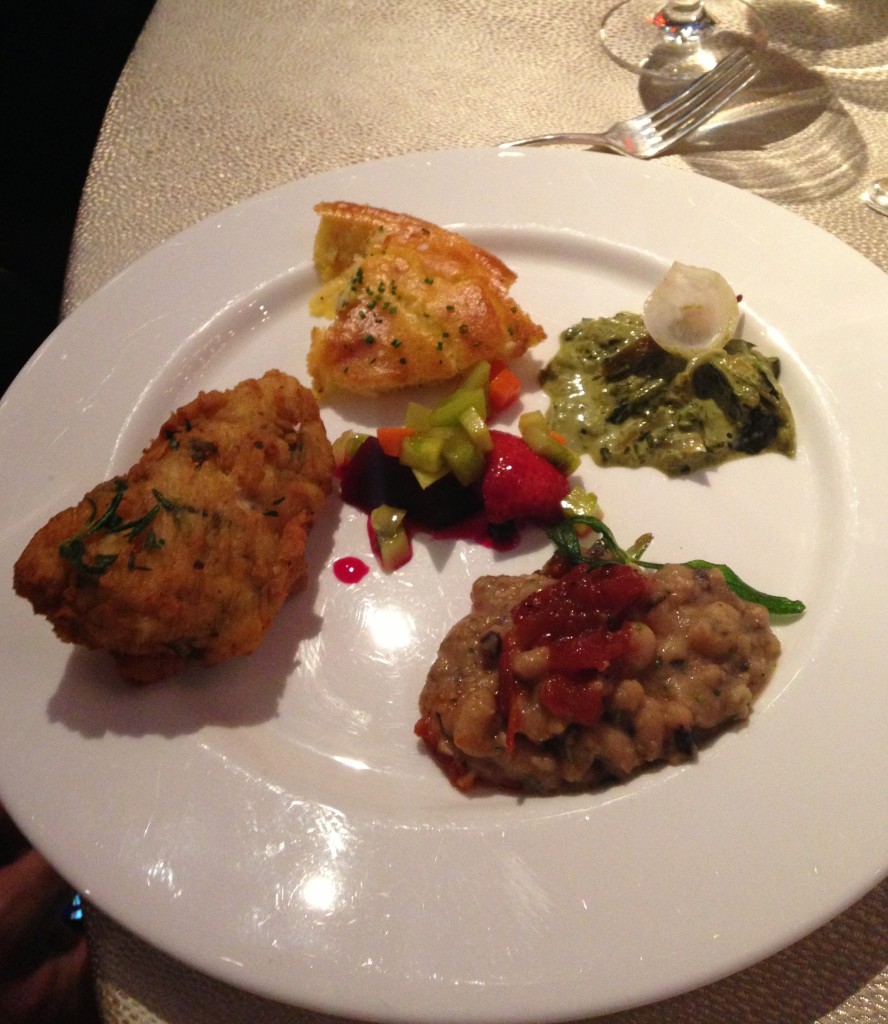 Fifth course: Almond Cornetto with Yogurt Gelato and Rhubarb & Strawberry Compote by Nancy Silverton. I'm a huge fan of her restaurant, Mozza, but I had never had one of her desserts. After such a rich meal with a million different flavors, her dish was the right mix of tart, sweet and refreshing. Little known fact: I'm slightly allergic to Rhubarb (random, I know), but a few bites wasn't going to hurt… it was worth it. :) This was paired with the late-harvest 2007 Dolce from Napa Valley, otherwise known as liquid gold. Good, but the dessert was what I was after.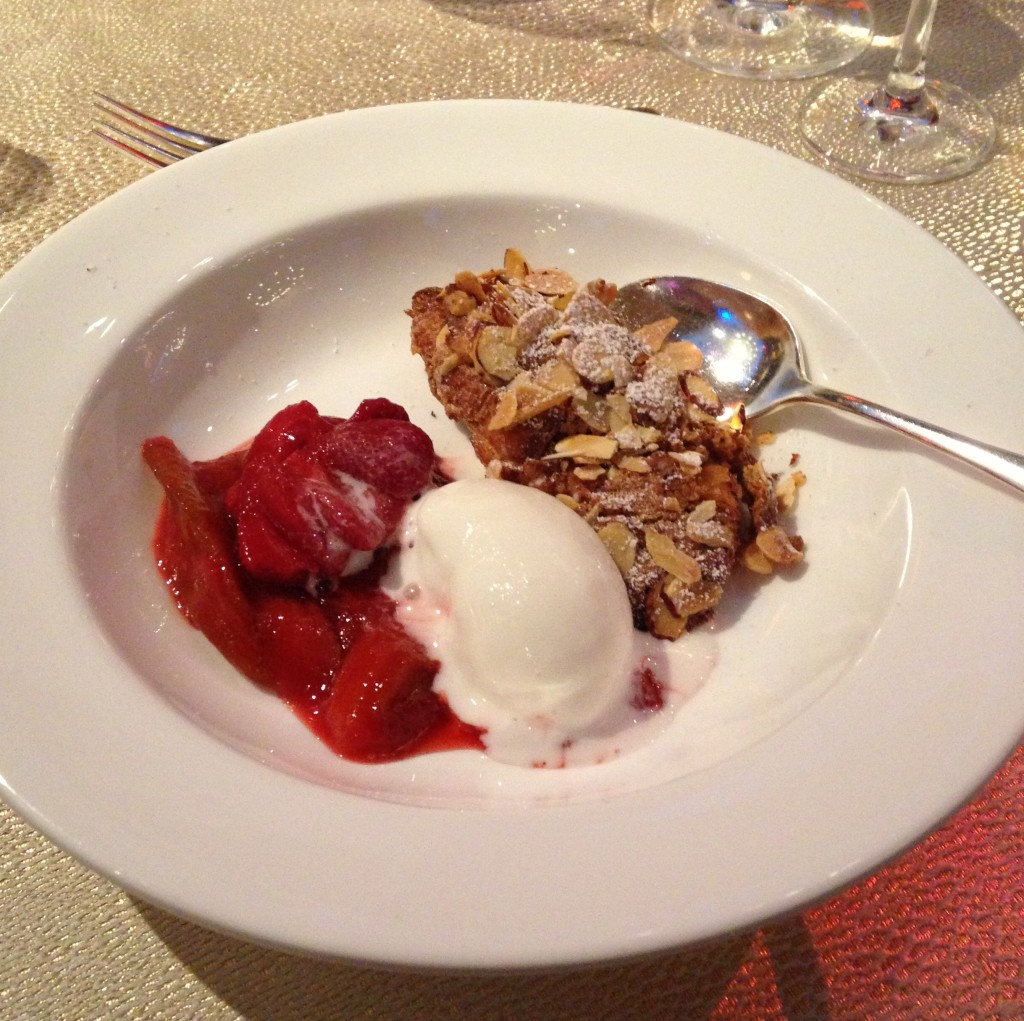 With full bellies and satisfied palates, we headed to the official After Hours Party at the Inn at Spanish Bay. There were DJs playing fun music and plenty of drinks to be had – quite a nice event! We didn't stay long because our friend Ian Cauble of SommSelect (you may remember him as one of the stars of the movie Somm) grabbed us to join him at the "after-after party" at a mansion in the hills of Carmel. It was beautiful, not to mention crowded, with all the top chefs, somms, winemakers and restauranteurs in attendance.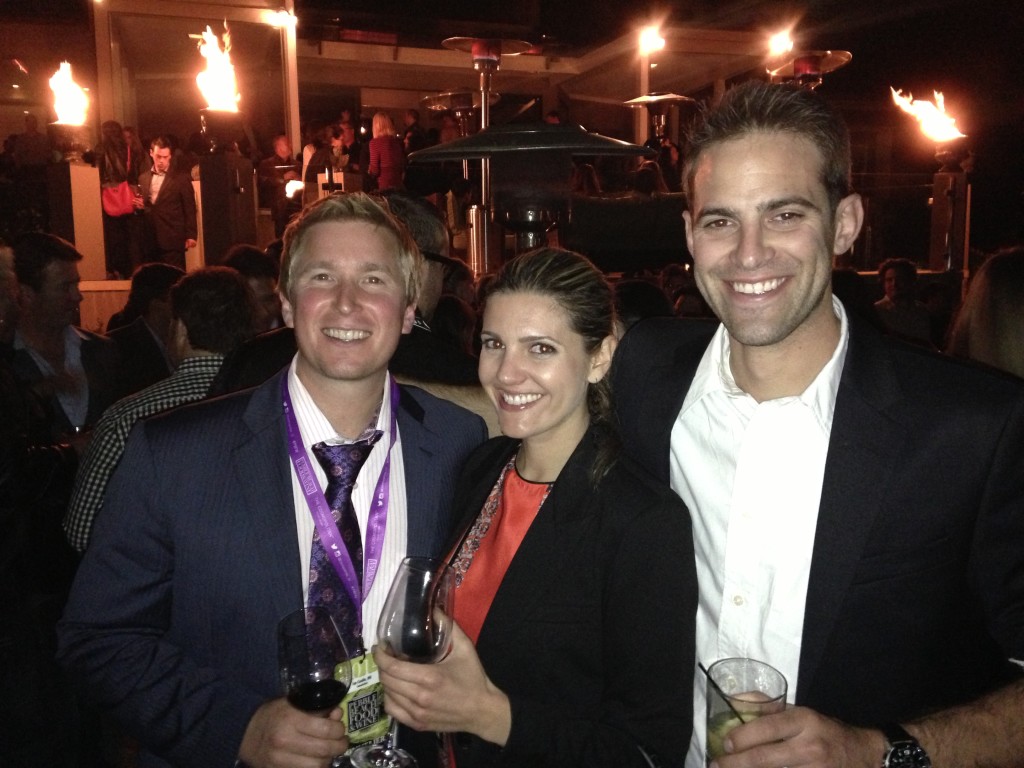 We met Chefs Susur Lee and Guy Fieri, tasted wine with Rajat Parr (of RN74 and Sandhi Wines) and DLynn Proctor (from the movie Somm), and ate and drank till the wee hours… A highlight from the weekend was the wine that Raj shared with me: 1998 Jean-Michel Gerin "La Landonne" Côte Rôtie. WOW. This 100% Syrah was amazing… perfectly aged with balanced spice, dark fruit and earth, and lots of elegance on the super lengthy finish. Pretty label, too.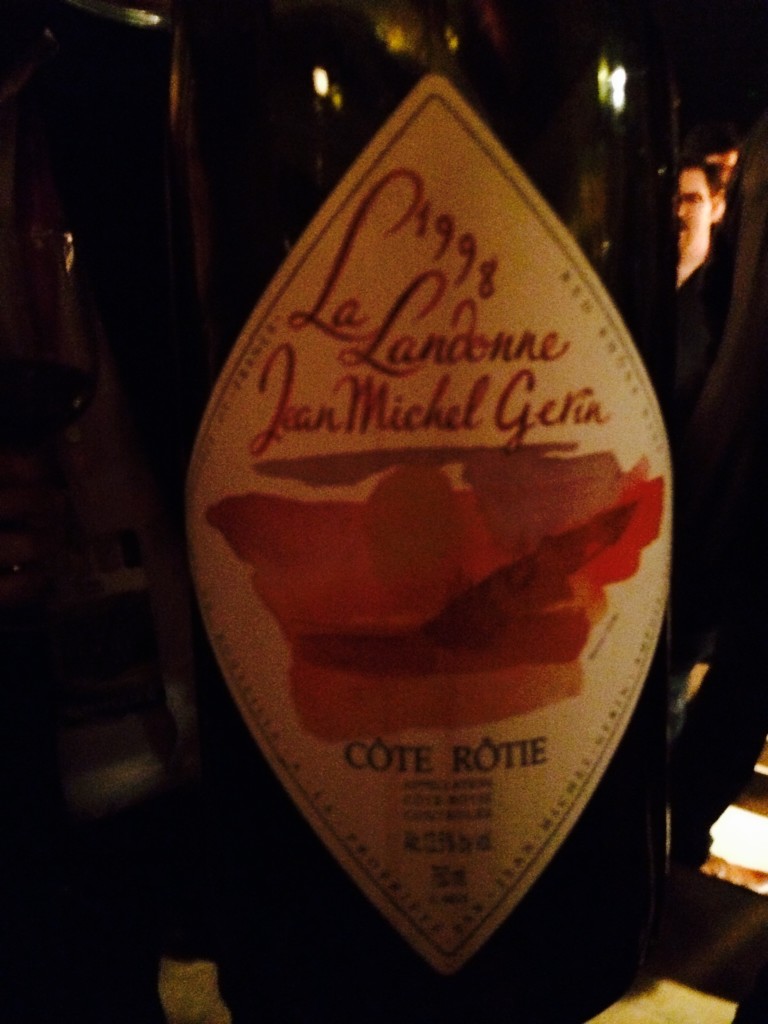 Dream wine. Dream weekend. Cheers, everyone!