Happy New Year! Now that the craziness of the holidays is over, I can get back to writing more regular posts about my favorite topic – wine! Sorry for the lack of updates – blog neglect… totally guilty.
Since it's a new year, I thought I'd start a new series where I pick a wine varietal (obscure to maybe not so obscure) to feature each month, explaining a little bit about the typical characteristics and highlighting a few good options in a variety of price ranges. So, for this month, I'm going to feature a wine that many have seen, but maybe aren't as familiar with: Viognier (vee-oh-nyay). Or, as I like to call it, the rich, aromatic, and less-oaky alternative to Chardonnay! When I want a white with a nice amount of body and creaminess, but without the extreme oak and buttery characteristics that many Chardonnays come with, I reach for a Viognier. It's a good choice for all my ABC winos out there (Anything But Chardonnay), but even Chardonnay drinkers can appreciate it.
Viognier typically has vibrant aromas of peaches, apricots and tropical fruit, with a rich and rounded texture. Originally from the northern Rhône region of France, where it's known as Condrieu and can be more on the lean and crisp side (and more expensive), it's definitely becoming more widely planted throughout the world. In the US and Australia especially, it's more lush and full bodied, with a nice backbone of acidity. Although it can be hard to grow, and ripens late, more and more winemakers are drawn to it… perhaps they like a challenge!?
One of my favorite things about Viognier, is how well it pairs with different types of food. It's a perfect match for rich seafood (scallops, crab) and especially good with creamy sauces. It also works well with cheese, fruit sauces, pork, ham, and spicy foods, like Thai or Chinese. To me, it's an obvious choice for Thanksgiving dinner or to pair with a creamy crab chowder like below.
I recently tried a few decent, reasonably priced bottles of Viognier that are worth seeking out. First, the 2012 Bonterra Mendocino Viognier ($13) which had great floral aromas and stone fruit flavors with a hint of spice. The winery was actually one of the first in CA to make organic wines, and they're now a fully bio-dynamic wine facility. That's a bonus, sure, but I'm more excited about the lovely taste, texture and price tag of this wine. Seriously, go buy a bottle!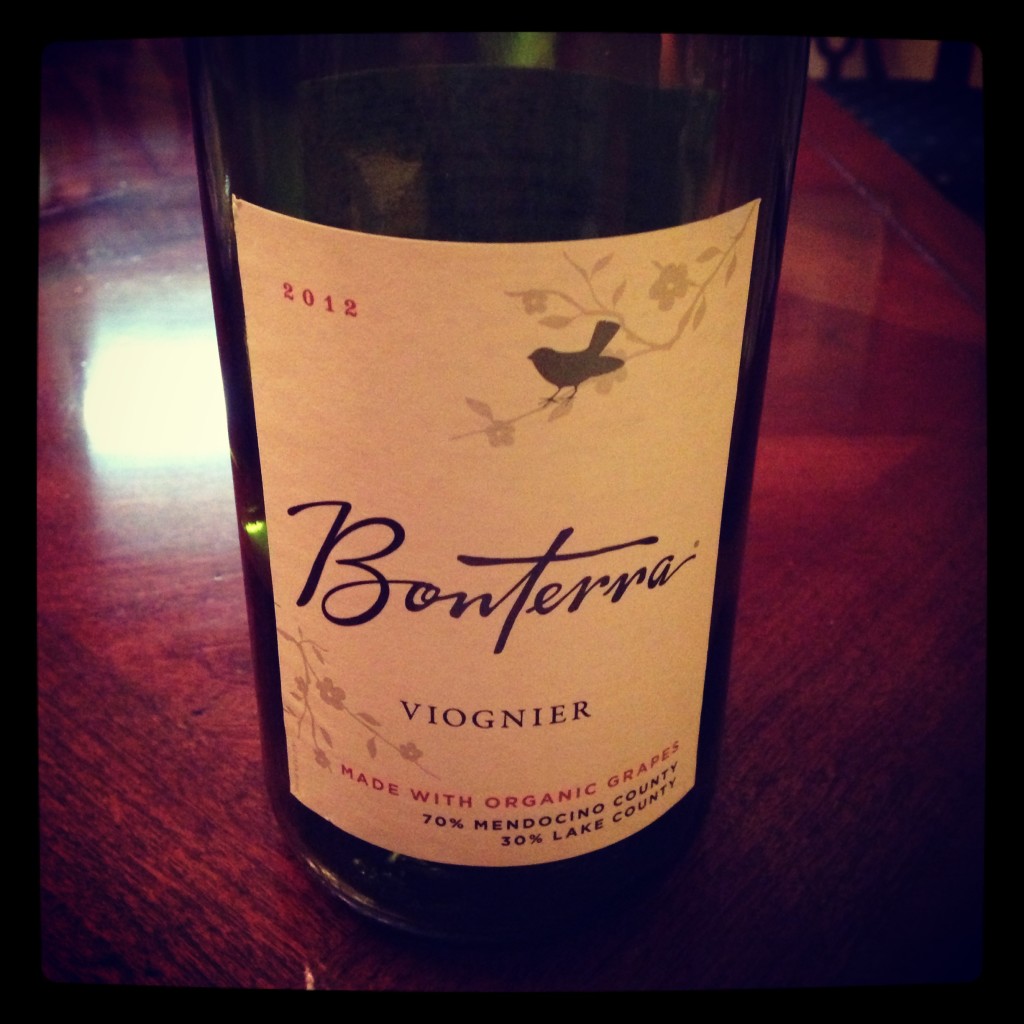 Next, an easy to find Viognier from a well-known CA producer, the 2012 Cline North Coast Viognier ($12). Take a sniff and smell the peaches! White peaches, apricots, and a hint of cream to be exact. The palate is slightly sweet with orange and apricot flavors and a hint of oak. Although there is a touch of fruit sweetness, which is sometimes characteristic of Viognier, don't be put off by that because I think this would be a great option with a spicy curry or stir fry. Remember, the sweetness and body of this wine can help cut down on some of the spice (coats the mouth like milk would), balancing out the wine AND the spice. But yeah, sometimes Viognier can taste like peach juice, so the trick is to find a well balanced wine or pair with the right foods.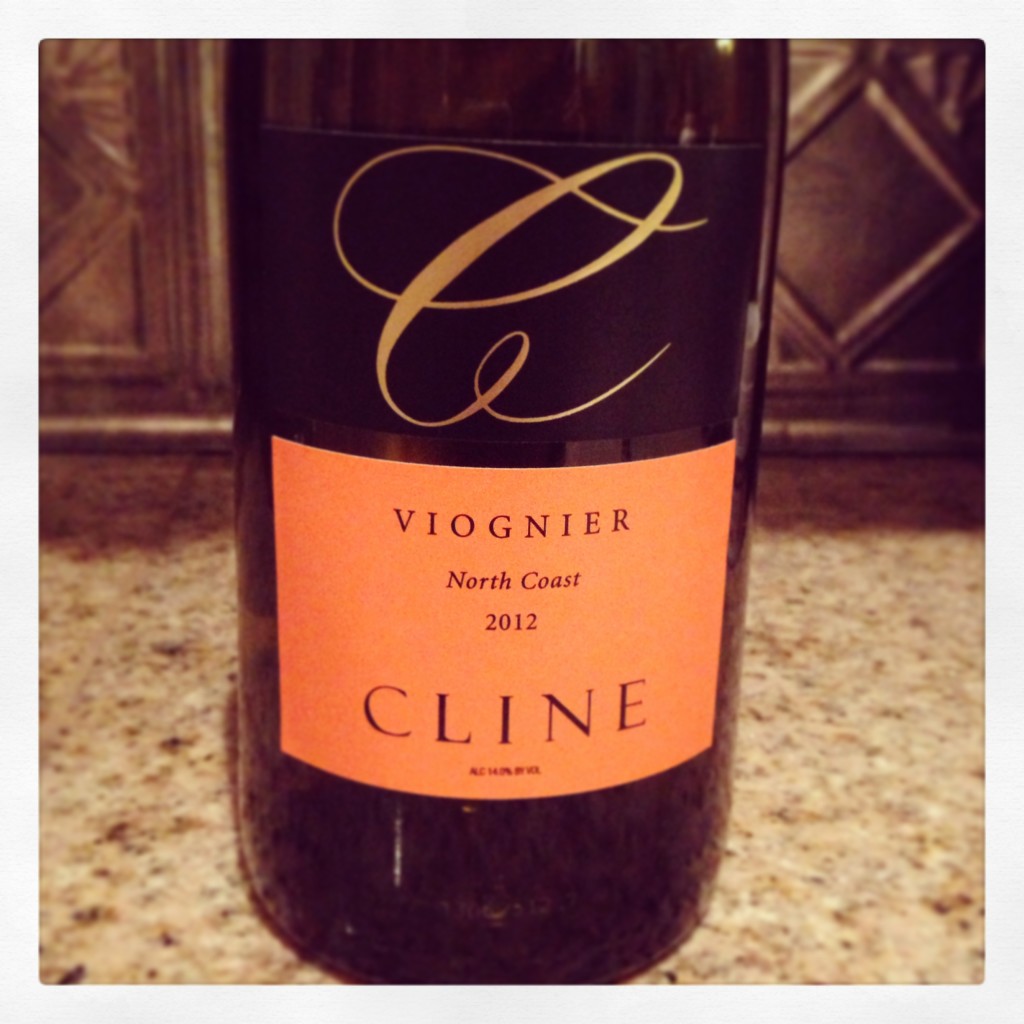 Bottom line, if you like the body of Chardonnay, but don't want all the overpowering oak, then try Viognier. It's very easy to find, and it's a good choice for winter or summer, Thai food or turkey. Up next, a few options in the $20-$30 range… Cheers, friends!
**Wine Notes**
Producer: Bonterra
Region: (70%) Mendocino County, (30%) Lake County
Vintage: 2012
Alcohol: 13.9%
Price Point: $13-16
Other: spends 6 months in oak and the rest of the time in stainless steel
Producer: Cline
Region: North Coast, CA (Sonoma and Carneros)
Vintage: 2012
Alcohol: 14%
Price Point: $13-14
Other: ferments in stainless steel and neutral oak barrels
Fun Fact: Viognier, because it is so aromatic, is sometimes co-fermented with red wines, like Syrah as in Côtie-Rôtie, to enhance the nose and/or add texture and color.