To keep the momentum of our newly engaged bliss going strong, Nick and I headed to Sonoma / Napa for 3 days this past weekend to taste some vino and enjoy the beauty of wine country. I mean, why not? Now, we all know there are A TON of wineries in Napa and Sonoma. It's overwhelming, really. Even though I've been to the area over a dozen times, I still feel like there's never enough time to get to all the places I want to. This time around, though, instead of packing in too many wineries and restaurants, we tried a more relaxed approach and took our time. First stop? Scribe Winery in Sonoma.
If you've never heard of this place, listen up. Scribe Winery is just plain cool. The vibe is intimate and chill yet hip (you won't find a giant sterile tasting room here). Brothers Adam and Andrew Mariani, the owners and winemakers, bought the property just outside of downtown Sonoma several years ago. An old turkey farm left abandoned, it was a broken-down piece of land completely overrun with weeds and dilapidated sheds. After a lot of work renovating and replanting, the winery opened its doors in 2009 (officially in 2011) and has grown in popularity ever since.
Thinking of themselves as farmers more than winemakers (they actually grew up on a farm and come from a family of farmers), they've set out to recreate the tasting experience in California and I totally get the appeal. The tastings take place on picnic tables amongst beautiful oak trees on a hill overlooking the valley below. It's informal, relaxed and draws a younger, more hip clientele to hang out and take in the view.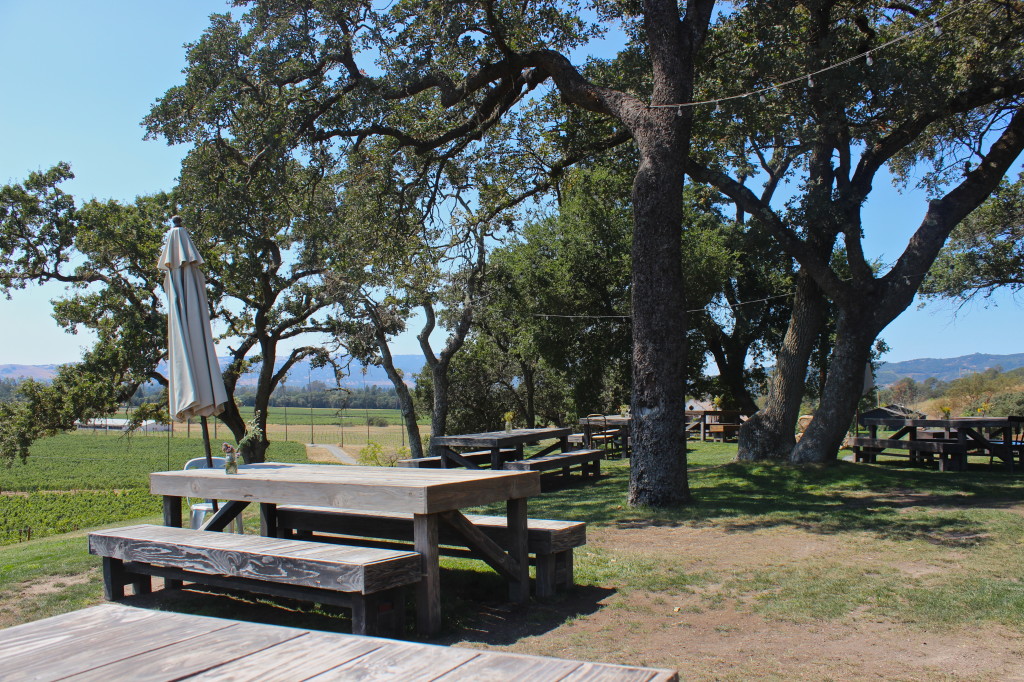 To start our tasting, Trey (whom I met at Pebble Beach Food & Wine) sat down with us to walk us through the wines. We first started with the 2012 Scribe Riesling ($38), which had nice honeysuckle and white peach nectar aromas. Very dry, the wine had beautiful fruit on the palate and nice acidity. Great for summer food pairings! Next, we tasted two different Chardonnays. The first, 100% stainless steel 2012 Scribe Chardonnay ($45), which had notes of apple blossom and quince. An unoaked, non-buttery Chard – yay – that was pretty well balanced.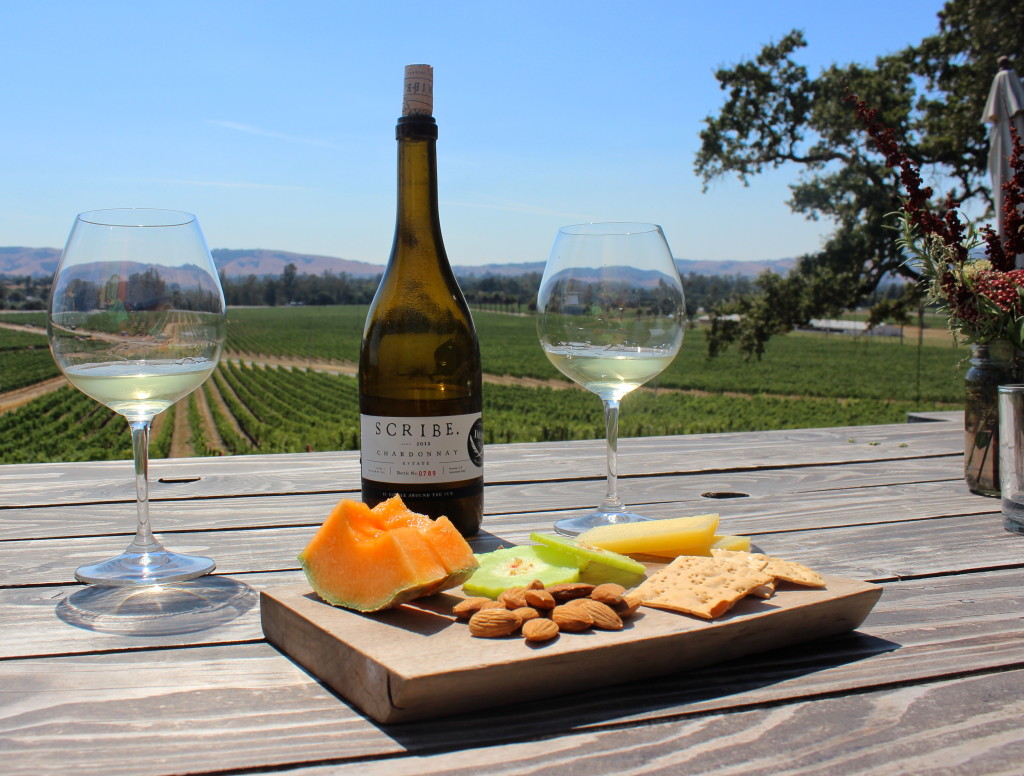 The second was the 2013 Scribe Skin Fermented Chardonnay ($38), which had skin contact for 3 months then was aged in neutral oak. Big on pineapple and tropical fruits, the wine had a nice lingering finish. We really enjoyed the 2013 Scribe Pinot Noir Carneros ($42), which was made from grapes that came from 28-year old vines. It had well-integrated spice, earth and fruit on the palate. Smooth and easy drinking.
I loved how the tasting was done outside in a down-to-earth setting, paired with good music and fruits/veggies that were grown onsite in the garden. The Armenian cucumbers with sea salt and chile flakes were literally picked fresh that morning. Now that's some real farm-to-picnic table pairing! Thanks for the great day, Trey!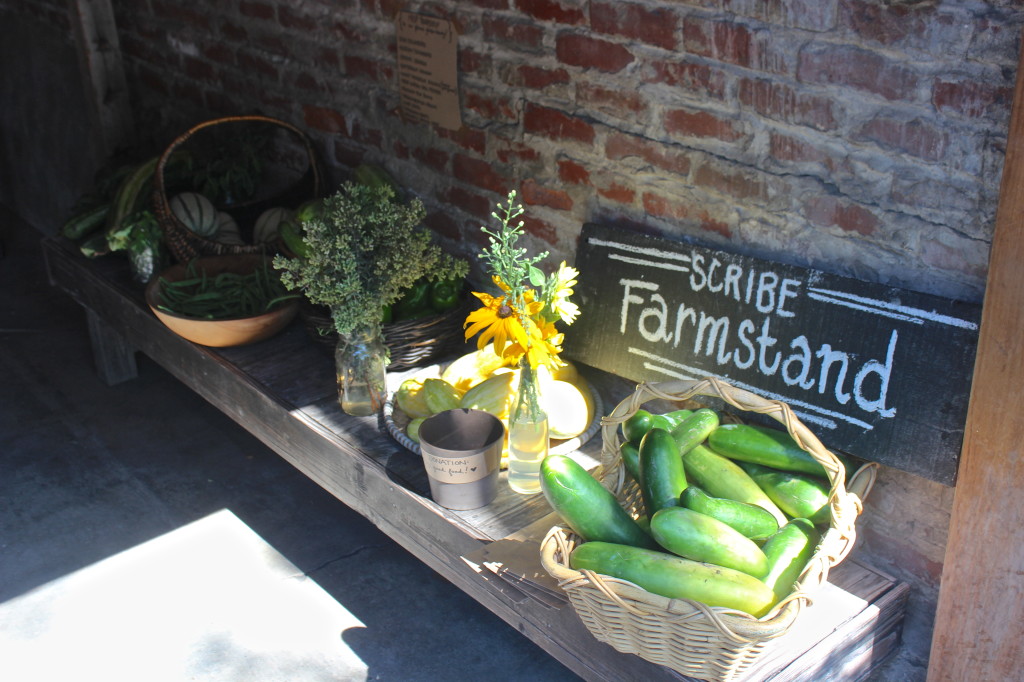 *Winery Notes*
Open: Daily, by appointment only
Tasting Fee: $25 for 4 wines and fruit/cheese plate
Phone: 707-939-1858
Location: 2300 Napa Road – Sonoma, CA
Fun Fact: There's a 100-year old Hacienda on the property that's being restored and renovated, which will eventually be a cool place for club members and events. Originally the site of the property owner's home in the 1800s, the existing hacienda was established in its place after the original burned down. During the Prohibition era, it became a bootlegger's hideaway, actually becoming a popular speakeasy and brothel drawing in men from all over the area. A little history lesson for ya!