You know the saying, "Every bottle tells a story." It may be a cheesy phrase found on wall décor and tea towels, but it's actually true! There are so many stories behind every wine label — where the grapes came from, the meaning behind a label, the winemaker's journey into wine… etc. Heck, they even made a movie about the stories behind wine. It's no different for Story of Soil, the small label started by winemaker Jessica Gasca and her husband, Brady Fiechter. 'Story' is even in the name. Given the recent opening of their tasting room in downtown Los Olivos, now's the time to dive into the story of Story of Soil!

THE HISTORY
Born and raised in Southern California, Jessica Gasca was on the path to pursuing her Master's Degree to become a therapist before a short stint working in New York City shifted her focus. There, she was working as a bartender at a French restaurant when she started attending the sommelier's weekly wine tastings. Although she wasn't a wine drinker, she soon found herself attending every tasting, growing fascinated by everything that goes into making wine.
When Jessica moved back to California in 2009, she felt drawn to the wine industry despite not knowing much about it. Leaving behind her dreams of furthering her education, she moved to Santa Barbara County to take a role as a harvest intern. From getting up early to work in the soil to understanding how picking grapes at different times can affect the character of a wine, it wasn't long before she fell in love.
Following this newfound passion, Jessica took a job at Sanguis to assist with winemaking. A small operation, she also got to help with the sales and hospitality, giving her an inside look into the wine business as a whole.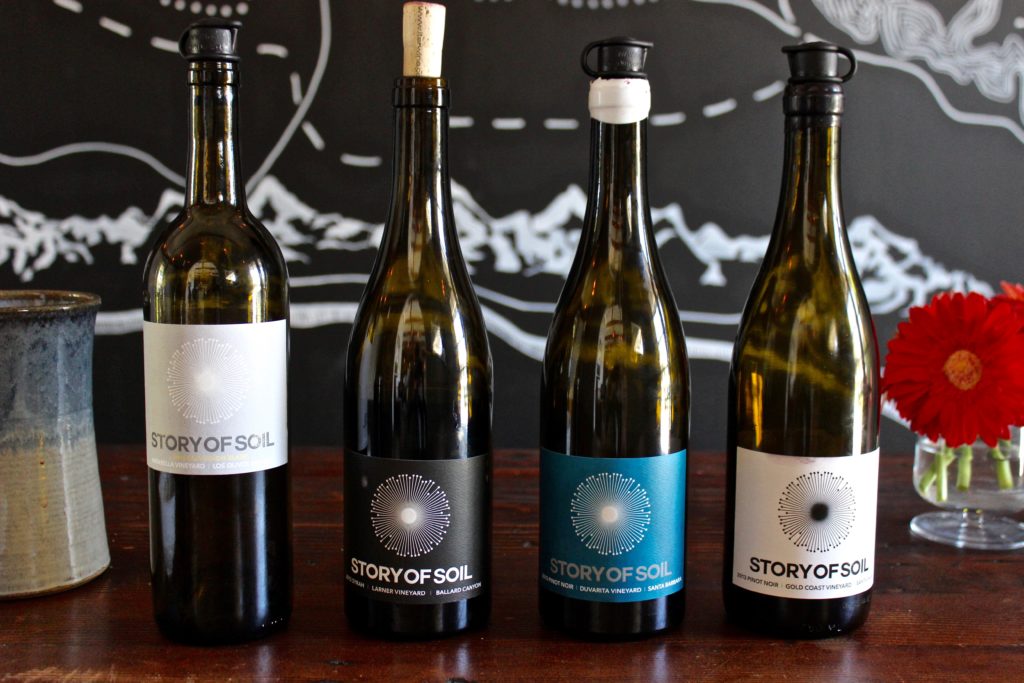 STORY OF SOIL
Inspired to try her hand at winemaking on the side, in 2012 she produced her first vintage of wine. She started out with just a few cases of Pinot Noir and Syrah, sourcing fruit from the Santa Maria and Ballard Canyon AVAs. Today, Jessica produces around 1,000 cases for her personal label while working in sales/hospitality for Dragonette Cellars. Busy girl! Using grapes she sources from highly regarded vineyards throughout Santa Barbara, Story of Soil focuses on single-vineyard, varietal-specific bottlings for 8 different wines. Her goal is to craft wine that highlights a specific site (you know, to show the story of the soil…) while showcasing the different nuances of a particular varietal.
In addition to Syrah and Pinot, she's since added Sauvignon Blanc and Grenache to the portfolio, about 50-200 cases of each.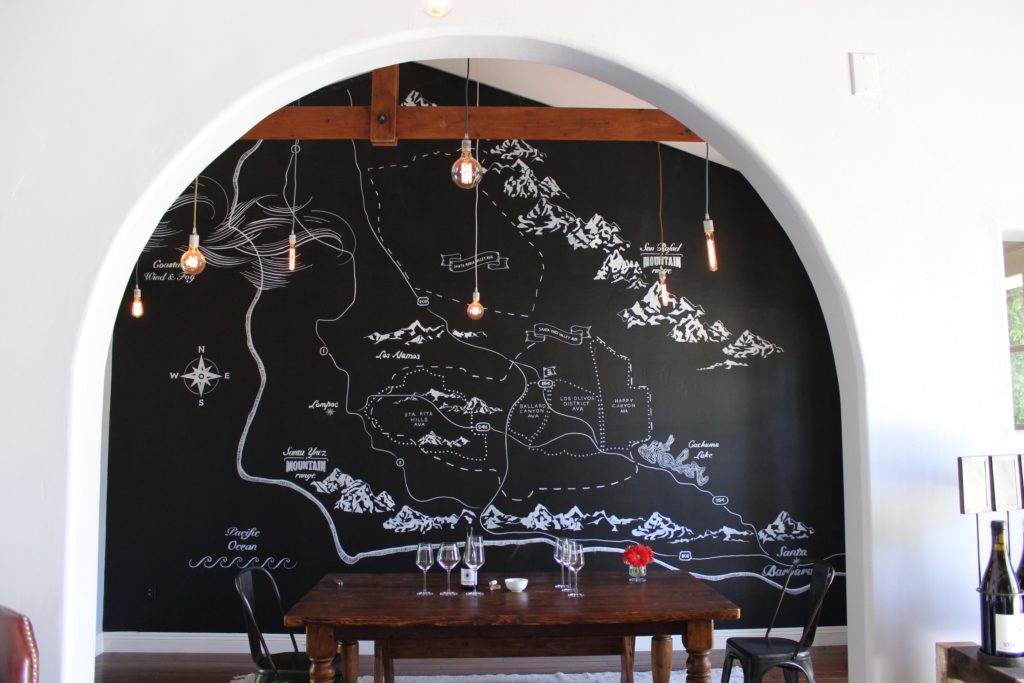 THE WINE
I sat down with Jessica to taste through her wines and learn more about her winemaking style. I first tried the 2016 Story of Soil Mirabella Vineyard Sauvignon Blanc ($32), with grapes sourced from the new Los Olivos AVA. About 6 months in neutral oak with lees aging adds complex layers to the texture, while the bright acidity and tropical notes finish it off with mouthwatering freshness. 

I particularly enjoyed the 2015 Story of Soil Duvarita Vineyard Pinot Noir ($60), with its appealing notes of red fruit and minerals. It's got a lean, savory finish that hints at the sandy loam soils of this particular vineyard, while 18 months spent in neutral oak adds to the overall complexity. The 2013 Story of Soil Larner Vineyard Syrah ($42) was barrel aged as well – about 34 months. With savory notes of black pepper and game, bright hints of blue fruit round out the powerful yet approachable mouthfeel.
Jessica says that she tends to produce wines that are more delicate in style without heavy extraction or the use of new oak, which is evident in her lean and inviting wines. When asked what her winemaking philosophy is, she says it's a more intuitive than technical process for her. Obviously following her intuition led her to winemaking, so she's clearly on to something.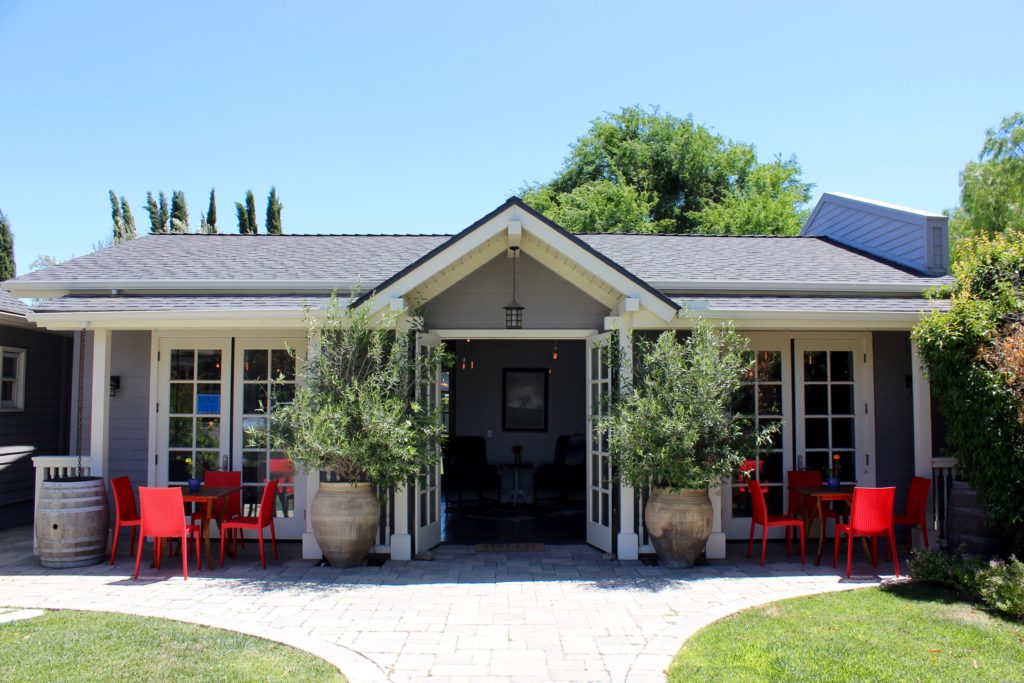 THE TASTING ROOM
Now part of the story is the brand new tasting room that Jessica and Brady opened in May. When a friend offered them dibs on the space, they jumped at the opportunity despite tricky timing… But now, Story of Soil has a permanent home in downtown Los Olivos where guests can taste the line-up of wines (poured by Jessica and Brady themselves) and enjoy the laid back vibes of this tiny town.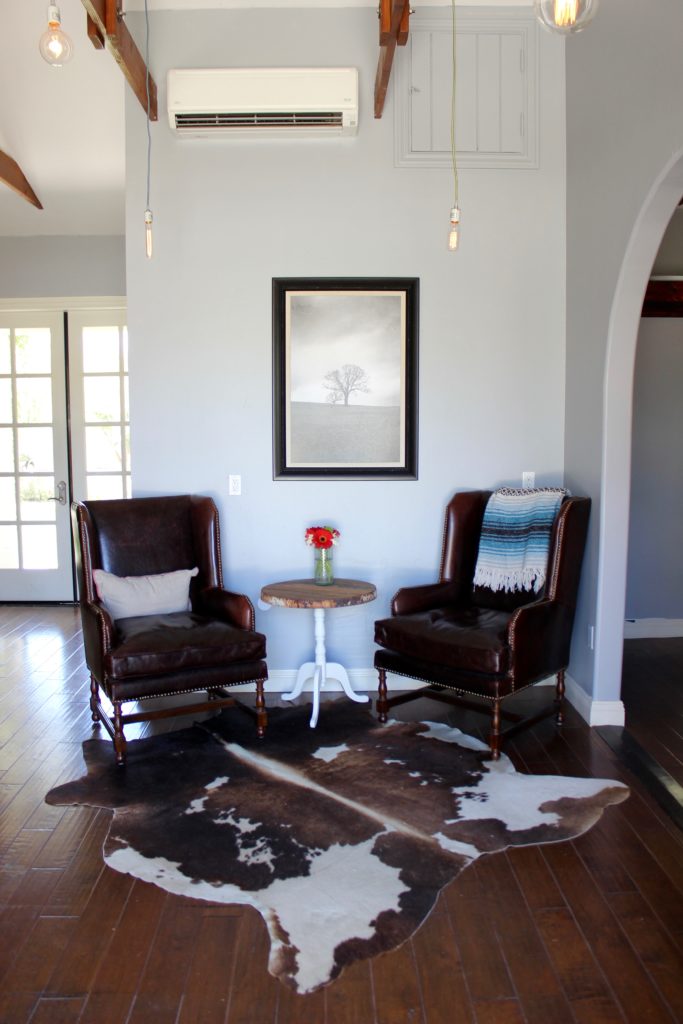 The airy space, which incorporates rustic elements like reclaimed wood and a cow hide rug, also includes a black and white floor-to-ceiling chalk map of Santa Barbara County's growing regions. It's a great focal point and nice way to get acquainted with the area while you sip. There's also a large grassy area to sit out back, which is perfect for enjoying the hot sunny days in the valley. Whether you come for a tasting or share a bottle with friends, my guess is that you'll want to linger for a while… and perhaps create your own stories in the process. Hehe.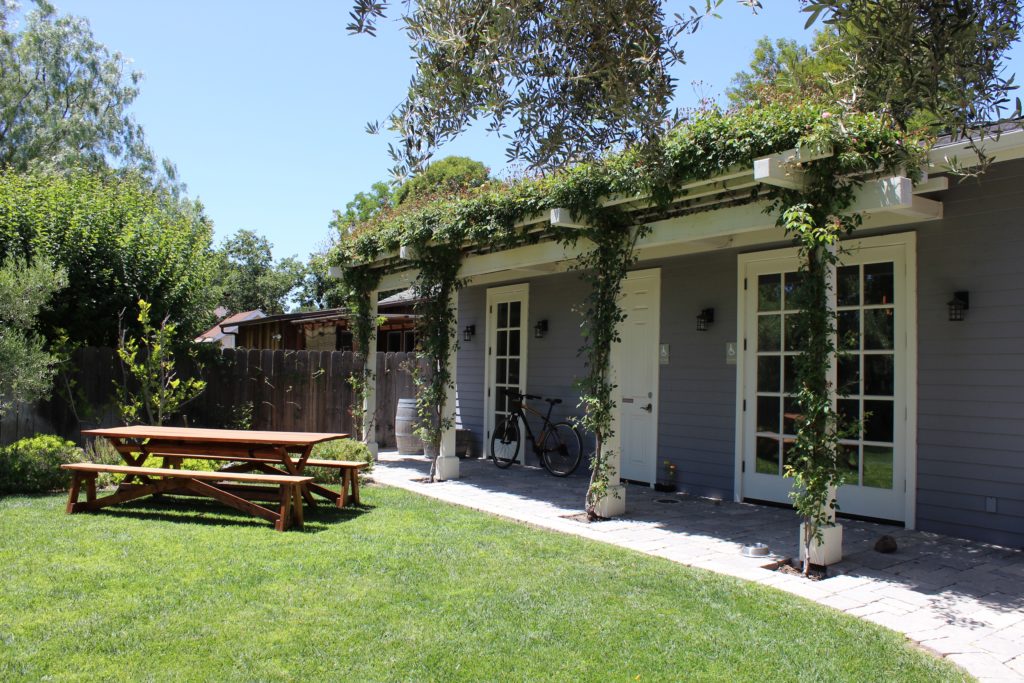 **Tasting Room Notes**
Open: 11 – 5pm daily
Tastings: Wines available by the glass, bottle or tasting.
Location: 2362 Alamo Pintado Ave – Los Olivos
Phone: 805.220.8248