Happy (almost) Thanksgiving! I love this time of year… it's a time to relax (despite the hassles of travel), spend time with family (or friends), and kickstart the Christmas season (my fav). Pie, eggnog, and good wine – hooray!
I'm happy that I get to spend Thanksgiving with my wonderful family tomorrow. Also, it's my boyfriend's birthday, so it'll be a fun day for sure. This year, I'm in charge of bringing the wine (go figure!), so I thought I'd share what I'll be having with the turkey dinner tomorrow. I'll report back on whether these ended up being a good match…
Sokol Blosser Evolution White 15th Edition ($15) – I've had this wine numerous times, and I think it's not only a crowd pleaser, but a very food friendly wine. It's off dry yet crisp, and made with 9 different varietals! So really, there's something in here for everyone. Don't get put off by its slight sweetness, though, because this wine will be a great match with anything spicy in your meal… a spicy side of stuffing or jalapeño cornbread, perhaps? The sweetness/fruitiness of the wine helps tone down spicy heat, letting the other flavors of a dish shine, while also complementing the sweetness of things like cranberry sauce.
2012 Barber Cellars Chimaera Pinot Gris ($17) – I haven't tried this wine before, but I'm excited to taste it tomorrow. Seeing as though it is made from grapes grown high on the Sonoma Mountain AVA, I think it'll have enough luscious body and intensity to stand up to the rich foods that make up a Thanksgiving dinner. About 10% Marsanne has been added, which should give the wine nice depth and floral aromas. Plus, "Chimaera" means "A beast made of the parts of different animals," which sounds like a great conversation starter to me. :)
2011 Mark West Pinot Noir ($10) – a good value wine that's not hard to find, this will be an affordable addition to the table. Pinot Noir in general is a great option for the Thanksgiving meal, especially if you choose one that's big on juicy fruit like this wine. Medium-bodied with cherry, raspberry and spice, it's an easy drinking Pinot that's good for a crowd.
2010 MacMurray Ranch Russian River Pinot Noir ($22) – Although I haven't tasted this wine, I think it'll be a great match for the food. It's a medium-bodied Pinot that supposedly has lots of sweet berry and spice flavors with a dry finish. MacMurray Ranch makes some decent wines, so I'm sure this one will be a hit.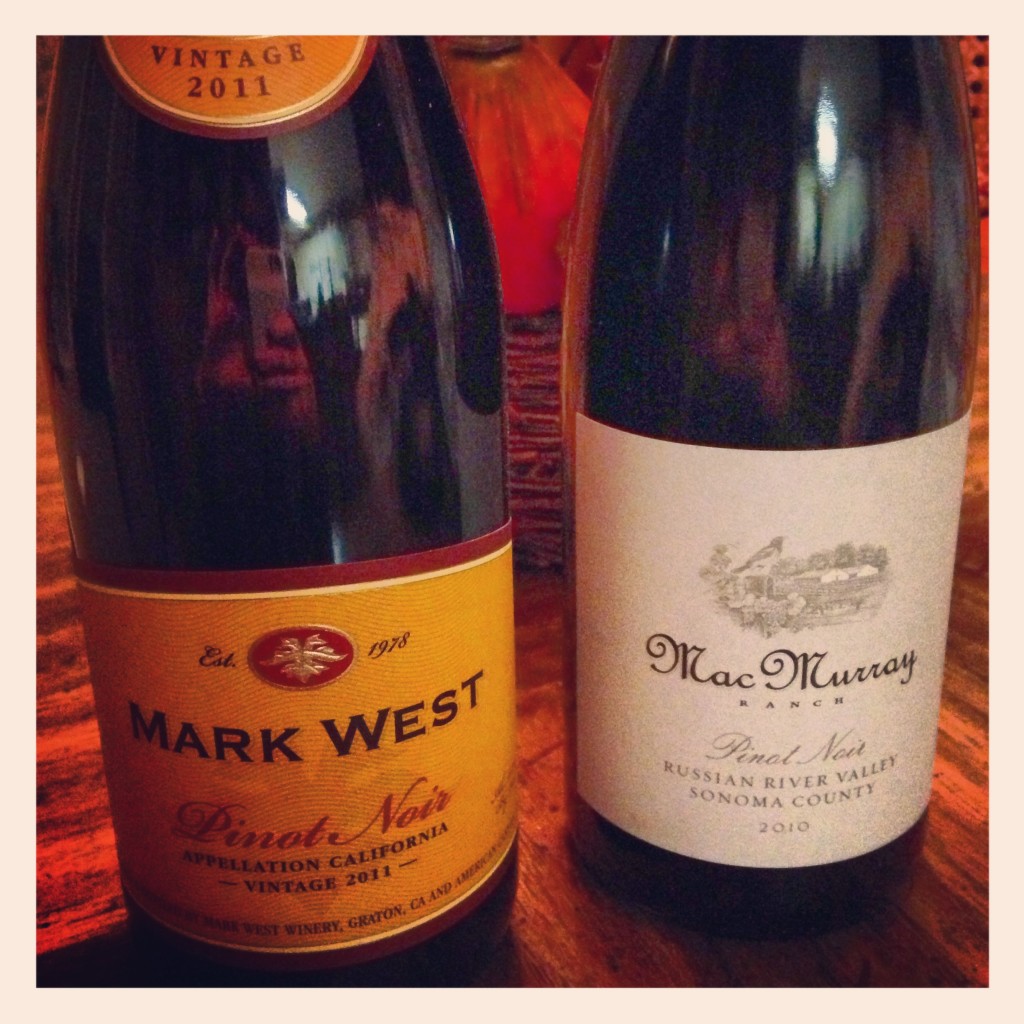 There you have it! Of course, there's no 'right' or 'wrong' wine to drink with the big meal, but do you really want to overpower all the exceptional flavors of stuffing and mashed potatoes and turkey with an overly oaked, buttery Chardonnay? I wouldn't, but to each their own. Or, when in doubt, just go with a sparkling wine. You truly can't go wrong with a celebratory sparkler!
I'm curious, what will you be serving for Turkey Day? If you say oaky Chardonnay I won't be too upset, I promise. ;)
Gobble Gobble!