There's a lot of great wine out there, but one of my favorite things about wine writing is going behind the scenes to meet the people making the wine and/or hear the stories behind the wine. Recently, I got to do just that for the Spring issue of SB Seasons Magazine (out now), where I got share the wonderful story behind Grassini Family Vineyards' red wine known as 'Equipo.'
"Equipo" is the Spanish term for "team," and the Grassinis are fortunate to have had the same team ever since their vines were first planted in Happy Canyon in 2002.  Vineyard foreman, Manuel, and his crew planted every vine on the estate, so not only are they familiar with the land and all of its intricacies, but they are like family to the Grassinis.
At their annual end-of-harvest picnic several years ago, Sharon Grassini learned that Manuel's infant son needed life-saving heart surgery. To help defray some of the unexpected costs that come with surgery, the Grassini family organized an emergency fund for not only Manuel's family, but also to help other members of the vineyard crew with future emergency costs like this. You don't hear of many wineries (or companies in general) doing that these days, do you?
The idea has since transformed into an ongoing collaboration between the Grassini family and their vineyard team, known as The Equipo Program. Through this program, a portion of their vineyard has been allocated to producing the Grassini Equipo blend, a wine in which the crew has complete control over the decisions made in the vineyard, such as irrigation, fertilization, and pruning. Part of the proceeds from the sale of the Equipo wine go toward keeping the emergency fund going, as a way of thanking the team for their hard work and dedication.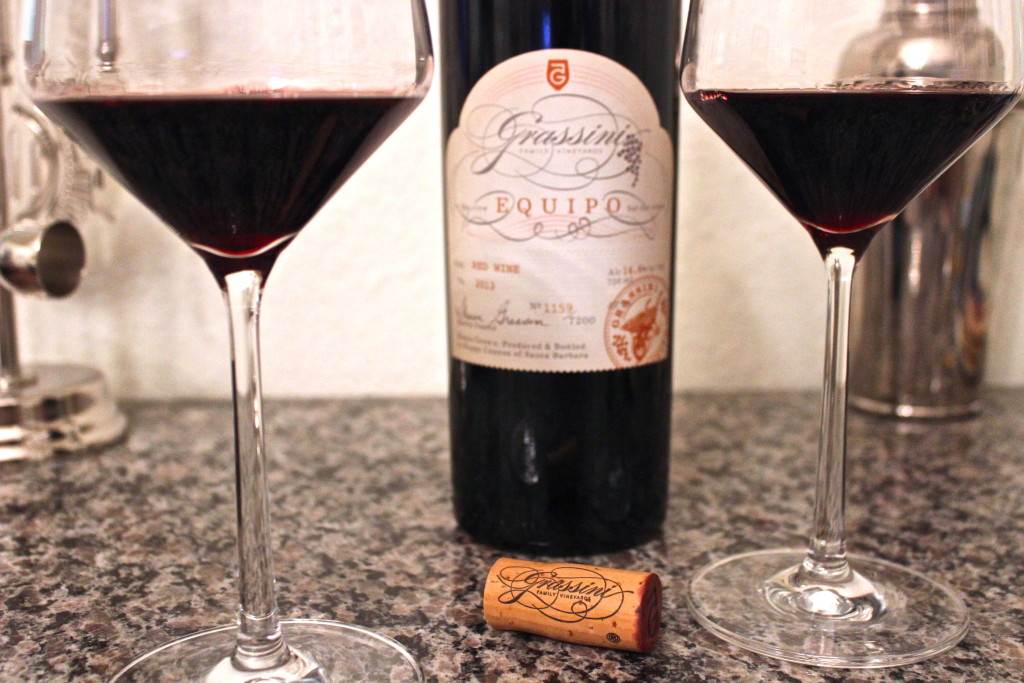 Although the Equipo wine started out as a Sauvignon Blanc, it was later decided that it should be a red given the winery's reputation for Bordeaux reds. It also makes sense, since more than half of the vineyards are planted to red varietals. The current vintage, the 2013 Grassini Equipo ($35), is predominantly Cabernet Sauvignon aged in 45% new French oak, with some Petit Verdot for added depth. It's got bright raspberry and red currant aromas with a hint of mocha, and noticeable blackberry and briary notes on the lengthy finish. It's a lovely wine with a heartwarming story of family, hard work and collaboration behind it. Cheers to that!
To learn more about the Equipo Program, check out the full story I wrote for SB Seasons Magazine.