Do you dare to blind taste? Maybe to you blind tasting can be a fun and unbiased way to decide what you like without the influence of a label or varietal type ("yay, wines wrapped in a brown paper bag for me to rate!"). Or maybe it's the opposite of "no pressure" to you and is just plain overwhelming and intimidating ("omg, I don't smell or taste any difference… I must be stupid."). I get it, and no, you're not stupid!
Blind tasting is challenging, yes, but it's a great way to learn and forces you to think hard about the components of a wine rather than glugging it down thoughtlessly. Trust me, there are plenty of times I have done and still do that, too. ;) Really, though, blind tasting can actually help you learn about wine. Even if you don't smell anything at first, if someone says they get a hint of raspberry jam, for example, that may trigger a new set of aromas you previously hadn't recognized. The AHA moment of tasting… always a fun time.
For the past 2 plus years, I've been in a blind tasting group with some winemakers and wine aficionados. We meet up every 1-2 months (or try to) and rotate hosting responsibilities. Each wine is concealed and labeled A, B, etc. and everyone tastes in the same style of glassware to keep everything on a level playing field. Yes, we are super wine nerds and sit around the table jotting down notes as we sniff and sip, but I absolutely love it. After our assessments, we go around and share our thoughts on the wines and best guesses for types, regions, and years. For the record, we are not always right!
For this last tasting, we tasted 4 Italian reds. Although many people immediately think of Chianti or Sangiovese when it comes to Italian wine, Italy actually has many different wine regions which all produce unique wines meant for pairing with the area's typical cuisines. I heart Italy. I lived there for a few months and have been back to visit, but I've never really gotten into Italian wine fully. This tasting reminded me that I need to start drinking Italian wines more often, because these were all great wines for the price. Delizioso!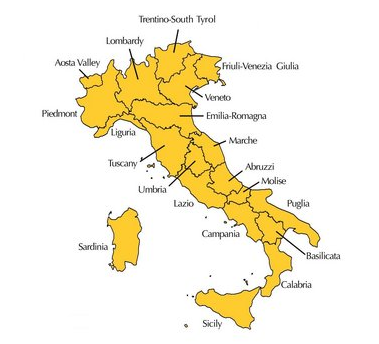 Wine A ended up being the 2009 Zenato Valpolicella Superiore ($15). Valpolicella the wine (it's also a growing area in Italy near Verona) is usually a blend of the Corvina Veronese, Rondunella and Molinara grapes. This particular blend is made of 80% Corvina Veronese, 10% Rondunella, and 10% Sangiovese. It had a nice deep ruby color and complex aromas of licorice, tomato sauce, portabella mushrooms, barnyard, eucalyptus and earth. It was medium dry with a lively acidity and flavors of baked plums and sweet dark fruit. It was a nice wine for sure.
Wine B, my favorite and the clear favorite of the group, was the 2008 Allegrini Palazzo Della Torre Veronese ($16) – another blend of Corvina Veronese (70%), Rondinella (25%) and Sangiovese (5%). It had powerful yet pleasant aromas, well integrated acidity, and was overall a nicely balanced wine. On the nose I got leather, spice, tar, cured meat, toast and vanilla (think crème brûlée), with flavors of rosemary, meat and black fruit on the palate. This wine is unique in that it was made with a partial ripasso technique, in which 30% of the grapes were dried Amarone style while the other 70% were produced conventionally. The dried grapes are then re-fermented with the wine from the fresh grapes, giving the wine richness and a more concentrated flavor. A lot of wine for the price! Bring this to a summer BBQ or try it with cured meats. It's a crowd pleaser!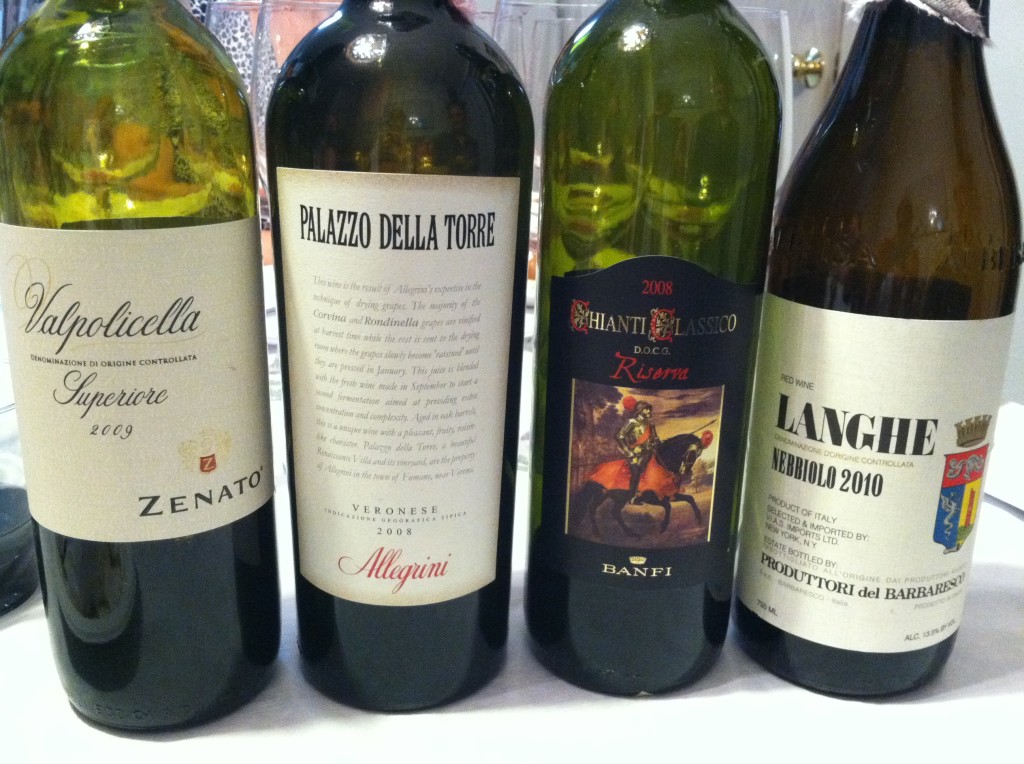 Next, Wine C – the 2008 Castello Banfi Chianti Classico Riserva ($15). This medium-bodied wine had tons of red cherry aromas, with blackberries, smoked meat, vanilla and a hint of white chocolate. With flavors of raisins, currants, leather and a tart acidity, it's a decent Chianti but I just didn't love it. I think the previous wines were just so much better that it tainted any chance this guy had for me. Sorry, Chianti. This is a widely distributed wine so I might have to pick up another bottle to re-try it with a Tuscan inspired Italian meal (think pasta with a wild game sauce or roasted meats and earthy mushrooms).
Finally, Wine D, the 2010 Produttori del Barbaresco Langhe Nebbiolo ($20) from the Piedmont region in Northwestern Italy. The aromas were really pleasant – cherry cola, rosey soap and hibiscus tea – and somewhat typical of the Nebbiolo grape. On the palate, flavors of cherries, strawberries and a bit of leather rounded out the wine. Although there were some drying tannins, they weren't overpowering and I thought this was a good Italian wine. I rated it my second favorite of the night.
So, if you're new to Italian wines and want to try some out (and not those served in a jug at an Italian chain restaurant), get your hands on any of the above wines. And remember, pairing wines with the foods of their region is always the safest bet… not all Italian wines are meant to be paired with tomato sauce.
Cin Cin!