If you're visiting Santa Barbara, you're likely to miss quite a few places that are more 'off the beaten path' so to speak. There are SO many things to see and do along State Street and the Funk Zone that it's sometimes hard to venture out even just a little bit. Jaffurs Wine Cellars isn't actually that out of the way, as it's still part of the SB Urban Wine Trail, but you could easily drive by and miss it.
Located on Montecito Street just before Milpas, Jaffurs Cellars' winemaking facility doubles as its tasting room. The facility, established in 2001, is the type of no frills place where you simply taste wine in the place where its made – no fancy wine bar, no tables and chairs and no wine-related knick knacks. Just lots of winemaking equipment and a large collection of surfboards hanging on the walls –  and that's perfectly okay in my book! All the more reason to focus on the wine.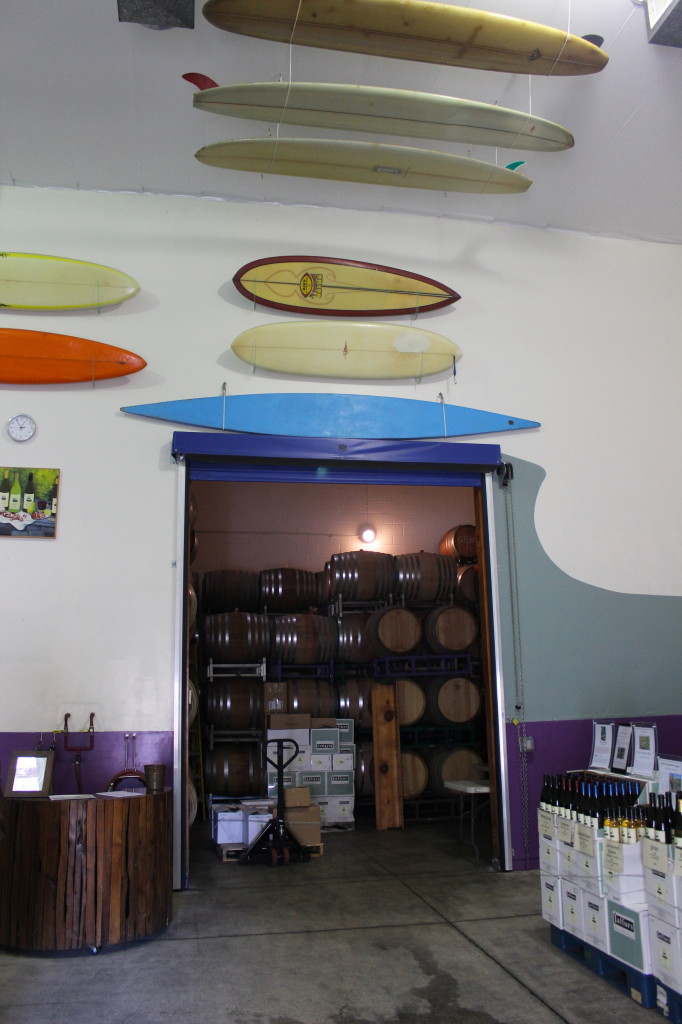 Owned by Craig Jaffurs (an avid surfer), who got his start at Santa Barbara Winery, Jaffurs has been producing quality Rhône varietals, like Grenache, Syrah and Petit Sirah, since 1994. First starting out with 400 cases, production has since grown to almost 6,000 cases. Over the past 21 years, quality over quantity has always been the goal, which is why production is still relatively small.
I'd always heard good things about Jaffurs yet had only tasted the Grenache Blanc at a wine event. Eager to taste more, I met up with co-winemaker, Matt Brady, for an inside look into what Jaffurs is all about!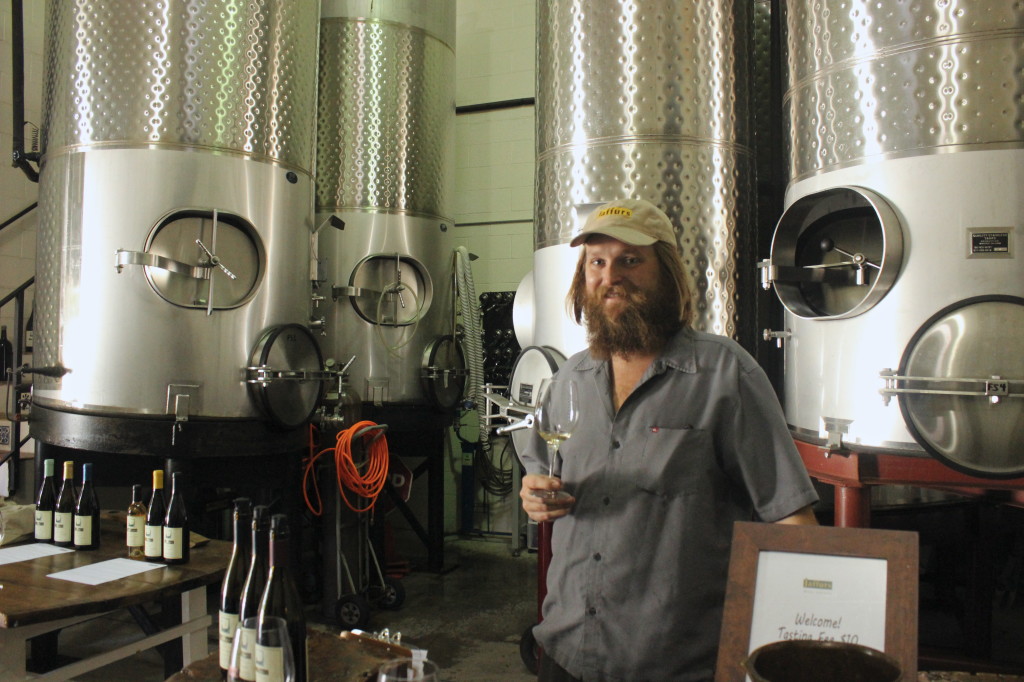 The 2014 Viognier (which will be bottled in March!), is very dry and minerally – super tasty. I also enjoyed the 2013 Grenache Blanc ($24), which is the wine I had tasted before. Aged in neutral French oak, it's got notes of honey, vanilla and tropical fruit with a lovely texture and minerally finish. The 2011 Grenache ($34) is a blend from four different vineyards in SB County. The aromas are bold with raspberry and plum, cinnamon, and bramble with an appealing, long finish. Very nice. I also tasted the 2012 Santa Barbara County Syrah ($27) — a new release — made with 80% Syrah and a bit of Petit Sirah, Grenache and Mourvédre. This wine spent 10 months in oak, and is dark and rich with notes of wild berry and pepper.
Overall, the wines are nice and very well priced, especially given the amount of praise these wines have gotten. I'm not one to watch scores, but they've received quite a few high marks from Robert Parker and Wine Spectator, to name a few. If you want to taste them all, though, you'll have to join the wine club. I hear that out of the 14 different wines being made, half of them are dedicated to wine club members only! Now that's a special club! Cin cin.
**Winery Notes**
Open: Daily 11-5pm
Tasting Fee: $10
Phone: 805-962-7003
Location: 819 E. Montecito St. – Santa Barbara