Hope everyone had a wonderful Fourth of July weekend! It was certainly a fun celebration for us here in Southern California, filled with sunshine, good wine and drinks, great food, bocce ball and cards (reigning "31" champ, right here!).
Wanting to keep things a bit more low key this year, Nick and I hosted a couple of friends for a chill 4th of July BBQ before joining the crowds to watch the fireworks. Those that know me know that I'm a big fan of entertaining… not only because I love getting people together, but also because I love to try out new recipes any excuse I get. So, instead of flocking to my stack of yet-to-be-made recipes that I've been tearing out of magazines for years, I decided to hit up Pinterest for a few new recipes. Who better to be my guinea pigs than my boyfriend and best friend? Don't worry, they still love me!
The Menu: (click on each for the recipe found via Pinterest)
Guacamole & chips
Grilled corn on the cob (with paprika butter)
Fiesta Bean Salad (yum)
Watermelon salad with mint and feta (double yum)
Grilled Tri-Tip (Sorry, folks, Nick is the grill master so I don't have a recipe to share)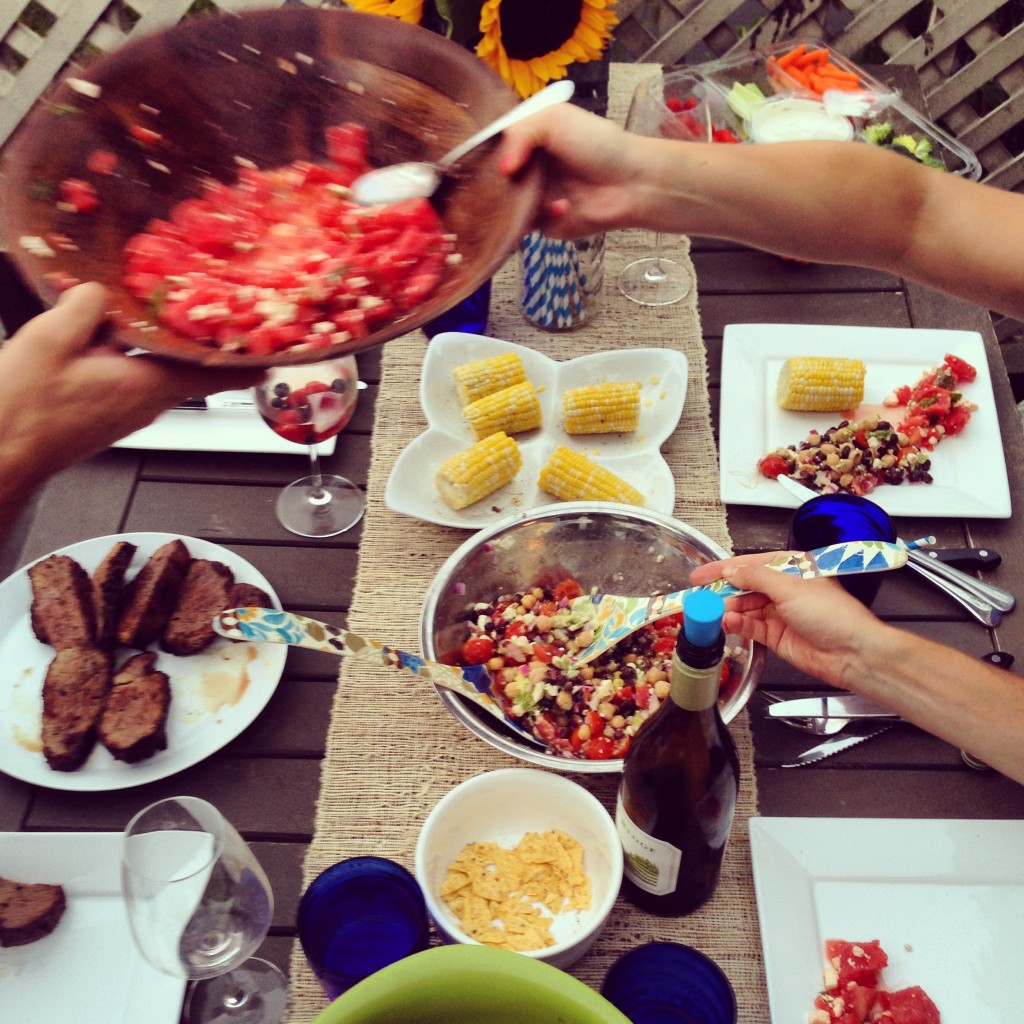 Since I made a delicious and very festive dessert last 4th of July, I wanted to find something equally as fun and tasty to make for us this year. Pinterest saved the day, yet again, with a recipe for perfectly lemony and light Lemon Blueberry Cheesecake Bars. This was SO easy and a perfect fourth of July dessert! Unfortunately, I didn't get any pictures before we dug in, but you can find the recipe on Epicurean Mom, which was adapted from a Tyler Florence recipe (so you know it's going to be good).
Of course, it wouldn't be a holiday at my house without a festive bottle of wine (or two). We started off with the 2013 L'Aventure Rosé from Paso Robles, which was light and crisp and a perfect way to start the day. (More about L'Aventure winery). We also enjoyed a white from Pine Ridge before moving on to more 'festive' drinks like vodka sodas with blueberry and strawberry ice cubes. After all, what's more festive than red, white and blue drinks on the 4th… other than wearing festive red, white and blue flair?? (which may have happened)…
What did you all eat and drink to celebrate Independence Day?