Had a fabulous time in Chelan with a couple of good friends this past weekend! We did a lot of wine tasting, ate a lot of cheese and great food, enjoyed the unseasonably warm weather, and even celebrated a birthday (happy birthday, Collin!).
If you don't live in the Pacific Northwest (or even if you do) maybe you haven't heard of Lake Chelan? It's a 50 mile glacier-fed lake (brr!) almost directly between Seattle and Spokane, Washington. Fun fact: it's the largest natural lake in Washington and one of the deepest in the nation. Just 50 miles south of the Canadian border, the area is home to a lot of fruit orchards (apples, cherries, peaches…), a small resort town and a fair amount of wineries.
Lake Chelan AVA, which was established in 2009, is one of the newer AVAs (American Viticultural Area) in Washington. It's part of the greater Columbia Valley AVA, but the elevation and soil here make it pretty distinct from others within the Columbia Valley AVA, like Walla Walla for example. The first vineyard here was planted in 1998, and now there are over 20 wineries within the area producing Syrah, Merlot, Malbec, Riesling, Pinot Gris, Gewurztraminer and several others.
There are basically two main towns around the lake – Chelan, at the southern tip of the lake, and Manson, on the Eastern side in the middle. Both towns are certainly small, but charming. Also, at the far end of the lake is the little known village of Stehekin, which is only accessible by boat, ferry, or float plane. I heard that they just recently got phone service….talk about being off the grid!
The quaint resort town of Chelan has one main drag lined with restaurants and shops, as well as a larger resort – Campbell's Resort. It's certainly the most popular place to stay since it has 1,200 feet of lake front and is the biggest hotel in the area. The lakeside town of Manson, where we stayed, is just a few miles north of Chelan and is even smaller, with a few good restaurants, a pretty lakefront area known as Wapato Point, and a condo resort with the same name (Wapato Point).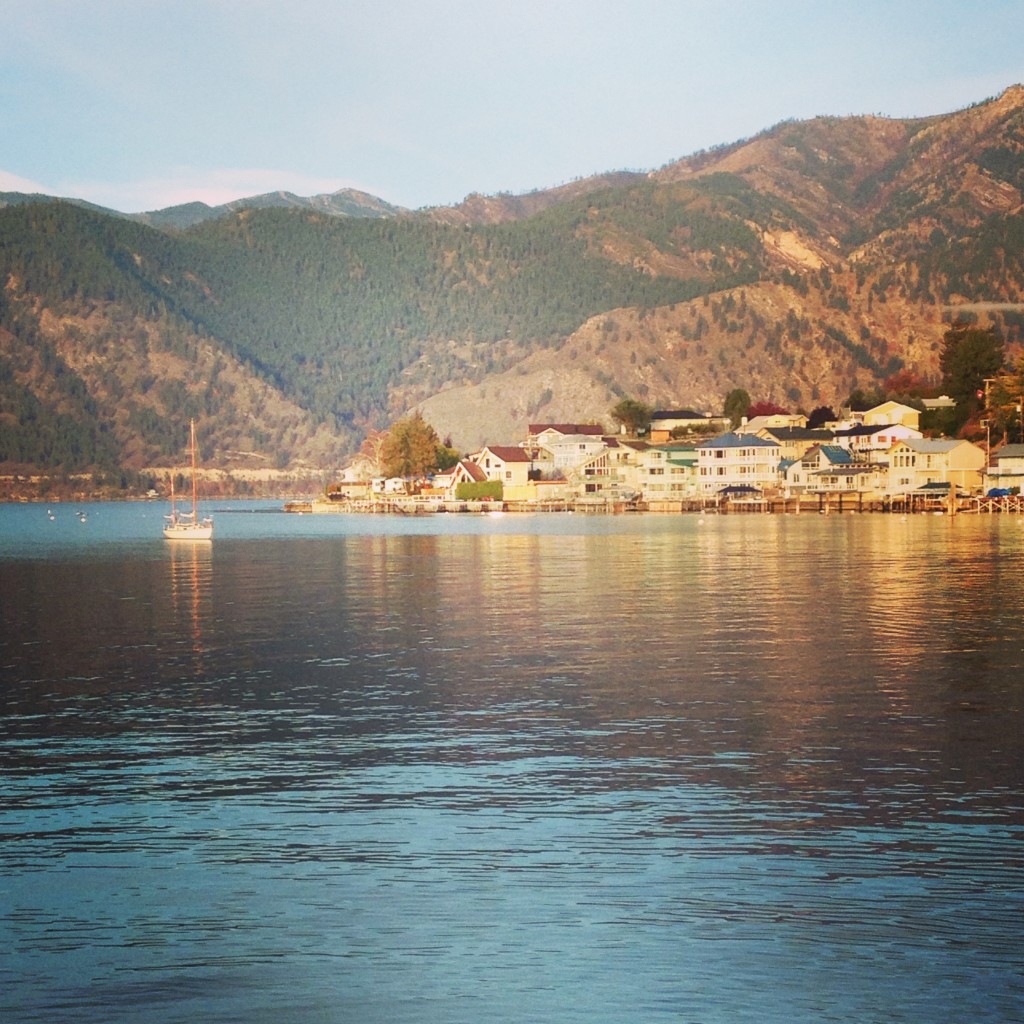 Our first night in town, we headed to Campbell's Pub & Veranda restaurant (they have live music every Friday night and it looked like a popular place). The wine list is definitely Northwest-driven, so I tried a couple of glasses from the local winery, Nefarious Cellars. First, I tried the 2011 Nefarious Cellars Viognier, which was refreshingly light, citrusy and pretty well-balanced, followed by a glass of the 2010 Nefarious Cellars Rocky Mother Syrah with my dinner. The Syrah was silky and fruit-forward with a long, graceful finish. Not too shabby! I would have loved to visit the winery while we were in town, but it's not open for tastings in October. Glad I got to sample some of their wines, though.
The next morning, we got up early and enjoyed the already gorgeous day with a short drive to Blueberry Hills Farm for breakfast. It's a down-home, simple type of place where you order at the counter and they bring your food to you. This place makes excellent blueberry jams, juice and pies, of course, but they also have a pretty delicious breakfast. And, if you can't decide between breakfast and pie, you can be like my boyfriend and order them both at 10am. Who doesn't love a good eggs benedict followed by apple pie? A great choice before a full day of wine tasting, if you ask me! PS – the apple pie was to die for!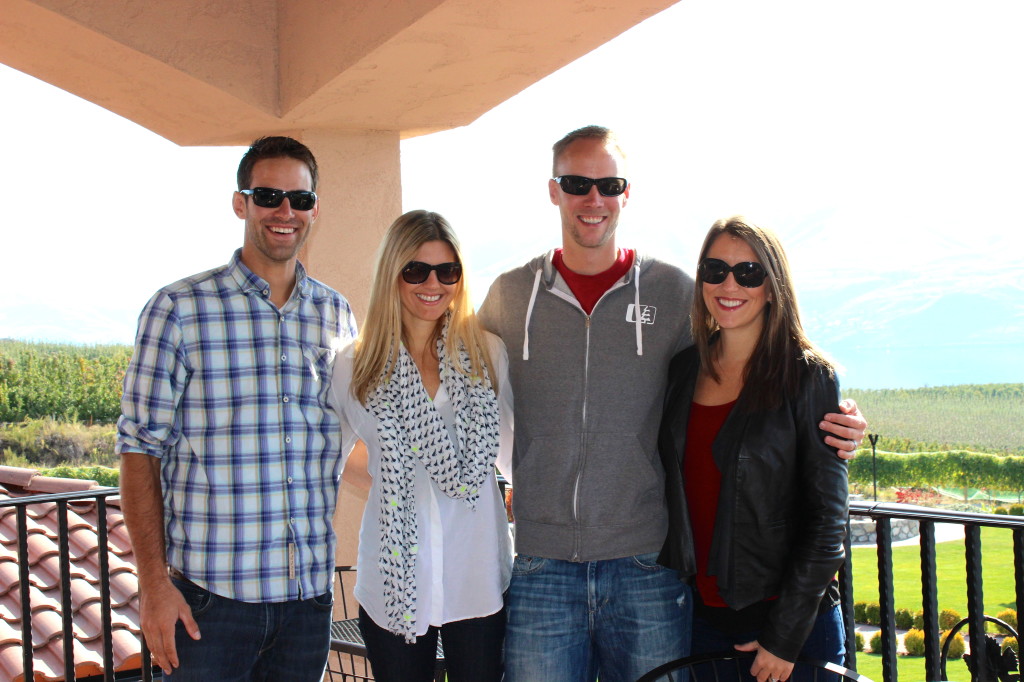 We started our day of wine tasting at Benson Cellars, which had a great selection of wines as well as a fabulous view! The staff were really friendly, too. (Read more here). Right next door practically, is Chelan Ridge Winery. We didn't stop here for a tasting but they also make estate wines like Benson does. Afterwards, we headed over to Lake Chelan Winery since rumor had it they were letting people stomp some grapes (they sure did and it was fun!). The property is pretty and it's easy to walk through the vineyards and, if you're hungry, you can enjoy their BBQ food outside amongst the vines in the warmer months (until mid-October). Read my full post on the winery here.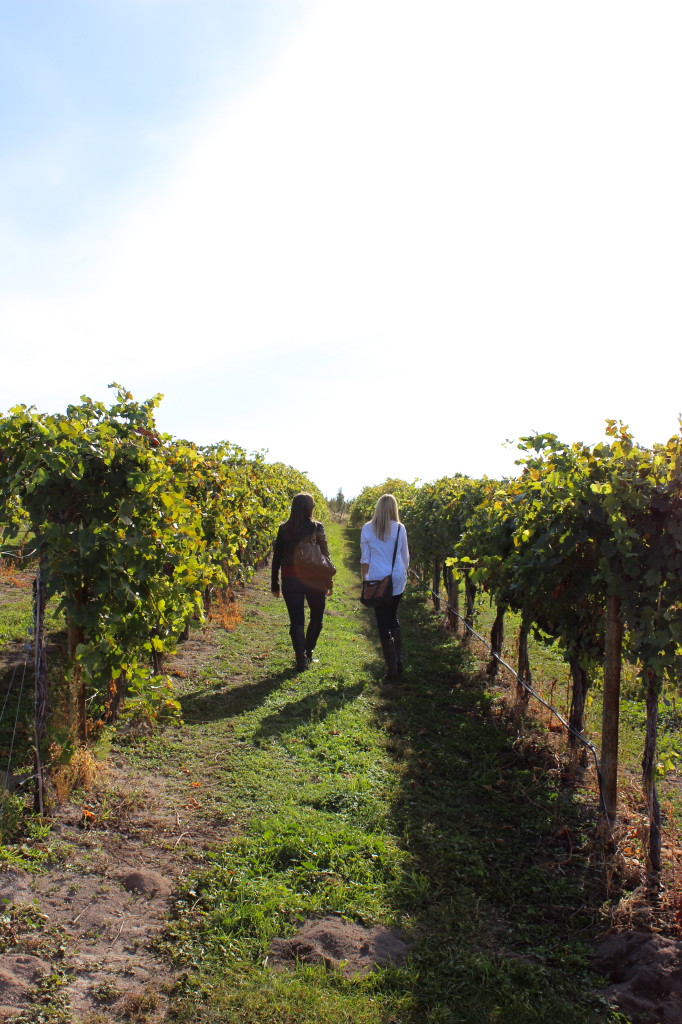 After getting our grape stomp on, we drove around the other side of the lake to visit Karma Vineyards. The place was closing early for a wedding, but the sparkling wines here were quite good. They're actually one of the few places in Washington that produces their sparkling wines using the traditional method (Method Champenoise). We sat outside on the patio and enjoyed the sunshine while salivating over the smell of the clams at the table next to us. They give you a cheese and bread snack, which held us over, but the food sure did look good! The last stop of the day was Tsillan Cellars (pronounced She-lan), which is designed to look like an Italian villa and is the largest wine producer in the area. They have a nicer Italian restaurant next door, but the best part of this place was the gorgeous grounds (complete with koi pond) and the view.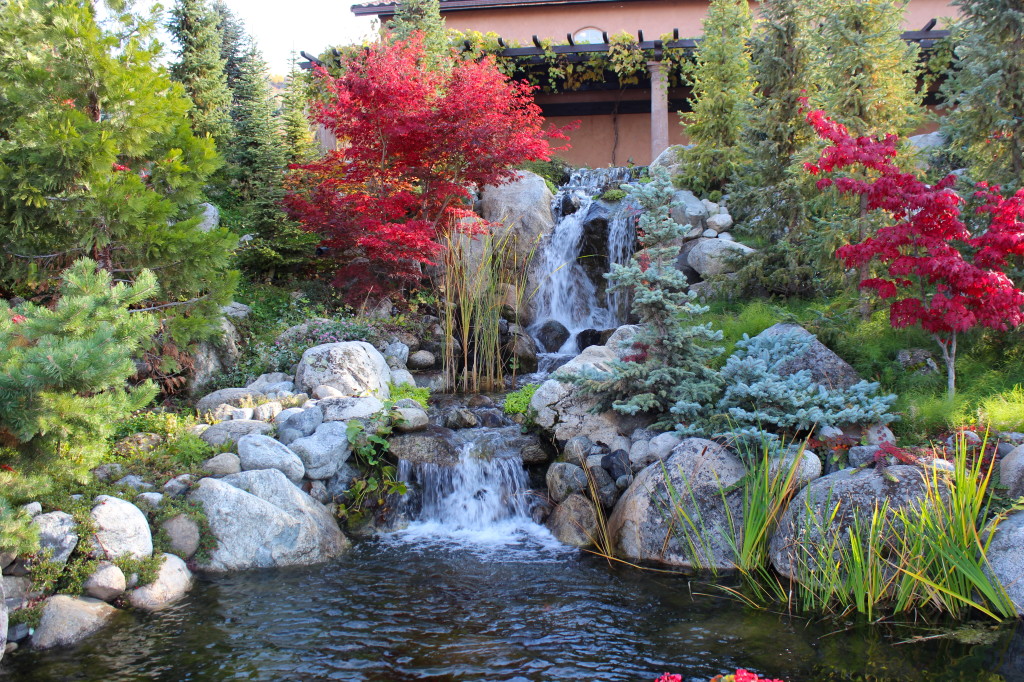 Instead of heading to Vin Du Lac, which has a bistro and live music, we went back to Lake Chelan Winery to pick up some cheese from the Lake Chelan Cheese shop inside of the tasting room. Gold mine! They carry some 40-50 different cheeses and are more than willing to give samples before you buy. Why WOULDN'T you try out the Bacon/Horseradish Cheddar or the Basil Garlic Gouda? For the record, they were both incredible.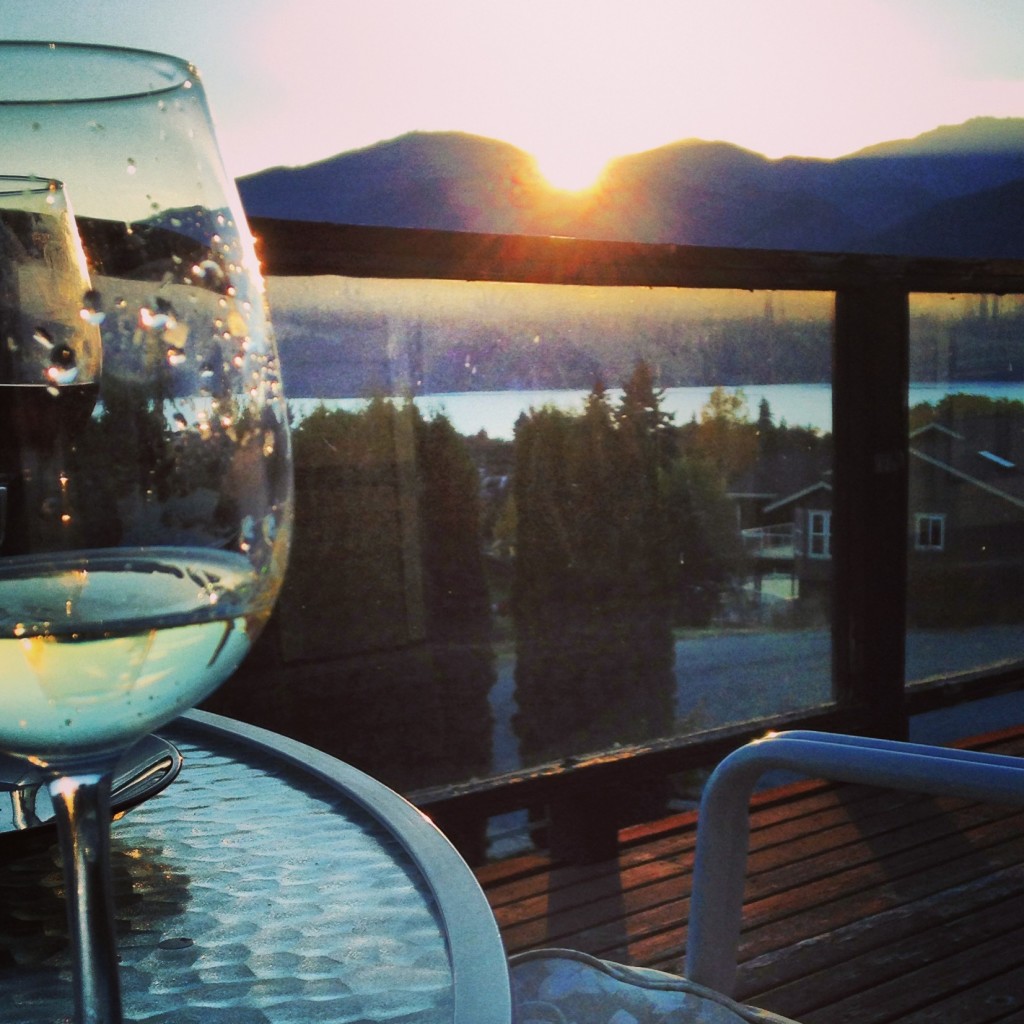 After a full day of wine tasting, it was great to sit on the deck and watch the sunset while enjoying some appetizers. When we'd had enough cheese and wanted something more substantial, we walked down to Wapato Point Cellars & Grill for dinner. There's a free tasting included before dinner, which is helpful since they only serve their wines (which are just okay). It's got a nice atmosphere, though, and the food was pretty good so it's a great option.
Since it ended up being close to 70 degrees on Sunday, Nick, our friends and I decided to spend most of the day in Chelan before heading home, naturally! We made a quick stop at Hard Row to Hoe for a tasting, which is located near where we were staying in Manson. The place has a funny story that you can read more about in my post here, but essentially the place is decked out like an old brothel (complete with risquée wallpaper) and the theme carries over into the wine labels (Shameless Hussy, anyone?).
Our last stop was Rio Vista Winery, which is located about 10 minutes out of Chelan on the Columbia River (you know, Rio Vista… River View… makes sense). The grounds are beautiful and this place definitely encourages staying awhile to hang out over a bottle of wine (or two). There's a sandy beach on the river, beautiful birch trees to sip your wine under, and plenty of picnic tables. We brought a picnic and purchased a bottle of wine so we could sit for a couple of hours and really take it all in. So peaceful! Check out the full story here.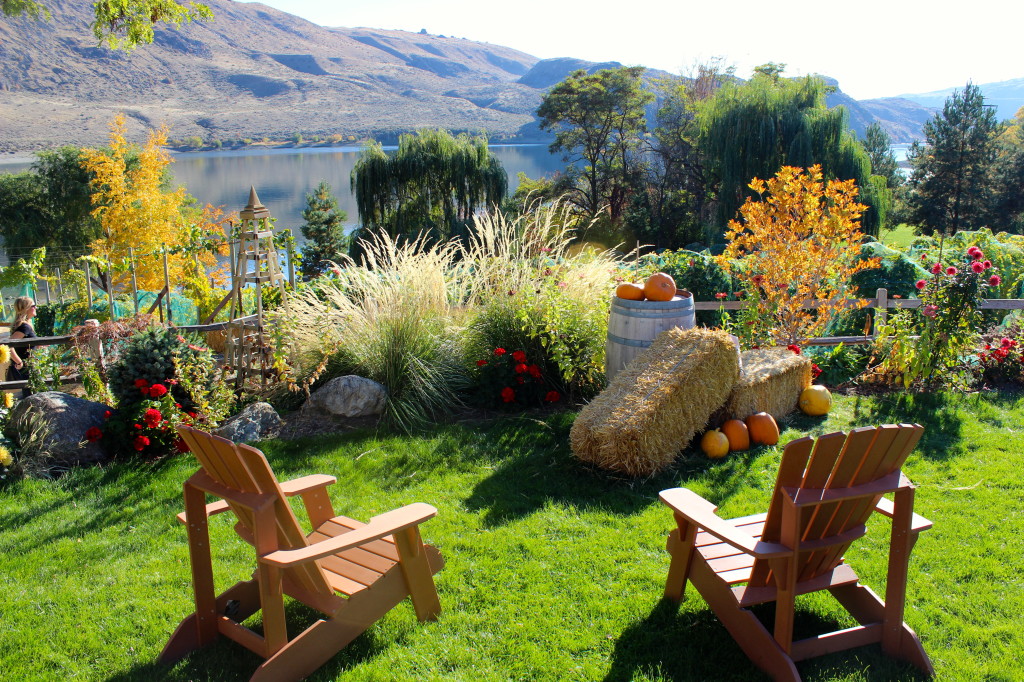 So overall, it was a great weekend. Some of the wines were pretty good, but a lot of them weren't really my style. But that's okay because it's more about the experience, right? I'll be writing more about each winery soon, so stay tuned! Cheers, friends!