Though it's nice to earn points at hotel chains or relish in luxurious amenities at high-end resorts, there's something special about boutique hotels. They're charming, unique and typically offer warm hospitality, making a stay feel a little more personal. For all these reasons and more, I was excited to check out The Landsby, a lovely boutique hotel in Solvang. From the stylish ambiance to the peaceful courtyards, The Landsby brings a welcome sophisticated vibe to the valley!
LOCATION
The Landsby is a beautiful 50-room hotel in downtown Solvang, located in the heart of Santa Barbara's wine country. If you're not familiar with Solvang, it's certainly worth a visit. Solvang was founded in 1911 by Danish pioneers escaping the harsh winters back east. Today, this replica of a traditional Danish town is complete with Scandinavian architecture, Danish bakeries and cutesy shops. It's a unique place to visit, and a good home base for a wine country weekend in Santa Ynez.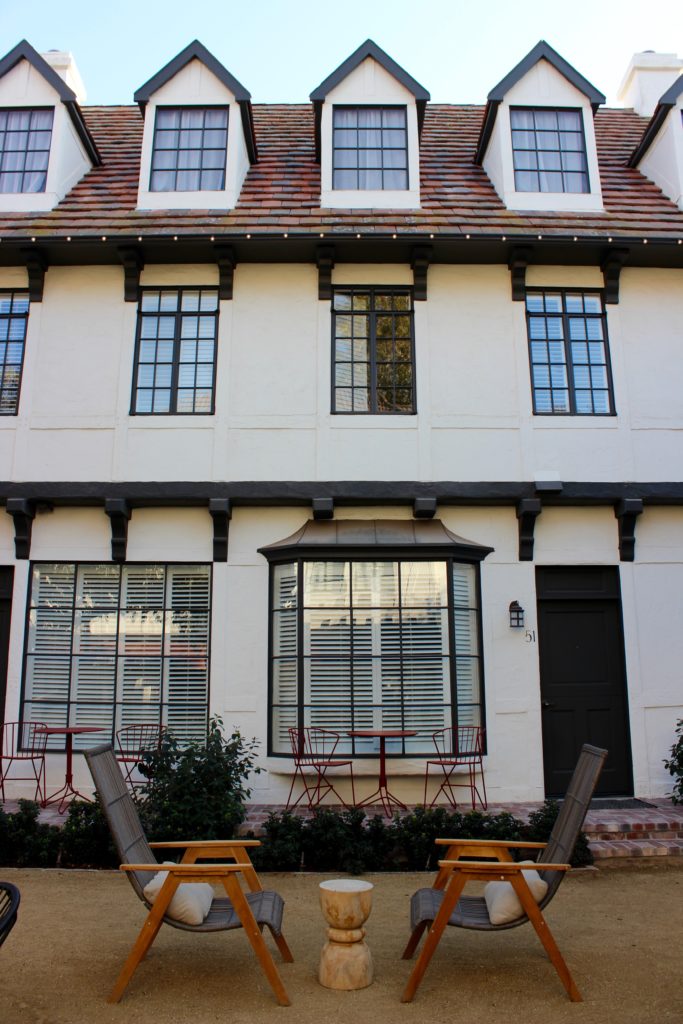 THE AMBIANCE
When Nick and I checked into The Landsby, I was impressed by the stylish space. From the outside, it looks like a more traditional Scandinavian building, but the inside is completely remodeled. It's clean and contemporary, but with a warm, inviting feel.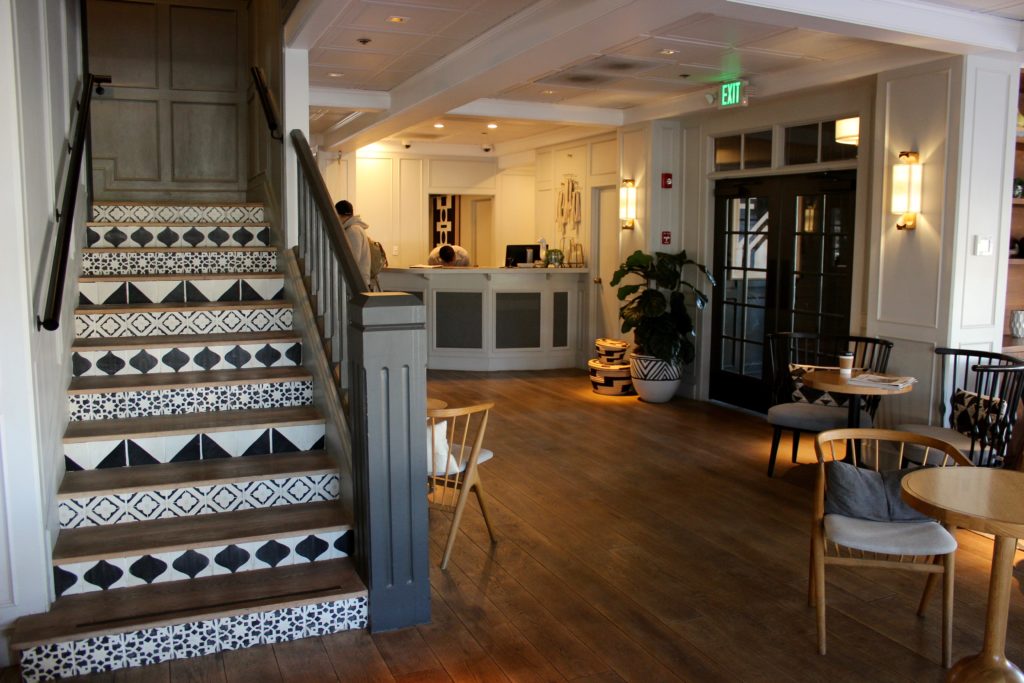 Neutral color palettes, cozy spaces and a mix of traditional architectural elements with modern touches will make you feel right at home.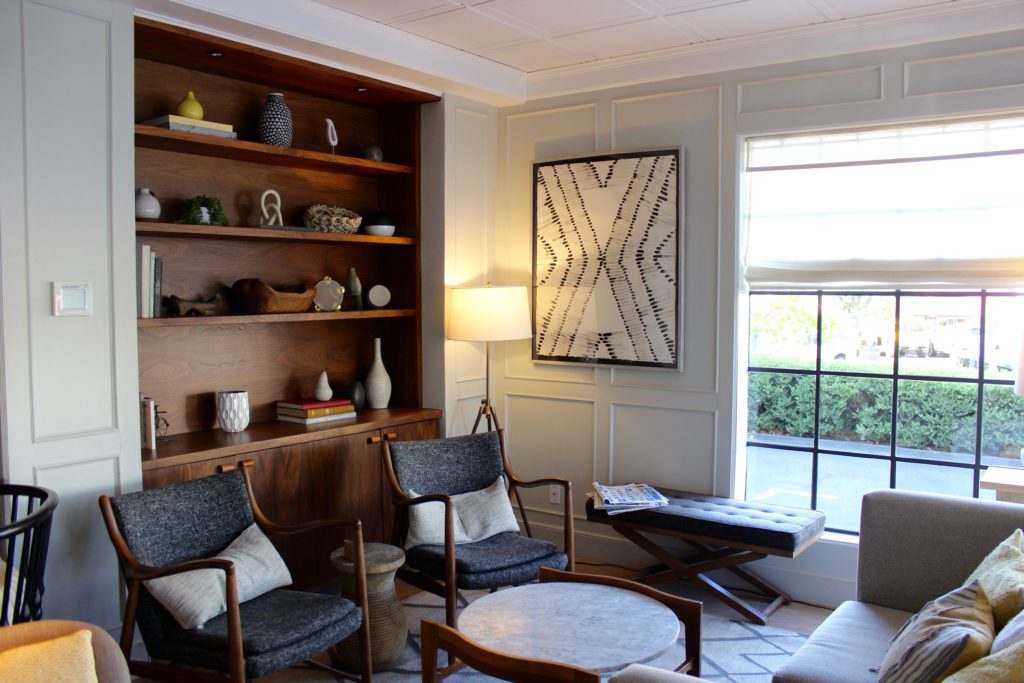 The comfortable lobby almost feels like the chic living room of your design-savvy friend. And it's not just for show: I saw more than a few people making use of each nook – sinking into the couch with a cocktail, playing checkers in the corner and reading the newspaper over a coffee. I think I mentioned to Nick more than a few times that I wanted to move in! The decor is totally my style.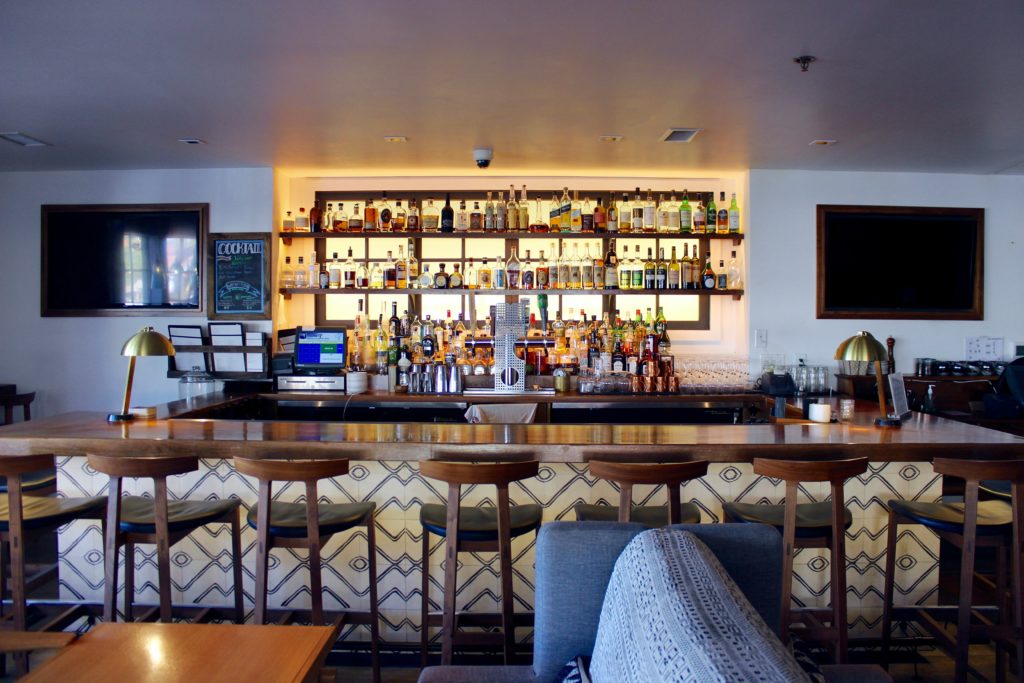 FOOD & DRINK
Next to the lobby sitting area is the stunning bar, adorned with eye-catching tile and brightly lit bottles lining the shelves. It's the perfect place to enjoy a libation or two during their daily happy hour from 4-6pm.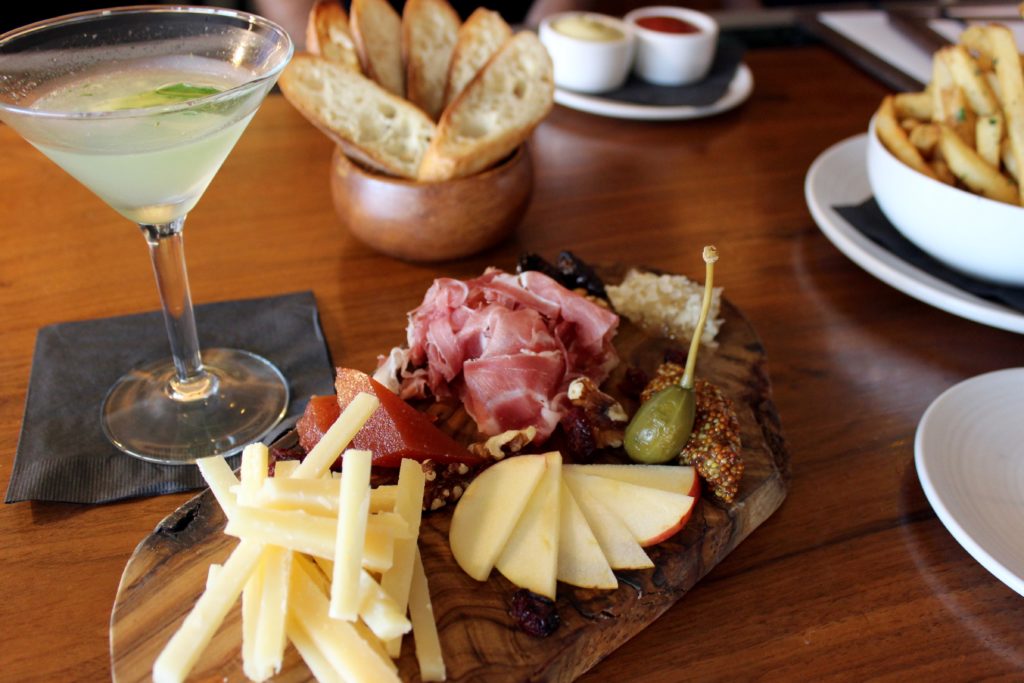 Try a specialty craft cocktail and dig into duck fat fries with house-made ketchup. Everything we tried was super tasty. We could have easily spent several hours lingering at the bar.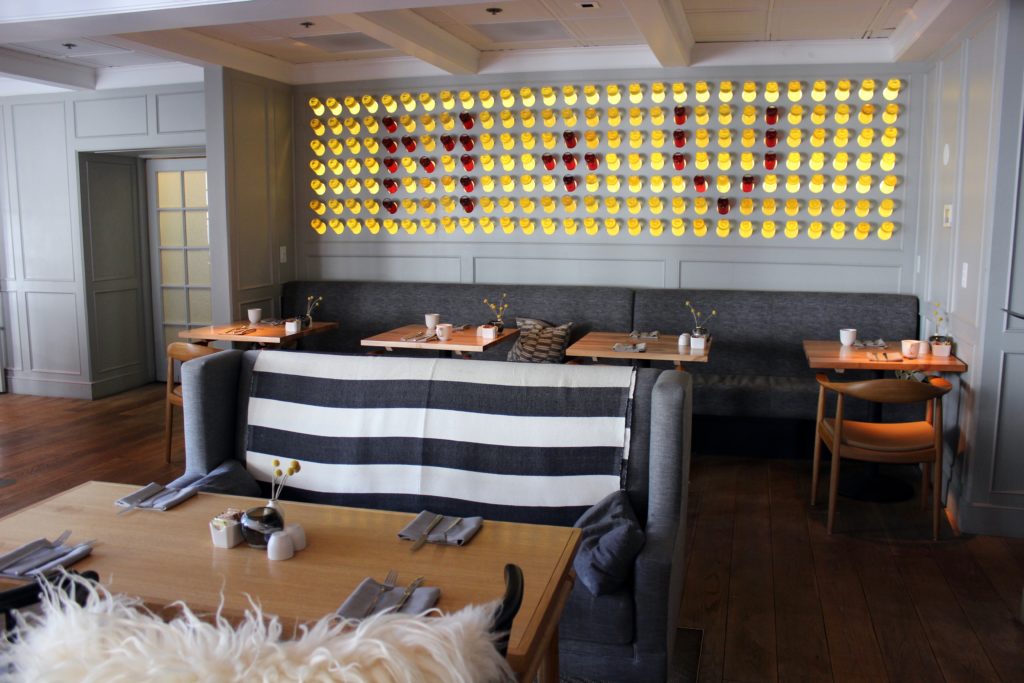 The Landsby's restaurant is called Mad & Vin, which is 'food & wine' in Danish. It's overlooking the courtyard garden and features seasonal California wine country cuisine. Sadly, we didn't have time to experience the restaurant, but the food smelled (and looked) delicious! And the atmosphere was inviting, as well.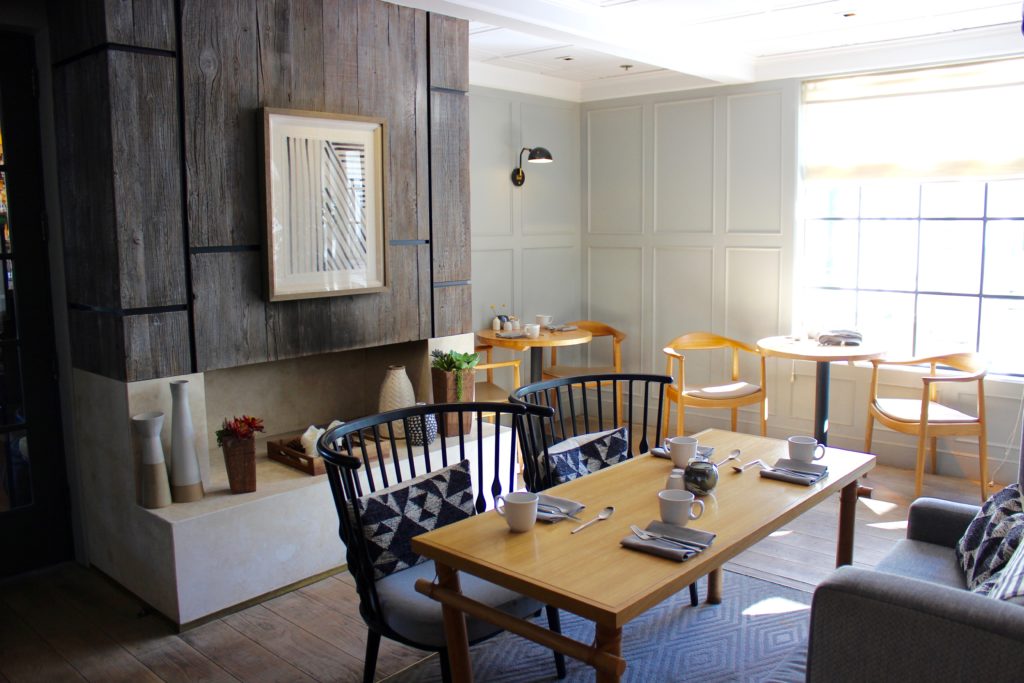 THE ROOMS
While all of the rooms at The Landsby are bright and open, we absolutely loved the brand new patio suites. Finished with beautiful wood floors, grey, white and warm leather tones, brass accents and fun artwork, it's the type of hotel room you actually want to spend time in.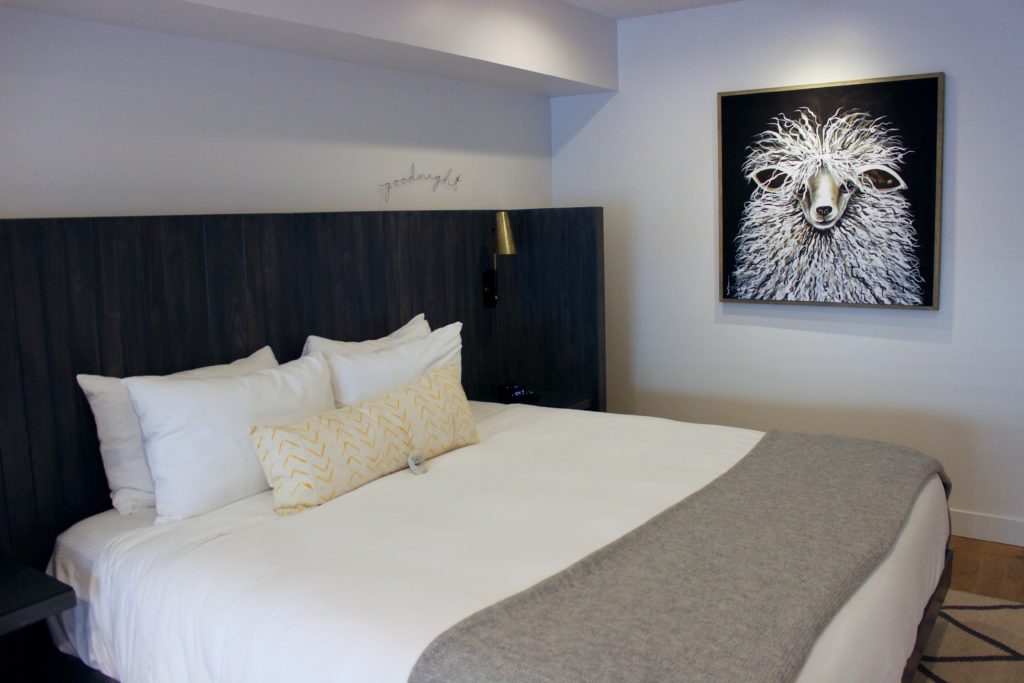 Not only that, but our room had a nice living space with its own flatscreen TV (that makes 2 TVs in this room). It's the perfect spot for curling up in The Landsby's super cozy robes.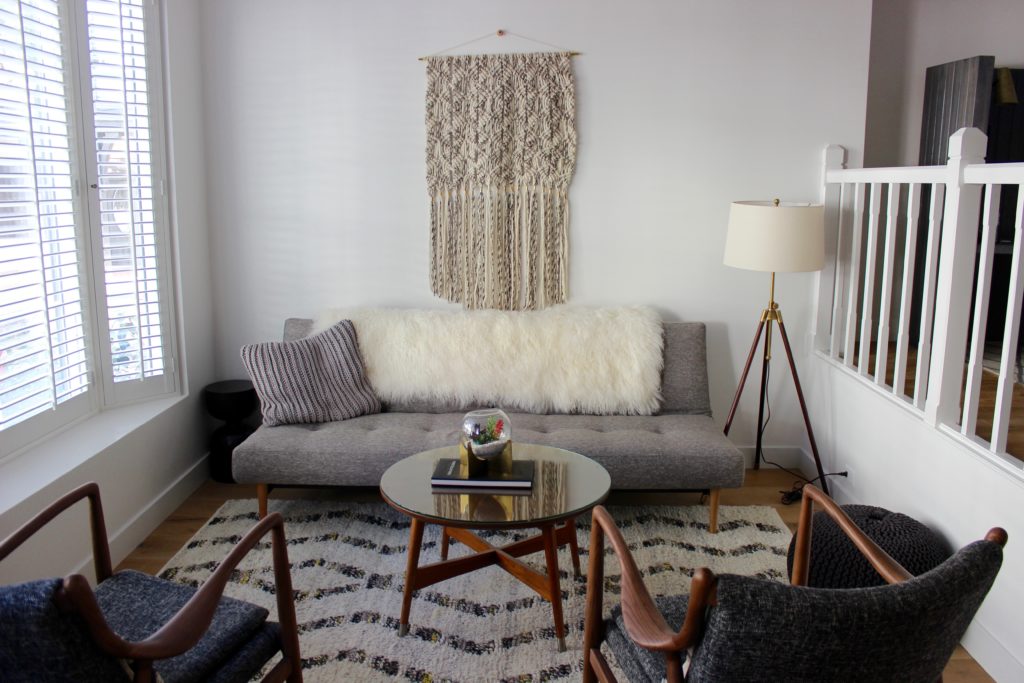 A door leading out to a patio provided easy access to several fire pits, also the perfect place to enjoy tea in the morning. Needless to say, one night here just wasn't enough!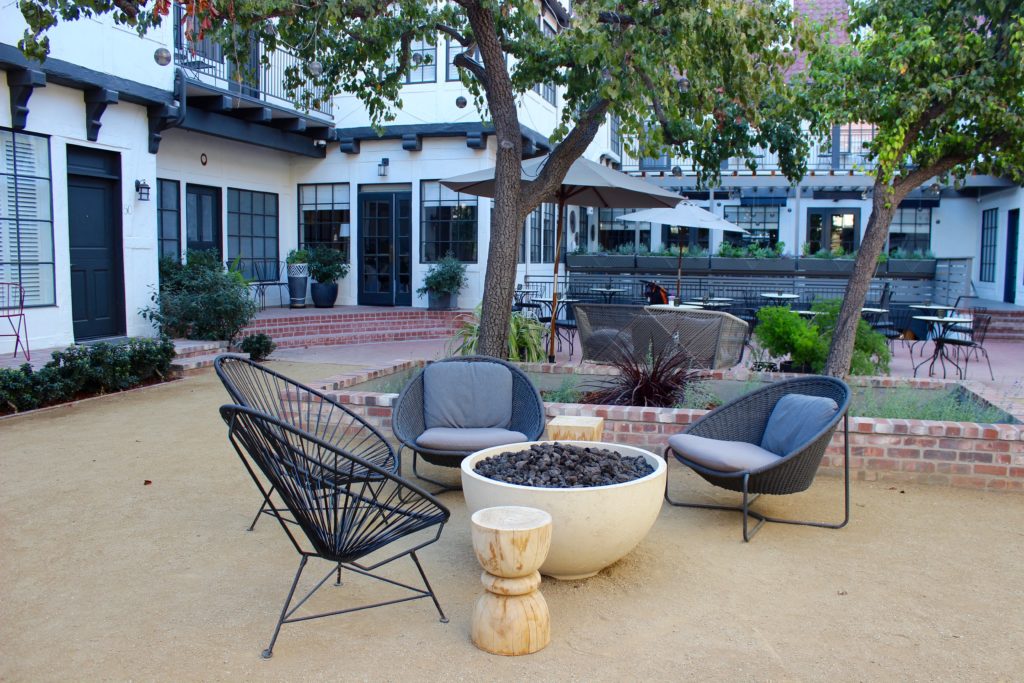 Though I have fond memories of Solvang, I have to admit that this quaint town can veer on the side of kitschy. In a place where Aebleskiver and windmills rule, The Landsby brings a certain cool factor that's a welcome change of pace. Sophisticated, minimalist and entirely comfortable, The Landsby is a boutique hotel worthy of a repeat visit.
**The Landsby**
Location: 1576 Mission Drive – Solvang, CA
Phone: 805.688.3121
Room Rates: Prices vary dramatically based on the time of year and room type, ranging $149 – $799+.  For the best rates, check for mid-week dates in the off-season.
For more info, visit The Landsby Website
Special thanks to The Landsby for graciously welcoming us! We can't wait to come back for a longer stay at this charming hotel. As always, all opinions and photos are my own.