El Niño is definitely here in Southern California, as evident by all this crazy rain! Making up for lost time, I guess. It actually rained a little bit while we were in Sonoma Valley over Christmas, although not to this extent. Rain or shine, spending the holidays in wine country is really great! This year, my family rented a house in Guerneville, a colorful town located in the heart of the Russian River, where we enjoyed sipping wine in front of the fire, playing board games and, of course, exploring the area. Just wonderful!
It was my first time to Guerneville (pronounced 'Gern-ville') and this small Russian River gem didn't disappoint. In the summer, Bay Area folks flock to Guerneville for sunshine, canoeing and lazy river tubing, but I found there's still plenty to do in the colder months. From hiking to wine tasting to eating delectable food, here's my list of…
what to see and do while in Guerneville (in the winter or anytime)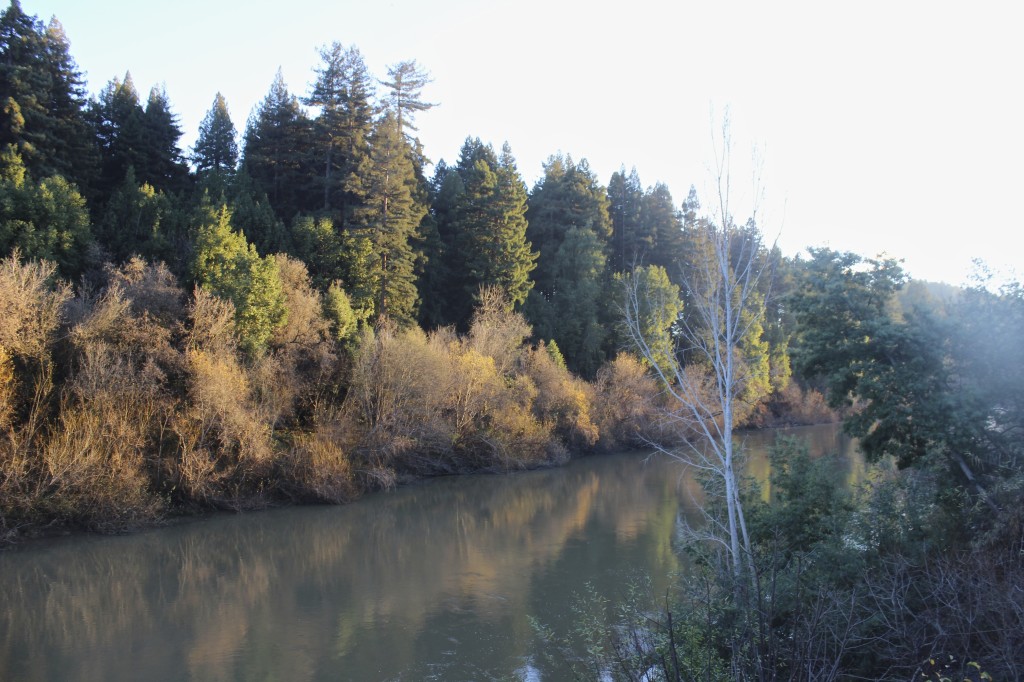 EAT & DRINK
Big Bottom Market – From breakfast biscuits to picnic provisions, this place is super cute and worth a visit. You can pick up local jams and small-batch coffee for your foodie friends or grab artisanal cheese, sandwiches and pre-made salads for the perfect picnic. They even have a nice selection of wine, making it a one-stop shop for all your wine country needs.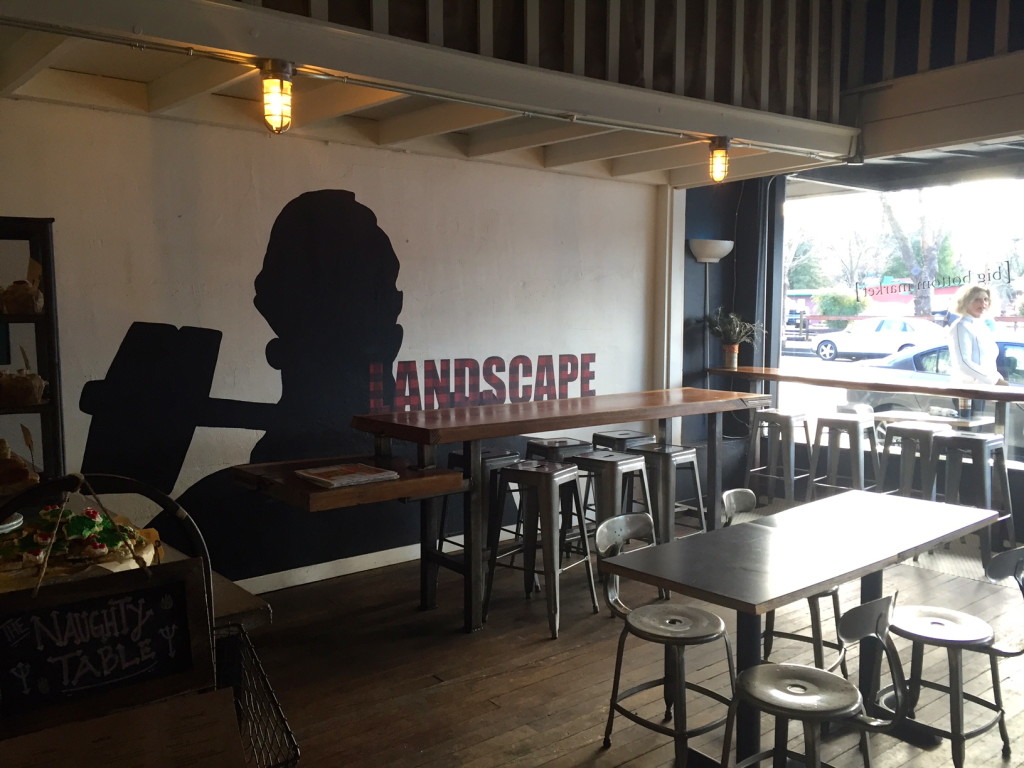 boon eat & drink – It was too crowded for our large group to eat here, but I have heard nothing but great things about this small California bistro. Local and seasonal items dominate the menu, and some of their ingredients even come from the gardens behind the restaurant and their nearby hotel (boon hotel & spa). Now that's what I call local!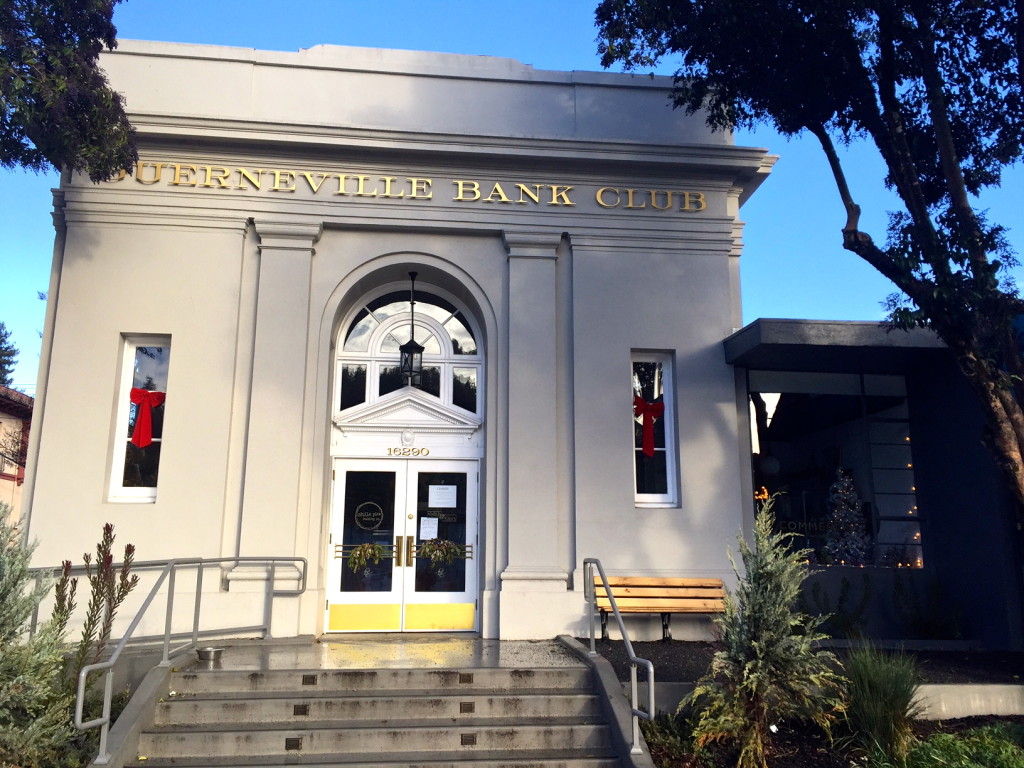 Guerneville Bank Club – The town's old bank building is now the perfect place to satisfy your sweet tooth, with ice cream from Nimble & Finn's and sweet and savory pies from SF's Chile Pies Baking Co. Their signature green chile apple pie is something I must try one day! Also inside is Commerce Fine Goods, a collection of locally-crafted home goods and jewelry to peruse through if you're not feeling in the ice cream sandwich mood, if that's even possible. Even more, the Russian River Historical Society is exhibiting Guerneville's "Early Days" through a collection of old photos on the wall. Pretty neat!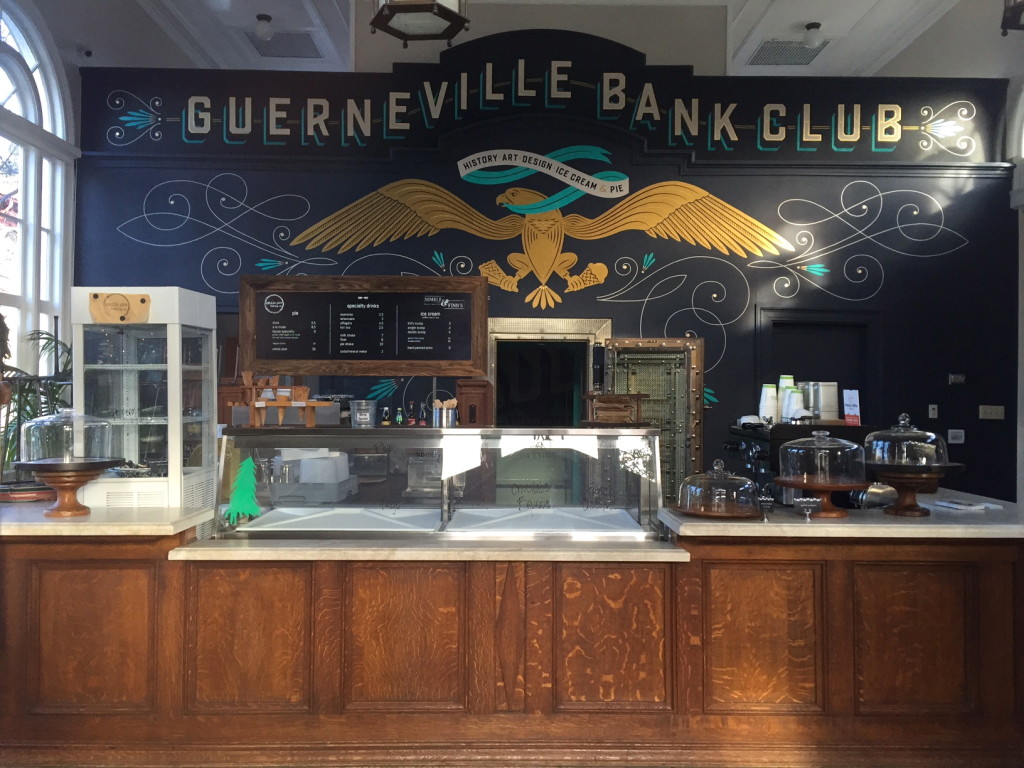 El Barrio Bar – A tequila bar with Mexican-inspired snacks, oh yes! The modern interior is clean and funky with a Palm Springs-esque flair, making this a perfect place for a pre-dinner drink. Sip a tequila flight while you enjoy grown-up Queso without a care in the world.
Coffee Bazaar – A truly local coffee shop with everything from freshly made pastries to breakfast burritos. When it's 35 degrees outside, this place is a welcome (and warm!) start to the morning. There's even a cute used bookstore next door, Twice Told Books, if all you feel like doing is posting up with a book and a cappuccino.
HIKE
Armstrong Redwoods Park – I would say this is a must see stop on your trip to Guerneville. Just a few minutes drive from downtown, you can explore the beauty of Northern California via hiking trails or paved roads. There are some pretty magnificent trees that will make you feel very small… and young. The oldest tree is over 1400 years old!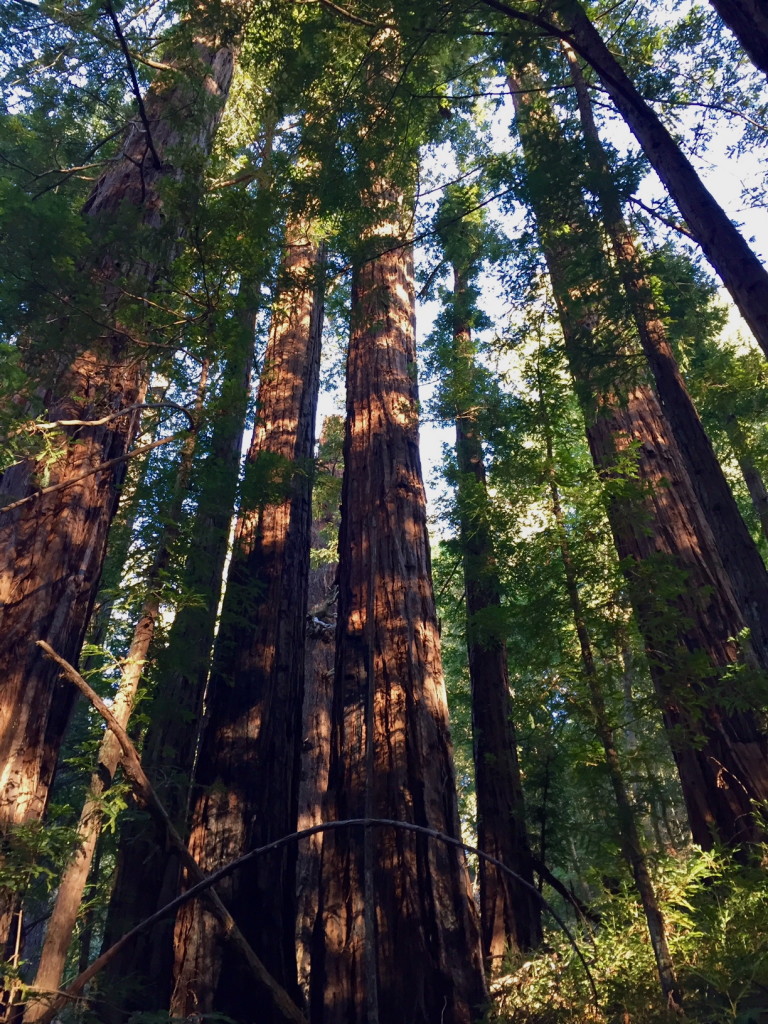 WINE TASTING
It wouldn't be right to come to Sonoma County without trying some of the prized Pinots and Chardonnays coming out of the Russian River Valley AVA. The region's cool coastal influences and morning fog are ideal for Pinot and Chardonnay (made in both the still and sparkling styles).
One of the closest wineries to downtown Guerneville is Korbel, the ubiquitous affordable sparkling wine producer you are probably very familiar with. The place is quite beautiful and worth stopping for a photo opp, whether or not you do a tasting or a tour. (Complimentary 30-minute tours are offered daily and end with a tasting).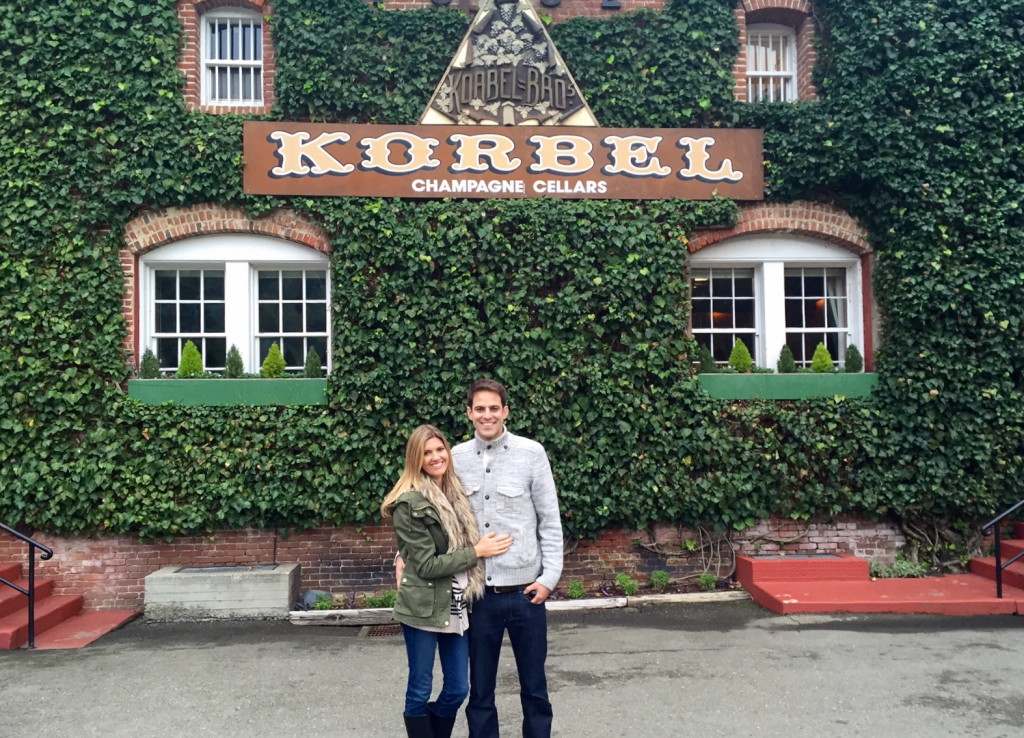 If you're looking for sparkling wine, I would suggest Iron Horse Vineyards, and for fantastic Chard and Pinot, it's worth the 20 minute drive to some of the wineries closer to Healdsburg. We loved Williams Selyem and MacRostie wineries… Read more about my visit to Williams Selyem here.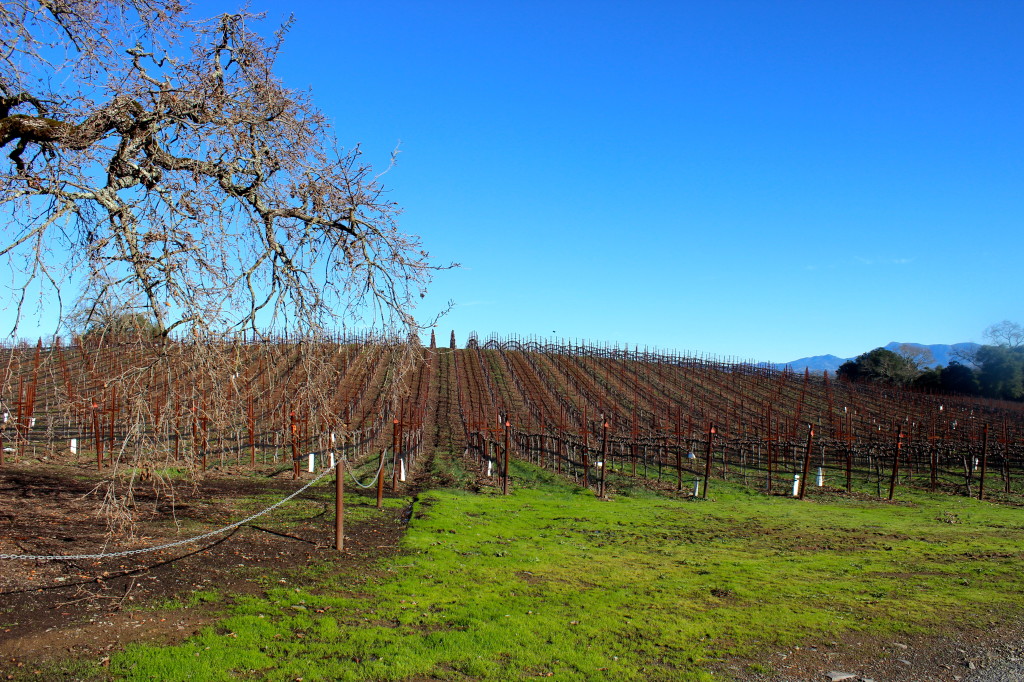 STAY
From cabins to rustic resorts, camping, vacation rentals and even hip boutique hotels, there's something for every type of traveler. I loved staying in a vacation rental on the river so we could cook and all be together, but here are a couple of luxe options for those that want more pampering:
boon hotel & spa — It's modern, minimalistic and eco-chic and there's nothing quite like it in the vicinity. Who needs a river view when you can relax by a saline pool (drink in hand) then end the night with a hot tub soak under the stars? They even have 'glamping'-style tents available for a slightly more rustic experience… I mean, breakfast is still delivered to your tent.
Applewood Inn – Romantic and secluded, this Mediterranean style B&B is surrounded by gardens and redwoods, complete with a day spa and its own well-known restaurant.
Stay tuned for more info on the amazing wineries we visited on our trip!
Pin it!