Last night I had some girlfriends over for a pre-St. Patrick's Day wine and cheese tasting. Since we're all fans of cheese (I mean, BIG fans), I thought it'd be fun to try some cheeses that pair well with certain wines. I just really look for any excuse to get the girls together to drink wine and chat, especially when I can make it a bit educational and eat lots of cheese!
I didn't want us to be influenced by labels, so we tasted everything blind, starting off with a sparkling wine. It was paired with St. Andre triple-cream cheese. Since the fat content of this cheese is so high (75% – no wonder it's so good), its richness can easily overpower or kill certain types of wines.  Luckily, the crisp acidity of sparkling wine or Champagne helps cut through that creaminess without hurting the flavor of the wine or  cheese. Killing flavors = no bueno.
Next, we tried a Tempranillo from Spain that I paired with Manchego, also from Spain. I knew it'd be a good pairing because wines and foods from the same region typically work together (makes sense, right?). When it doubt, think regionally! This wine and cheese pairing was a huge hit with the group…. meaning, I think the bottle was drained in 4 minutes.
Lastly, we tried a Cabernet with an Irish White Cheddar… had to get something Irish in there for St. Patty's Day so the green cupcakes didn't feel out of place. :) Cabernets are bold, so pairing it with an equally bold sharp cheddar is a good bet.
And now, the big reveal…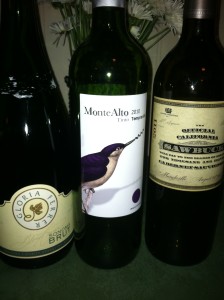 Sparkling: Gloria Ferrer Sonoma Brut NV. Light, easy-drinking, and a great match with the St. Andre. Tempranillo: 2010 Monte Alto Tinto Tempranillo from Spain. This was the favorite wine of the night! Medium bodied and smooth, with lots of spice, plum, and black raspberry aromas and flavors. Finally, the Cabernet: 2011 Sawbuck California Cabernet from the Crew Wine Company. Everyone immediately got aromas of leather, tobacco, spice, dark fruits, and a touch of mocha. Full-bodied and relatively smooth tannins. Not my favorite of the night, but definitely easy to drink.
Really good cheeses + delicious wines + great company = a perfect way to celebrate St. Patrick's Day!
**Wine Notes**
Gloria Ferrer Sonoma Brut NV – Alc: 12.5 % – Price: $17
2010 Monte Alto Tinto Tempranillo – Spain – Alc: 13.5% – Price: $12 (Really good!)
2011 Sawbuck California Cabernet – Mendocino & Yolo Counties, CA – Alc; 13.9% – Price: $10